For those of you not on "Alaska Twitter:" congratulations on preserving your scarce time and mental health. For those of you who are: my god. Fresh on the heels of driving Libby Bakalar off of the platform on charges of improper allyship (Bakalar had said she would support Alaska Native candidates, thereby, in the language of Alaska Twitter, positioning herself as a White Savior), our homegrown social-justice-oriented keyboard militia found a new target: the small Alaska-based company Salmon Sisters.
It was all–at least on its face–about a dress. The Salmon Sisters debuted their "Blueberry Dress" on social media on or around August 19, describing it as one in a collection of "flattering, do-everything duds" that could "take you from the trail to town in style." It was followed shortly thereafter by a sage-green "Seaworthy Dress."
There are many ways to describe this type of garment: hoodie dress, hooded sweater dress, tunic-length athletic dress. Etc. But last week, Alaska Twitter found another name: kuspuk. Kuspuks (also spelled qaspeq in Central Yupik, or called atikłuk in Inupiaq) are traditionally loose, tunic-length articles of clothing layered over insulation in cold climates. They are worn throughout the state and are an iconic part of Alaska indigenous culture.
See below. These are kuspuks.
The message from Alaska Twitter was swift, simple, and damning: the Salmon Sisters, who are white (or at least white-passing) had culturally appropriated–that is, stolen–their dress design from the kuspuk and were thereby taking credit for and profiting off of indigenous intellectual property. One now-deleted Twitter post, by a Colorado-based Yup'ik tarot card reader named Rebecca, accused the Salmon Sisters of cultural appropriation and comment moderation, and called for a boycott. The post exploded.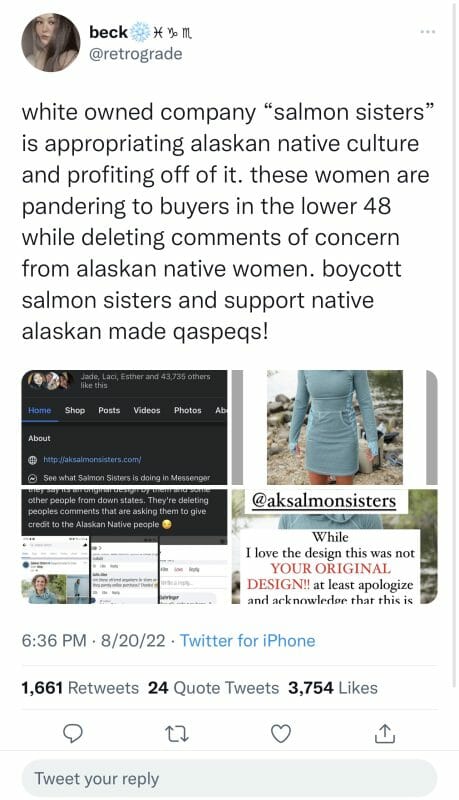 Within days, Twitter, Instagram, and Facebook were aflame with furious accusations against the Salmon Sisters. Hundreds, and then thousands, of comments poured in across social media excoriating the Salmon Sisters for blatant and appalling cultural theft. On Instagram, users were relentless: "Hey culture vulture sisters," "LOL it's literally a gentrified kuspuk," "Appropriation at its finest," "That's a kuspuk," "I can't believe the power of your white minds!," "This design is clearly a qaspek," "We won't be buying your brand again," "Goddamn white women don't ever know their place," "Y'all are fucking disgusting to keep colonizing and stealing money," "Fuck you settlers," "Where's the credit for the Native women who came up with this design," "fuck the Salmon Sisters and their copy trash ass clothes."
And on, and on, and on, and on… and on. At this point, the social media mobbing was in full Saturday-night swing.
A few bewildered commenters came to the Salmon Sisters' defense, noting that their dress looked like many on the American market and shared only superficial resemblance with the much looser-fitted traditional kuspuk. These comments, however, were few and quickly lost in the flood.
Now here's where it gets funny: there was pretty much ironclad proof that Salmon Sisters hadn't appropriated their dress design from the kuspuk. In fact, the Salmon Sisters hadn't designed the dress at all. The garment in question was the creation of Montana-based clothing maker Youer, which had been ucontroversially making and selling it as the "Treasure Dress" in the Lower 48 for nearly a decade.
Treasure Dress aside, Youer's design isn't even particularly unique in the world of modestly upscale womens apparel. Below are offerings from Melanzana, Title Nine, Ulla Popken, Toad & Co, Gear Frost, and Patagonia, among others. Are these kuspuks?
Heck, let's go beyond the world of modestly upscale womens clothing to… the actual world. As it turns out, tunic-length pullovers with pockets and hoods are incredibly, incredibly, incredibly common everywhere. They're made in every continent and for every climate. They're made out of cotton, wool, hemp, polyester, and everything in between. They take the form of wool sweaters in Peru, dashikis in Africa, and floral tunics for children in France. In the Middle East, they are designed to be worn over hijabs. The hoodie dress has precursors across many cultures and long ago crossed every national, linguistic, racial, and class border. Like electronic music or the common cold, tunic-length garments with pockets and hoods are utterly endemic to humanity.
Some critics specifically cited the repeating fabric pattern on the sides of the Salmon Sisters X Youer dress as evidence that the design was stolen from the kuspuk. Well, this is gonna be awkward, but let's come out with it: key elements associated with kuspuks today, such as cloth fabrics with repeating patterns and zig-zagging rickrack edge trim, aren't Alaskan at all. They are mass-produced Western market products and did not exist here prior to their introduction by Western traders. Previously, kuspuks were made out of animal products like skin or fur. It would be needlessly combative to say that kuspuk makers appropriated Western materials, maybe, but the truth is that today's kuspuk is a cultural remix of practical Indigenous design and Western materials. Repeating floral or other patterns are extremely common in Western clothing and have been for centuries.
The claim that the Salmon Sisters "appropriated" the use of patterned fabrics is historically ignorant… and arguably exactly backwards. It'd be a bit like saying that French bakers can no longer make sandwiches because baguettes were incorporated into bánh mì in Vietnam.
So let's get back to the outraged online mob. What did they do when they found out that the dress in question had been in production for nearly a decade in a different state? Did they take a step back, acknowledge that they had just maybe jumped the gun, and use this whole thing as an opportunity for conversation and growth? Hell no. That would derail the dopamine-fueled outrage train, and the train was still running full steam.
A few members of the mob actually attempted to attack Youer (the Montana-based maker of the dress) for cultural appropriation. On Instagram, Youer pushed back politely but firmly, stating flatly that the design had been "in no way" inspired by the kuspuk and that the Youer designers hadn't even known what a kuspuk was prior to the brouhaha.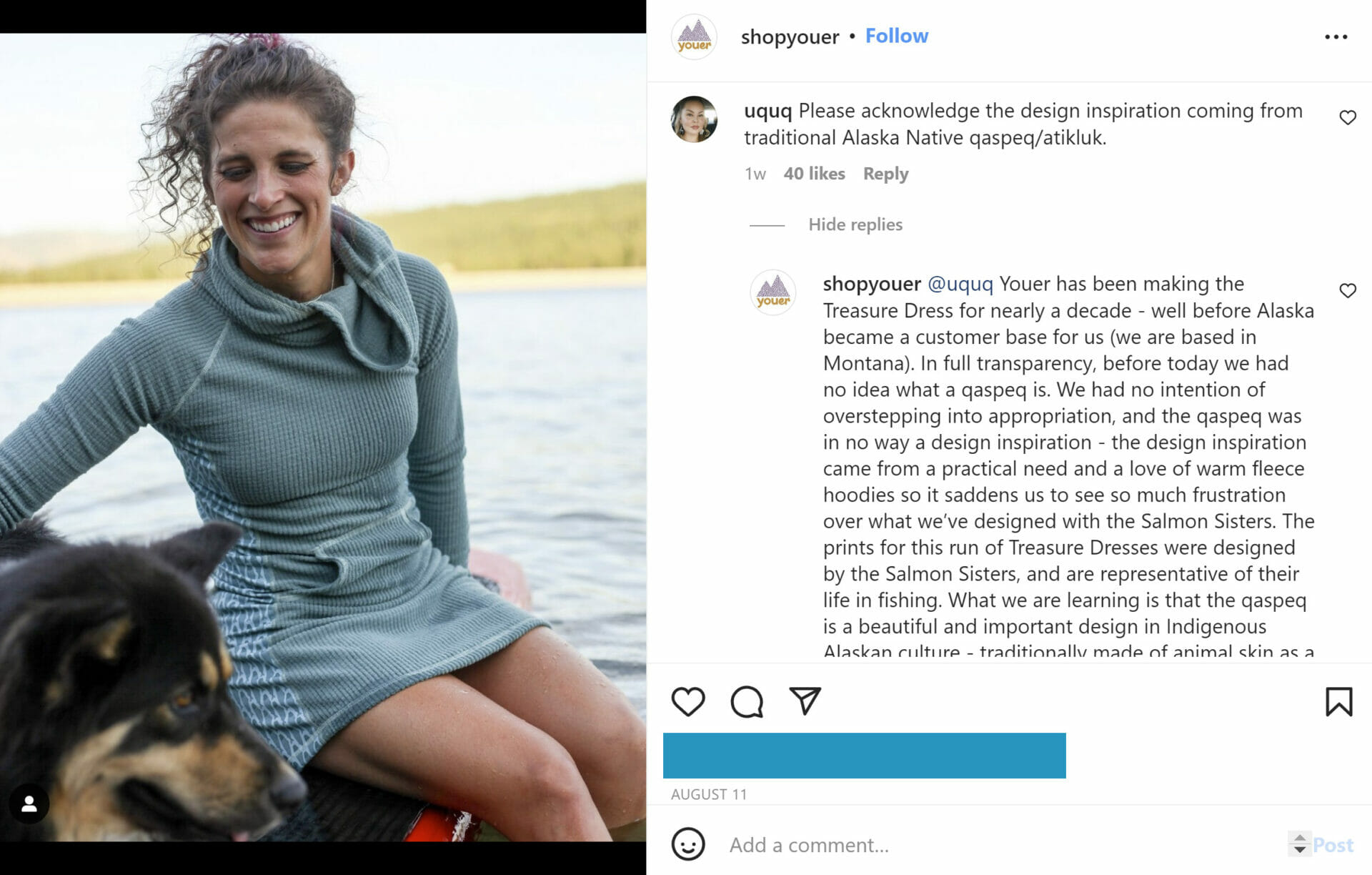 If Youer, Melanzana, and the other companies making similar dresses really had appropriated the kuspuk, you'd think that the mob might shift its focus to these bigger corporate targets. We'd have a true appropriative scandal on our hands! But one senses that the mob knew its limits. Youer's blunt refusal to accept the charge of appropriation left little room for discussion. Instead, the mob turned their focus back on Salmon Sisters: a local company small and vulnerable enough that continuing pressure might be able to cause lasting damage to the brand or coerce it to give in to a series of demands.
As to the demands, the mob had three: First, that Salmon Sisters issue a public confession that they had stolen their design from the kuspuk. Second, that Salmon Sisters stop selling the product. Third, money. The mob appeared unified in the belief that Salmon Sisters surrender the profits from sales.
This was a perilous moment for the Salmon Sisters. As far as this little animal can tell, the Salmon Sisters is really a lifestyle brand, not a manufacturer. Their business model seems to be largely based on "collaborations" in which the Sisters lend their branding and cred to products made by other companies, acting as a chic middleman (or, chic middlewomen?). Which is to say that their brand is their product, and their image as socially conscious Alaska fisherwomen was taking damage from a relentless online mob howling that not only were the Salmon Sisters not very cool, they were in fact appropriative, borderline-if-not-explicitly-racist "culture vultures."
At least one person attacking the Salmon Sisters even suggested, absurdly, that the Sisters were participating in genocide. Actual genocide. Ridiculous or not, genocide is not a word that lifestyle brands want to be associated with.
And so Salmon Sisters bent the knee. As far as they could, anyway.
In August 22 posts on Instagram and Facebook, the Salmon Sisters issued a tortured half-apology, writing that they were "sorry for failing to recognize that our recent dress release appeared to be influenced or inspired by the Indigenous kuspuk design without appropriate credit." (Note: generally speaking, what is the appropriate "credit" for the appearance but non-existence of influence? It's only the first sentence, and we've fully entered the linguistic Twilight Zone of PR-speak at this point.)
The Salmon Sisters thanked members of the online mob that had carpet-bombed their social media with racial animus and false claims for "voicing your rightful concerns" and "helping us see our mistake." The post pledged that all proceeds from the dress would go to feed families on Alaska's Y/K Delta.
View this post on Instagram
Despite some pushback, the coerced apology and monetary offering worked, at least from a short-term PR perspective. Some members of the mob grumbled, pointing out the mealy-mouthed language. But many voiced approval of the Salmon Sisters' awkward and costly self-abasement.
It's worth highlighting here that the Salmon Sisters actually thanked the mob for bullying them over a false claim–thereby giving a community of online bullies tacit encouragement to continue the behavior, both against themselves and others, in the future. Self-abasement in the face of a mob might provide temporary relief but it also gives permission for–in fact, requests–future harassment.
It's hard to know what will happen to the Salmon Sisters brand long-term (lifestyle brands come and go like the Aleutian wind), but this incident shows the damage that can result when a social media mob gathers to attack and coerce a local small business. If a business can be successfully extorted for selling basic hoodie dresses, then the Alaska Twitter mob might reasonably conclude that they will be rewarded if they attack anyone for basically anything. Yesterday, it was Salmon Sisters. Tomorrow: who knows?
Interestingly, those who targeted the Salmon Sisters often talked about respect. But it's not clear that respect is what they actually wanted. Yes, respect means hearing people out and carefully considering what they have to say (something the Salmon Sisters clearly did). But it also means the ability to respectfully disagree. In this case, the mob was wrong and, unlike Youer, the Salmon Sisters appear to have been too beaten down or frightened to stand up for themselves. Conversations about race, history, and culture can be incredibly valuable. But that's not what this was.
More than respect, the mob wanted humiliation and submission. And that, to a point, is what they got.
Oh, and money. The mob wanted money, and they got that too.