I hope everyone enjoyed Labor Day weekend. For most of us, fall can't get here soon enough. I'm writing this column from Thousand Oaks, California. I came down to Seattle and LA for a long weekend with a buddy (I'm sure some of you saw the Facebook post). If you have an Alaska Airlines companion fare that is about to expire, I recommend grabbing a friend and using it.
A friendly message and reminder to all our readers, the Landmine is made possible by myself and a team of awesome Alaskans. It takes a lot of work to provide the content we do. If you enjoy the content we provide, please consider making a one time or recurring monthly donation. You can click here to donate (or on the image below) via PayPal. We would really appreciate it. And thanks to everyone who has been supportive!
The Governor
Governor Mike Dunleavy (R – Alaska) is at it again delivering news to Alaskans. This time he was reporting from the field! Not sure whose genius idea this was, but it's truly bizarre.
Sources report that Dunleavy's Chief of Staff, Ben Stevens, has been calling and meeting with legislators from both bodies to see when they would be available for a special session on the PFD. There are still not the votes in either body for a full PFD, and probably not for a change in the formula either. If another special session happens it will likely be in November, but don't expect it to last too long.
Multiple sources have confirmed that OMB Director @donnaarduin sent an email to commissioners telling them that they need to plan to reduce their budgets by 15% over the next 2 years. #akleg #akgov

— The Alaska Landmine (@alaskalandmine) September 5, 2019
On Wednesday I reported that Budget Director Donna Arduin sent out an email to commissioners informing them they need to reduce their budgets by 15% over the next two years. The next day it was made public at a meeting of the Alaska Permanent Fund Corporation. They also revealed that Fitch downgraded Alaska's credit rating due to our budget problems. This Journal of Commerce article explains it. Some of our leaders should read this article.
The Recall Dunleavy group turned in their signatures this week for the first phase of the recall effort. They said they had over 49,000 signatures. Just over 28,000 are required to file the recall petition. If it gets approved, they will then need to collect over 70,000 signatures for a recall election. It will likely not get approved by Lieutenant Governor Kevin Meyer (R – Alaska). Then it would end up in courts. Expect a few months before an announcement on whether it is approved or not. You can check out my Live Stream of the event if you didn't see it. The best part was when a guy pointed at pictures of Dunleavy and Meyer on the wall at the Division of Elections and shouted out, "Let's take those pictures down!" I responded, "Well if this is successful then Meyer's photo will actually go up."
It's fun to post pics on Facebook when you are on vacation. Believe me, I know this. However, sometimes it's wiser to not post pics depending what kind of job you have. Check out this pic Attorney General Kevin Clarkson posted from his trip to Louisiana. The home was built in 1828. I wonder who built it? Read this Atlantic article to learn more. And a message to the super woke folks – No, Kevin Clarkson does not support slavery.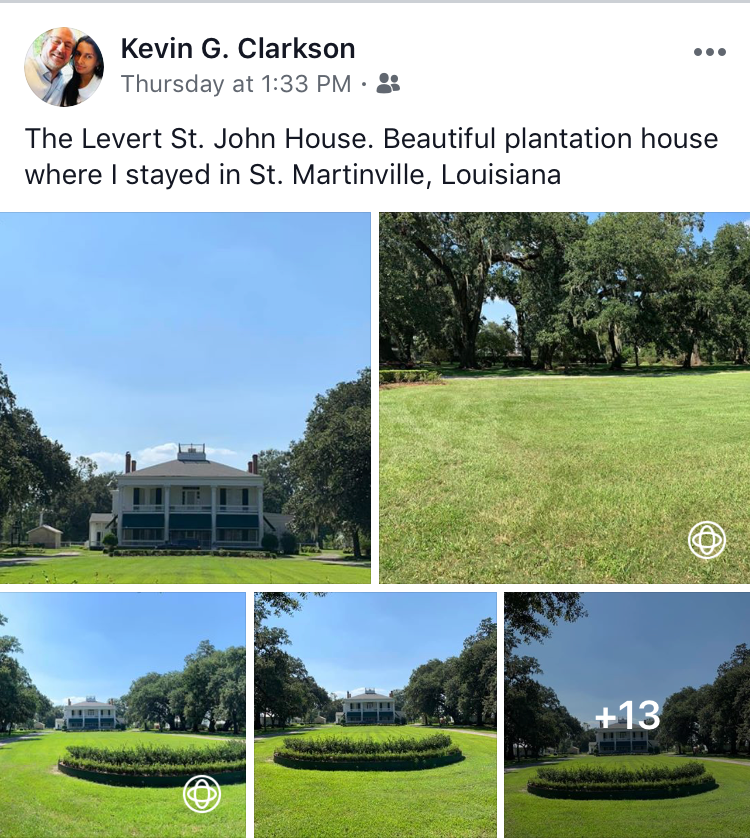 It's been almost ten days since Dunleavy appointed Representative Laddie Shaw (R – Anchorage) to the vacant Chris Birch Senate seat. Senate Republicans have been silent other than saying they would not be able to act until after Labor Day weekend. It's no secret that Senate Republicans seem to be split 6/6 on Shaw. There is no telling where this goes. The only time obligation is that the governor appoints someone within 30 days of a vacancy. Dunleavy did that. There is no mention on how long legislators have to confirm or reject someone who is appointed.
Other Happenings
The Federalist Society held an event at the Captain Cook this week. They said it was their first one in Alaska. The speakers were AG Kevin Clarkson and Professor John Baker. There were lots of lawyer there, as well as some legislators. It was an interesting presentation. Stay tuned for a summary from our awesome legal analyst, Lee Baxter.
If only it were $400!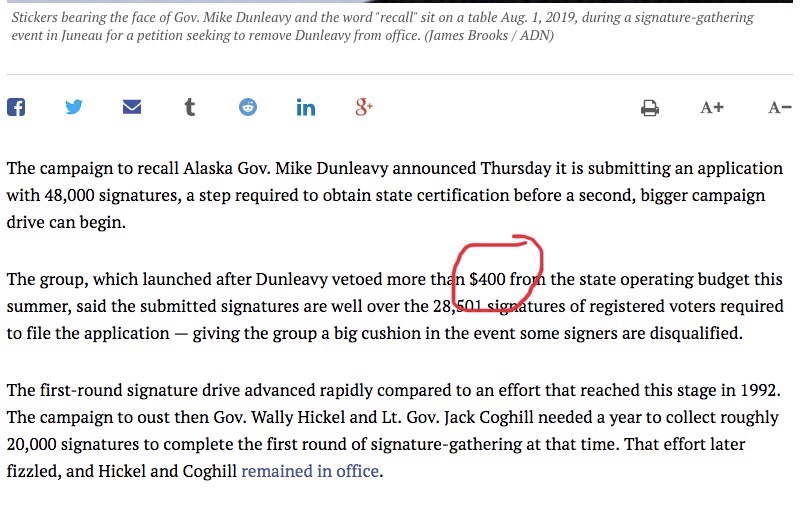 The Alaska Permanent Fund Corporation will host a summit in Juneau this week of the International Forum of Sovereign Wealth Funds. There will be people from over 30 countries in attendance. This Juneau Empire article gives a good summary of the event. Many harccore PFD folks have taken to Facebook and are sure it's a meeting of the Bilderberg Group and New World Order. They are coming for our PFDs!
The Washington Post published an article this week announcing that Joe Balash is going to work for Oil Search. The title is pretty loose, "Top Interior official who pushed to expand drilling in Alaska to join oil company there."
An event was held in Anchorage this week to commemorate the 25 years since Tony Knowles and Fran Ulmer were elected. Many of Knowles' commissioners, deputy commissioners, and other staff were in attendance. Check out this video that video that was made. Those television ads tho!
Two words – Chewie's running.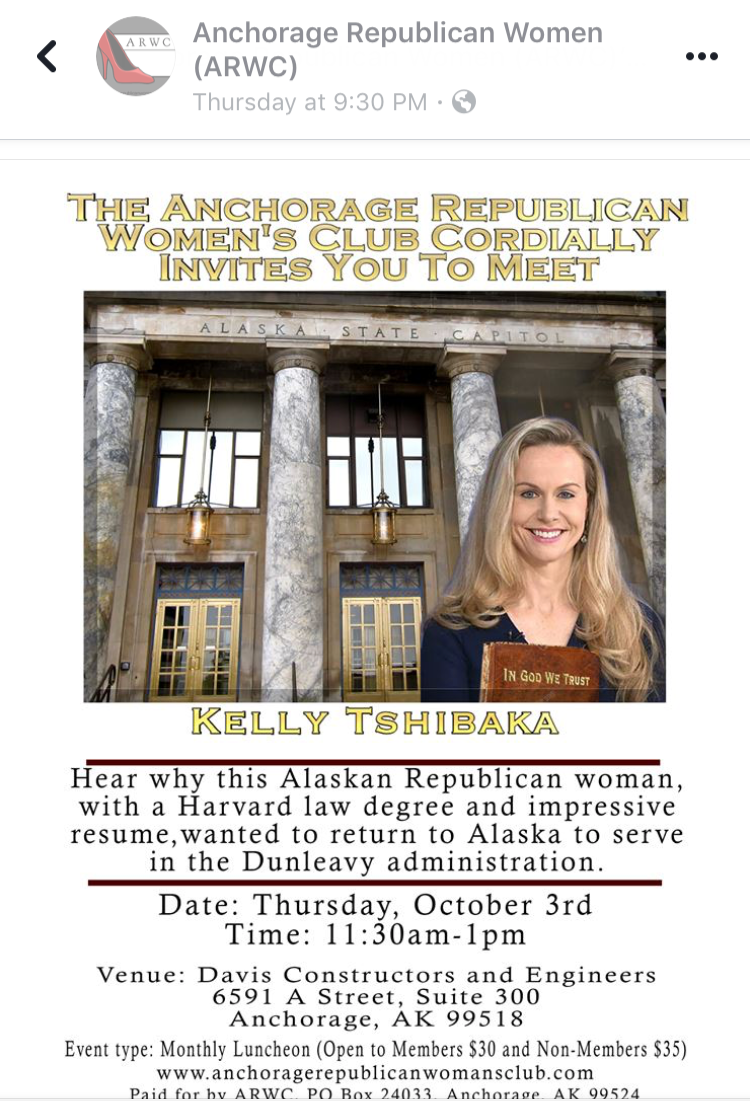 Gotta love the Anchorage Republican Women's Club's social media. Check out the hoax alert right below the post.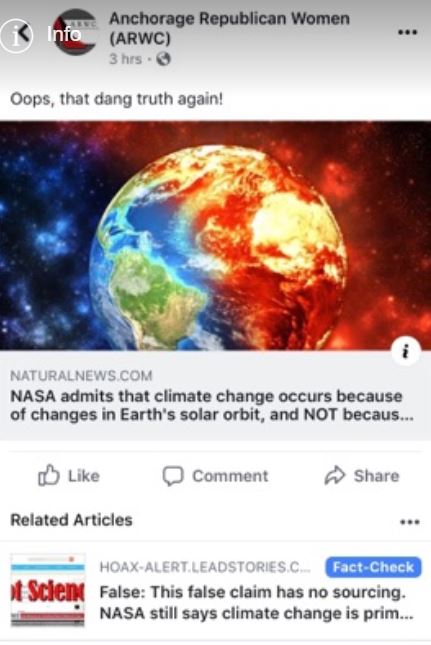 Heads up Anchorage folks. The plastic bag ban goes into effect on September 15. Stay tuned for some custom Alaska Landmine grocery bags for sale!
The Alcohol Beverage Control Board and Marijuana Control Board are meeting this week in Nome. Sources report they will both be going into executive session to discuss "personnel issues." They also report that Amy Demboski, who works for the Department of Commerce, Community, and Economic Development, is flying up to speak to the boards. This sounds like it could get very loose.
This Week's Loose Unit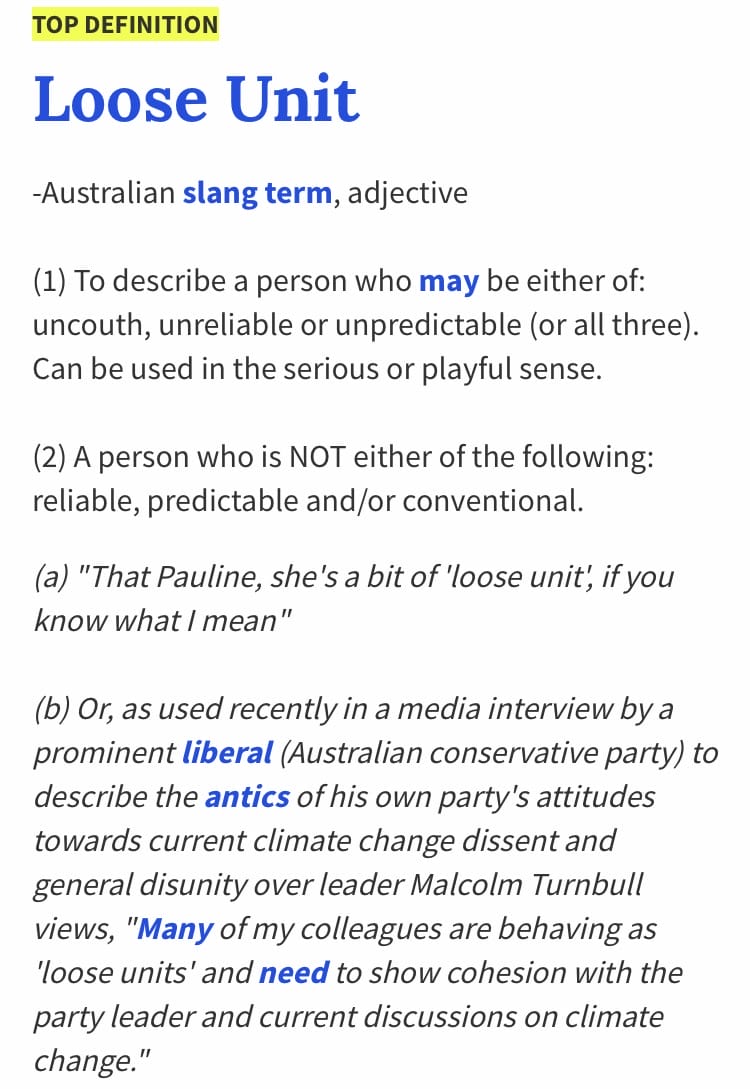 This was one of those week's where the designee is a no brainer. This week's Loose Unit is Rebecca Logan. Logan has long been known for posting crazy shit on Facebook late at night. On Monday (September 2) night, Logan posted this.
She was referring to Ross Johnston, son of Representative Jennifer Johnston (R – Anchorage). She even tagged Johnston in the comments! So loose. No idea why she decided to target Ross. She has a pattern of irrationally going after people who do things she disagrees with. She seems to have fully embraced the left's idea of cancel culture. In fact, several months ago when I was in Juneau, Logan contacted many of my advertisers, told them I was against resource development, and encouraged them to stop advertising with me. This was in response to some stuff I had written about some legislators that had nothing to do with resource development. Anyone who knows me knows I am very pro resource development. Even Logan knows that. She was happy to have me participate in the Alliance's Emerging Leader program last year.
Back to her post. I posted screenshots of her post on the Landmine Facebook and Twitter. The next day, her post was removed. And then she either deleted her Facebook or blocked me and everyone I know. Then, her Facebook came back with this. Extremely loose.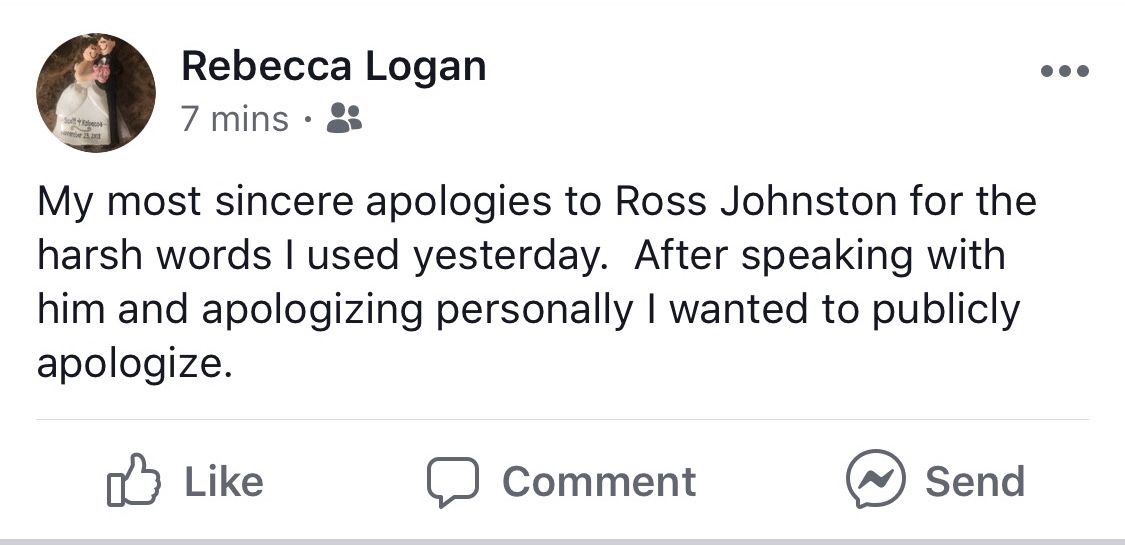 And not long after that, her Facebook disappeared again. Running a resource development trade group and targeting the son of the Co-Chair of the House Finance Committee is not only an unwise, it is a classic Loose Unit move. And another note, Ross works very hard to put on Accelerate Alaska. I know how much work goes into something like that. I encourage everyone to attend September 19-20. Here is a link to their website.
If you have a nomination for this week's Loose Unit, or if you have any political news, stories or gossip (or any old pics of politicians or public officials) please email me at jeff@alaskalandmine.com.