Enjoy this special video edition of the Sunday Minefield from Fairbanks, Alaska! I am up here with Cale Green doing video profiles of legislative races. Stay tuned for those. Cale and I discuss what's happening in Fairbanks, including some city and borough elections that will take place on Tuesday (10/2/2018).
A big thanks to all the people and candidates who made this trip possible. And a special Landmine shout out to the Laborers Local 942 for all their help.
And not to forget…
This Week's Loose Unit
This week it's a no brainer. This week's Loose Unit is blogger Suzanne Downing. On September 25 Downing posted an article on her blog, Must Read Alaska, titled "Dancing with Dean Westlake." There was a picture of Governor Bill Walker dancing at a potlatch in Fairbanks with former Representative Dean Westlake. Or so she thought… The picture was from a video that Walker's Press Secretary, Austin Baird, posted. There was just one problem, the man in the video was NOT Dean Westlake. Talk about loose. As one person commented, "Yeah, that's Dean Westlake if he lost 40 pounds and became an incredible dancer."
A few days after the article went up it was mysteriously taken down. With no explanation, retraction, or apology. Luckily screenshots exist:
Then Austin Baird took to Twitter to call her out on this epic fail. Absolute legend status. What may be the loosest part about this whole thing is who the man is that Downing thought was Westlake. The guy is the Alaska Area Director for the Indian Health Service. YESSSSS! This may be one of best Loose Units ever.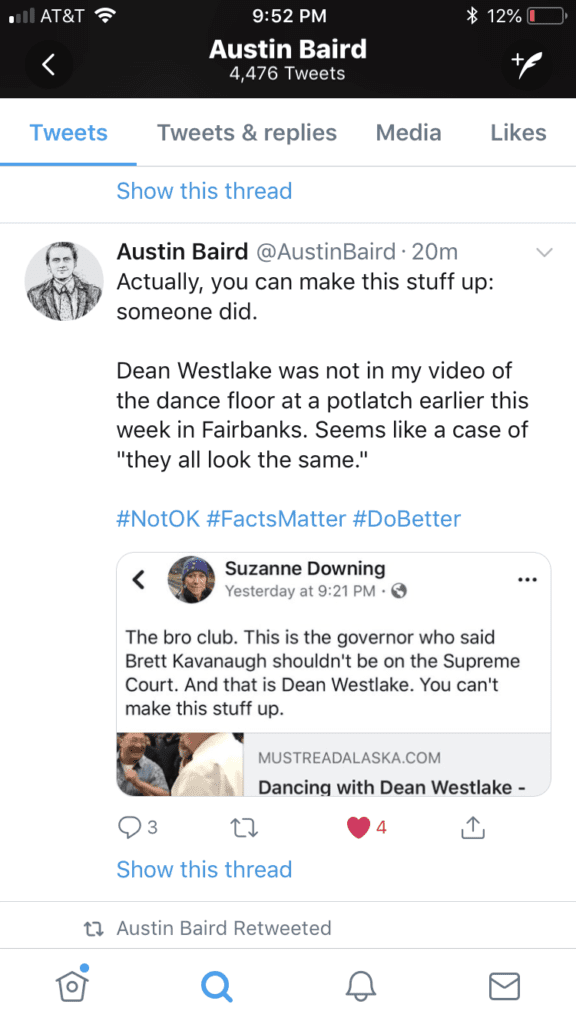 If you have a nomination for This Week's Loose Unit, or if you have any political news, stories or gossip (or any old pics of politicians or public officials) please email me at jeff@alaskalandmine.com.