It's almost October! There will be snow on the ground before we know it. Tuesday is Election Day for local and borough elections all around Alaska. Some of the high profile elections include the Fairbanks mayor and Kenai Peninsula Borough Assembly. Governor Mike Dunleavy (R – Alaska) held two press conferences this week and made some surprising announcements.
A friendly message and reminder to all our readers, the Landmine is made possible by myself and a team of awesome Alaskans. It takes a lot of work to provide the content we do. If you enjoy the content we provide, please consider making a one time or recurring monthly donation. You can click here to donate (or on the image below) via PayPal. We would really appreciate it. And thanks to everyone who has been supportive!
The Governor
On Thursday (9/26/2019), Governor Dunleavy held a press conference at the Atwood Building in Anchorage. All the email said was the presser was regarding "an impending announcement." Reporters and politicos speculated that it was either about the PFD amount or his choice for another person to fill the vacant Senate seat M. It was about neither. The press conference was Dunleavy, along with Attorney General Kevin Clarkson, and DOA Commissioner Kelly Tshibaka (Chewie). The presser was about the Janus decision and the recent advisory opinion from Clarkson about how the State collects union dues. No clue why the press conference had to be so clandestine.
The State is now in litigation with the Alaska State Employees Association over the issue. Dunleavy announced they are creating a new system in which employees have to opt-in for their union dues to be collected. I have not followed this that closely but it seems to me like a solution in search of a problem. It sounds like less than 25 people total have expressed interest in opting out of paying dues. Even if they opt-out, the union still has to represent them – which is unfair. It may also be about gaining the attention of national anti-labor groups to support Dunleavy against the recall attempt.
The next day, Dunleavy held another press conference. Clarkson and Chewie were also there, in addition to Chief of Staff Ben Stevens. In this one, he announced that he chose Representative Josh Revak (R – Anchorage) to fill the vacant Senate seat. This surprised many as Revak was not among the three names Republicans sent to Dunleavy to replace the late Senator Chris Birch. In fact, Revak told the District committee that he did not want to be in the Senate and asked that members not vote for him. This February 2018 Delta Wind article talks about when then Governor Bill Walker went off list and chose Randall Kowalke to fill Dunleavy's Senate seat. Senate Republicans rejected Kowalke. According to the article:
Dunleavy, who is vying to run against Walker, said in a press release about the appointment, "He chose to ignore the elected nominees of the Republican District leaders. His decision is an affront to these men and women who literally spent hundreds of hours vetting 11 different applicants for this seat."
Cool. Sources report that Senate Republicans are not going to take this up until November. Which means there will almost certainly not be a special session for a supplemental PFD. Revak is in D.C. until next week and has some other obligations until early October. If he is confirmed, Dunleavy will then need to fill his House seat. That would be a BOGO – buy one, get one. This Landmine articles goes into more detail about all of this.
Dunleavy also announced this year's PFD amount – $1,606.00. He's not happy the Legislature did not appropriate a full staturatoy PFD. Next session is going to be lit!
Todd Smoldon, the head of the Governor's Mat-Su Office, was also at the presser. I was saddened to see his mullet is gone. I was more saddened to hear that it was the result of a miscommunication with his barber. Hopefully he will soon return to this glorious flow.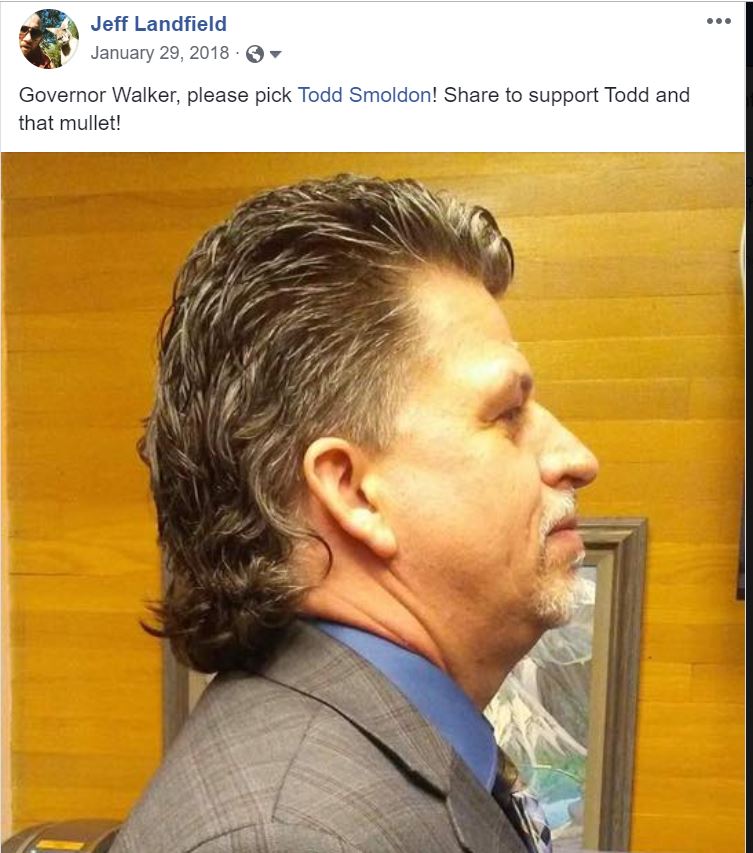 As I was walking out of the presser, I ran into Donna Arduin in the lobby of the Atwood. She finally agreed to take a selfie with me!
Other Happenings
Yesterday, six of us packrafted into Campbell Lake from Campbell Creek. Assemblymember Chris Constant was part of the group. KTUU was there and did a story on it. It was a little chilly but a lot of fun! A big shout out to my buddy Adam Blomfield for letting us egress out of his home from the lake (that public easement we discovered is not currently usable). Adam and his wife are awesome people. They own AK Alchemist in downtown Anchorage. Stop by sometime and have a beer or snack!
Everyone we encountered on the lake was very friendly. One lady, who lives in a home built in Plymouth in 1680 – that was shipped here in pieces and is now on the lake – even invited us to her house! Thanks to Paxson Woelber for taking some great pics.
Is Governor Dunleavy considering Brandon Brefczynski or Jeremy Price for the vacant public seat on the Alaska Oil and Gas Conservation Commission? That is the word amongst some insiders.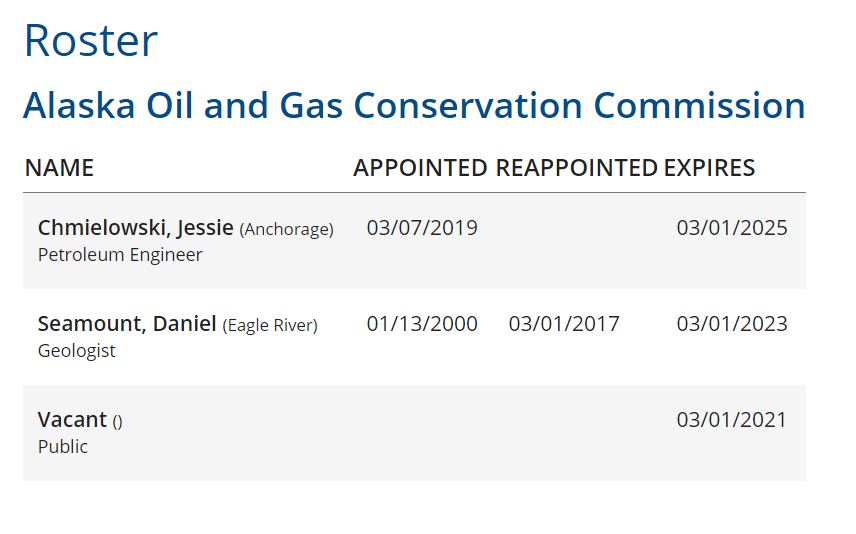 A new group, Stand Tall With Mike, that is opposing the recall effort against Dunleavy, formed this week. It was registered by Cheryl Frasca, who was Senator Natasha von Imhof's (R – Anchorage) campaign treasurer in 2016. The chair, Lindsay Williams, used to work for Senator Cathy Giessel (R – Anchorage). Alaska is a small place lol.
Some people have been extremely displeased with many of the decisions coming out of the Alaska Marijuana Control Office. Namely how they are treating breweries and distilleries. I guess someone finally had enough.
One of the best parts of being me is people send me great tips and cool Alaska history. I hit the motherload this week. Check out this 1990 'We Alaskans' article about lobbyists. Beyond epic. Check out lobbyist Ashley Reed on the cover! He was my age then. The write ups are legendary. I wish the press still wrote like that. It says Sam Kito got caught delivering cocaine and John Sackett pled no contest to cocaine possession. The 80s must have been so lit! Ed Dankworth looks like a mob enforcer. Ashley Reed, Kent Dawson, Kim Hutchison, Sam Kito, and Jerry Reinwand (5 of the 10) are still lobbyists – almost 30 years since this was written. Note the Q and A on the cover.
Senator Lindsey Graham (R – South Carolina) sent out a fundraising email this week for Senator Dan Sullivan (R – Alaska). The email included:
Remember the Democrats' "Blue Wall" in 2016? They thought Hillary would never lose Pennsylvania, Michigan, and Wisconsin. Instead, they lost all three and the Electoral College along with it. Dan Sullivan's race is just that in 2020 — if we lose Dan, we're losing the Senate.
And if you don't think the Senate matters, just look at two places: The Supreme Court, where you see Neil Gorsuch and Brett Kavanaugh; and the House of Representatives, where you see Nancy Pelosi and Alexandria Ocasio-Cortez. Which of those two directions do you want for the future?
There has been some drama in the Mat-Su Borough Assembly race. Elizabeth Maxson is running for District 2, the Greater Palmer Area. She kind of came out of nowhere. Once she filed people started looking into her. They found a lot. Apparently she claimed to be a CPA and EA (Enrolled Agent), but it was discovered she is neither. She has also been telling people she went to Cornell, but she did not go there either. For a while, her campaign Facebook page was Liz Utter for Assembly District 2, but she will appear as Elizabeth "Liz" Maxson on the ballot. The page now says Liz Maxson. She has been getting into it hard with people on social media. Very bizarre. I wonder if she knows Jonathan Quick?
This Week's Loose Unit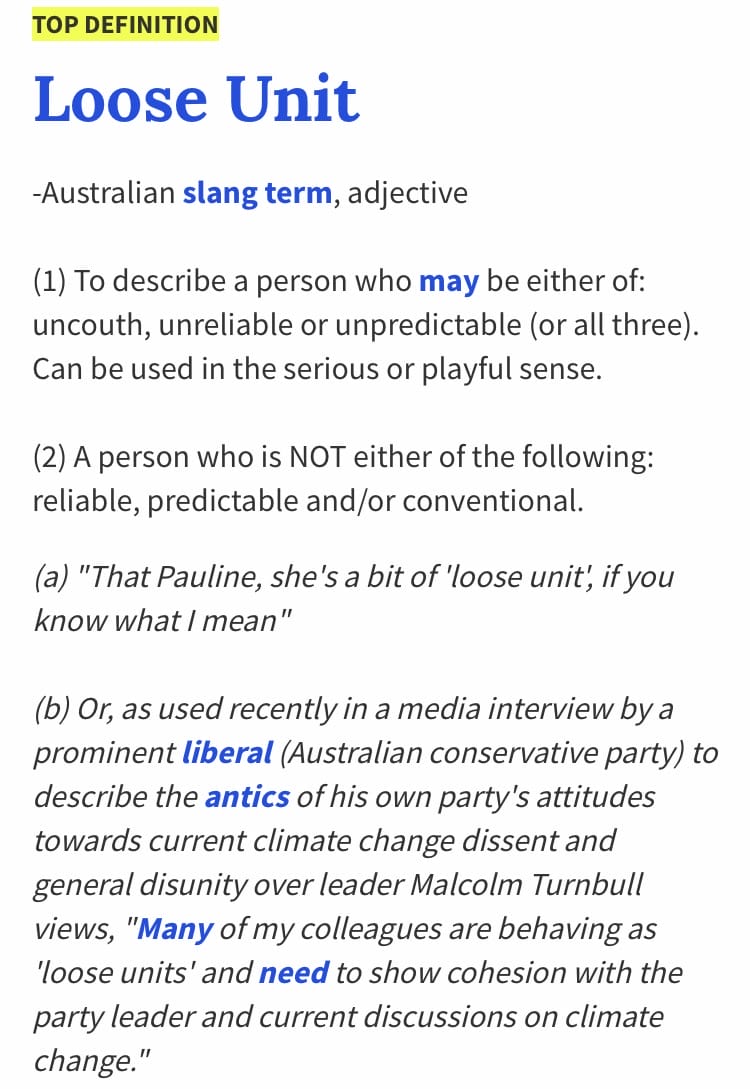 We have a real beauty this week. You have probably not heard of him. I han't either until this week. This week's Loose Unit is Charles Lester. Lester is a member of the Delta Junction City Council. Lester got into some hot water this week when it was revealed that he was a total wacko on Twitter. However, when he got a call from local media to inquire about racist tweets, Lester said he was the victim of a fake Twitter account. According to this KUAC article, Lester referred to Minnesota Representative Ilhan Omar as a "dirty filthy immigrant." The Twitter account is now gone. Lester told KUAC he reported the fake account to Twitter.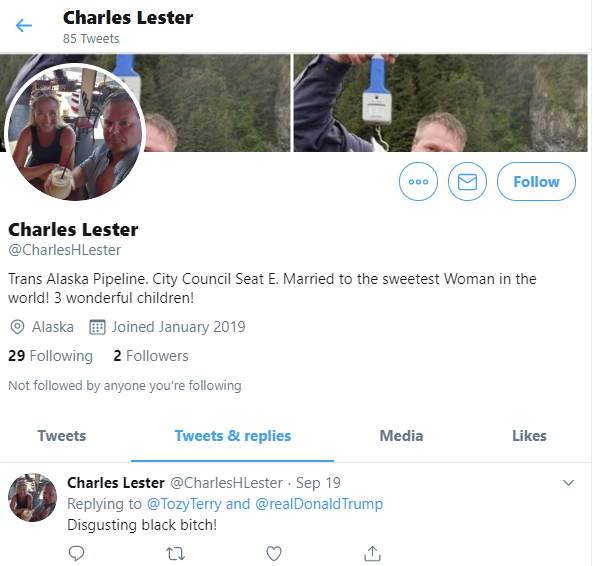 But there are some serious issues with Lester's story. Let's ignore the fact that the pictures on the Twitter account are the same as his Facebook page. Someone could have taken them. So we will give him the benefit of the doubt on that one. Let's ignore the Twitter account correctly identifies his job and position on the City Council. Ok, someone could have easily learned that information. And let's ignore the fact that someone would go to so much trouble to create a fake Twitter account for a guy on the Delta Junction City Council. Here is where it gets really loose. There were pics posted on his Twitter and Facebook account of a trip to Hawaii. But the pics were posted on Twitter three days before they appeared on Facebook. SO LOOSE! It is obvious that the Twitter account was Lester's. He just decided to go full Loose Unit and lie about it. Lester is not up for re-election until 2021. I have a feeling this is not the last time he will be in the Landmine.
If you have a nomination for this week's Loose Unit, or if you have any political news, stories or gossip (or any old pics of politicians or public officials) please email me at jeff@alaskalandmine.com.