Fall is definitely in the air. The November 8 general election is just over six weeks away. The big political news this week is a judge ruled that Representative David Eastman (R – Wasilla) may be ineligible to hold public office based on an anti-communism clause from the Alaska Constitution that likely violates the First Amendment. The price of Alaska North Slope Crude continues to fall, causing concern of an unfunded deficit. And several politicos are on the move.
A friendly message and reminder to all our readers. The Landmine is made possible by myself and a team of awesome Alaskans. We are working hard to provide in-depth election coverage for all of the ongoing races. If you enjoy the content we provide, please consider making a one time or recurring monthly donation. You can click here to donate. We have a donation system that makes it super easy. We would really appreciate it. And thanks to everyone who has been supportive!
Eastman Obsession
The anti-David Eastman crowd is alive and well. They were unable to defeat him in 2020 when Mat-Su Borough Assembly member Jesse Sumner unsuccessfully challenged Eastman in the Republican primary. This time they have gone to the courts. Randall Kowalke, a former Assembly member who lost to Senator Mike Shower (R -Wasilla) in the 2018 Republican primary, filed a lawsuit claiming Eastman's membership in the Oath Keepers violates the Alaska Constitution. Article 7, Section 4 of the Alaska Constitution includes a disloyalty clause.

The provision was an anti-communist measure as the Alaska Constitution was drafted in the 1950s during the Red Scare. This week a judge ruled that Eastman's membership in the Oath Keepers, who were involved in the January 6 insurrection, likely violates the constitutional provision. Eastman's name will remain on the ballot for the November election. But he still has to have a trial, which is scheduled for December. Should Eastman win in November – which is likely – the judge directed the Division of Elections to not certify the election until the trial has concluded. If Eastman loses, the second place finisher will take his spot.
This provision almost certainly violates the First Amendment principal of free association. Even attorney Libby Bakalar,  who is no fan of Eastman, acknowledges this. But Kowalke and his ilk don't care about the First Amendment. They want Eastman gone. They can't do it at the ballot box so they have gone to the courts instead. I not a fan of David Eastman's politics or tactics. But we live in a representative democracy and Eastman continues to get elected by his constituents. The precedent this could set is dangerous for democracy. Not that long ago the ACLU would have defended Eastman here. It's too bad they have abandoned their founding principals.
What the primary results tell us about the general
The following is an excerpt from this week's edition of the Alaska Political Report. You can click here for more information about the Political Report. A subscription is $1,299/year per organization. Discounted pricing is available for non-profits and government entities. We are providing extensive election coverage this year in addition to our session coverage. If you have any questions or would like to subscribe, please email jeff@akpoliticalreport.com.
Elections are decided by people who show up to vote and by those disenfranchised enough to stay home – or under Alaska's new election system – to select one candidate in a race rather than completing a ranked ballot.
During the Nov. 8 general election, the electorate will look very different than it did for the August 16 primary election. Yet a district-by-district and precinct level review of turnout reveals a number of interesting trends.
Urban Alaska carried Mary Peltola to victory
When Congresswoman Mary Peltola (D – AK) was a member of the Alaska Legislature – with the exception of an initial loss during her first run for office against then-incumbent Ivan M. Ivan – the closest race she ever had was in 1998 when she won her seat with more than 72 percent of the vote.
In the race for U.S. House, Peltola received 63.5 percent of the vote from her home district in the primary – a significant majority and better than her overall performance statewide of 36.8 percent. But Sen. Lisa Murkowski (R – AK) performed 10.5 percentage points better than Peltola in House District 38, earning 74 percent of the vote. Further, Peltola was five percentage points more popular in Downtown Juneau — where she received 68.3 percent of the vote — than she was in the Yukon-Kuskokwim region, where she lives. Peltola also performed extremely well in Downtown Anchorage, winning 60.3 percent of first place votes. The surge of support in highly populated urban areas, rather than in rural communities, propelled Peltola to victory.
Overall, statewide turnout was 32.2 percent. In rural districts, however, turnout was dramatically lower, ranging between 16.9 percent on the North Slope to 22.5 percent in Norton Sound.
Will this trend of low rural voter turnout remain the same in November? Or will these voters be motivated to do their part to keep the first Alaska Native member of Congress in that seat? If there is an uptick in rural turnout, which seems likely, candidates in other statewide and legislative elections could benefit
Highest voter turnout at the precinct level*
Klukwan (55.4% – 41/74)
Stuckagain Heights (43.2% – 189/437)
West Anchorage (42.6% – 787/1,847)
Lynn Canal (42.1% – 582/1,384)
Goldstream (41.8% – 648/1,550)
* the voter turnout figure here is imperfect because the Division of Elections does not break down absentee, early, and questioned ballots by district, meaning the above ranking only accounts for in-person voting on Election Day.
Palin significantly outpaced Begich in House districts won
Republican Nick Begich III narrowly won the majority of first place votes in just three House districts: Ketchikan and both Eagle River districts, each by a narrow margin with the overall first place vote count split nearly equally among the three candidates. Republican Sarah Palin won ten House districts; Peltola led the pack by winning a total of 27 House districts. In a head-to-head comparison of how Begich and Palin performed against one another in each House district, though, the two were in a dead heat, 20-20.
Will Republicans embrace a "rank the red" strategy in a race where the two Republicans are almost exclusively cutting one another down?
Who can outpace Dunleavy in a third round: Gara or Walker?
In exactly the same number of House districts where Peltola won a majority of votes – 27 out of 40 – Democrat Les Gara and Independent Bill Walker together received more support than GOP Gov. Mike Dunleavy. One major question in this race is which of the two challengers will emerge in second place and to what degree Gara voters rank Walker second and vice versa.
When ranked-choice voting is a factor in the general election, it is likely that this race will carry into a third round of ranking before any candidate reaches a majority: Dunleavy received 40.4 percent of the vote in the primary, only 1.9 percentage points more than Kelly Tshibaka and far short of moving from a plurality to a majority until second-place votes are counted. The ultimate question for voters who want to replace Dunleavy: Is the Democratic or Independent ticket more capable of pulling ahead on the final third-round ballot? In the primary election, Gara outperformed Walker significantly in Anchorage; Walker's strongest support on the other hand was in Coastal Alaska and in rural communities.
Another significant factor in this race is who Republican Charlie Pierce and Wasilla Republican Rep. Christopher Kurka voters will support in the general election. They received 10.44% of the combined primary vote. Will these Republicans who do not approve of Dunleavy's performance not fill out a ballot at all? How will single-issue pro-life voters adjust to the adjusted field of gubernatorial tickets?
It's clearly Lisa Murkowski's race to lose
Any way you look at the U.S. Senate race, it's clearly Lisa Murkowski's to lose. Take House District 38 for example: with 74 percent of the vote, Murkowski is more popular than anyone in the Yukon-Kuskokwim region, including Mary Peltola (63.5 percent) and Bethel Democratic Sen. Lyman Hoffman (67.9 percent).
Republican Kelly Tshibaka won a majority of support in 12 out of 40 House districts, with strong performances on the Kenai, Eagle River and the Mat-Su, and parts of Fairbanks. She even topped 60 percent in the Wasilla districts represented by Reps. David Eastman and Cathy Tilton. However, Murkowski dominated in rural communities, Coastal Alaska, and Anchorage.
Other Happenings 
The price of ANS crude has steadily been falling since June. If the average price for the fiscal year drops below $87 per barrel, the state will face an unfunded deficit. The PFD this year cost over $2 billion. No matter what, our elected officials always take us to the fiscal edge.
Jeremy Price is leaving his position as chair at the Alaska Oil & Gas Conservation Commission to take a public relations job for HF Sinclair, a refinery located in Washington state. He is moving to Washington with his family for the job. Before being appointed to AOGCC by Governor Mike Dunleavy (R – Alaska), he served as Dunleavy's deputy chief of staff.
Dr. Bob Onders, the administrator for the Alaska Native Tribal Health Consortium, resigned from his position this week effective November 11. Onders has been with ANTCH since 2015.
During a meeting of the Permanent Fund Board of Trustees this week, trustee Ethan Schutt was elected chair. He replaces trustee Craig Richards, who has served as chair for the past two years. Richards has been mired in the firing of Angela Rodell as CEO from the Permanent Fund Corporation.
Grace Kubitz has left her job as a legislative staffer to Representative Zack Fields (D – Anchorage). Best of luck to her in her next endeavor. As one of the coolest staffers, she will definitely be missed in Juneau!
There will be a debate on the constitutional convention question on Thursday at 7 pm at the Wendy Williamson Auditorium. You can click here for more details.
This meeting of the Legislative Budget & Audit Committee on Wednesday will definitely be worth watching. The law firm, Schwabe, Williamson & Wyatt, the committee hired to investigate the Angela Rodell firing is on the agenda.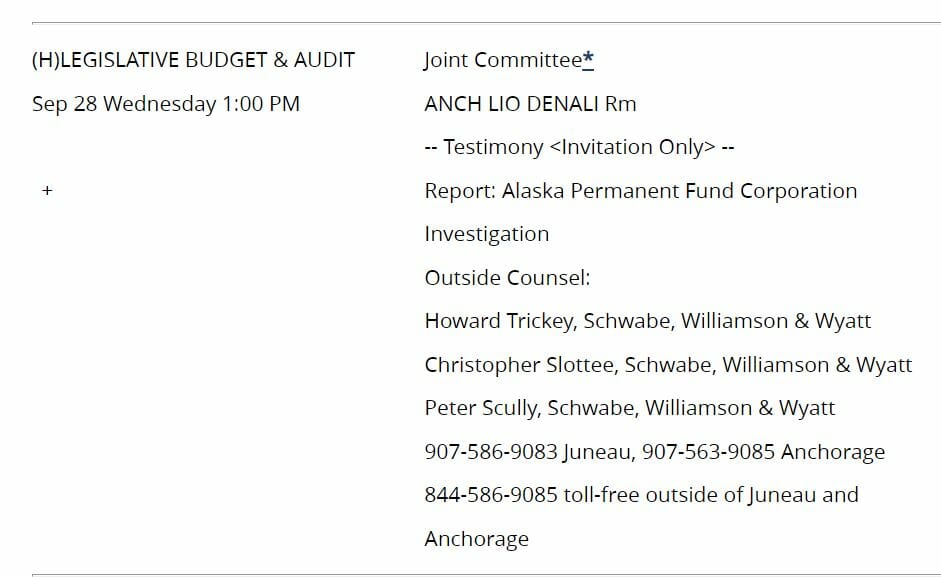 This anti-Kelly Tshibaka mailer is savage.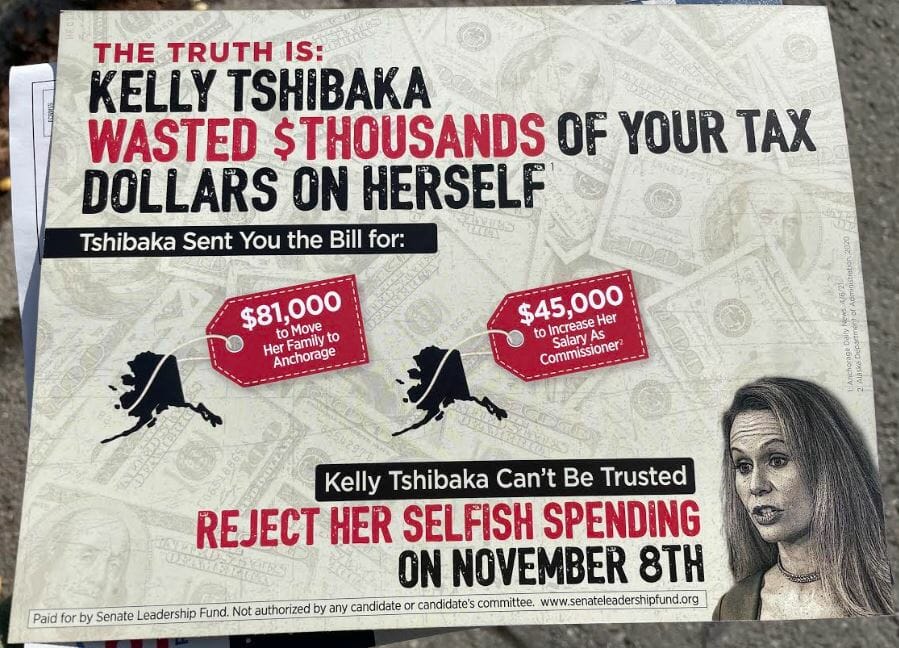 This Week's Loose Unit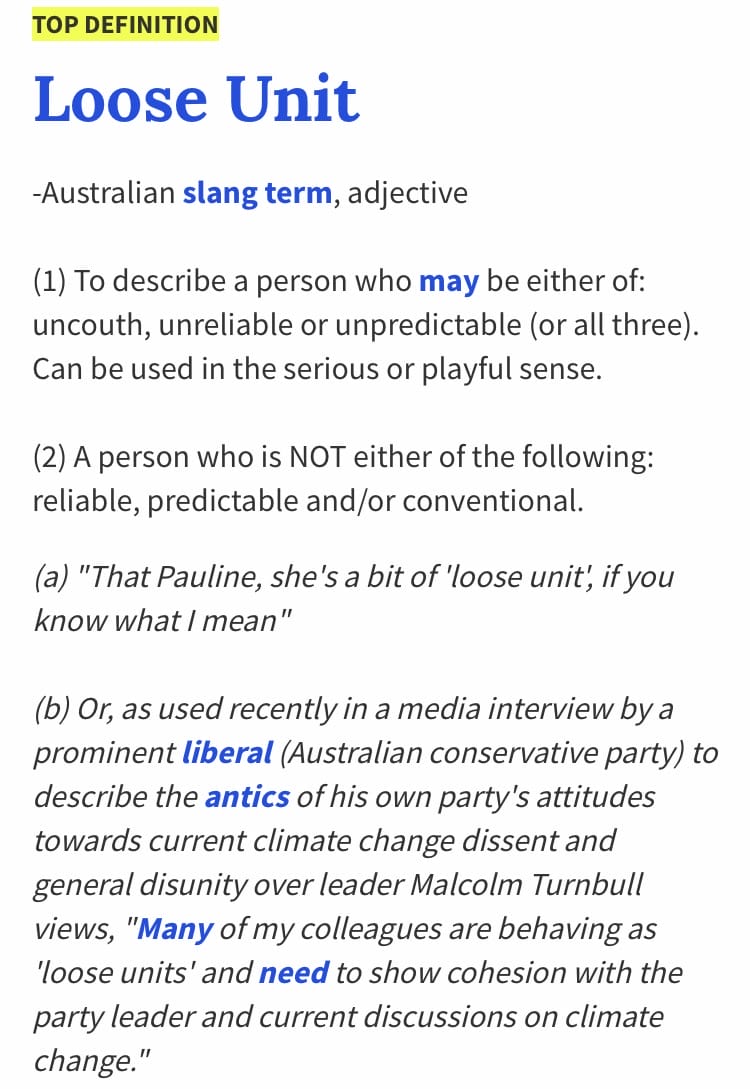 This week's designee really highlights why the Loose Unit exists. It's so loose it's almost unbelievable. This week's Loose Unit is Elstun Lauesen, with several honorable mentions. For those of you who aren't familiar Elstun – which if you follow Alaska politics is unlikely – he is the husband of Representative Harriett Drummond (D – Anchorage). Redistricting paired Drummond with fellow Democrat Zack Fields. They are running against each other for the Downtown Anchorage House seat. This is where it starts getting really loose.
On August 30 an independent expenditure (IE) group named Friends of District 17 Opposed to Zack Fields "Friends of District 17" was formed. Independent expenditures are third party groups that can support or oppose candidates. Coordination between independent expenditures and campaigns is strictly prohibited. When the IE was formed they listed three donors, which included Lauesen and family members of Drummond! This alone is extremely loose. But it gets way looser.

The person who registered the IE and who was also listed as the IE's treasurer is Krystal Lunda. But Krystal Lunda is also listed as Drummond's campaign treasurer! And Elstun Lauesen is listed as a deputy treasurer for his wife Harriet's campaign. That is maximum fucking loose.
The Alaska Public Offices Commissioner held a hearing this week on whether to expedite a complaint someone filed on this extremely loose situation. Lauesen emphatically stated there was no coordination and that he only provided "seed money" for the IE. Sure! He also said the IE was dissolving and returning the money to the donors. He went on to say that if they were going to coordinate with Drummond's campaign, it would not look like this "smoldering pile of incompetence." Maximum loose. The commission decided not to expedite the complaint because the entity is voluntarily dissolving itself. But holy shit what a bunch of Loose Units!
If you have a nomination for this week's Loose Unit, or if you have any political news, stories or gossip (or any old pics of politicians or public officials) please email me at jeff@alaskalandmine.com.