As we approach October and the termination dust appears on the Chugach Mountains, we all know winter is just around the corner. And so is the 2018 general election. The election is just 44 days away.
Stay tuned for a special edition of next week's Sunday Minefield.
Anchorage Chamber Candidate Forum
The Anchorage Chamber of Commerce held a candidate forum on Monday (9/17/2018) at the Dena'ina Center. I thought it was only for candidates for Congress. I was wrong. There were nine candidates at the forum, yes nine. Way too many. In addition to Congressman Don Young (R – Alaska) and Alyse Galvin, there were seven State Senate candidates. The event was plagued with microphone issues. Also, at one point a very loud compressor interrupted West Anchorage senate candidate Sam Cason while he was talking. Cason joked, "They said there would be no whoopee cushions!"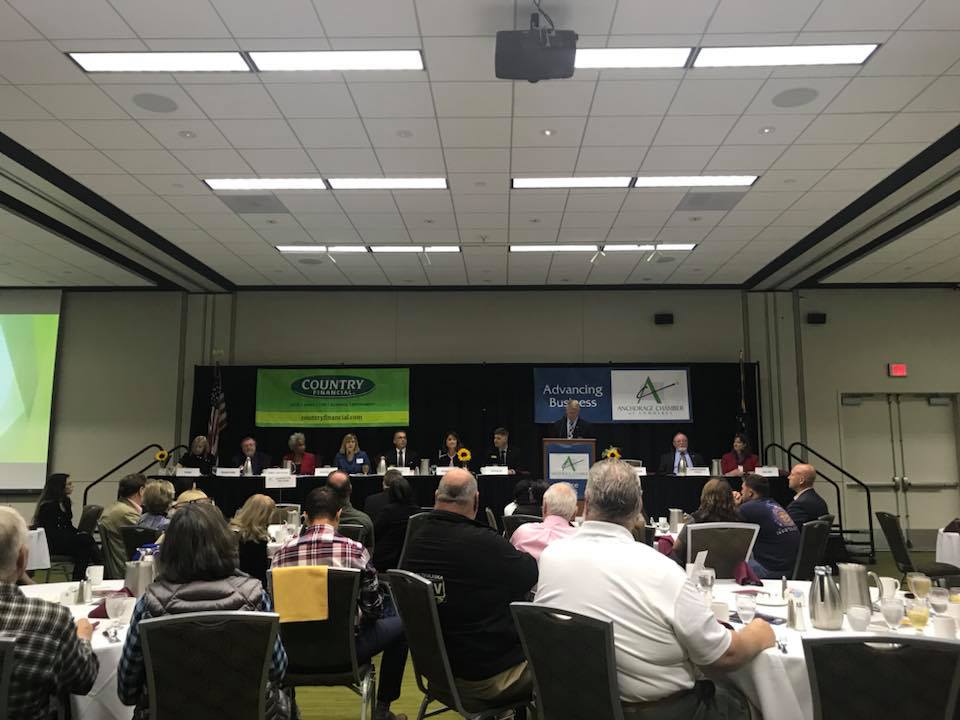 The big drama at the event was between Alyse Galvin and Don Young. Galvin responded to every question reading from prepared notes. Not exactly the best approach to beat Don Young. She continually went after Young, basically blaming him for everything. At one point he got tired of it and commented how "nasty" she was being. It devolved from there. Because Galvin was reading from prepared notes and seemed incapable of speaking extemporaneously, she continued to attack Young. It was definitely something to see. I can't wait for a debate where they aren't told the questions. That will be something to watch.
I also have to give a shout out to Oliver Schiess. Schiess is the Democrat running against Representative Lora Reinbold (R – Eagle River) for the Eagle River senate seat. While he does not have much of a chance against Reinbold, he is definitely the kind of guy to get under her skin. He is very intense and high energy! Dude does not need a microphone. He is also a Marine Corps veteran. Can't wait to see them in a real debate.
NAACP Gubernatorial Forum
The NAACP held a forum for candidates for governor on Thursday (9/20/2018) evening at the Wendy Williamson Auditorium. Mike Dunleavy did not attend, making this yet another forum he has skipped. The strategy seems to be waiting out the clock. It might work, or it might backfire. The voters will decide. Mark Begich and Governor Bill Walker (I – Alaska) are very happy to point out his continual absences. They are also happy to go after each other. What a bizarre race this has become.
Libertarian candidate Billy Toien showed up a few minutes late with a binder of papers in tow. He was a bit winded. During a question about new industry in Alaska he told the crowd he will be going into more detail on his ideas on his Alaska Landmine interview. I was not there but got many text messages about it. Yes, it's true. I will be interviewing Billy Toien. Stay tuned. I'm still waiting to hear back from Mike Dunleavy about when he is free to do an interview with me. I'm not holding my breath at this point.
Other Happenings
Republican State House candidates Josh Revak and Representative Lance Pruitt (R – Anchorage) held a fundraiser at Enstar this week. But they didn't know it was going to be a joint fundraiser until they got there. Two different people at Enstar had setup separate fundraisers for Revak and Pruitt. They later realized they had double booked the room, so they decided to just combine them into one event. South Anchorage house candidate Laddie Shaw was in attendance. Apparently during Revak and Pruitt's remarks, someone suggested he also get up there. Word is it really got going after that. If you have not met Laddie Shaw you need to, he is quite the character.
Last week we reported that the handlers for Sara Vance made some bizarre demands for when and where they would agree to debates with Representative Paul Seaton (R – Homer). Vance is the Republican running against Seaton, who switched from Republican to run as an Independent in the Democratic primary. He now faces Vance in November. One of the strangest demands was that the debate could not be at a place that served alcohol. Well, Vance must not have too much of an aversion to booze. Check out this pic of her and Dr. Jack Hickel at the Land's End Resort. Nice glass of wine in the lower left corner!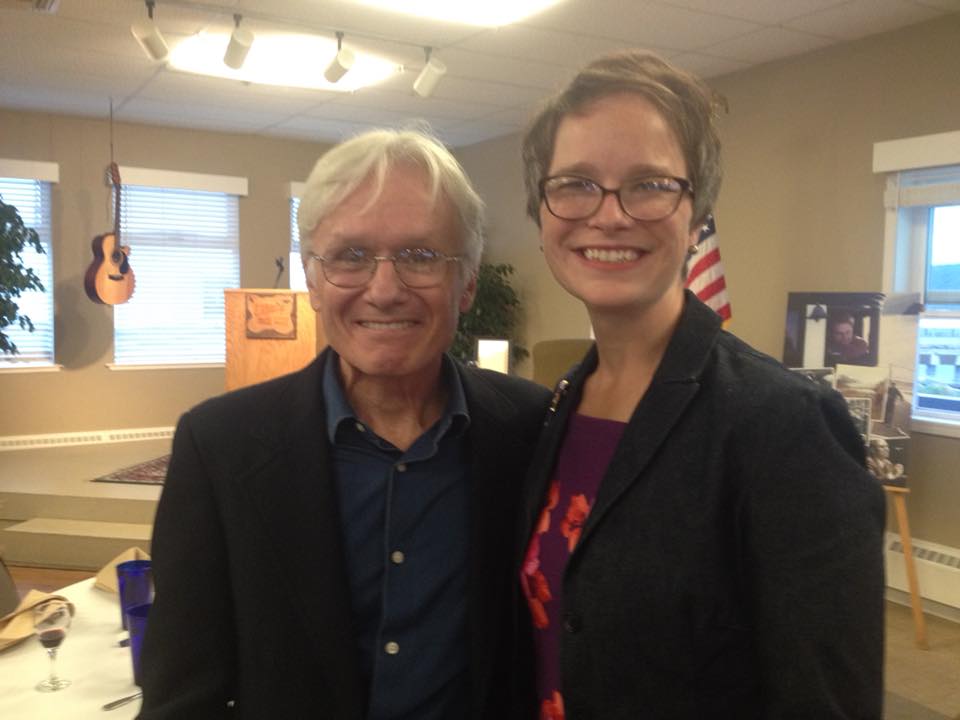 The independent expenditure group, Dunleavy for Alaska, is very active on social media (it's really easy when you are all monied up). Their Instagram account now has 1,523 followers. Just overtaking Assemblymember Forrest Dunbar's account. Dunbar has one of the most active political accounts in Alaska politics. Don't worry Forrest, their account should cease to exist after the election.
Speaking of Forrest Dunbar. If you haven't already seen it, check out this special message to him from the Great Alaskan Bush Company. I'm down to take you anytime, Forrest!
Remember Charlo Greene? Who could forget that Loose Unit. She posted this video celebrating the four year anniversary of her infamous "Fuck it, I quit" moment. She also said she would be giving away 5,000 copies of her book. My guess is these are copies she could not sell and will likely not even be able to give away. Good riddance.
September 22, 2018 is the 4 year anniversary of "F it, I quit."To celebrate, I'm giving away 5,000 copies my bestselling book "F It: A Guide to Letting Go & Living Free" from Sept 21 – Sept 25. Head to charlogreene.com/giveaway to grab your free copy. AND tag a friend you shared this video with when you first saw it. Boy has it been a loooooong four years!

Posted by Charlo Greene on Friday, September 21, 2018
I hear a lot of stories about how loose Juneau used to be. I heard one this week that I had to share. A longtime Juneau politico told me that people used to pull the fire alarm at the Baranof Hotel (where a lot of politicos stay) to see who would come out of whose room. They did this to see who was sleeping with who! I love it. If you have any awesome Juneau stories, send them over.
Strait Talk
This is stuff Steve Strait says on his radio and "news" show he does in Western Alaska, that he broadcasts from Anchorage. Strait is the chair of a pro-Dunleavy PAC and is also a regular enforcer at Alaska Republican Party events. Thanks to my awesome sources in Western Alaska who "force themselves to listen to his show" so they can send me stuff he says. On this week's edition of Strait Talk:
While talking about a big yard sale at the Dillingham Hotel, Strait said there are headboards with all kinds of notches in them! He was also really excited to talk about a Must Read Alaska story about Representative Gabrielle LeDoux (R – Anchorage) flying to California after the primary election and announcing that Charlie Chang died when she returned. He compared the Kavanaugh process to the way Joseph Stalin operated. And for the best comment of the week. While talking about a report that alcohol kills more people than HIV/AIDS he said, "At least with alcohol you know what you're putting in your mouth." Damn, Steve. Keep up the great content!
This Week's Loose Unit
This week's Loose Unit is Mike Navarre. Navarre is a former legislator and mayor of the Kenai Peninsula Borough. He is the current Commissioner of the Department of Commerce, Community, and Economic Development. Well, kind of. He announced in an email this week that he is taking a leave of absence until after the election. You can see it here: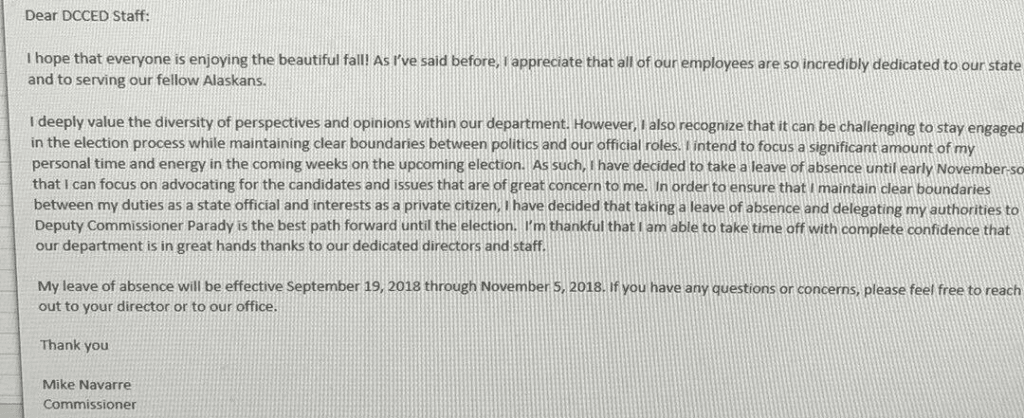 It is likely that he will be helping out his boss, Governor Bill Walker, on his campaign. Some say it's a good move for him to step down during the election if he's going to get involved in the campaign. That's a fair point but it's also a pretty loose move. How can a Commissioner just take six weeks off? He must either really like Bill Walker or be really concerned about his chances, or maybe both. Or maybe he is hedging his bets?
Navarre is fortunate enough to be able to take a leave of absence. His family owns several Arby's in Alaska. I only recently learned this. This explains all the 4X8 political signs at the Arby's in midtown Anchorage. Maybe the Walker/Mallott campaign is about to get a bunch of Beef and Cheddar sandwiches in the campaign office!
If you have a nomination for This Week's Loose Unit, or if you have any political news, stories or gossip (or any old pics of politicians or public officials) please email me at jeff@alaskalandmine.com.