The first tranche of overseas absentee ballots went out on Friday. This was after the week was consumed over a lawsuit against the Division of Elections on changes to the ballot. More on that later. The second tranche of absentee ballots start going out on October 9. Because of COVID a lot more people are voting absentee. This means the election has essentially been moved up a month, at least as far as candidates getting out the vote. The campaigns who do a good absentee chase program will have an advantage.
A friendly message and reminder to all our readers, the Landmine is made possible by myself and a team of awesome Alaskans. It takes a lot of work to provide the content we do. If you enjoy the content we provide, please consider making a one time or recurring monthly donation. You can click here to donate. We have a donation system that makes it super easy. We would really appreciate it. And thanks to everyone who has been supportive!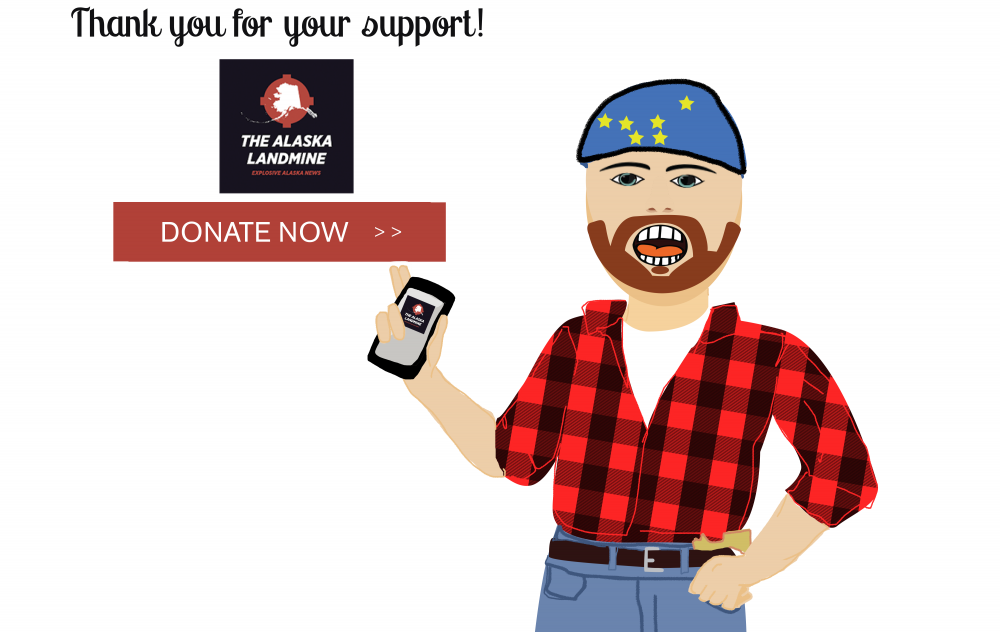 Politicos Making Moves
Many Alaska politicos were busy this week. Here is a list:
Megan Mazurek, formerly with KTVA, was hired by GCI to run their philanthropy efforts. Congrats, Megan! A little Alaska is a small state trivia. Megan's sister is married to Representative Ben Carpenter (R – Nikiski).
It has been one year since then-Budget Director Donna Arduin left the office for lunch and never came back. Even though she left Alaska she has not moved on from Alaska politics. In addition to endorsing several legislative candidates she is also speaking at conservative candidate meetings about the budget. The thing I miss the most about her is that zebra coat!
Check out this letter I obtained from Tuckerman Babcock to James Baisden. Babcock sent it to him right before the August 31 withdrawal deadline. Tuckerman knows how to use his words! However, Baisden did not withdraw. Baisden, who is running as a petition candidate, faces Republican Ron Gillham in the general. There is no Democrat in the race.
Check out this letter Tuckerman Babcock sent James Baisden, who's running as a petition candidate in District 30. This was sent right before the Aug. 31 withdrawal deadline. Baisden did not withdraw. The @akgop kind of sounds like a binding caucus… #akleg pic.twitter.com/D9Gs5RMoBF

— The Alaska Landmine (@alaskalandmine) September 18, 2020
Check out this campaign video from Senator Bill Wielechowski (D – Anchorage). It's very powerful. Whoever put it together must have spent a lot of time pulling those clips.
Don't worry, folks. Palmer City Councilmember Sabrena Combs' husband Dave Combs is not a person of interest in a suspected murder from 1995. This article was sent to us. I have confirmed that it is a different Dave Combs.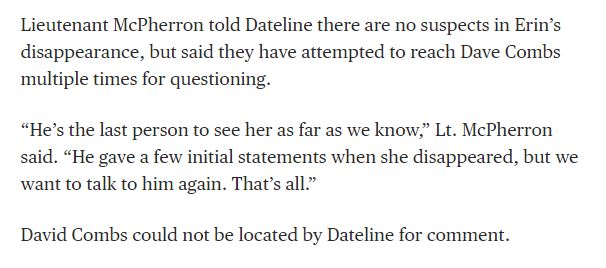 Several senators are angling to be senate president. The two going hardest for it seem to be Senators Peter Micciche (R – Soldotna) and Mike Shower (R – Wasilla). Neither are up for reelection this year. But as one avid Landmine reader noted, "I don't understand why anyone would want to be senate president. The last two both lost their elections."
Our favorite content machine UA Student Regent Cachet Garrett is at it again. Check out this bizarre exchange on a Facebook page called UA Convergence. What the hell is the hundredth monkey theory?
The Arctic Slope Regional Corporation Board of Directors announced this week their endorsement of Senator Dan Sullivan (R – Alaska) and Congressman Don Young (R – Alaska).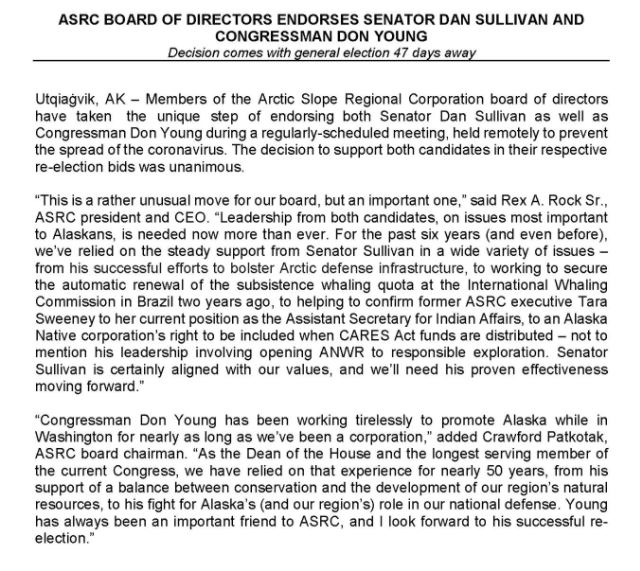 Just when you thought 2020 could not get any weirder. The Alaska Chamber tweeted about their Fall Forum that included a picture Senator Lisa Murkowski (R – Alaska). Then President Trump retweets a "No thanks!" Then the Chamber invited Trump to the event. Are we living in a simulation? Imagine if he were to accept! Chamber President/CEO Kati Capozzi will probably go AWOL.
The Anchorage Home Builders Association has been hosting a series of Facebook Live town halls on homelessness with legislative candidates. There are two more remaining.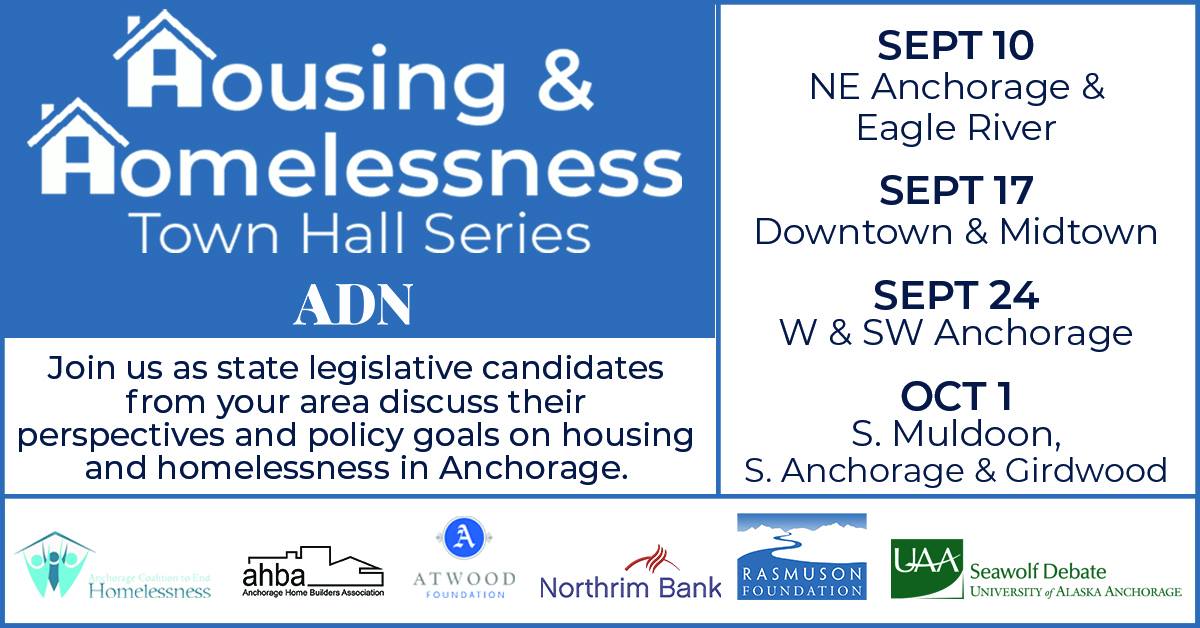 Other Happenings
Today marks the one year anniversary since we published "The bizarre story of Campbell Lake, the private lake that isn't." It remains our most read article. A lot has transpired since the article was posted. Unfortunately, proper public access to the lake remains an issue. We hope this will one day get resolved.
Al Gross came out with a new video this week with a little jingle. In the video he again mentions he killed a bear but at the end it says "Alaska's own bearrrrr doctorrrr." Very loose.
Because there are so many independent expenditure groups this cycle, ad space for television and radio is very limited for candidates. The lower political rate pricing does not apply to independent groups. Some stations are already booked up through the election and rates are starting to go up for the ones who have space left.
Mailers 
This one was sent out by the Alaska Democratic Party on behalf of Alyse Galvin. Kind of odd timing after Galvin sued the Division of Elections this week for not showing her as "Undeclared" even though she is the Democratic nominee.
Al Gross has been hitting the mail hard this week. The Alaska Chamber coming out hard against Ballot Measure 1.
This Week's Loose Unit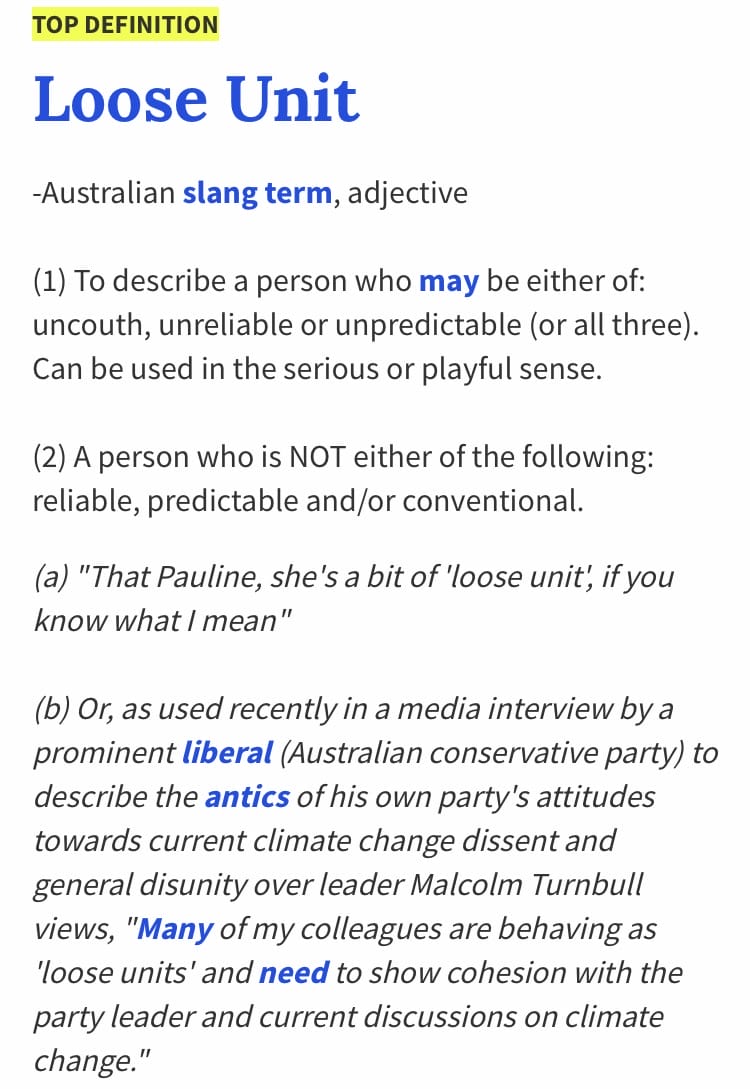 First of all, I have to say that this week's Loose Unit is all the result of a Landmine tweet. Which in itself is very loose. This week's Loose Unit is a tie between Division of Elections Director Gail Fenumiai and congressional candidate Alyse Galvin. This all started on Monday morning. I was having a conversation with someone who casually mentioned they heard about a change to the general election ballot. This sparked my curiosity. So I went and checked the sample ballots. I soon realized the Division of Elections (DOE) had removed the party affiliation next to candidates names. So I tweeted this:
Interesting. The @ak_elections changed how ballots with "Independent" candidates who ran in the Democratic primary appear on the ballot. In 2018 it showed a U by their name to indicate they are Undeclared. That has been taken away this year. #akleg pic.twitter.com/icyv1rMcMJ

— The Alaska Landmine (@alaskalandmine) September 14, 2020
It all got real loose from there. The next day Alyse Galvin filed a lawsuit against DOE, and included the Landmine tweet! The lawsuit says this is where she first learned about the change.
After an extremely rushed court hearing, the Alaska Supreme Court ruled against Galvin on Friday. A lawsuit and Supreme Court decision in four days. Now that is loose! Imagine if I did not do that tweet? Maybe no one would have noticed for weeks. This is why Fenumiai tied for the Loose Unit. No one knew about the change. Everyone learned about it from my tweet. Now that is loose. There is an argument to be made about how the ballots should appear. It was changed when Bill Walker was governor based on the lawsuit that allowed Independents to run in the Democratic primary. But just making a change and telling no one is loose. Now to Galvin. Galvin was long ago endorsed by the Alaska Democratic Party. She is endorsed by Nancy Pelosi. She is supported by major Democratic organizations. But I guess she has a problem with being associated with the Democratic Party on the ballot. Super loose.
If you have a nomination for this week's Loose Unit, or if you have any political news, stories or gossip (or any old pics of politicians or public officials) please email me at [email protected]