The Alaska Legislature started their 4th special session on Monday. It has been dominated by crime. As usual, the characters in this tragic comedy have not disappointed. Here are a few of the bizarre happenings:
Noticeably absent from the first few days was Representative Lora Reinbold (R – Eagle River). She opted instead to hold a crime and budget event at the Anchorage Museum sponsored by everybody's favorite conservative advocacy group, the Koch Brothers Americans for Prosperity. Even worse, her event was at the same time as the House Judiciary Committee's public testimony on the crime bill, a committee in which she is a member. The event was basically a right wing echo chamber.
Spotted at the event was Dan Sullivan (Mayor Dan), Republican candidate for lieutenant governor Lynn Gattis, Republican candidate for governor Charlie Huggins, former Alaska Republican Party boss Randy Ruedrich, Don Smith (former school board member who blamed the ASD problems on refugees), Art Chance (he loves calling his political opponents lefties on Facebook and saying he will make their girlfriends toes curl), former Republican state house candidate and Florida local Ross Bieling and Alaska Republican Party mouthpiece and Must Read Alaska editor Suzanne Downing.
Several people spoke and gave presentations. Some of them folks were way out there. The best speaker by far was KENI radio host Rick Rydell. It was informative and entertaining. But the award for the best introduction goes to former Representative from Sand Lake and current Republican candidate for state house, Liz Vazquez. The intro was something else, no degree or job title was missed. It was reminiscent of Apollo Creed's intro when he fought the Russian in Rocky 4. The emcee was perfect – his voice was straight out of wrestle mania.
The Alaska House Majority now seems eager to pass Senate Bill (SB) 54, a bill adding some teeth to the very unpopular crime reform bill SB 91. Public pressure must have got to them because there was no desire to deal with it last session, even though the senate had already passed their version of it. Maybe they should just leave SB 91 as is and just change the name to SB 54 because it is ridiculous to attribute the rise in crime to only SB 91. A total all around lack of leadership.
Word is several Republican candidates who voted for 91 are not happy with Representative Charisse Millett (R – Anchorage). She has been very vocal against the bill this week throwing colleagues under the bus who voted for it. She ultimately voted against SB 91 but co-sponsored the original house version of the bill. Words have been exchanged. #awkward
Governors Race
A source revealed results from a poll recently conducted on the governor's race. In 2 hypothetical scenarios, Begich/Walker/Huggins and Begich/Walker/Chenault the polls showed Begich winning and Walker coming in last. Governor Walker is definitely on the ropes. The question is, what is Mark Begich waiting for?
Former state senator and Republican candidate for governor, Charlie Huggins has an affinity for the ladies. Overheard at a political event this week was a suggestion by a well-known politico that his campaign slogan for governor should be, "These arms are made for huggin." Hey it seemed to work for Trump.
Sources have revealed there has been a discussion in Governor Walker's inner circle to drop Lieutenant Governor Byron Mallott and replace him with a candidate who appeals more to the right. Good luck finding someone to sign up for that job. Bill, call me maybe?
Word is many establishment Republicans are not happy with the current candidates for governor. There is a lot of pressure to get one of former Republican candidates for governor, John Binkley or Ralph Samuels to get into the race. Sounds like Ralph Samuels does not intend to run. Binkley's family just bought the Alaska Dispatch News on the cheap after bankruptcy. If you think the right was mad at Alice Rogoff for using the paper to elect Walker, imagine what the left will say if Binkley runs for governor. Whose fake news is it now?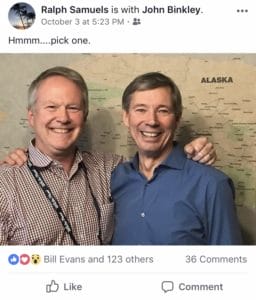 Libertarian Mark Fish is considering another run for statewide office, most likely governor. The more the merrier! In a strange result of the Walker/Mallott unity ticket, Fish was appointed to the Alaska Public Offices Commission by Governor Walker because he was mandated to appoint a Libertarian. Due to having no Democrat in the last governor's race, the Alaska Libertarian Party got the second most votes. However, he recently resigned citing frustrations with the commission. Come on Mark, that won't happen again.
Characters
Several Democrats were hoping Assemblyman Forrest Dunbar would run against Representative Lance Pruitt (R – Anchorage) next year. Well that's not going to happen because Dunbar bought a place and moved out of that house district. He now lives in Representative Andy Josephson's (D – Anchorage) and Senator Berta Gardner's (D – Anchorage) house and senate district. He does not plan to run for the legislature this cycle.
Word is Terre Gales is considering another run against Congressman Don Young (R – Alaska). He ran against Young in 2012 and also ran against Forrest Dunbar for the Anchorage Assembly in 2016. Question is will he run as a Republican again? From his Facebook posts, it seems that it is not easy being a black man in the modern day Republican Party. (Note to older white Republicans, don't tell Terre how well he speaks every time you talk to him. This has happened. A lot.)
Senator Lyman Hoffman (D – Bethel), the only Democrat in the Alaska Senate Majority, must have had some awkward interactions with his colleagues when the special session started this week. He was spotted at the Senate Democrats fundraiser last week and several people wondered what he was doing there. He must be worried about his seat after seeing Bob Herron lose to Representative Zach Fansler (D – Bethel) and Ben Nageak lose to Representative Dean Westlake (D – Kotzebue) last year. They are both Democrats who caucused with Republicans. Stay tuned for drama in the bush.
Representative Jason Grenn (I – Sand Lake) has been driving Uber in Anchorage to make some extra money. He made a campaign promise to not take any per diem after 120 days of session, which he has honored. We can only hope his current opponent, Liz Vazquez (who Grenn beat last year) uses Uber. That would be a fun ride, not sure he will get those 5 stars though.
Some peeps in Fairbanks tell me that Representative Scott Kawasaki (D – Fairbanks), who is challenging Senator Pete Kelly (R – Fairbanks) is not afraid to take the gloves off. This race could get ugly. Hey. it's Fairbanks after all.
Many news outlets reported that President Trump asked Senator Lisa Murkowski (R – Alaska) and Senator Dan Sullivan (R – Alaska) about renaming Denali back to Mt. McKinley. Both were adamantly opposed to it. But I wonder if Senator Sullivan was at all conflicted? After all, President McKinley was from Ohio too.
A bunch of senators flew back from Juneau this week to meet in Anchorage. While the incredibly tall Senator Mike Dunleavey (R – Wasilla) was crammed in coach, freshman Senator David Wilson (R – Wasilla) was enjoying VIP status in first class wearing his embroidered senate jacket. He was not on the upgrade list which begs the question, did he pay for the ticket himself of did the state pay for it?
Former Democratic candidate for state senate Forrest McDonald, who switched parties this year, and is now a Republican candidate for state house against Representative Chris Tuck (D – Anchorage) filed an APOC complaint against the Alaska Democratic Party. He alleges they have provided their voter data to candidates without paying for it. There is switching parties, and then there is switching parties Forrest McDonald style.
Alaska GOP sponsored blogger and disgruntled Walker administration job seeker Suzanne Downing was seen Friday night at the Alaska Literacy Program's annual spelling bee fundraiser. She was on the spelling team of GOP gubernatorial candidate Scott Hawkins, who we hear she is pushing hard to get elected over his Republican rivals.
The embarrassing thing for Downing is she came in 2nd to last, failing to correctly spell the very first word she was given. On its face, that isn't that bad, I mean who hasn't flubbed a word now and then. What makes this a particularly stinging failure for Downing is that when she was begging Gov. Walker for a job, saying she would be "honored" to serve him, the one skill she touted was her superior proofreading ability. You can see the email here.
Oh well, maybe she'll make it to a second word next year and she'll finally get that job with Walker she's always wanted.
If you have any political news, stories or gossip please email Jeff at jeff@alaskalandmine.com