The November 3 general election is just over a week away. High numbers of absentee ballots and in-person early votes continue. Just like the primary, we will not know the final results for at least a week after the election – when the absentee results are reported. If some of the races are very close it could be longer. I can't wait until I stop getting 20 pieces of campaign mail a week. I am looking forward to our virtual Election Central. We will be again hosting another virtual Election Central for the general. Tune in to Facebook Live or YouTube to watch or KONR 106.1 to listen.
A friendly message and reminder to all our readers, the Landmine is made possible by myself and a team of awesome Alaskans. It takes a lot of work to provide the content we do. If you enjoy the content we provide, please consider making a one time or recurring monthly donation. You can click here to donate. We have a donation system that makes it super easy. We would really appreciate it. And thanks to everyone who has been supportive!
Anchorage 
On Friday Anchorage Assemblymember Austin Quinn-Davidson was sworn in as acting mayor. Ethan Berkowitz's resignation was effective at 6 pm. Quinn-Davidson was selected as the new Assembly chair after Berkowitz announced his resignation due to the Maria Athens scandal. Now that Quinn-Davidson is acting mayor, Assemblymember Felix Rivera will likely be chosen to be the Assembly chair again at the meeting on Tuesday. This will leave the Assembly at ten members until a new mayor is elected and sworn in. Quinn-Davidson will likely serve as acting mayor until July 1, or possibly a bit before. What will likely happen is the regular April election will proceed as planned and whoever wins that will start serving early. Normally the new mayor is sworn in on July 1. Holding a special election would cost a lot and would be held right before the regular April election.
The State announced 526 new COVID cases today. 193 are in Anchorage. As winter approaches and people spend more time indoors, cases are bound to continue to rise. Talk of another shutdown is already happening. With the holidays fast approaching there is no telling how things will end up. Acting Mayor Quinn-Davidson is in a tough spot. Any decision she makes will be angrily challenged by the Save Anchorage folks. I don't envy her position. At least we all know where Senator Lora Reinbold (R – Eagle River) stands.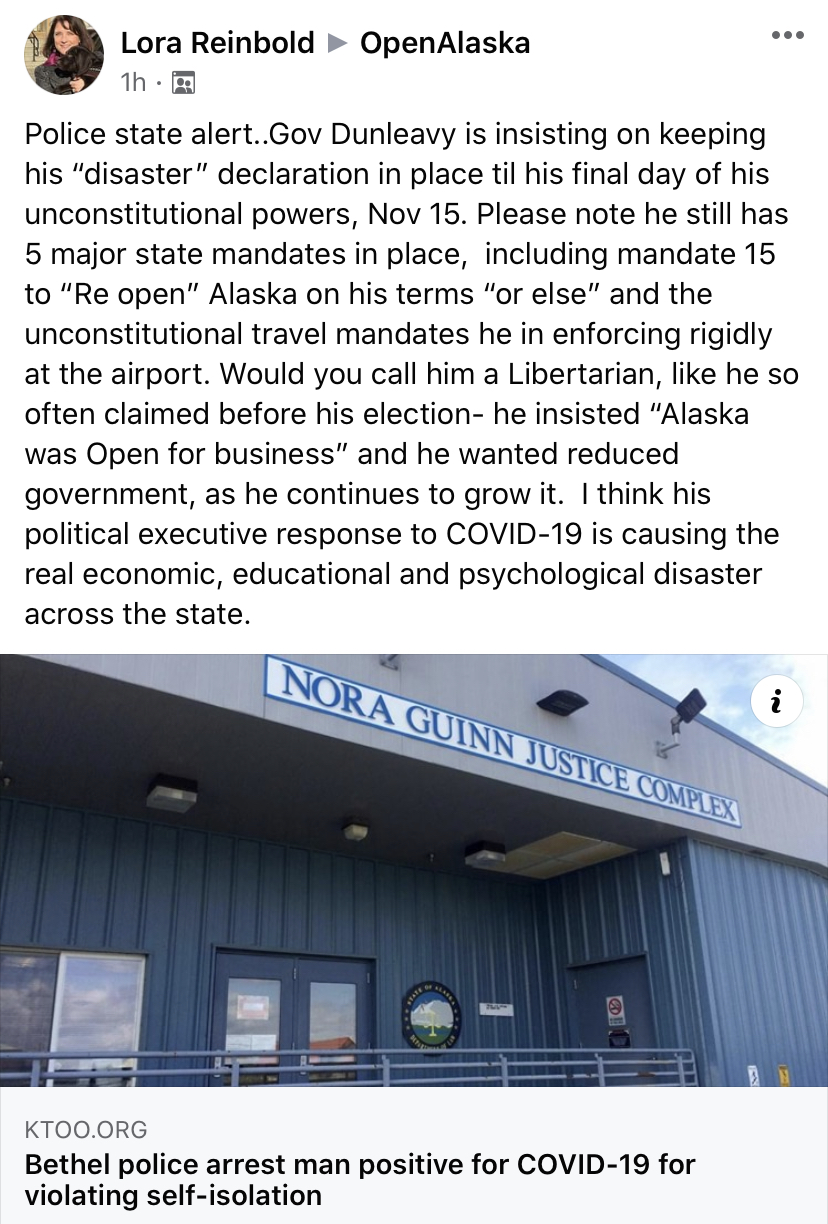 Other Happenings 
Things are getting loose in District 6! A labor group, Putting Alaskans First Committee, sent out a mailer pumping up Independent Elijah Verhagen as the true conservative. This is meant to sow discord with conservatives and help Democrat Julia Hnilicka. Republican Mike Cronk was clearly unhappy about the mailer. Then Verhagen and lobbyist Dave Stancliff got into it in the comments! Wild. Also, Cronk posted a weird video he's calling his new campaign song – Alaska Strong. According to the post it was written and sung by Dave Stancliff. It's actually kind of catchy. District 6 is lit.
Republican Kathy Henslee appears to think her opponent Representative Chris Tuck (D – Anchorage) is Jesus. How does someone vote against Jesus?
It's also getting loose in District 27. Representative Lance Pruitt (R – Anchorage) sent a cease and desist letter to the radio stations and labor group (the same one who sent out the Verhagen mailer) telling them to stop running an ad that made fun of his "he can do it" jingle. How bizarre. I will tell Pruitt what I have told many others. Read about the Streisand effect. See below letter and ad. And also a bonus jingle from the Landmine!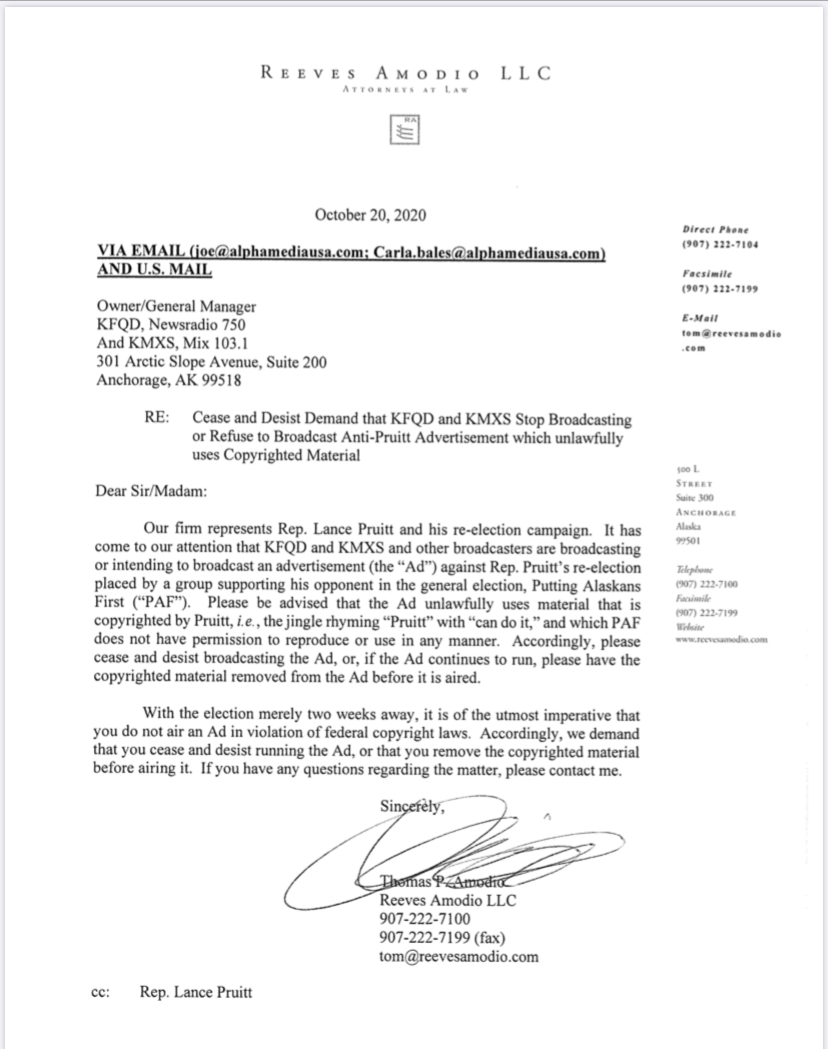 Here is the ad they were running. It's hilarious.
Also, I guess his lawyer missed this jingle we created last year making fun of his jingle. "He can do it, he's a Loose Unit!"
Another labor group, Working Families of Alaska, is sending out mail associating progressive candidates with Senator Dan Sullivan (R – Alaska) and Congressman Don Young (R – Alaska). Very loose.
I have known Senator Bill Wielechowski (D – Anchorage) for a long time. His campaign style is one of a counter puncher. He does not say anything about his opponents until they start going after him. His opponent, Republican Madeline Gaiser, is starting to learn that. She has been posting a bunch of stuff about Wielechowski that is flat out not true. Check this ad out he recently started running. She came in like a wrecking ball!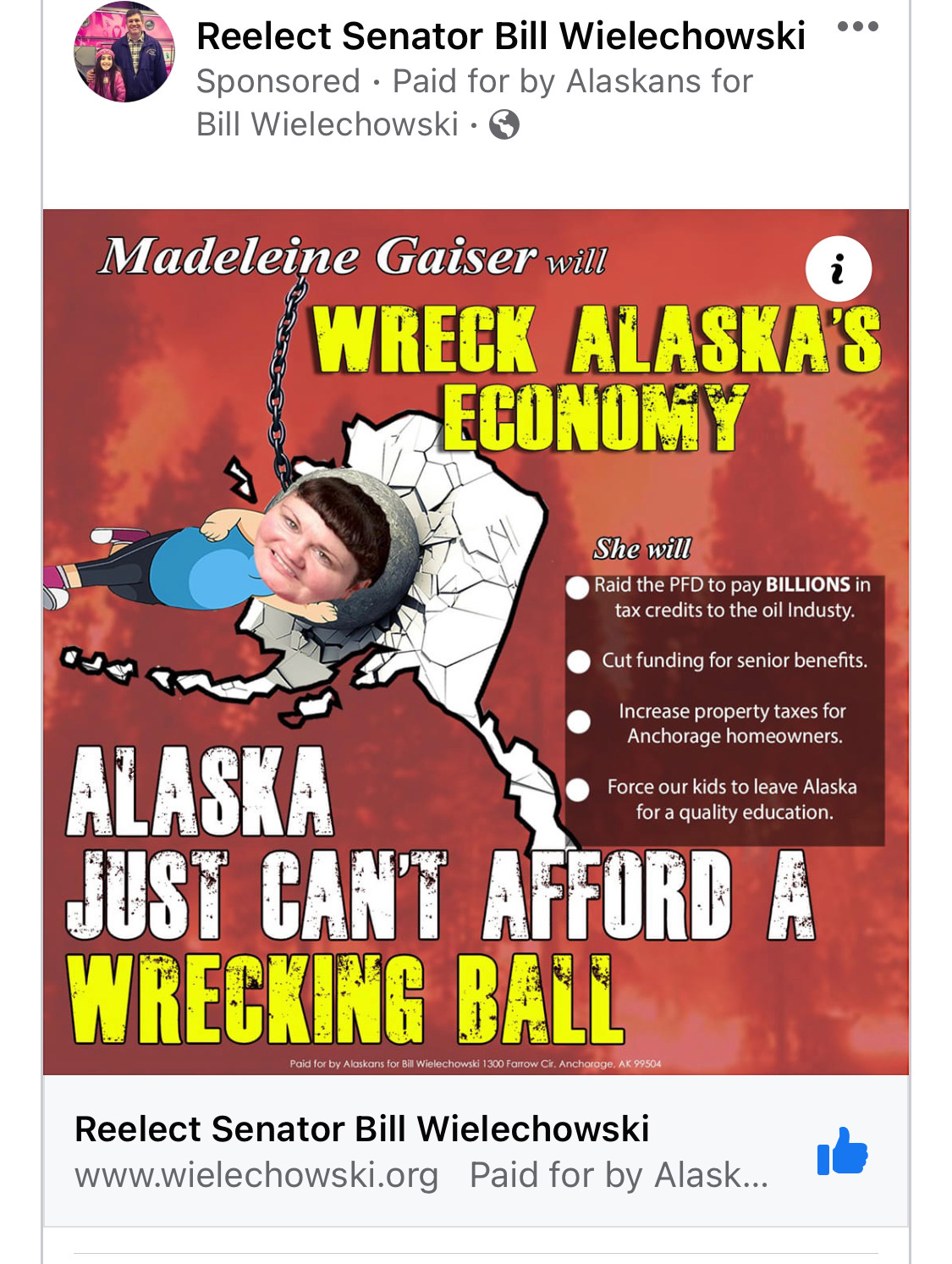 Alaskans for Open Meetings is hosting a team shooting tournament next Sunday at the Rabbit Creek Shooting Park. You can click here for info on how to register.
Democrats and progressives are about as mad as you can imagine at Senator Lisa Murkowski (R – Alaska). Murkowski announced that she will be voting yes to confirm Judge Amy Coney Barrett to the high court. I can say one thing for sure. If Murkowski seeks reelection in 2022, it will be beyond loose.
Breitbart posted an article today about Ballot Measure #2 titled 'Out-of-State Billionaires' Funding Ranked-Choice Voting Campaign in Alaska. It is kind of ironic that millions of dollars out out-of-state money is funding an initiative that in part wants to take dark money out of politics.
Congrats to Palmer City Councilwoman and my Landmine Love co-host Sabrena Combs. She was recently chosen as deputy mayor of Palmer after her recent reelection win. I am actually shocked that Landmine Love did not become a campaign issue. I was almost certain that would happen. Imagine those radio ads!
By now you have probably seen this deleted tweet from Representative Sara Rasmussen (R – Anchorage). This is real! What makes it super loose is it was from her official account. To all the haters, all I will say is haters gonna hate.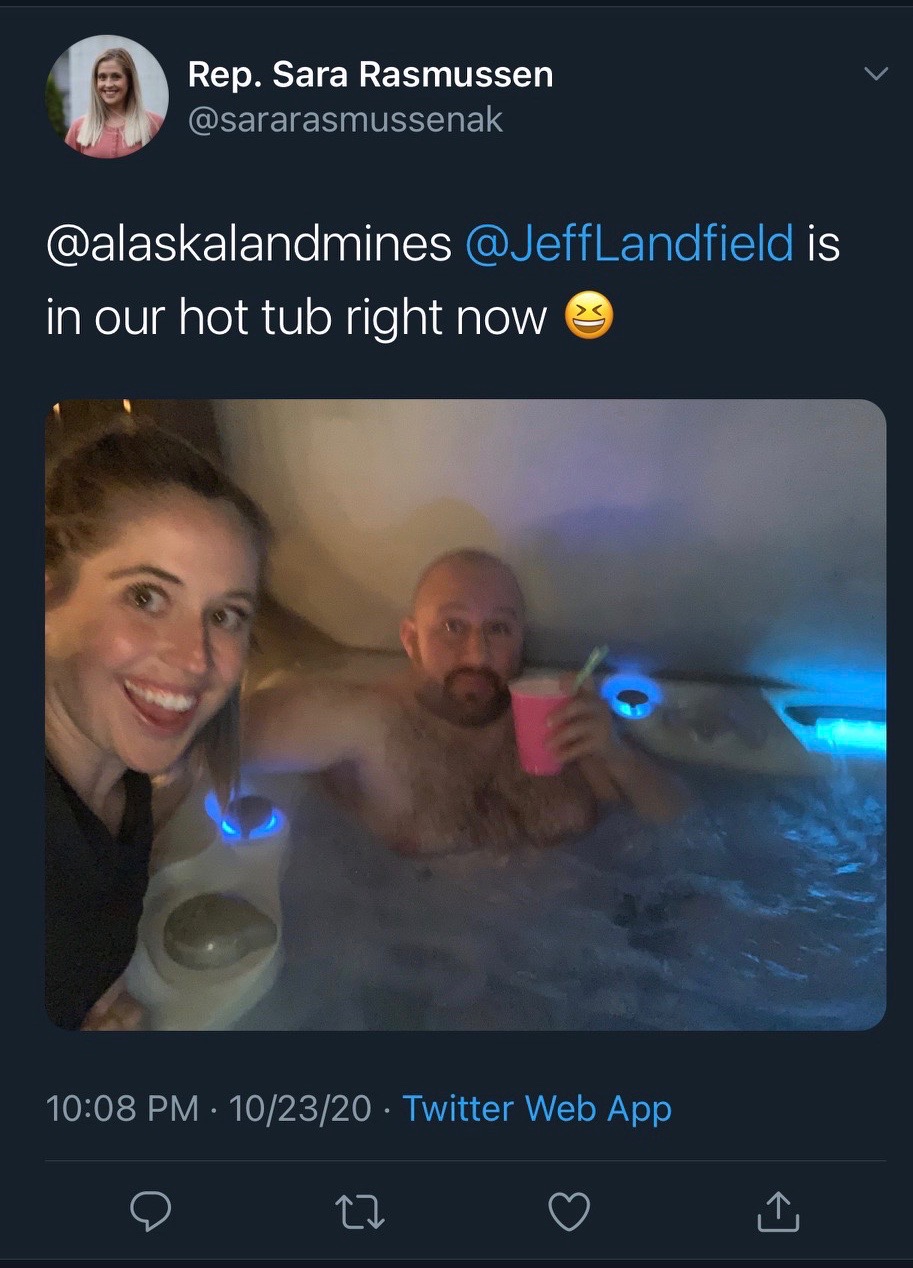 I wanted to remind folks about Alaska Landmine Radio. It has been growing a lot recently. I just did a podcast with the legendary Craig Medred. I try and post at least a few a week. Here is the link to Podbean, where they are posted. Alaska Landmine Radio is also available pretty much anywhere you can find podcasts. If you want to be on or have any ideas for guests, let me know!
This Week's Loose Unit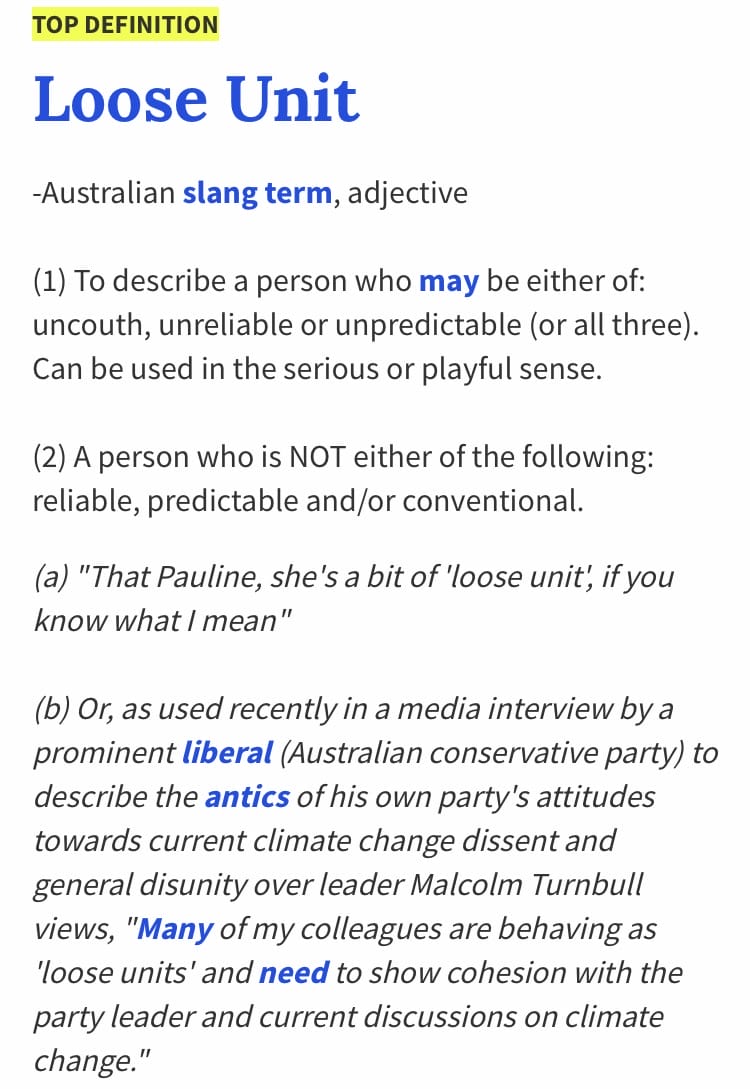 Sara Rasmussen was in the lead with that loose hot tub tweet. But a last minute development changed everything. This week's Loose Unit is Anchorage orthodontist Dr. John Sparaga. Sparaga is a Campbell Lake resident and active member of the Campbell Lake HOA. Let's just say he is not a fan of the Riff Raff on his private lake. On Saturday our own Paxson Woelber went over to the lake to take a quick look at the easements for an upcoming article. Suddenly, a man peeled off the road in a white Cadillac Escalade, rolled the window down, and started screaming about the easement. Paxson described the experience as follows:
I was walking back to the road on the Von Imhof/Frost easement when this guy barreled into Frost's driveway and immediately started yelling at me. He told me there was no easement, I was trespassing, and that he would call the police on me. I told him I was pretty sure there was a public easement and that I'd be happy to talk to an officer. I'm well aware that the city considers these easements public, and APD has never cited anyone for using them. Sparaga was furious. He yelled that he knew more about easements than me, and informed me that he and the lakeside residents were working with the AG to eliminate public access to Campbell Lake. Sparaga was losing control of his temper at this point, so I walked back down the easement toward the lake. Sparaga trailed me in his SUV, taking photos. I didn't feel comfortable having to interact with Sparaga again alone, so I called Jeff and he immediately headed over.
When I got there Sparaga was still there. When he saw me he said, "Oh, trouble is here!" I told him I was just enjoying this lovely public access easement. One that the Municipality and State have repeatedly affirmed is for public access to the public waters of Campbell Lake. Sparaga did not like this. He then pulled out of the driveway, but then came back in hot to take a picture of me and Paxson. I smiled and waved. It was maximum loose. Paxson captured the end of the encounter on video:
Check out this Facebook Live Paxson and I did after the loose event.
Paxson returned later and accessed Campbell Lake another way to go ice skating. This winter, Campbell Lake will be a big public destination for skating, skiing, snowshoeing, and snowmachining. It is incredible that a full year after the City and State affirmed that the lake and easements are public, Campbell Lake residents are still attempting to bully and harass people for accessing the lake.
If you have a nomination for this week's Loose Unit, or if you have any political news, stories or gossip (or any old pics of politicians or public officials) please email me at jeff@alaskalandmine.com.