It's mid-October and Anchorage already had a small snowfall this week. Quite a bit happened in Anchorage. A pro-Israel rally was held at the Dena'ina Center on Wednesday night with several members of the local Jewish community. Senator Dan Sullivan (R – Alaska) spoke remotely, and Mayor Dave Bronson and Lieutenant Governor Nancy Dahlstrom (R – Alaska) both spoke in person. A cold weather shelter plan for the homeless was announced, and Bronson held a press conference about the plan for snow removal this winter. And the annual Mayor's Charity Ball was held last night in Anchorage.
But this week's column is not going to be about any of that. This week I am going to tell you a story that ended up with me in emergency surgery at Providence Hospital on Friday night.
A friendly message and reminder to all our readers. The Landmine is made possible by myself and a team of awesome Alaskans. I recently got back from Juneau for my fifth session in a row reporting on the Legislature. If you enjoy the content we provide, please consider making a one time or recurring monthly donation. You can click here to donate. We have a donation system that makes it super easy. We would really appreciate it. And thanks to everyone who has been supportive!
Landmine Appendectomy (and this week's Loose Unit)
I woke up around 5 am on Thursday morning with a pretty bad stomach ache. If you know me then you know I am not an early riser, so it was not a small thing. I figured I had some kind of stomach bug. I laid down most of the day and did not eat or drink anything. I had plans to see the Uncle Ted play at Cyrano's that night. Suzanne Cunningham from Alyeska Pipeline invited me and some friends, and I did not want to miss it.
I felt a bit better and did not want to miss seeing the play. Senate President Gary Stevens (R – Kodiak) wrote it, and several people who have seen it told me how good it was. So I finally got out of bed around 3 pm to take a shower and get ready. My friend and roommate Candace Ede and I got a bite to eat, and then picked up my friend Lee Baxter.
Some familiar faces were at the play, including Senator Stevens, former Environmental Conservation Commissioner Jason Brune and his family, and my good buddy Kati Capozzi, president and CEO of the Alaska Chamber. The play was incredible. If you have not seen it and are able to get tickets, I highly recommend it.
I felt ok at the play, but when I got home the pain had returned. I still thought it was some kind of bug. I watched a movie and went to bed. But the pain had gotten pretty bad and it was hard to sleep. Any movement made it worse. I woke up Friday morning in worse pain than I had on Thursday. I again laid down most of the day. I had Brad Keithley's chart of the week and a community voice to get up, but my laptop was at the office. So I dragged myself out of bed, took a shower, and drove to my office.
By this point the pain had worsened and localized to the lower right side of my stomach. Yes, the classic symptoms of appendicitis. This was the last thing I wanted, and still thought it was unlikely I had appendicitis. But I also know that ignoring that can result in a really bad outcome. So I drove to the Providence ER to get checked out.
When I got there and got out of my car, I was having a hard time walking because of the pain. After telling the first check-in person I was unarmed, I was let in to the ER waiting room, which was packed. I was hoping it would be empty but that was not my luck on Friday the 13th. I went to the admit person – which are now behind glass and speak through a microphone – and told him I was experiencing severe stomach pain.
After getting checked in, I sat down and waited. After about 30 minutes, they called me to draw blood. Then I went back and sat down. But the pain was getting so bad sitting I had to stand up. After another wait, I was called to get my vitals. My blood pressure was higher than normal, but I was not nauseous. The guy was cool and told me they would get me in when they could.
One guy, who almost drowned, was rushed in by a friend. Another woman, who was either drunk or high – or both – was brought in by paramedics. She passed out on the floor after being taken out of a gurney and put in a wheelchair. Another guy who was going through withdrawals was brought in by his girlfriend. And an older woman was yelling at the check-in guy because a man who was coughing was not wearing a mask. All I wanted was to lay down.
I had called my friend Dr. Brian Sweeney, an Anchorage gastroenterologist, before I came to the ER to tell him what I was experiencing and see what he thought. He was nearby and came to the ER waiting room to see me, which I really appreciated. He told me I passed the "eye test," which I guess meant I did not look like horrible. He assured me that they would find out what was wrong and take care of me.
After two hours, my name was finally called by one of the people coming in and out of the big doors. The pain at this point was the worst it had been. This is when I knew something really was wrong with me.
I was escorted to a room and given a gown. I was just happy to be laying in a bed. The pain was still there but it felt a little better laying down. A nice nurse, Tory, got me setup with an IV. A bit later I was taken to get a CT scan. The tech told me I would be given something called contrast for the scan, which would make me feel like I was pissing myself, but assured me I wasn't. The guy was not lying, I really thought I had pissed myself when it was injected.
I was wheeled back to my room by a nice guy who had just started working at the hospital. As I laid in the room, my mind raced through all the things that could be wrong. Appendicitis, kidney stones, something really scary…. I had no idea. After another 45 minutes or so, Dr. Emily Junck, an ER doctor, came in and informed me that I indeed had appendicitis and that I would need surgery. I was relieved I did not have cancer or something like that. But I also had a bunch of questions about the surgery.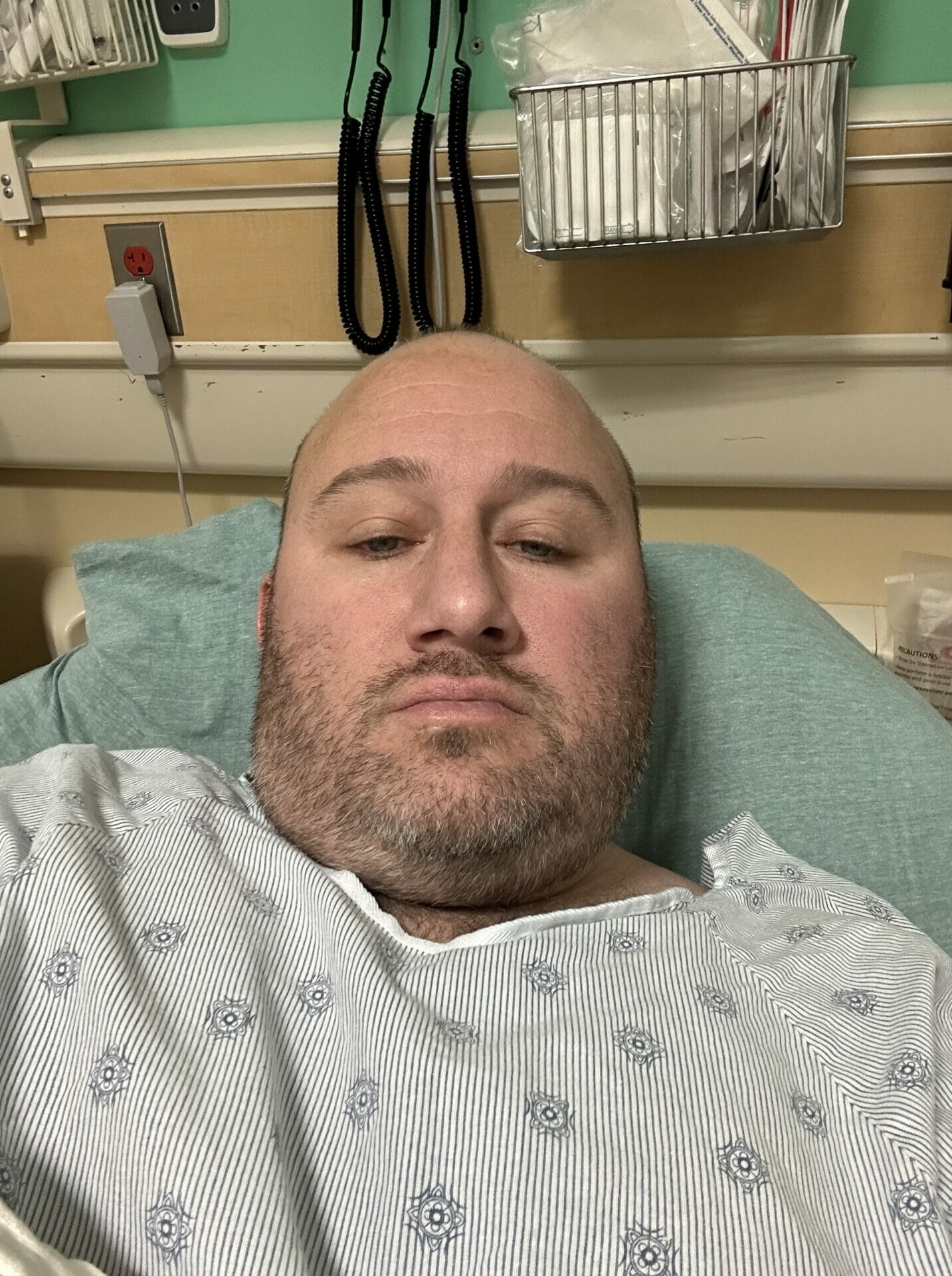 Dr. Junck told me a surgeon would be in to see me soon, but talked to me a bit about what was going on. She said my appendix was double the size it should be and definitely needed to be removed. I could tell she was busy but appreciated how attentive she was to me. She asked me if I wanted something for the pain. I told her yes, I definitely did. I hope you never are in a position to need Dilaudid, but if you are, let me tell you, WOW. That shit really works.
With my new found euphoria, I started calling and texting my family and some friends to tell them what was going on. When I told my buddy Bryce Coryell, he offered to come to the hospital. I was alone and about to get surgery, so I was really happy he came to see me on a Friday night at the ER.
A while later, Dr. Caleb Euhus, a surgeon and major in the Air Force, came into my room. He looked around my age, maybe a bit younger. Like Dr. Junck, he was attentive and answered all my questions. He told me this is a super common surgery but like all surgeries, there are some risks. He went over everything with me and told me he could get me in that night. He told me if it was perforated (burst), I would need to stay several days, but if it was not, I could probably go home the next day. I asked him how many of these he had done. Without hesitating, he said, "About 700." I knew I was in good hands.
Bryce and I talked for a while and then an OR nurse came in to get me ready. She was older than the other nurses, and very to the point. She wasn't as chatty as the ER nurses. She reminded me of a strict teacher. But I liked her. I put all my belongings in a bag and was told I would be going into surgery. Bryce left me and told me good luck.
I was wheeled into the OR. Being on a drug ten times more powerful than morphine and seeing the ceiling lights pass by one by one gave me an eerie feeling. When I got to the OR, several people were in the room. I forget the anesthesiologist name, but he was cool as hell. Shout out to you doctor if you are reading this.
I was transferred to the surgery bed and told to relax. When Dr. Euhus came in I asked him if they really listen to music when they do surgery. They do! I asked the OR nurse if she could take a photo of me, which she agreed to. I figured if it all went south it would be a good last photo.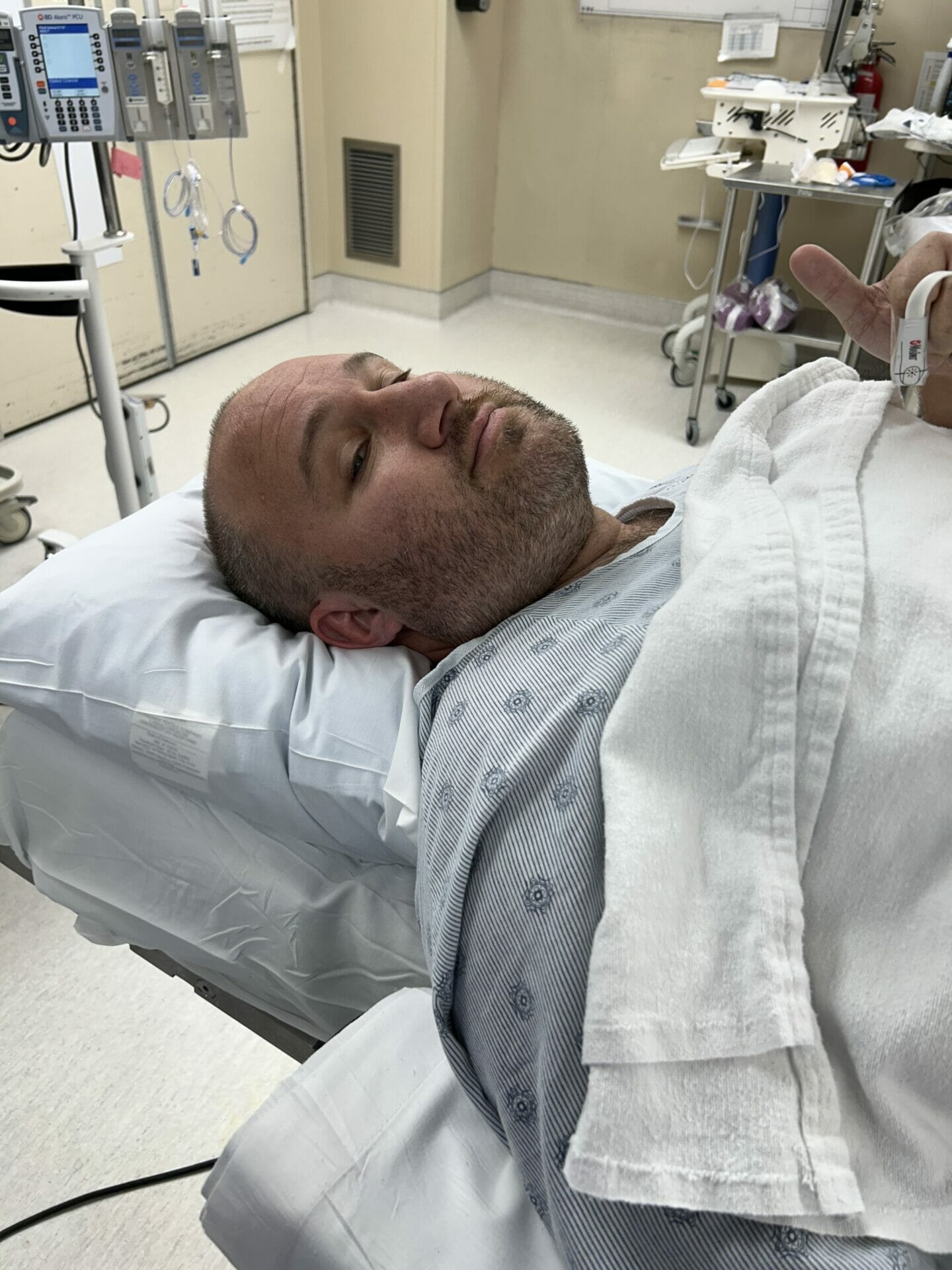 The nurse put an oxygen mask on me and told me to relax. The last thing I remember was trying to ask her something and then, like time traveling, I woke up in the recovery room. I was a bit disoriented, but was happy I was alive and already feeling better.
The two dudes in recovery were awesome. I was extremely chatty (honestly cannot remember everything I said) and they were happy to talk to me. I can only imagine the kind of shit the people who work in surgery recovery hear everyday. At one point one of them told me to quiet down a bit as I was not the only patient in recovery. The best part of being in there was I got as many popsicles as I wanted.
After a bit, I was taken to my own hospital room. I was greeted by nurse Tanya, who was great. She got me all setup with some more popsicles and water. I was in pain but it was a different kind of pain than I had when I came in.
I had what's called a laparoscopic appendectomy. This involves four small incisions in the stomach instead of a one big incision. The holes are for a camera, tools, and filling the stomach with CO2! They do that to be able to have a larger work area, and a side effect is shoulder and neck pain from the gas travelling up the body.
I was told that, thankfully, my appendix had not burst. But also that it was gangrenous, which means it started to die. This is not super common, and can result in infection. So I was told I would be given IV antibiotics and then oral ones for a week. I basically just laid down all night. I was not tired even though I had not slept much the last two nights. The staff were great and I felt good about being out of surgery.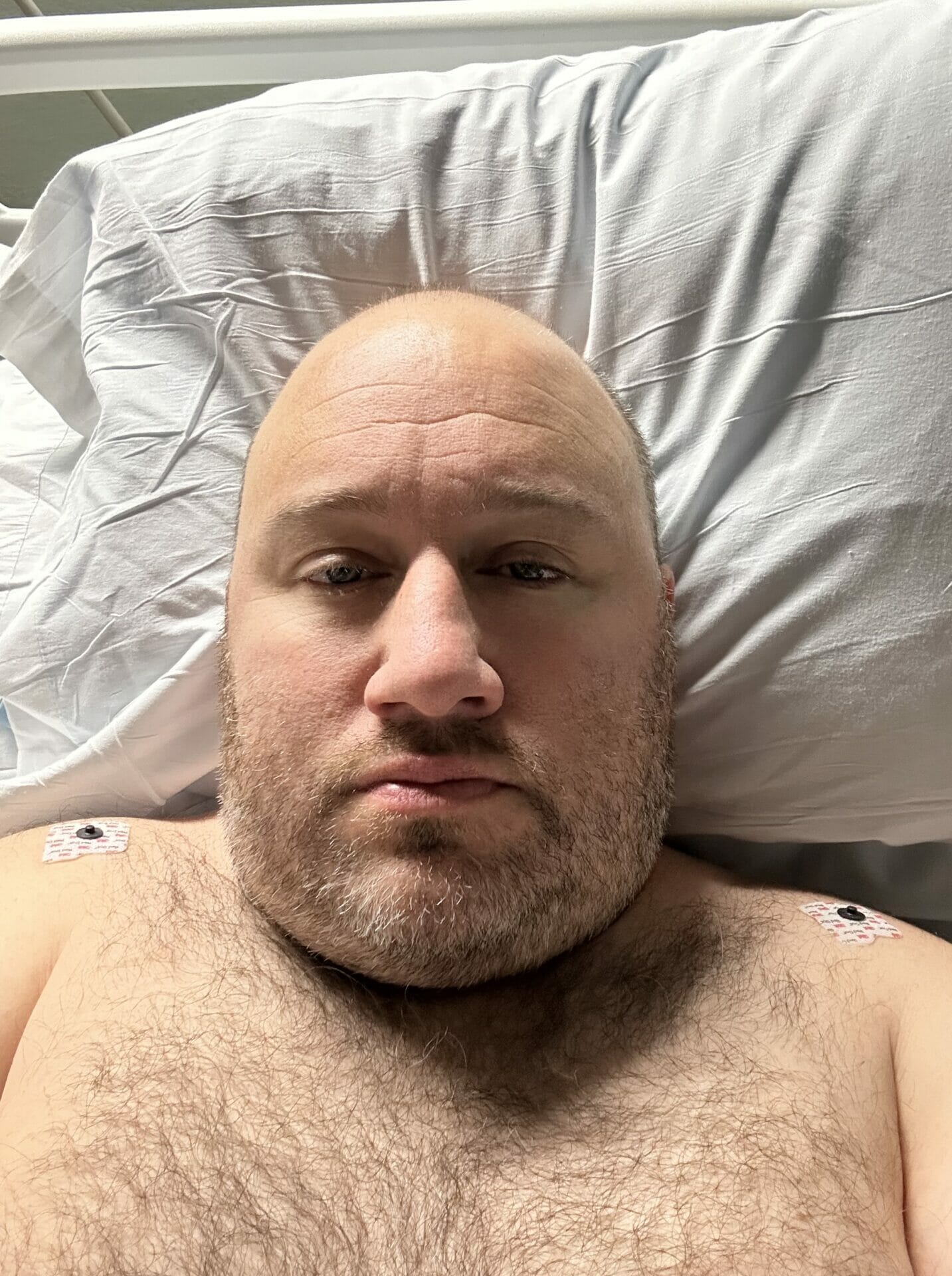 As it got light out, the hospital started to get a bit busier. The one bad thing about being in the hospital for that long is people get off work. I did not see Dr. Junck or Dr. Euhus again, and nurse Tanya's shift was over. So I got a new nurse. I had a great rapport with nurse Tanya, but the new one, nurse Jonelle was great too. And so were Ester and Rhoda, the nurse assistants. I did not have a single negative interaction with anyone at Providence.
Around 9 am, Dr. Thomas Knolmayer came to see me. He's with the Alaska Trauma and Acute Care Surgery. He gave me a full surgery debrief. Dr. Brian Sweeney had also come back to check on me at that time. What a legend. He knows Dr. Knolmayer, which was nice.
Dr. Knolmayer told me the surgery went well but they wanted to make sure I got antibiotics because my appendix was gangrenous. He answered all my questions and told me call to schedule a follow-up visit on Monday. He told me if I could eat some solid food and not be nauseous, I could go home in the early afternoon.
I ordered some huevos rancheros from the hospital restaurant and scarfed that down as soon as I got it. Things were looking up. Another nurse came to see me to give me all my discharge instructions. I needed to fill some prescriptions, not shower until Sunday, and definitely not remove the steri-strips that were covering the four incision points on my stomach.
My buddy Lee Baxter came to pick me up. Big shout out to Lee for picking me up at the hospital on a Saturday afternoon. He drove me to Carrs so I could drop off my prescriptions and then drove me home. I was feeling good but my stomach was very tender and sore from the surgery.
My roommate Candace, who had plans on Saturday afternoon, picked up my prescriptions later and also bought a bunch of comfort food. The chicken soup she made was fucking legit. Since then I have been home resting. It was a wild few days but I am so thankful for all the staff at Providence and all my friends for taking care of me.
I also want to give a big shout out to Dr. Anne Zink, who commented on my Facebook post and then took my call on Saturday to answer a bunch of questions and talk to me. It was very reassuring talking to her. I also want to thank everyone who has called and texted me asking how I am and offering to bring me anything. There are too many to name, but it means a lot to me that so many people care about me. And a special shout out to Senator Forrest Dunbar (D – Anchorage) for nominating my appendix for this week's Loose Unit!
If you ever have severe stomach pain, trust me, go to the ER. It's better to be safe than sorry when it comes to abdominal pain.
If you have a nomination for this week's Loose Unit, or if you have any political news, stories or gossip (or any old pics of politicians or public officials) please email me at jeff@alaskalandmine.com.