The 2018 general election is just two days away! We invite everyone to attend Election Central at the Egan Center from 7 pm to midnight. We are again partnering with the Anchorage Daily News to bring you Election Central. A big thanks to GCI and Dittman Research for sponsoring. There will be live coverage, results on the big screen, a DJ, and a bar! We will also be giving away awesome door prizes including iPads and an Apple Watch from GCI, a toilet from Re-Bath (installed!), and a Kirby vacuum cleaner and chainsaw from Alaska Fast Cash. Hope to see everyone there.
If you did not see our video profile of the senate race in Fairbanks, that everyone is watching, between Senator Pete Kelly (R – Fairbanks) and Representative Scott Kawasaki (D – Fairbanks), check it out here. Very high energy!
The upcoming election means political mailers, lots of political mailers. I want to thank all of you who sent me pictures of the mailers you received. I tried to include as many as I could. Some are good, some are bad, some are ridiculous, and some are very loose. Here are the mailers we have received. Oh, and a pro tip to candidates and political groups who aren't aware – there is something called targeting when you send mail. Learn it.
This might be the biggest fail ever on a political mailer. This was sent out by the AFL-CIO to its members, encouraging them to vote for Mark Begich and Debra Call. But check out how they spelled Libertarian Care Clift's name! Very loose, Vince. In fact, this mailer has earned Vince this week's Loose Unit status. It was only a matter of time, Vince. As one Landmine reader put it, "Let's get lit for Clit!"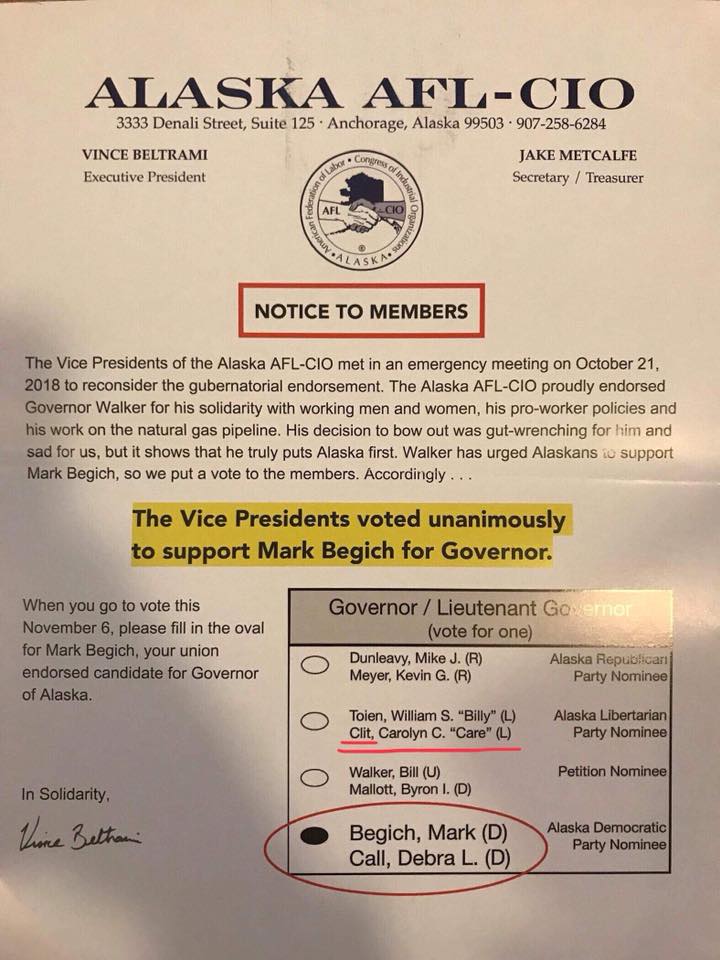 Dunleavy vs. Begich
Lots of mail between both campaigns and the independent groups.
Kelly vs. Kawasaki 
Lots of money in this race. Which means lots of mail, and even some full page newspaper ads.
Pruitt vs. Snyder
I did not receive any pro Pruitt mailers. That means he did not send any or I have no reliable sources in East Anchorage. Or those folks don't like the Landmine! Love the "Lance Blew It"
Revak vs. Higgins
This race turned very nasty yesterday when the Alaska Democratic Party and a group formed just last week, chaired by Nick Moe, sent out some last minute hit pieces on Josh Revak. Revak joined the Army after 9/11. He saw some horrible things in Iraq including watching some of his friends die. He was badly wounded, nearly lost his leg, and was awarded the Purple Heart. He struggled with alcoholism when he returned. He has been sober for years.
Lots of people talk about how so many veterans deal with addiction to drugs and alcohol. Some of them really care. Others could care less. They have no decency or sense right and wrong. They will resort to a last minute attack on a good man who served his country. They waited until the last minute because they knew what the response would be. They are cowards who will stoop to any level to win.
I lost a lot of respect for some people I have always liked and been nice to. Shame on you Alaska Democratic Party and Nick Moe.
Full disclosure, I am the chair of a group, Let's Back Revak, that is supporting Josh. The group has been funded almost entirely by people who live in Josh's district. Everything we have done has been above board. I would have written this whether or not I was chair of this group. The comparative mailer about the sand is one our group sent out.
Grenn vs. Rasmussen vs. Darden (Loose Unit)
Some bizarre mail in this one. I was not sent anything from Rasmussen, maybe she is relying on the groups supporting her.
Stand for Salmon vs. Stand for Alaska
Both groups have raised millions and millions combines. A LOT of mail has gone out.
Other Mailers 
Some real weird stuff in here.