Halloween 2019 has come and gone. Thanksgiving is just around the corner and then Christmas and New Years. The next legislative session will be here before we know it. The big news this week was the vacant Senate seat in South Anchorage has finally been filled. But now there is a vacant House seat, which will need to be filled.
A friendly message and reminder to all our readers, the Landmine is made possible by myself and a team of awesome Alaskans. It takes a lot of work to provide the content we do. If you enjoy the content we provide, please consider making a one time or recurring monthly donation. You can click here to donate (or on the image below) via PayPal. We would really appreciate it. And thanks to everyone who has been supportive!
Senate Seat M
After nearly three months of Senate seat M being vacant, after the tragic passing of Senator Chris Birch, the seat has finally been filled. Senate Republicans met yesterday (11/2/2019) at the Anchorage Legislative Information Office to interview and vote on Representative Josh Revak (R – Anchorage). Senators Bert Stedman (R – Sitka) and Mike Shower (R – Wasilla) were not in attendance, which meant only 10 Republican senators were in attendance. Senate Republicans voted to confirm Revak. Immediately following the vote, Lieutenant Governor Kevin Meyer (R – Alaska) swore in Revak. Click here to watch. So now he is Senator Josh Revak (R – Anchorage). Representative Laddie Shaw (R – Anchorage), who Senate Republicans previously rejected, was in attendance.
The vote tally was not released, but Revak had to get at least 7 votes out of the 10 Republicans who were there. There were 12 Senate Republicans before Revak was confirmed, and you had to be present to vote. No word on why Stedman and Shower weren't there, but they likely knew Revak had the votes before the meeting. Revak's confirmation creates a vacancy for his House seat. District 25 Republicans will now need to meet and interview applicants. They will then send three names to Governor Mike Dunleavy (R – Alaska) to choose from. Then House Republicans will need to vote to confirm the pick. Yee-haw! My bet is Dave "Triple Dip" Donley will be vying for the seat. Tali Birch Kindred, Chris Birch's daughter, also lives in District 25, but she has said she is not interested in applying.
The interesting thing about all of this is how it happened. After Shaw was rejected, Dunleavy called Revak on a Wednesday to tell him he was considering appointing him and to ask if he was interested. Revak said he was. Then Dunleavy appointed him the next day, without getting any kind of commitment from Revak. I think Dunleavy thought they would probably reject Revak, like Shaw, and then he could use that to attack moderate Senate Republicans in next year's election. But after Revak was appointed, he showed up to a fundraiser for Senator Cathy Giessel (R – Anchorage) and hinted that he was open to some kind of PFD formula change. Even though Dunleavy got a BOGO – buy one, get one, the Senate Majority might have the last laugh.
Dunleavy Goes Full Twitter
After Congresswoman Alexandria Ocasio-Cortez (D – New York) went full Green New Deal on Twitter, Governor Dunleavy decided to invite her to visit Alaska. What is even happening. It gets even better. Dunleavy spoke at the Associated Builders and Contractors event on Friday night. At one point he told the crowd, "AOC did a Twitter." Ok, Mike.
Your Green New Deal would destroy Alaska's economy.

I invite you to visit Alaska, and I can personally show you how we responsibly develop America's natural resources better than anyone. You're welcome anytime. https://t.co/mgQCHi7nX6

— Governor Mike Dunleavy (@GovDunleavy) October 29, 2019
Then, President Trump decided to back up Big Mike and tweet about him. The second tweet links to the Stand Tall with Mike website and ends with, "Please stop the Dems from hurting a very good and hard-working man!"
My friend Mike @GovDunleavy of the Great State of Alaska, is being treated very unfairly by the Democrats because he is doing an unbelievable job and fulfilling every one of his promises. Now they are trying to Recall him because his agenda is the Economy, Jobs, and protecting…

— Donald J. Trump (@realDonaldTrump) October 30, 2019
Dunleavy spent much of the week in Washington D.C., that included a meeting with Trump. His office said the trip was not paid for with State money. So I guess Big Mike just decided to take a little vacation – to Washington D.C…
Chamber Forum
The Alaska State Chamber of Commerce held their annual fall forum this week at the Hotel Alyeska in Girdwood. Business leaders and elected officials from all around the state were in attendance. It got very lively during a legislative outlook panel with Senate President Cathy Giessel (R – Anchorage), House Speaker Bryce Edgmon (I – Dillingham) and Dunleavy's Chief of Staff Ben Stevens. It started off with moderator Willis Lyford playing a clip from the movie "The Perfect Storm" where a boat was being pummeled by waves. Weird start.
There was a lot of frank talk about some of the problems during last session. This included Giessel and Edgmon saying they never met with former Chief of Staff Tuckerman Babcock or former Budget Director Donna Arduin. Which is nuts. At the end, Edgmon told Chamber members that they should really consider whether or not they support Dunleavy's budget. He went on to say several Chamber members came to him last session and said they supported the budget. To which he said he asked them if they knew what was, and was not, in it. It was a tense moment. After, Chamber President and CEO Kati Capozzi challenged his statement and said there was miscommunication last year on their position on the budget. The Chamber issued a press release after Dunleavy's budget came out that "applauded" a budget that matched revenues. Capozzi did not take over until after all that happened. Maybe don't use the word 'applaud' on something you are neutral on.
One of the funnier parts was the podium at the banquet. The thing was easily 5 feet tall and 2 feet wide. Here is a pic of Kati Capozzi addressing the crowd. Joking, but her head was barely over it when she was talking!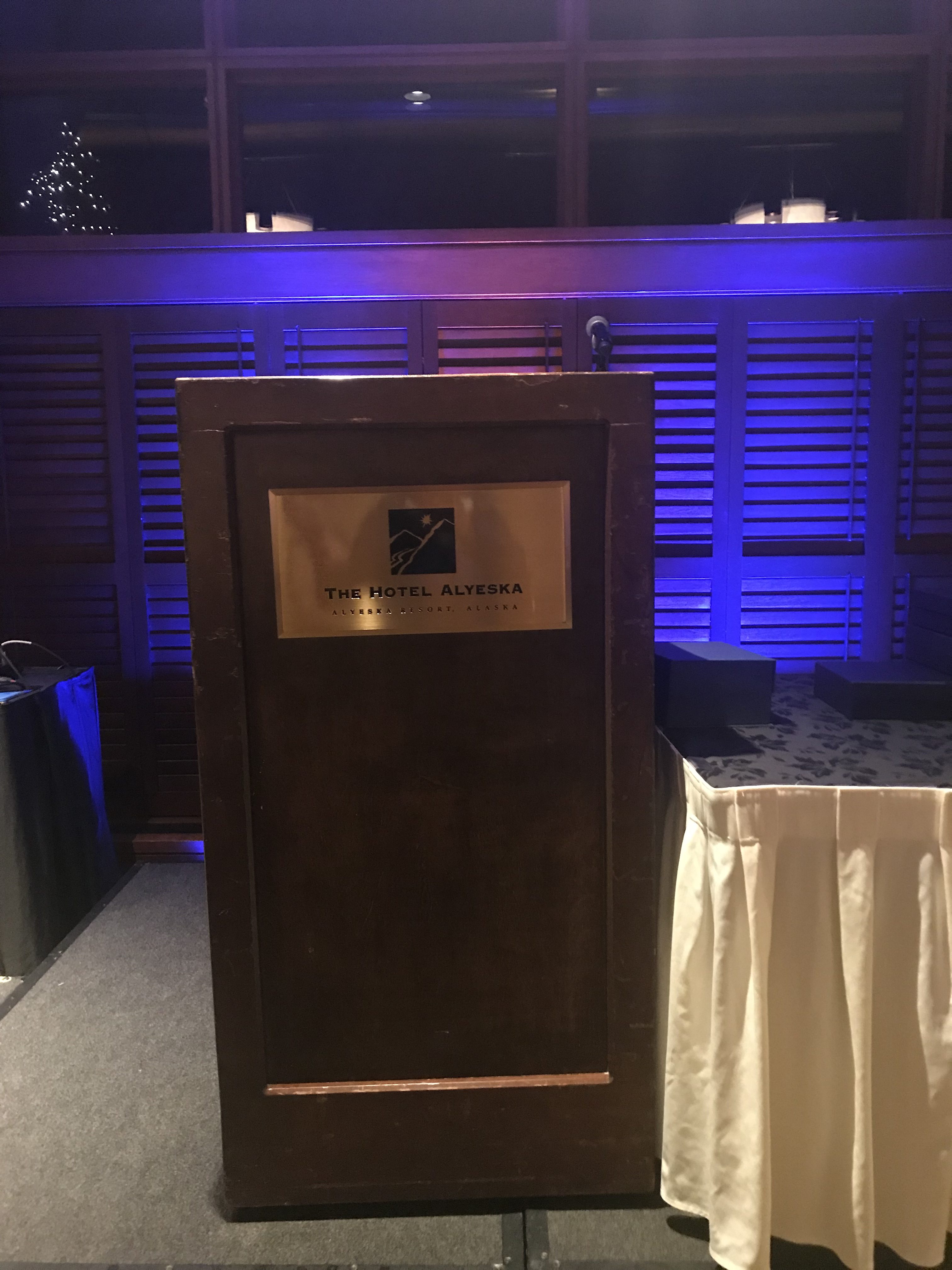 Other Happenings
Check out what some idiot got onto Urban Dictionary.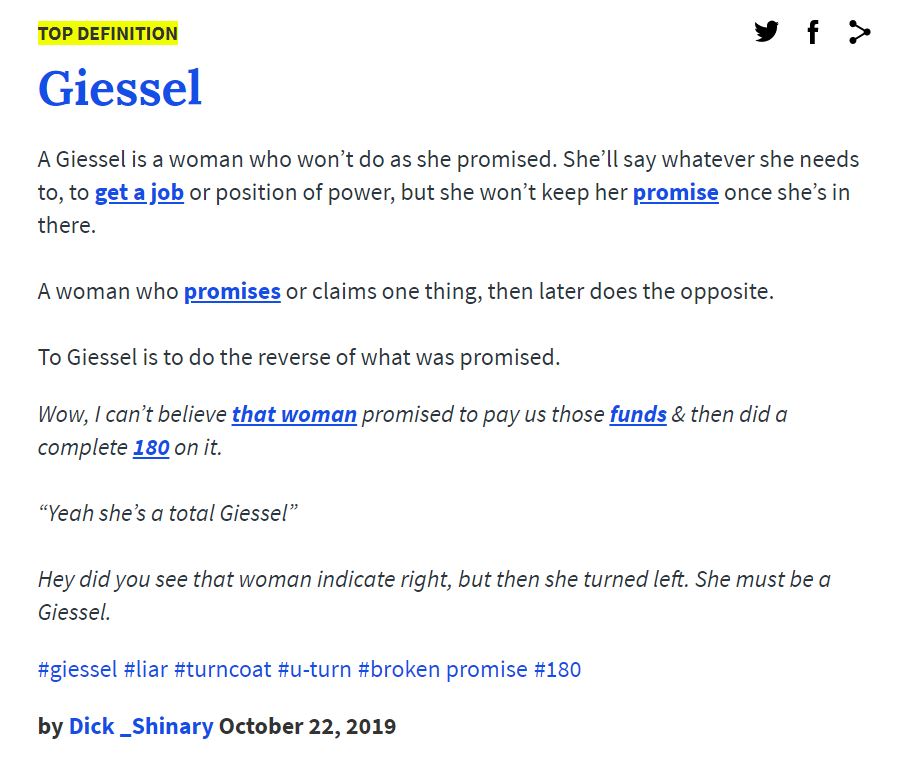 I'll try one:
Shelley
A Shelley is a woman who runs out of the Capitol right before a crucial vote. She then hides so no one can find her and compel her to do what she was elected to do.
"Why didn't she vote on that important bill?" 
"Oh, you didn't hear. She totally pulled a Shelley."
Shower
Same as above but for a man.
Former Budget Director Donna Arduin was spotted at the Juneau Airport. Is she leaving? Is she going to be doing contract work for OMB? No one seems to know.
The Mat-Su Borough election will be held this Tuesday. Click here for more info and a list of candidates.
Congressman Don Young (R – Alaska) was at it again this week. After being repeatedly asked by a MoveOn reporter whether it's ok for a president to ask a foreign government to interfere in our elections, Young got loose and nudged the camera with his head. While it was definitely weird, it was not a "head butt" as so many media outlets wrote. This is a headbutt!
Twitter CEO Jack Dorsey announced this week that Twitter will no longer run political ads. It's clearly a jab at Facebook CEO Mark Zuckerberg, who has faced increased scrutiny over political ads on Facebook. Friendly reminder, the Landmine is happy to run your political ads!
Jenny-Marie Stryker, who was formerly the Operation Director at Ship Creek Group, is the new Political and Campaigns Director at the Alaska Center. Congrats, Jenny-Marie! Podcast?
Sources confirm that George Martinez is seriously considering running for Anchorage mayor. Add his name to a long list of progressive candidates interested in running. Assemblymember Forrest Dunbar has already filed. Martinez is a former Special Assistant to Mayor Ethan Berkowitz. He is now the Director of Leadership Programs at the Alaska Humanities Forum.
During a special meeting of the Anchorage Assembly on Wednesday (10/30/2019) evening on the Chugach / ML&P merger, the Assembly voted unanimously to approve the settlement agreement. It now needs to be approved by the Ratepayers Advocates and then the Regulatory Commission of Alaska.
Peter Caltagirone, who field for the South Anchorage Assembly seat last month, announced this week that he is no longer running. He said that he realized he does not have the time with his job as Senior Legal & Policy Advisor at the Department of Natural Resources. That leaves incumbent Assemblymember Suzanne LaFrance challenger Rick Castillo for now.
You have probably heard by now that some of the nude pics of now resigned California Congresswoman Kati Hill were taken in Fairbanks. While it's definitely not ok to take or publish nude pics of someone without their consent, it's also definitely not ok to sleep with your campaign or office staff.
This Week's Loose Unit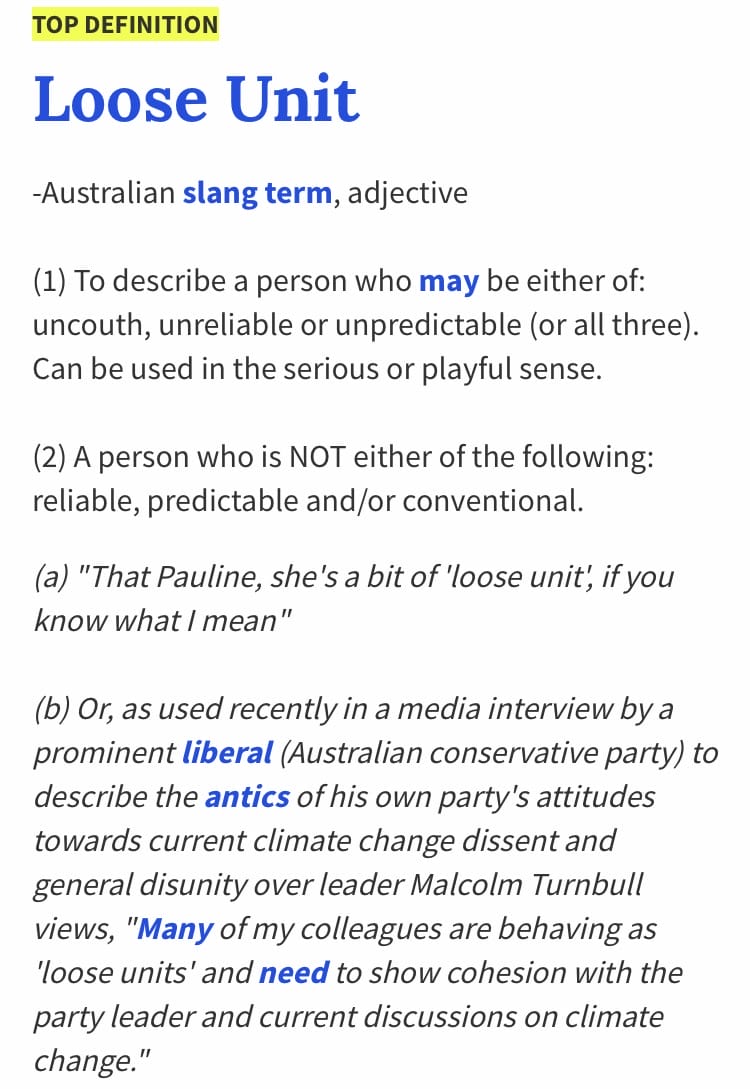 As we approach the next legislative session, there is bound to be increased competition for the weekly Loose Unit. But this week's winner was clear. This week's Loose Unit is Representative Chris Tuck (D – Anchorage). Tuck currently chairs an obscure, yet powerful committee called Legislative Budget and Audit (LB&A). This committee has audit power, which is incredibly powerful, and approves legislative consultants. The Legislative Finance Director, David Teal, reports to LB&A. Last week, I reported that Teal will be retiring before the next session. But there's a lot more to it.
Six weeks ago, Teal told Tuck that he was planning on retiring at the end of the year. He told him that so Tuck could inform LB&A members, which includes the co-chairs of the House and Senate Finance Committees, so they could begin the search for a replacement. Teal has been with Legislative Finance for 20 years and will be hard to replace. But Tuck just sat on the information for a month. Very loose. Then, after Teal had not heard anything about a search for his replacement, he emailed Tuck, and copied several members. He basically said, to follow up on our discussion a month ago, I will be retiring at the end of the year. This was the first any of them, besides Tuck, had heard about this. Needless to say they were not happy.
When I reported last Sunday that Teal was retiring, things really got moving! Tuck held a meeting of LB&A this week to discuss finding a replacement for Teal. But he decided to go full Loose Unit and do it in executive session! He definitely did not want to be publicly criticized for the way he botched this. Classic Loose Unit. Now, they only have a few months to find a replacement – in the middle of the holidays. Maybe Tuck was trying to give his staffer, Ken Alper, an upper hand. Several sources have said Alper is interested in the job. Overall very loose.
If you have a nomination for this week's Loose Unit, or if you have any political news, stories or gossip (or any old pics of politicians or public officials) please email me at jeff@alaskalandmine.com.