Thanksgiving has come and gone. I hope everyone had a good one in this strange time of COVID. December is almost here, which means Governor Mike Dunleavy's (R – Alaska) proposed budget will be released soon. The deadline is December 15. The November 3 general election is set to be certified tomorrow by the Alaska Division of Elections. Neither the House or Senate have yet formed a majority. My bet is the House won't form one until after Dunleavy releases his proposed budget.
A friendly message and reminder to all our readers, the Landmine is made possible by myself and a team of awesome Alaskans. It takes a lot of work to provide the content we do. If you enjoy the content we provide, please consider making a one time or recurring monthly donation. You can click here to donate. We have a donation system that makes it super easy. We would really appreciate it. And thanks to everyone who has been supportive!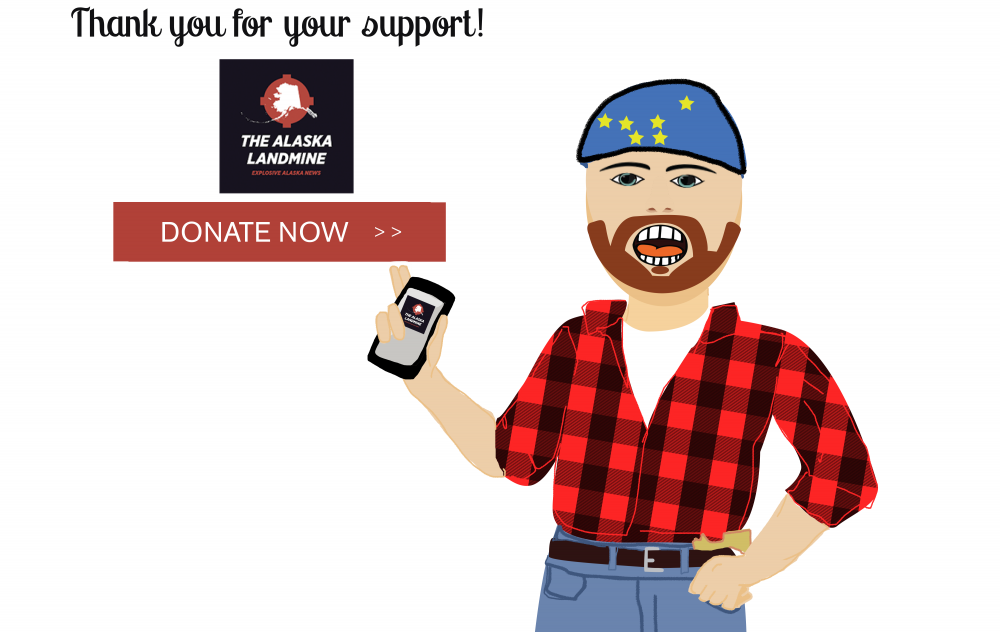 Not a lot happened in Alaska politics this week due to Thanksgiving. So I am going to list a few of the highlights below and then tell you about an incredibly loose situation I dealt with over Thanksgiving weekend.
The biggest story this week was probably the announcement from the Army Corps of Engineers denying Pebble Mine their permit. This Alaska Public Media article goes into more detail. Donald Trump Jr. even made an Instagram post about it, calling it a "Big win for Alaska and its fisheries!!!"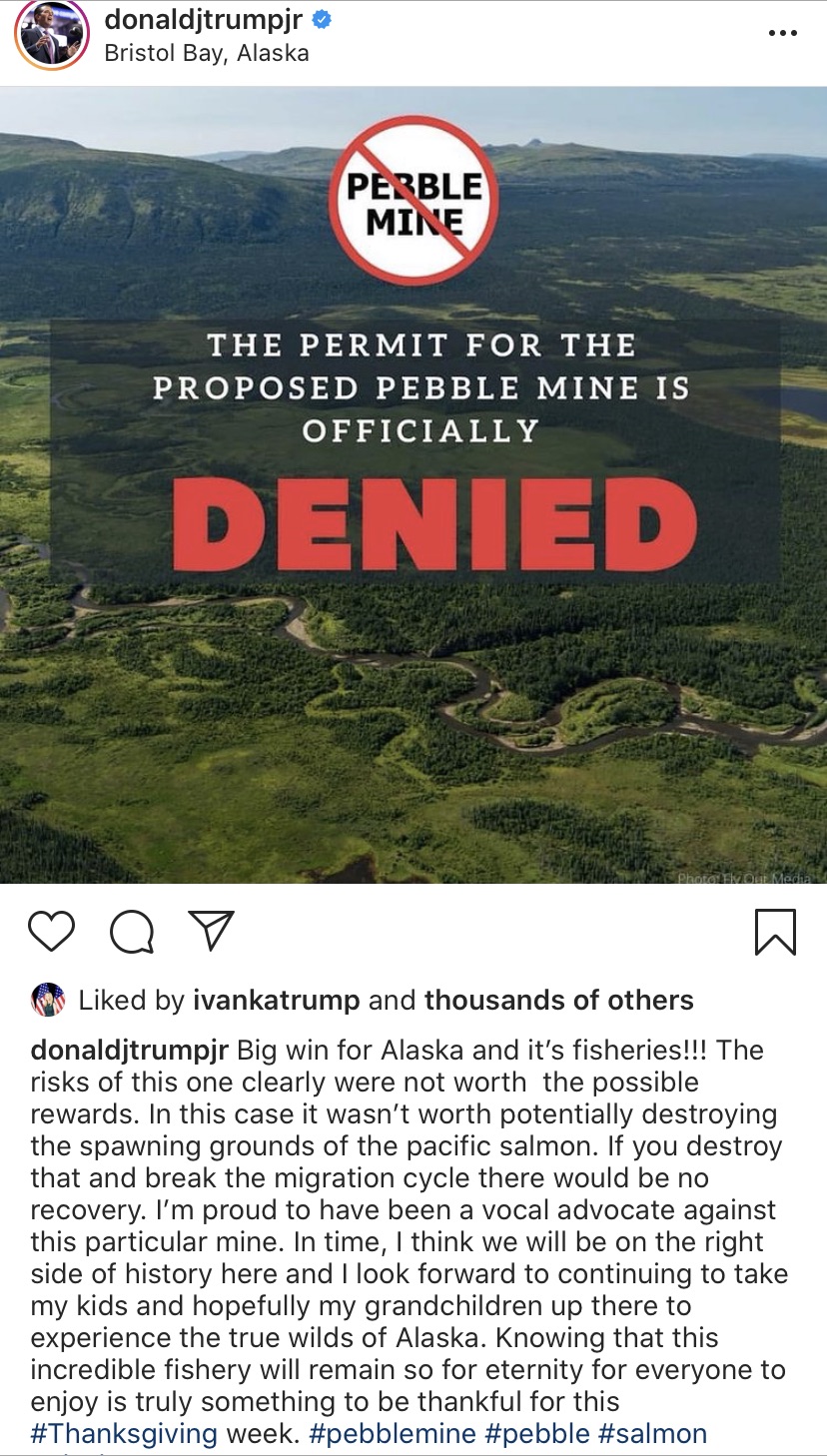 Acting Anchorage Mayor Austin Quinn-Davidson announced this week that Municipal Manager Bill Falsey will be leaving his position. He will be replaced by Anna Henderson, the former General Manager of Municipal Light and Power. Congrats, Anna! In August Falsey announced his candidacy for mayor. I guess he finally took my advice from my October 18 column!

The other big announcement this week was Acting Mayor Austin Quinn Davidson's new modified hunker down order, which goes into effect this Tuesday (December 1). The Landmine's Cale Green did a Review episode on it yesterday. You can watch that here.
Presented without comment.
The Loosest Switchback
I spent Thanksgiving weekend in Homer with my buddy and his girlfirend. Yes, they are in my Covid bubble. We stayed at Glacier View Cabins, owned by Kelly Cooper. Cooper served two terms on the Kenai Peninsula Borough Assembly and was recently president. She unsuccessfully challenged Representative Sarah Vance (R – Homer) in the recent election. If you ever need to get away, I highly recommend staying there. The cabins are amazing, the view is incredible, and her dog Milo is super friendly. We arrived Wednesday night. We had an awesome cabin Thanksgiving on Thursday. On Friday my buddy and his girlfriend wanted to take a drive. This is where it starts to get loose. As we left I told him to stop at the coffee shop nearby (also owned by Kelly Cooper!) so I could get a latte. As we got there there was one car on each side of the shop. He stopped far enough back so he could pick the side that became open first, or so I thought. He has this weird thing where he does not want to approach on the driver's door when I am ordering a coffee. It really didn't matter because no one was behind us. Not long after, the car on the right (driver's side) left. I told him to go up. He refused. Then several more cars approached. One took the open spot and the other got behind the other car, which soon after left. Then more cars came. I was so mad I just said, "Forget about it. Let's just go." We then embarked on a drive to the end of East End Road, a place I had never been to. I was so mad about the coffee I did not say one word the entire ride. Imagine being in a car with me and one other person and I do not say a word for 45 minutes.
My friend has this weird obsession with getting to the end of the road. If you did not know, and I did not until Friday, there is a small Russian town at the end of the road called Voznesenka. The road goes to nearly the end of Kachemak Bay. As we approached the end of the road we saw a sign that said "Municipal Maintenance Ends." He kept going. He has a four-wheel drive truck. The road was very snowy. As we got to the end of the road there was a small parking area. For some reason he kept going. When we went a bit further it was so icy he got stuck. I was still silent. As you looked down there was a steep road that led to Kachemak Bay. There were tire tracks but it looked real sketchy. Instead of waiting where we were to get pulled out he decided to go down that road to try and turn around. Bad idea. I knew it but I did not say anything because I was still mad about the coffee. As soon as we got going it was all over. The road was sheer ice and we started sliding. At that point I was scared we were going to go over. The road goes right into a steep mountain. We got to the end and it became clear this was a long switchback (I later found out everyone in Homer knows that road and would never do what we did). We did not go over but we were one hundred percent stuck.
I had no idea how we were going to get his truck out. I figured we were going to need to call a tow truck from Homer and get pulled up by a winch. The road was so fucking slippery I kept slipping and falling. You could have ice skated on that road. There were tire tracks, which made me wonder. About 15 minutes later a truck came up the road. Turns out chains help a lot! He stopped. He was from a small Russian town at the bottom of the switchback called Kachemak Selo. I heard his accent right away. I started speaking to him in Russian and explained what happened. You could see the look of confusion on his face wondering why we were down there. He agreed to try and pull us out so at least the truck was not in the road. There was a small flat area at the end of the first part of the road. My buddy had a big tow rope in his truck. The first attempt did not work. So he drove to the top of the very steep road to switch his chains to the front tires. This was my second time walking up that road. Imagine walking up a steep road covered in a sheet of ice. It was horrible. I helped him switch the chains, which was not easy in the cold. We drove back down and hooked up the tow rope again. I was watching and communicating with both drivers. After a few seconds my friend's truck started to move. Then I heard a scream from my friend's girlfriend and looked up. A truck with a huge plow was coming down the steep road, brakes locked up sliding straight toward the Russian guy's truck. I had about three seconds to get out of the way. The plow slammed into the truck! It drove it back about 10 feet. The tow strap dragged my friend's truck about the same distance. I couldn't believe no one was hurt. If I had not have gotten out of the way I would have been slammed by the truck. In hindsight we should have sent someone to the top of the road to not let any vehicles through.
The driver of the plow truck also lived in Kachemak Selo, so he knew the guy helping us. Everyone was incredibly calm about the whole situation. After the plow truck got freed from the other truck the first Russian guy explained to his friend what was going on. They were speaking Russian. Basic translation was, "These people from Anchorage are on some kind of vacation." The plow truck tried to get up the hill but even with chains he could not make it. While I was watching the wheels kicked up dirt and rocks right into my face! Now the plow truck was stuck too. At least from going up. He could have gone down to the town but he wanted to help. He suggested we put sand in the road. I did not know where there was sand. Turns out at the top of the road there was a little wood structure that contained special sand for the road. If only we had known about that when we first got stuck. No one had shovels but one of them had a tarp. We walked up that damn ice road again and started putting sand on the tarp. We used a few hubcaps and our hands to scoop it. We soon realized there was broken glass in the sand pile. After the tarp got full we dragged it to the road and spread the sand on the road. We repeated this about six times. At least it was easier to walk up and down the road with the sand. At one point I slipped again and fell on my wrist. It's not broken but it is sprained. During this another truck came that was headed down the wild switchback. He stopped. It was another Russian guy from the town below. After he got up to speed on what was going on he started helping. He found the whole situation pretty funny. I think the fact that I spoke Russian was a big help. They all really seemed to like me.
Once the road was covered in sand the plow truck guy was able to get his truck up the hill. Then the first guy was able to get my friend's truck pulled out enough to get him facing the top of the road (before he was faced towards the other side of the switchback). The third guy also had a tow rope. So we ran a daisy chain between the three trucks. Once the top two trucks started going my friend's trucks started to move. Finally all three trucks were clear. I felt so bad about what happened. We gave them the money we had and agreed to get parts in Anchorage for his truck. It was amazing how nice and calm everyone was about the whole situation. They were incredible people. We headed back to Homer. At dinner I read some articles about the town of Kachemak Selo. It has a very unique history. The switchback road is always mentioned… Kelly Cooper, and other people I know that live in Homer, told me how crazy it was my buddy tried to go down that road. In the end I got my coffee (buddy was ok with driver's side finally) and an incredibly loose story.
This Week's Loose Unit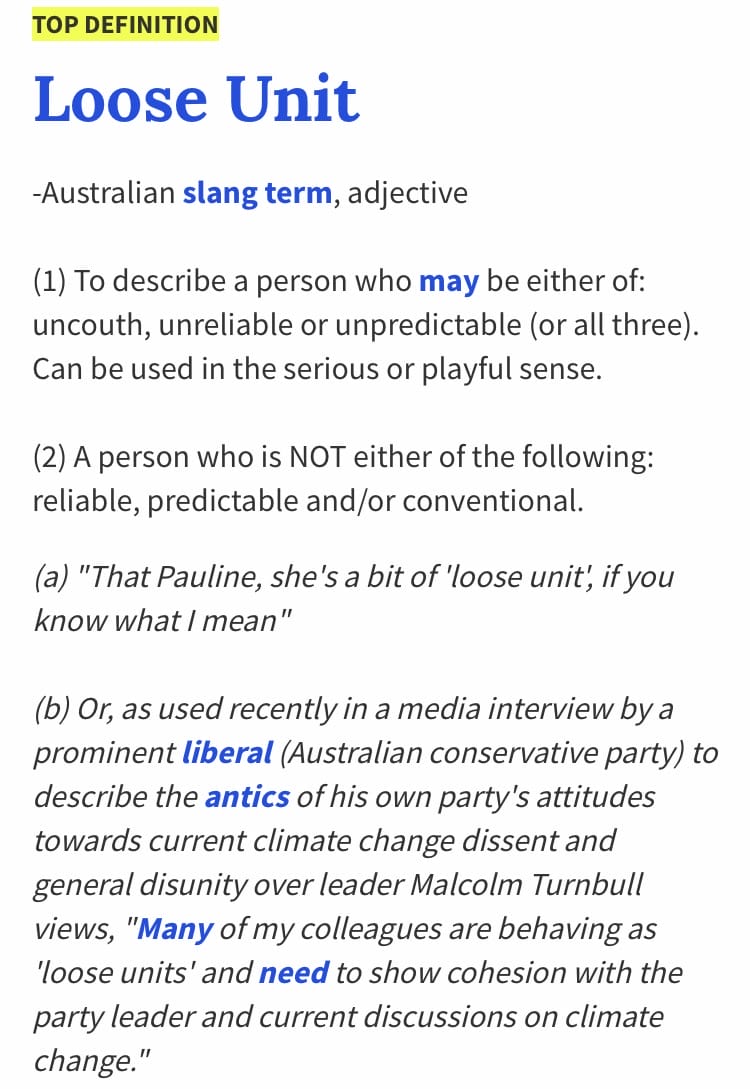 This week's Loose Unit will probably not surprise most of the political junkies. She was nominated by several people. This week's Loose Unit is Julia Savel, Al Gross' former communications director. You may remember a few weeks ago when Savel made a super weird and loose tweet. This caused ridicule and condemnation from a lot of people, mostly progressives. Not long after she deleted her Twitter account.
Well this week she came back! And full Loose Unit status. Savel tweeted this now deleted tweet on Wednesday. Alaska Twitter blew up. So loose.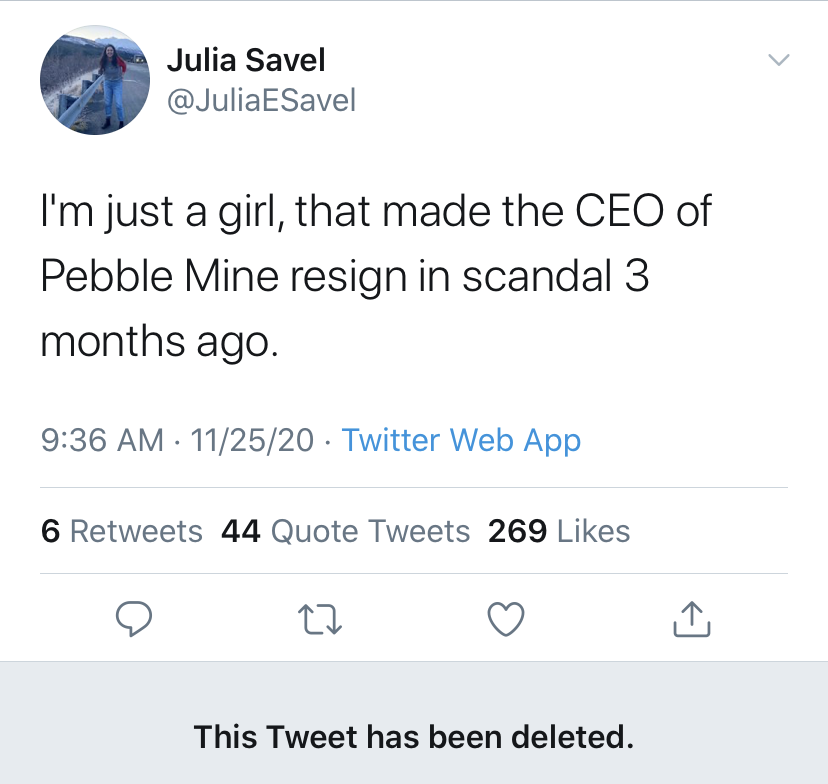 Her Twitter bio states "Tweets and RTs are impulsive." No shit. At least she's honest.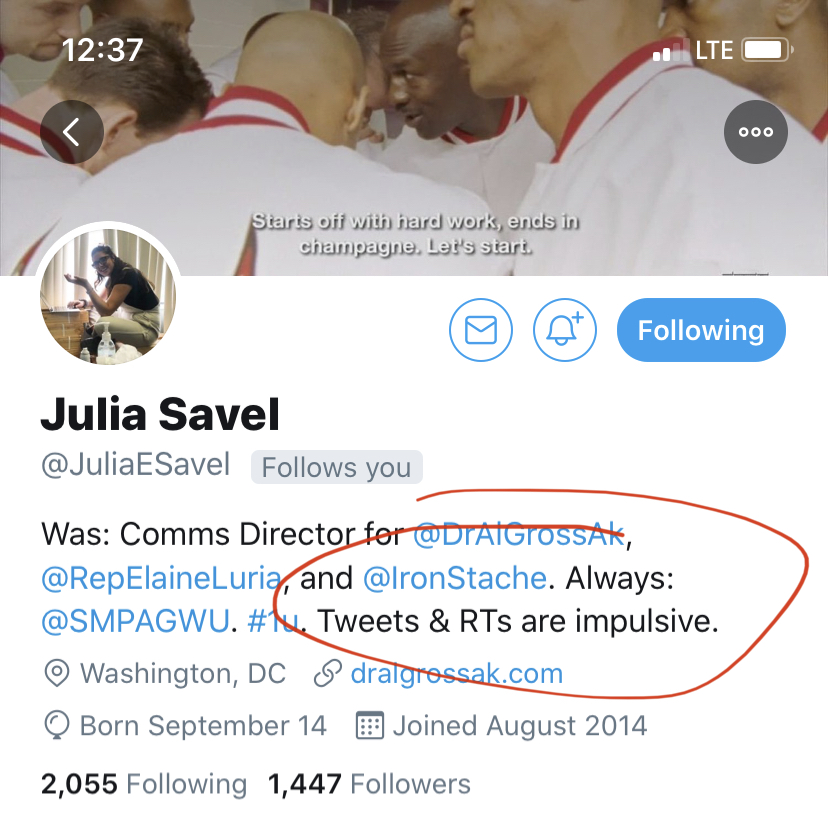 From there it got real loose. Brad Bauman, who identified himself as a senior advisor to the Al Gross campaign, weighed in. Check this out! It has all been deleted. But I got those receipts. I don't know this Brad guy but I am a fan. Look what that legend wrote when she tried saying he sent her a "horrifically sexist email." Also, the part about being under a "strict order from lawyers not to tweet about this race" is maximum loose. Maybe cool it on Twitter for a while, Julia…
If you have a nomination for this week's Loose Unit, or if you have any political news, stories or gossip (or any old pics of politicians or public officials) please email me at [email protected]