I can't believe Thanksgiving is this week! I hope everyone has a good time with friends and family. Much of the state continues to deal with below zero temperatures. Luckily, I am in Florida visiting friends and family for the week. It was 80 degrees and sunny today in Miami! Things were pretty quiet this week in Alaska politics. The first gubernatorial debate of this cycle took place at the Alaska Municipal League meeting in Anchorage, though someone was noticeably absent. And more incumbents and challengers file to run for office next year.
A friendly message and reminder to all our readers, the Landmine is made possible by myself and a team of awesome Alaskans. It takes a lot of work to provide the content we do. If you enjoy the content we provide, please consider making a one time or recurring monthly donation. You can click here to donate. We have a donation system that makes it super easy. We would really appreciate it. And thanks to everyone who has been supportive!
First Gubernatorial Debate
The first debate of the 2022 gubernatorial election took place this week in Anchorage at the Captain Cook Hotel. The debate was hosted by the Alaska Municipal League (AML), who held their annual Legislative Conference this week. The general election is just under a year away, the primary is just under nine months away.
While there is still a lot of time between now and the primary, the campaign is underway. Former Governor Bill Walker, who is running as an Independent, and former Representative Les Gara, who is running as a Democrat, both attended. Noticeably absent was Governor Mike Dunleavy (R – Alaska). Walker and Gara made sure to make note of his absence.
Dunleavy dodged many debates and forums in the run-up to the 2018 primary, instead letting Walker and Mark Begich battle things out. Dunleavy's absence from the AML debate doesn't matter in the grand scheme. The election is a long way away and voters are barely paying attention now. But his 2018 strategy of skipping most of the debates won't work as well next year. In 2018 he cruised to victory in the Republican primary, garnering almost double the votes of Mead Treadwell. But now he has a record as governor and there is a new election system.
Next year, instead of party primaries there is a single primary that determines four people who will go to the ranked-choice general election. Voters only vote for one person in the primary. While Dunleavy is all but guaranteed to go to the general, he won't have the luxury of an easy Republican primary. The outcome of the race for governor, and really any race, will heavily depend on who the top-4 vote getters are in the primary. To win a ranked-choice election, a candidate needs to get 50% plus 1 of the vote. If no one gets that on the first round of counting, the person who got the least amount of votes drops off and then their voters' second choices are redistributed. If no no one in the remaining three has 50% plus 1, the process happens again and a winner is determined. Why does this matter? Because the outcome of every race, especially the high profile races, will depend a lot on who the top-4 vote getters in the primary are. For Dunleavy to win, he will need a lot of people to make him their second choice (it is highly unlikely anyone will get 50% plus 1 on the first round). For that to happen he's going to need to show up.
Other Happenings
There's been a lot of chatter that Tyson Gallagher, Dunleavy's deputy chief of staff, will leave his official role and run Dunleavy's campaign. Gallagher has a ton of campaign experience and is more than qualified. But it's unlikely Gallagher will make that jump. And if he were to, it would not be until after session. Plus, if he leaves there will be few people left to actually run the government.
Congressman Don Young (R – Alaska) announced key members of his re-election campaign this week. Senator Josh Revak (R – Anchorage), who previously worked for Young, will chair his campaign. Matt Shuckerow, who also worked for Young in the past, and Art Hackney, a longtime friend and campaigner for Young, will be campaign advisors. For those who thought Young may not run, it is clear now that he is. Several sources report that Young got fired up after Nick Begich filed to run against him. Begich's campaign manager is Truman Reed. Reed ran Young's 2020 campaign and up until a few months ago worked for Young in D.C. This campaign is going to be one to watch. My prediction, just like Lisa Murkowski in the Senate race, is a Young gets between 30-40% on the first round, then cleans up on the second round. A large percentage of voters will mark Young, and Murkowski, as their second choice.
More incumbents and challengers continue to file for office. Here is a summary for this week:
Senator Natasha von Imhof (R – Anchorage) filed a letter of intent. She did not indicate an office, meaning she could choose to run for governor. She is paired with Senator Mia Costello (R – Anchorage), so if they both decide to run for Senate they will be opponents. Costello already field with the Division of Elections. So she is definitely running for the seat.
Senator Click Bishop (R – Fairbanks) also filed with the Division of Elections. So he is definitely running.
Senator Robb Myers (R – North Pole) filed a letter of intent. He indicated Senate.
Representative Christopher Kurka (R – Wasilla) filed a letter of intent. He did not indicate an office. Kurka is paired with Representative David Eastman (R – Wasilla). There has been a lot of speculation that Eastman will run for the Senate seat. Senator David Wilson (R – Wasilla) is the senator in the new district.
Fairbanks Borough Assembly member Frank Tomaszweski, a Republican, filed to run for House. He is in Representative Grier Hopkins (D – Fairbanks) new district, which Donald Trump won by over 26 points. Hopkins is going to have a real tough race in his new district.
The Alaska Judicial Council announced nominees to some vacant Superior Court positions this week. For the Juneau vacancy, one of the nominees, Marianna Carpeneti, is the daughter of former Chief Justice Walter "Bud" Carpeneti. And one of the people nominated to the Utqiagvik vacancy is Colleen Baxter, the sister of of my friend Lee Baxter! Good luck to all the nominees. Governor Dunleavy has 45 days to choose once he is officially sent the nominees.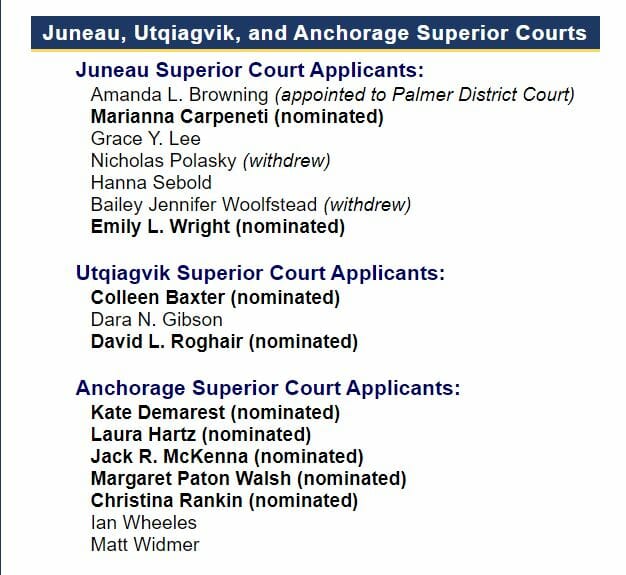 This Week's Loose Unit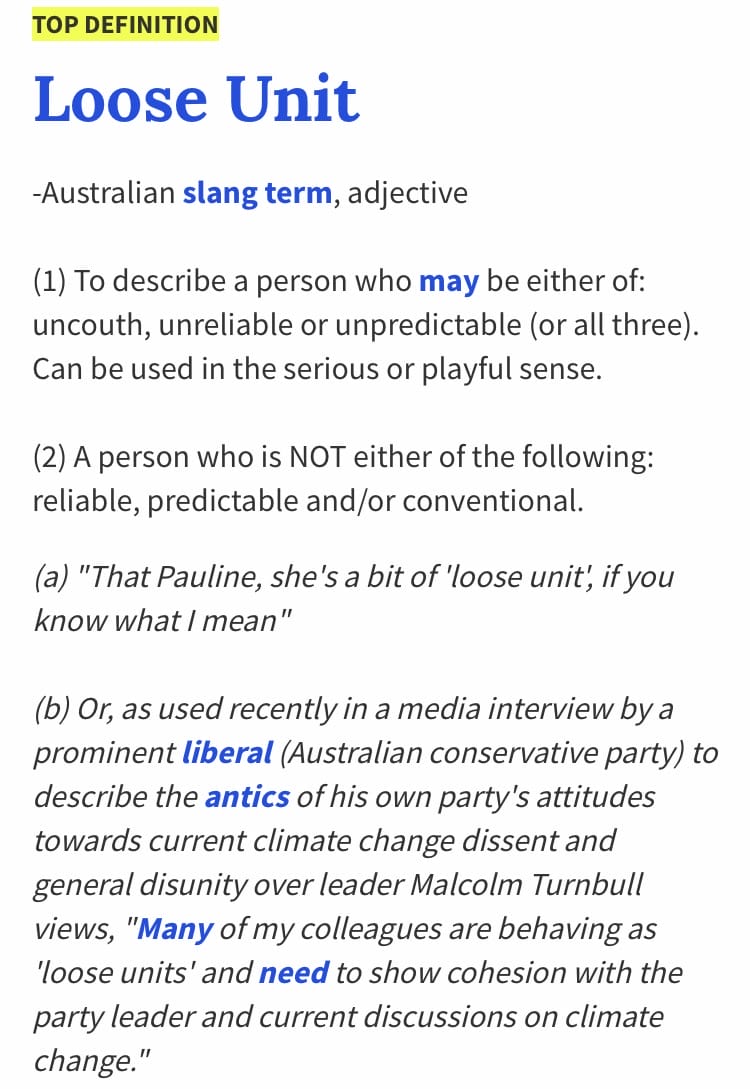 A video released on Twitter this week made this week's designee clear. This week's Loose Unit is U.S. Senate candidate Kelly Tshibaka. On Wednesday, Tshibaka posted the below video criticizing Senator Lisa Murkowski (R – Alaska) for not supporting the road from Cold Bay to King Cove. If you Google "King Cove road Lisa Murkowski" the first thing that comes up is a June 4, 2020 press release titled "Delegation Will Continue to Fight for Life-Saving Road for King Cove." The press release is on Murkowski's official Senate website. Classic Loose Unit behavior of the Tshibaka campaign. Here is a quote from the press release:
"This decision is yet another bitter disappointment for the good people of King Cove," Murkowski said. "I continue to believe the Department of the Interior has full authority under existing law to complete this land exchange, that the federal government has an obligation to protect local residents' health and safety, and that a gravel, one-lane, life-saving road is the best way to meaningfully accomplish that. I refuse to give up on helping the people of King Cove."
In the video, Tshibaka stated, "We've fought for this road for decades." Tshibaka moved back to Alaska in 2019 after spending 20 years living and working in D.C. Very loose.
Lisa Murkowski has Radical environmental groups on her side opposing projects such as the vital road connecting King Cove and Cold Bay. It's time to fight for and prioritize safety. I promise to be a voice in DC advocating for all forgotten Alaskans. pic.twitter.com/fvT6JUdKw8

— Kelly Tshibaka (@KellyForAlaska) November 18, 2021
If you have a nomination for this week's Loose Unit, or if you have any political news, stories or gossip (or any old pics of politicians or public officials) please email me at jeff@alaskalandmine.com.