Tomorrow, June 1 at 5pm, is the filing deadline to run for the legislature. Many seats remain uncontested. Look for several last minute filers tomorrow. You can click here to see the list of who has declared with the Division of Elections. And as Alaska begins to get back to normal, there were 27 new COVID-19 cases today, the highest one day total. Governor Mike Dunleavy (R – Alaska) held a press conference today at 5 pm with Dr. Anne Zink and others to talk about it.
A friendly message and reminder to all our readers, the Landmine is made possible by myself and a team of awesome Alaskans. It takes a lot of work to provide the content we do. If you enjoy the content we provide, please consider making a one time or recurring monthly donation. You can click here to donate. We have a donation system that makes it super easy. We would really appreciate it. And thanks to everyone who has been supportive!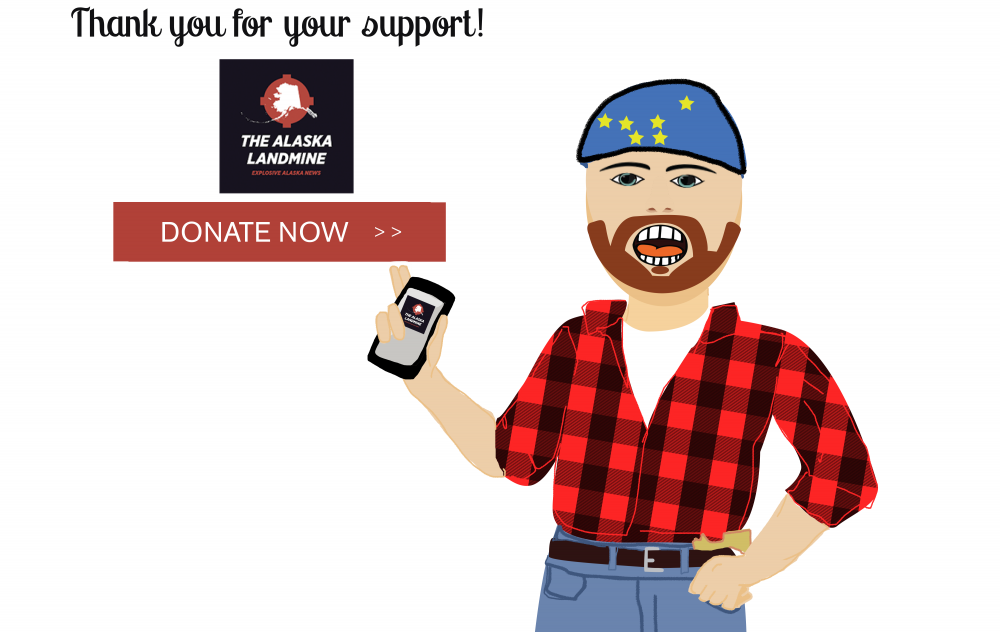 Legislative Races
All 40 House seats are up as well as 11 Senate seats. Normally only 10 of the 20 Senate seats are up every two years (House seats are 2 years, Senate are 4 years) but there is a special election for Senate District M. Because former Senator Chris Birch passed away less than two years into his term, Senator Josh Revak (R – Anchorage) will run in a special election. He already has some interesting company in the primary! Harold Borbridge is associated with Michael Chambers. Nothing more needs to be said there. And this week Ray Metcalfe (Disco Ray!) also filed for the Republican primary. Metcalfe has run under under all kinds of flags, including as a Democrat in the 2016 U.S. Senate race against Senator Lisa Murkowski (R – Alaska). He finished fourth with 11% behind Murkowski, Libertarian Joe Miller, and Independent Margaret Stock.
Another interesting race is District 27. Representative Lance Pruitt (R – Anchorage) has still not filed a letter of intent, which means he has not been able to raise any money. Because he has a legislative  financial disclosure on file all he needs to do is file with the Division of Elections tomorrow. Liz Snyder, who is running as a Democrat, barely lost to Pruitt two years ago and has raised a lot of money. Pruitt will likely file for reelection, unless the Republicans have decided they don't even want to try to retain the seat.
Legislators who remain unopposed as of today per the Division of Elections are:
Senator Shelley Hughes (R – Palmer)
Senator Bill Wielechowski (D – Anchorage)
Senator Tom Begich (D – Anchorage)
Representative Steve Thompson (R – Fairbanks)
Representative Mike Prax (R – North Pole)
Representative DeLena Johnson (R – Palmer)
Representative Cathy Tilton (R – Wasilla)
Representative Kelly Merrick (R – Eagle River)
Representative Harriet Drummond (D – Anchorage)
Representative Geran Tarr (D – Anchorage)
Representative Zack Fields (D – Anchorage)
Representative Matt Claman (D – Anchorage)
Representative Laddie Shaw (R – Anchorage)
Representative Sara Hannan (D – Juneau)
Representative Jonathan Kreiss-Tomkins (D – Sitka)
Representative Bryce Edgmon (I – Dillingham)
Representative Tiffany Zulkosky (D – Bethel)
If you look at the primary list you will see some incumbents do not have any opponents. If you run as a petition candidate you appear on the general ballot, not the primary. You need to collect signatures by the primary to be certified for the general. Some incumbents have no one running in either primary but do have a petition candidate in the general. And Representative Dan Ortiz (I – Ketchikan) is again running by petition but there is a Republican, Leslie Becker, running unopposed so far in the primary. A lot of this will change tomorrow as more people declare.
Other Happenings
The Regulatory Commision of Alaska has conditionally approved the almost $1 billion sale of Municipal Light & Power to Chugach Electric. This ADN article goes into more detail. The ruling is over 150 pages with 600 pages of supplemental material. It might be a while before this thing is fully closed.
Several rallies were held across Alaska yesterday for George Floyd, the man that was killed by a police officer in Minneapolis this week. The one in Anchorage was held at the REI mall. There were a lot of people there including several legislators and members of the Anchorage Assembly. Senator David Wilson (R – Wasilla) was one of the speakers. Unlike other cities in the United States, rallies in Alaska have been peaceful with no violence or looting.
Update: There was another rally held in Downtown Anchorage I forgot to mention. I was only able to go to the one at the REI mall.
Former Representative Bob Lynn passed away at his home in California this week. He was 87. Lynn served in the House from 2003-2017 as a Republican. If you did not know him he was quite a character. He was lately known for his very entertaining Facebook posts. He was a retired Air Force Major who flew fighter planes in Vietnam. Condolences to his family.
Mollie Barnes, a former reporter for the Juneau Empire and who also wrote for the Landmine, has taken a job with Senator Bert Stedman (R – Sitka). Congrats, Mollie! Stedman also hired former KTVA reporter Steve Quinn in February. I guess he is hiring all the reporters! Smart move.
Craig Fleener has been hired as the chief of staff to Lieutenant General David Krumm. Congrats, Craig! Fleener was running as Bill Walker's running mate before Walker combined forces with Byron Mallott in 2014. Fleener stepped aside and later worked for Walker after he was elected.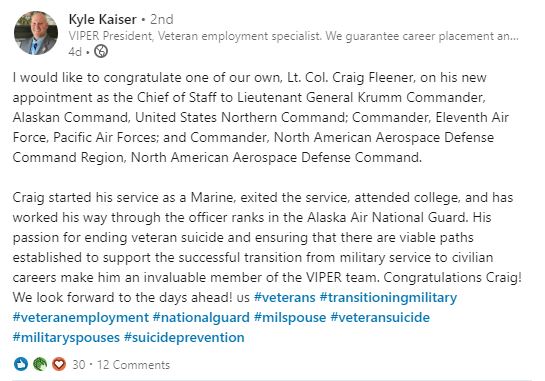 This Week's Loose Unit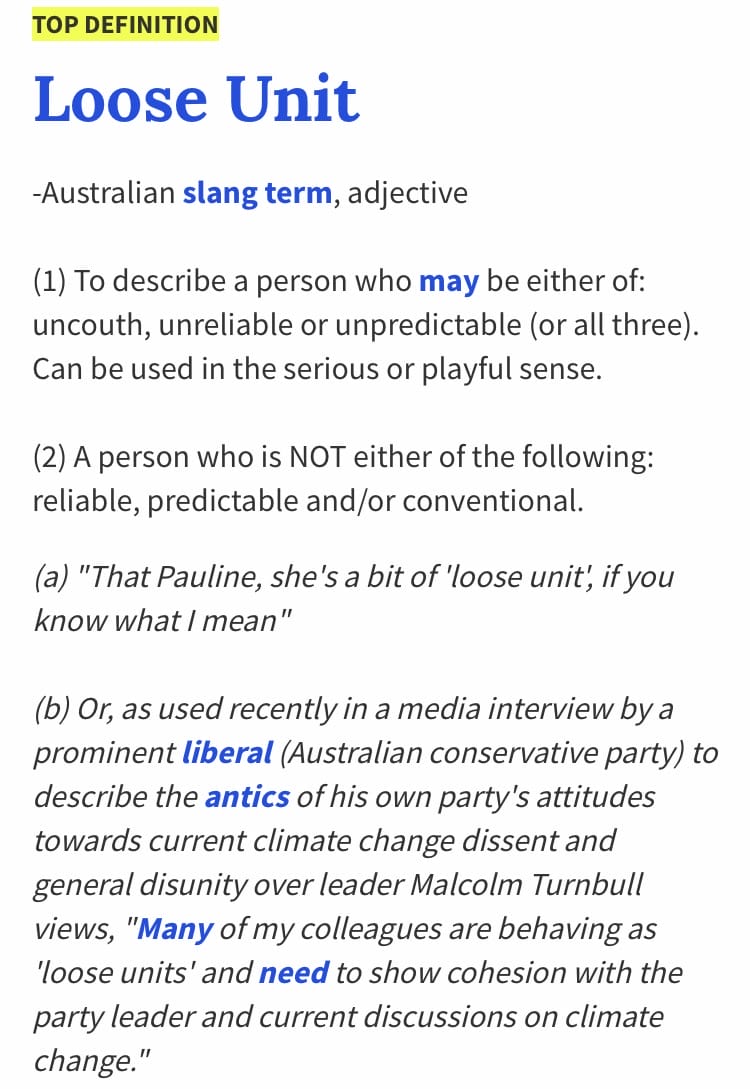 A last minute insane Facebook post made this week's Loose Unit clear. This week's Loose Unit is Stephen Duplantis. Duplantis is running against Senator Natasha von Imhof (R – Anchorage) in the Republican primary. He's way out there! He's also another Michael Chambers guy, which explains a lot. He ran against Representative Chuck Kopp (R – Anchorage) in the 2018 Republican primary, earning not even 30% of the vote. He made this nutty and loose Facebook post today, repeating crazy conspiracy theories: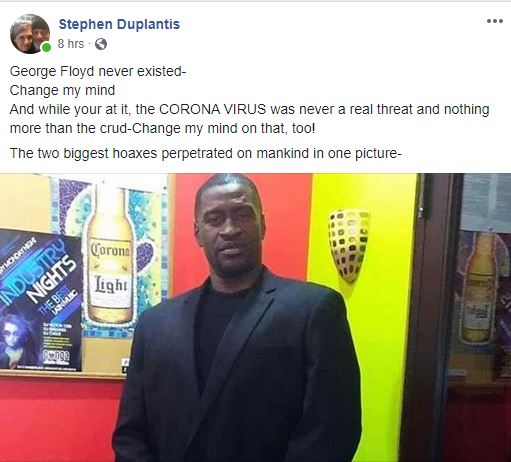 It only gets worse from here. He went full Loose Unit in the comments. In the comments he claims the whole thing is a fabrication by the media. So loose. In response to a comment from Marcus Sanders, he said, "You are only seeing what the media shows you. And they haven't been truthful in a long, long time. I refuse to fall into their mind games." Keep in mind Duplantis, is a pastor. Imagine those sermons. He also claims everything is "filtered through algorithms and the media." This guy is nuts. Let's see if the Alaska Republican Party or Republican leaders come out and condemn this nonsense.
Oh, and as of Friday he thought it was real. What an absolute nut.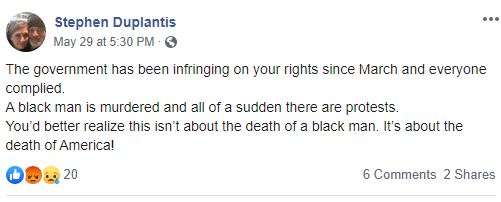 If you have a nomination for this week's Loose Unit, or if you have any political news, stories or gossip (or any old pics of politicians or public officials) please email me at [email protected]