I hope everyone is enjoying the Memorial Day weekend as much as I am. I am in Haines for the annual Brew Fest and it did not disappoint!
It's been ten days since the Legislature passed a budget and session ended. The budget has still not been transmitted Governor Mike Dunleavy (R – Alaska). Once it is, he has 20 days (excluding Sundays) to act on vetoes and sign it. He has yet to say what he will do in regards to vetoes. Legislators and staffers have packed up their Juneau offices and homes and returned home. And Governor Mike Dunleavy (R – Alaska) signed two bills – the carbon bill and the renewable energy fund bill – into law at his Alaska Sustainable Energy Conference in Anchorage.
A friendly message and reminder to all our readers. The Landmine is made possible by myself and a team of awesome Alaskans. I just got back from Juneau for my fifth session in a row reporting on the Legislature. If you enjoy the content we provide, please consider making a one time or recurring monthly donation. You can click here to donate. We have a donation system that makes it super easy. We would really appreciate it. And thanks to everyone who has been supportive!
Haines Brew Fest
With session ending and the holiday weekend, politics have been markedly slower this week than the last four months. So in this week's Minefield you get to read about my trip to Haines, Alaska for the annual Brew Fest. I've heard about it for years but this was my first time attending. It definitely lived up to its legacy of a wild time. And things got very loose.
A friend in Juneau had an extra ticket and invited me several weeks ago. She suggested we camp. Hotels are extremely expensive during Brew Fest so a lot of people just sleep in tents. Last year it was almost 80 degrees and there was a huge slip and slide! It all sounded good to me. I brought my two person mountaineering tent for what I thought was going to be a fun weekend camping and partying. More on that later.
I left Anchorage on Thursday morning. A friend in Juneau needed a car driven from Anchorage to Juneau so instead of flying I made the 750 mile drive from Anchorage to Haines. I am actually writing this column from the Haines Public Library. We are all getting on the ferry this afternoon to Juneau.
I've done the drive before but it's been a while. I highly recommend it during the summer. The scenery in Alaska and Canada is amazing. I also saw a bunch of moose, several black bears, and even two big brown bears right on the side of the road!
I made it to Haines Junction in the Yukon, Canada by 11 pm. If you ever make the drive note that the Yukon is one hour ahead of Alaska. I got a room in a hotel called the Stardust. The place was something else. It was like stepping back in time 40 years. When I arrived I was greeted by a young Chinese man who spoke broken English. He waited up for me to give me the key. I went right to sleep after driving for more than 12 hours.
I woke up on Friday recharged and ready to go. In addition to my friend who invited me, several other friends from Juneau, many of which are staffers, were on the Friday morning ferry to Haines. The plan was to meet everyone and get the weekend underway.
I got to Haines at noon and met my friends at the park. It was clear this was not going to be the 80 degree weekend like last year. It was overcast, windy, and in the low 50s. As were were setting up the tents it dawned on me that sleeping might be an issue. There were a lot of people setting up tents and the drinking and partying were already underway.
The park reminded me of Centennial Park in Anchorage last summer when Mayor Dave Bronson directed all the homeless people who got kicked out of the Sullivan Arena to camp there. The only difference was nicer tents and higher incomes. The alcohol, drugs, and partying were on were definitely on par with Centennial, probably even more prevalent. I don't use drugs but if I did this would be the place to go. This weekend I was offered mushrooms, acid, and cocaine multiple times.
We got the tents setup and headed out for a drink. We tried to go the the Brewery but it was cash only and their ATM didn't work. So we ended up at this bar called the Fog Cutter. It did not disappoint.
We got there early, around 6 pm. By 8 pm the bar was filling up and things started to get wild. It soon became clear to me how many Canadians come down to Brew Fest. Probably half the people here are from Canada, mostly Whitehorse. But a lot of them came from other parts of Canada because pay in the Yukon is higher and there are government incentives for bonuses and relocation costs to move there. I was surprised to learn that only 44,000 people live in the Yukon.
Around 8 pm there were bouncers at the door who started stamping people so they could get back in. At one point I looked over and saw a sixth grade teacher (we talked earlier) showing everyone that instead of the bouncer stamping her hand she had him stamp each one of her ass cheeks. Another woman nearby did the same and also showed everyone. I looked at my friend and said, "Man it's only 8 pm. This place is going to get wild tonight!" He was in full agreement.
We then all went to the Harbor Bar for a bit, which was fun but not nearly as loose as the Fog Cutter. After some bar hopping, which included a stop back at the Fog Cutter (where now some women had their breasts stamped too), we ended up at the Pioneer Bar where a band was playing. I asked the bouncers if they could stamp my ass too. It was an unequivocal "no."
The band was good but it was so loud you could not talk to anyone. They were somewhere between metal and emo. It got really weird at one point. The lead singer kept asking the crowd which three families run Haines. He was even pointing at people accusing them of being part of the Haines elite. Then he started advocating for communism, yelling, "Haines needs to become communist!" He got a lot of cheers from people who might not have read much about the twentieth century or who were too high on drugs to know what was going on. I doubt the band played for free. I should have asked.
By 1 am we were all pretty tired. My friend who invited me to camp decided she would be more comfortable sleeping in the truck I drove down. So I ended up in the tent by myself. The cold weather did not really bother me. But the loud music and partying until 4 am did. I finally fell asleep but it was not a good night's sleep.
It was cold in the morning but luckily a friend had a hotel room and let us shower. Nothing could beat that hot shower. We all headed to the Brew Fest around 1. The line was insanely long and you could tell people were ready to party. The festival sent out an email last week. Two of the bullets read:
DO NOT PRE GAME! Alaska Law says we cannot serve anyone who is visibly impaired. If you appear to already be enjoying your libations before you get here, you will be refused entry without a refund.  Don't do it! There are plenty of opportunities to taste some amazing brews when you are here, there is no need to start drinking ahead of time.
While you're here: PACE YOURSELF. If you appear at all intoxicated, you will be asked to leave. There's no rush, take it easy and enjoy the brews on offer.
We finally got through the line and were in! There were so many people and also so many good beers to sample. It was chilly but luckily it didn't rain. A bunch of people were wearing a variety of costumes, my favorite being a Canadian man dressed as the QAnon Shaman except the Canadian version.
The festival was only from 1-5 pm. It went by really fast. We all ended up back at the Fog Cutter with even more Canadians. I met a group of several French Canadians who are living in Whitehorse promoting the French language and Quebec culture. One of them told me her dad used to be an MP in Quebec and a leader in the independence movement, but has since changed his position as the independence movement there has really died down from its peak in the 90s.
A bunch of us ended up at the Harbor Bar where there was some aggressive karaoke taking place. A group of at least ten Canadian women who were there for a bachelorette party insisted I wear her "bride" shirt that was four sizes too small for me. But they did not give me a choice. It definitely got loose.
I ended up walking back to my tent in the park. It started raining last night and it was really coming down! My friend opted to stay in the truck again. There was partying again but to a lesser extent than the night before. But someone in a tent near me was snoring something fierce. I can sleep through a freight train running by but for some reason it's extremely difficult for me to fall asleep or remain sleeping if someone is snoring. I should have setup the tent anywhere other than the middle of the park.
I woke up around 10 am and was pretty excited I would not be sleeping in a tent again tonight. My buddy was nice enough to let me take a hot shower again in his room. I went back to the park to tear down my tent and pack my stuff up. We are all headed to the ferry terminal soon. I fly back to Anchorage tomorrow night. It was an epic four days.
I highly recommend checking out the Brew Fest next year if you can. If you are concerned about the weather or getting a good night's sleep, I might suggest booking a hotel room well in advance. I know I will.
This Week's Loose Unit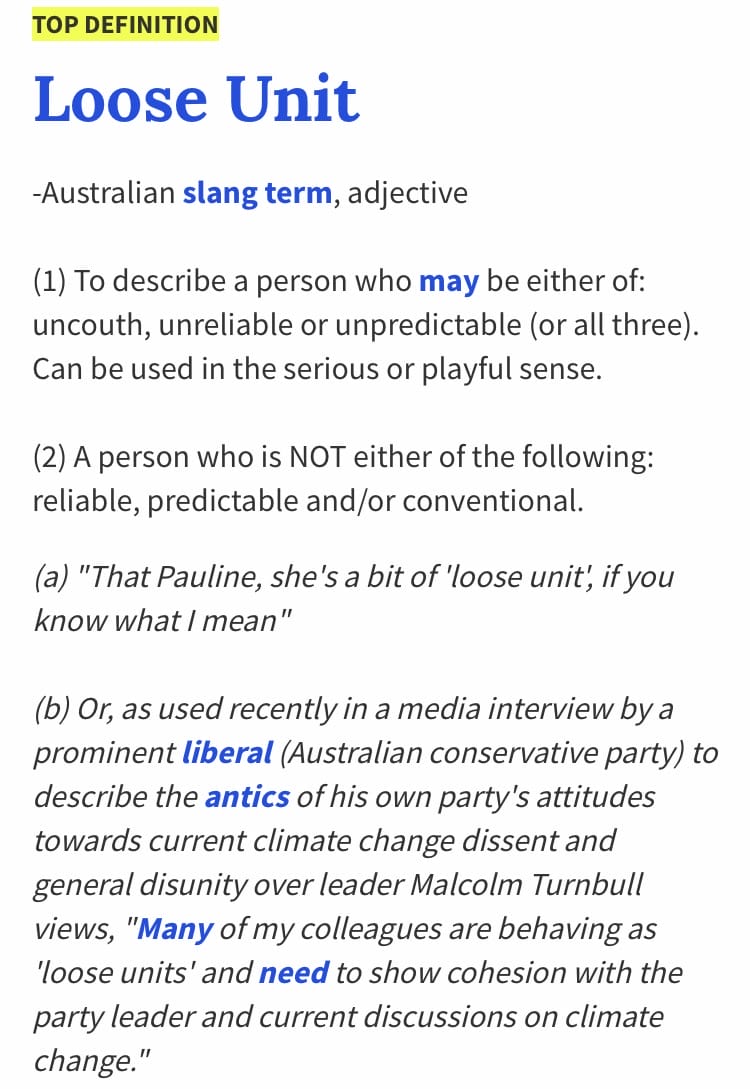 I was really leaning on choosing disgraced former Municipal Manager Amy Demboski for this week's designee. If you did not hear she tried to shake down the Municipality of Anchorage for $550,000 without even filing a lawsuit for wrongful termination. That is definitely loose. Thankfully, the Anchorage Assembly refused to pay her a dime. That lawsuit, should she choose to sue, will definitely be loose!
As loose as the Demboski shake down attempt was, something that happened on Monday evening was solidified this week's designee. This week's Loose Unit is Larry Persily. On Monday, Alaska Common Ground held an event about progress towards a sustainable fiscal plan. Whatever that means. Gunnar Knapp moderated a panel that included Persily, Nat Herz, and Tim Bradner. You can watch it here.
It went as you would expect an event like that to go – a lot of idealism and a profound lack of reality. At one point Persily decided to go full Loose Unit. In response to a question about the media and coverage out of Juneau, Persily decided to call out the Landmine as "self-supporting garbage." He also acted like he did not know my last name. His desk in the Capitol press room is literally right behind mine. Very loose behavior. You can watch it here:
I've known Larry for years. I have always been nice and respectful to him. He was even on my podcast a few years ago. It turns out he is just a miserable elitist, and also a Loose Unit. If you do not know about Larry, he kind of vacillates between reporting and working in government. He was the federal pipeline coordinator for years and also recently worked for Congresswoman Mary Peltola (D – Anchorage). He also runs the Wrangell Sentinel.
It's rich for him to attack me and the Landmine as garbage. I've been reporting in Juneau for the last five sessions. I started the Alaska Political Report in January 2021, which has steadily grown since. I work hard to inform people about what is happening in state government. I am not part of the traditional media and admittedly approach my reporting with a bit of flare and hype. I do that because it makes it fun and people enjoy it. A federal judge even decided the Landmine is a media source and is entitled to be invited to Governor Dunleavy's press conferences. But to an elitist like Larry, none of that matters.
Larry is free continue to act like he doesn't know my name and imply I am not part of the media, but the great irony here is the event where he called me garbage was live streamed on equipment from a company I co-own. Super loose.
If you have a nomination for this week's Loose Unit, or if you have any political news, stories or gossip (or any old pics of politicians or public officials) please email me at jeff@alaskalandmine.com.