It's Memorial Day weekend. I hope everyone is enjoying the holiday weekend that rings in summer in Alaska. Let us not forget all of the men and women who have died while serving in the Armed Forces.
A friendly message and reminder to all our readers, the Landmine is made possible by myself and a team of awesome Alaskans. It takes a lot of work to provide the content we do. If you enjoy the content we provide, please consider making a one time or recurring monthly donation. You can click here to donate via PayPal. We would really appreciate it. And thanks to everyone who has been supportive!
I spent the week in Los Angeles visiting family and was subsequently checked out of politics for most of the week. I am spending the weekend relaxing like I hope most of you are too. So this week will be an abbreviated column.
The House and Senate have yet to pass a budget or agree on an amount for a PFD. The House passed the Conference Committee's version of the crime bill. The Senate is scheduled to pass it on Tuesday. Sources confirm that negotiations between Governor Michael J. Dunleavy (R – Alaska) and the Legislature have broken down. Maybe publicly attacking them isn't a winning strategy…
A recent memo, obtained by the Landmine, suggests that Dunleavy has violated the Executive Branch Ethics Act with his paid ads against legislators and the Legislature. Word is a group of Alaskans are preparing to file an ethics complaint. We may be getting our own special counsel! Here is a Landmine article about that.
President Donald J. Trump again stopped over in Anchorage on his way to Japan. He met with Governor Dunleavy on Air Force One. All we know so far is they talked about, "A number of Alaska-focused priorities, including resource development, streamlining regulations and other items directed at growing Alaska's economy." Whatever that means. Sorry I was not able to do a podcast with you, Mr. Trump. Maybe next time!
As the first special session of the 31st Alaska Legislature continues, lots of legislators and staff are absent from Juneau. Everything really hinges on the amount of the PFD as the House and Senate have essentially come to an agreement on the crime bill and the budget. And don't forget, legislators are not receiving per diem as they did not pass a budget by day 121. This is thanks to House Bill 44 that was passed last year. A little going away present from former Representative Jason Grenn.
Speaking of Jason Grenn. Congrats on the new job, Jason!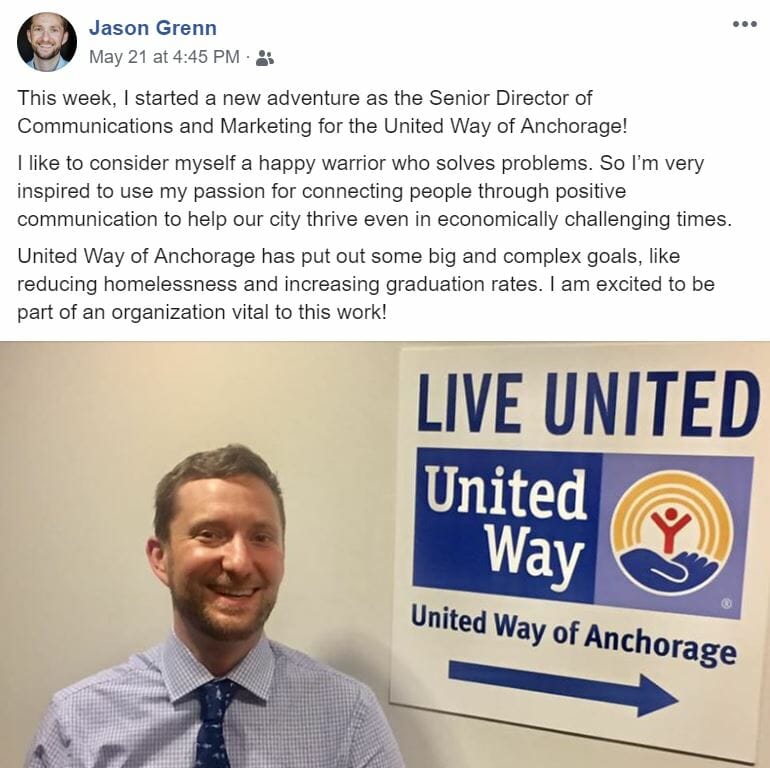 Check out this not so subtle message I got from Anchorage Mayor Ethan Berkowitz in my annual property tax notice. I don't see Big Mike and Ethan going on vacation together anytime soon.
If you have not seen this video, produced by Cale Green, of a poem about Alaska, written by Matt Larkin, check it out. As Dave Stieren put it, "Our entire travel/tourism budget is this. Not a dime more." Pretty much.
All of you Loose Units out there can rest easy as I am not including a Loose Unit this week. Stay tuned for next week's column and of course, next week's Loose Unit! If you missed our special Landmine variation of last week's Loose Unit, Lance Pruitt's well known jingle, here you go! You're welcome.
If you have a nomination for This Week's Loose Unit, or if you have any political news, stories or gossip (or any old pics of politicians or public officials) please email me at jeff@alaskalandmine.com.