As Alaska begins to open back up I hope everyone is enjoying Memorial Day weekend. Southcentral is getting some much needed rain but the sun should be coming out tomorrow. The legislature went back to Juneau this week and was able to pass a bill accepting the federal COVID aid. And the filing deadline to run for office is just over a week away – June 1!
A friendly message and reminder to all our readers, the Landmine is made possible by myself and a team of awesome Alaskans. It takes a lot of work to provide the content we do. If you enjoy the content we provide, please consider making a one time or recurring monthly donation. You can click here to donate. We have a donation system that makes it super easy. We would really appreciate it. And thanks to everyone who has been supportive!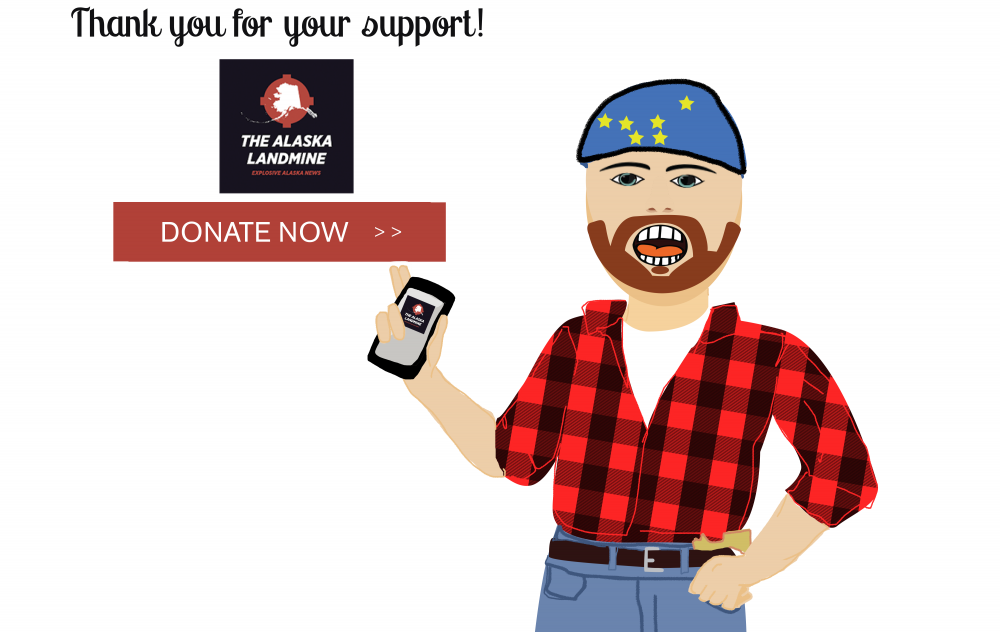 The Legislature 
On Monday the legislature reconvened in Juneau to pass a bill ratifying how the Legislative Budget and Audit (LB&A) Committee accepted the $1.25 billion in federal COVID aid. Two days after the Committee accepted the money that Governor Mike Dunleavy (R – Alaska) requested (May 11), a lawsuit was filed claiming the way LB&A accepted the money was unconstitutional. It was filed by Juneau attorney Joe Geldhof on behalf of plaintiff Eric Forrer. If you're interested in hearing about why he filed the lawsuit you can listen to a recent podcast I did with Geldhof while I was in Juneau. The part about the lawsuit starts at 58 minutes.
The plan was to get out quick, which they managed to do. The bill that both bodies ended up passing was not an appropriations bill. Many legislators felt the ideal way to accept the COVID aid would be through an appropriations bill. But leadership, specifically in the Senate, did not want that for two reasons. One, it would be a real mess with 60 legislators arguing about how to spend $1.25 billion. Two, they didn't want to open the door for another dividend fight. Another issue is that the legislature had to adjourn by Thursday, the constitutional limit. To extend ten days would take a 2/3 vote of the legislature, a dubious proposition. And there was also the whole COVID situation. Despite what Representative Ben Carpenter (R – Nikiski) and some other legislators thought about the screening process it was really no big deal. A few questions, a temperature check, and a small sticker on the back of a badge. I managed to get all three!
The legislature moved quick. The Senate Finance Committee and the House Rules Committee both held hearings on Monday. On Tuesday both bodies passed identical versions of the bill. Here's where it got a bit loose. The Senate passed it first (both the House and Senate were in session at the same time). But instead of adjourning sine die they took up a resolution allowing the legislature to meet remotely. They sprang this on the House right before the session started. This resolution requires a 2/3 vote of each body. The Senate seemed to have the votes but the House did not. Part of the deal to get the House Minority to come back and not be obstructive was to get done quick. So after the Senate passed the COVID bill they went on to the resolution. Not long after, the House passed the COVID bill. And immediately adjourned sine die! By the way, the correct Latin pronunciation is "see-nay de-ay," not "sigh-neh dye."
Because the House adjourned first their version of the bill was now the vehicle. The Senate could hear the bill the same day but had to wait until the next day to vote on it per the constitution. Sources tell me the plan was for the Senate to adjourn first but the House pulled a fast one and dipped out first. As one politico in the Capitol stated, "Bryce left Cathy at the altar." The Senate returned the next morning and passed the bill. But not before Senator Lora Reinbold (R – Eagle River) tried introducing several amendments that were ruled out of order by Senate President Cathy Giessel (R – Anchorage). One would have ended Dunleavy's emergency declaration. Another was for an additional stimulus dividend. It got pretty loose. The funny thing is she claimed the entire bill was unconstitutional but she still tried introducing amendments. She concluded by going on a pretty epic rant about the whole thing. Here is a brief summary you might enjoy.
Oh, and here's a little message you might like. Gotta love Cameo!
Now that the legislature is officially adjourned legislators who are running for reelection can now raise money. Campaign season has officially begun! The filing deadline to run for the House or Senate is next Monday, June 1. Look for several candidates to jump in before then. The August 18 primary is less than three months away. One notable politico that filed this week was former Representative Lynn Gattis. Gattis filed a Letter of Intent to run for the House seat that Representative Colleen Sullivan-Leonard (R – Wasilla) is retiring from. Gattis used to have the seat but she opted to run for the the Senate seat in 2016. She lost to now-Senator David Wilson (R – Wasilla) in the Republican primary. So far Gattis is facing hardcore pro-life Christopher Kurka in the Republican primary.
Other Happenings
The Alaska State Fair announced this week that they have decided to cancel the fair due to COVID-19 This is the first time the fair has been cancelled since WWII. Here is their statement. I had a booth at the fair in 2008 and 2009 for a business I used to own with a friend. I got to know many of the vendors. The fair is how many of them make a big part of their yearly income. We should all do what we can to support these local businesses. The City of Palmer also receives hundreds of thousands in sales tax revenue from the fair.
The City of Juneau has partnered with the Municipality of Anchorage in order to run their October election as a vote-by-mail election due to COVID-19. Here is a thank you letter from Juneau Mayor Beth Weldon to Anchorage Mayor Ethan Berkowitz, the Anchorage Assembly, and Municipal Clerk Barbara Jones. It's always nice to see cooperation between local governments. I hear the first one is free. Sounds like the old get 'em hooked method!
Mayor Ethan Berkowitz experienced his first veto override this week. He vetoed an Assembly amendment to an ordinance that he proposed dealing with the succession of emergency powers during a temporary vacancy of the mayor. This issue has come up since the 2018 earthquake and now COVID-19. The Municipal Charter prevents the municipal manager from assuming emergency powers but does not specify who does if the mayor is temporarily incapacitated. Berkowitz's ordinance had the powers flow through the mayor's cabinet. But some Assembly members did not like that and proposed developing a line of succession that flowed through the Assembly. That amendment failed to pass. Then there was another amendment, proposed by Assemblymembers Christopher Constant and Jamie Allard, to allow the municipal manager to assume those powers should the charter be amended, and then back to the Assembly chair if the municipal manager was not available. That amendment passes 9-2. Berkowitz then announced he was vetoing that. It got pretty loose! Then the Assembly voted 9-2 to override his veto, they only needed 8. The Assembly then postponed the final vote on the ordinance until August to give everyone time to think it over. The best part is that Assemblymember Forrest Dunbar voted with Assemblymember Jamie Allard against Mayor Ethan Berkowitz. Loose!
The Alaska Public Offices Commission has assessed the Associated Builders and Contractors a $5,000 fine for failing to report independent expenditures during the April municipal election. You can read the summary here.
The Anchorage DMV is moving to University Center from their Benson location this summer. They have been at the Benson location for almost 20 years. Here is the press release: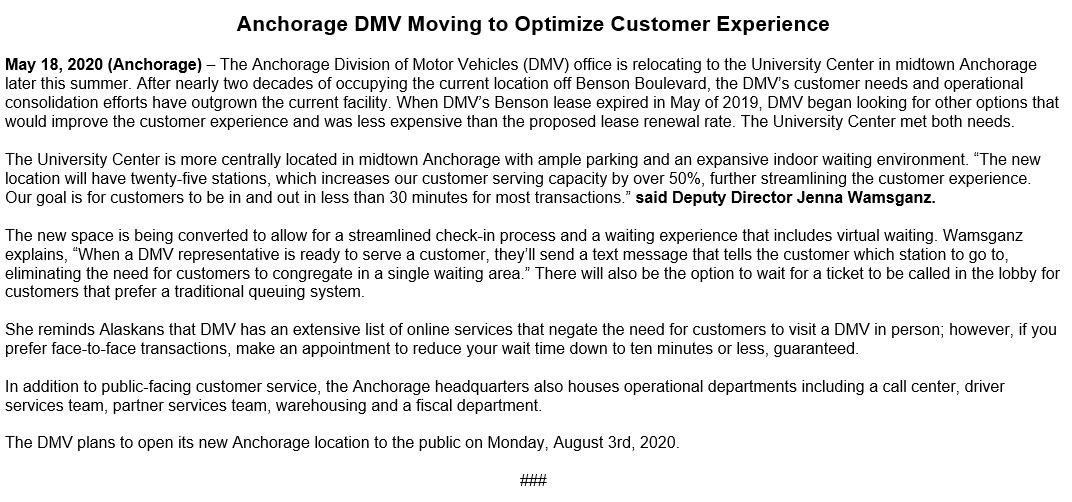 There is something wrong with Suzanne Downing. Well there is a lot wrong with her but recently it seems to have gotten worse. First, she decides to do some bizarre "Make Alaska Great Again" campaign for Alaska businesses. I guess what they say is true, imitation is the greatest form of flattery. My whole 2016 campaign was "Make Alaska Great Again." Maybe she bought one of my hats. Then she follows the Alaska Landmine on Twitter. Maybe her next move will be to start selling Speedo merchandise.
Also, check this out. Downing has John Quick selling ads for Must Read Alaska. Quick resigned as Dunleavy's first Administration Commissioner for some issues with his resume. He claimed to own a business that he in fact did not own. Check out his email! Folks, the Landmine is always happy to share our analytics with interested advertisers. No bull shit, just real numbers.
John Quick, who resigned as Admin Commissioner because of issues with his resume, is selling ads for Must Read Alaska. Very skeptical about that 550k page views a month claim. Would love to see the analytics! Seems he could also use an editor for his emails. #akleg pic.twitter.com/neDyM6QEvr

— The Alaska Landmine (@alaskalandmine) May 18, 2020
If you have not heard, my buddy Rick Whitbeck is in the hospital due to a blood clot. By the sounds of it he is very lucky to be alive. Wishing him a speedy recovery.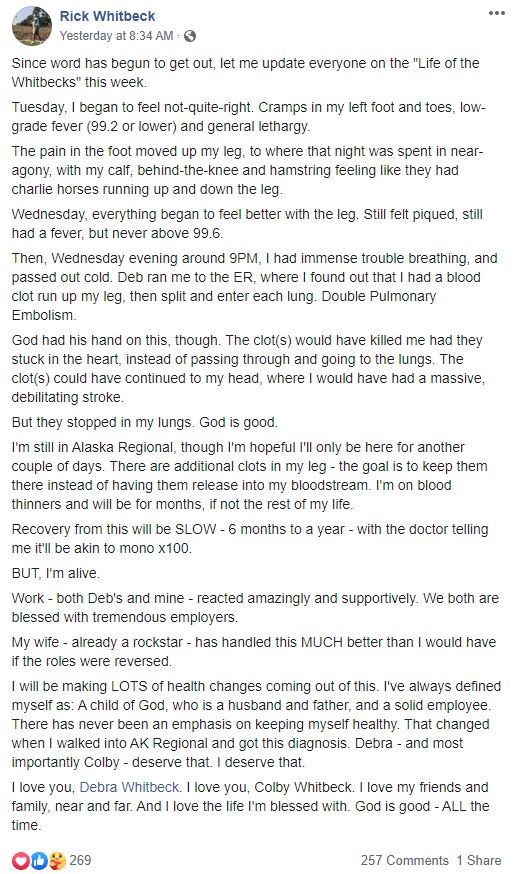 This Week's Loose Unit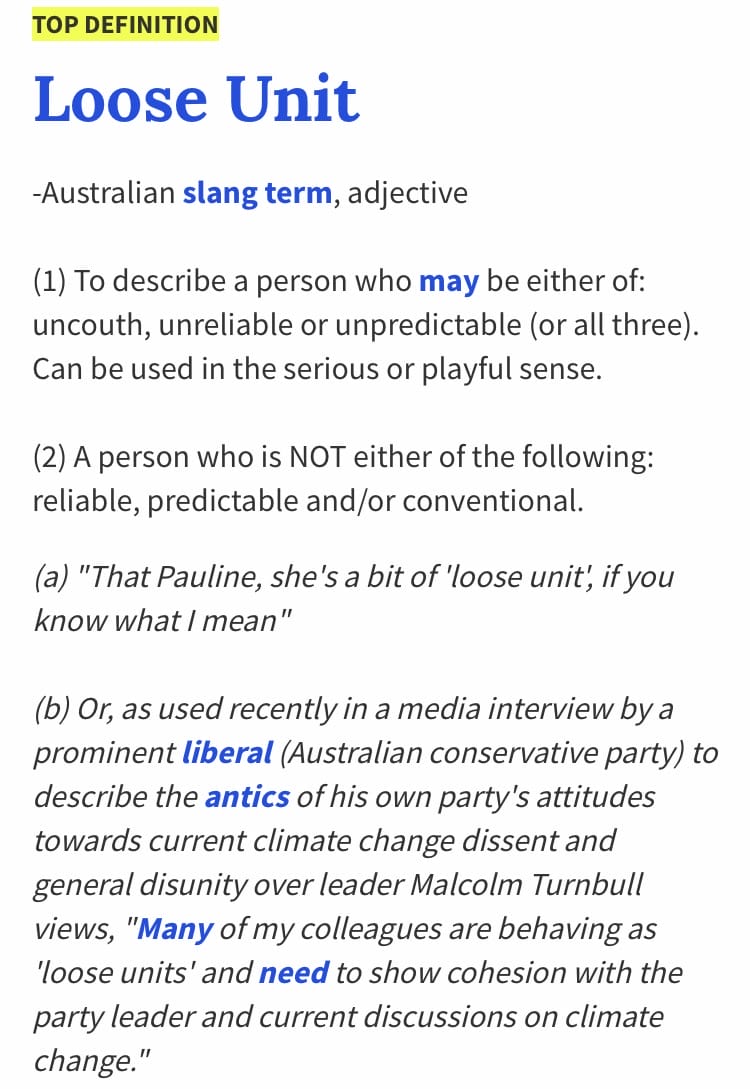 This week was tough. Senator Reinbold was a strong contender. But an incident at the Juneau Airport made this week's designee clear. This week's Loose Unit is Sergeant Shawn Phelps of the Juneau Police Department. On Thursday I was flying back from Juneau to Anchorage. Everything was normal as I checked in and went through TSA. As I was leaving security and walking towards the gate a police officer, Sergeant Shawn Phelps, stopped me and told me he wanted to talk to me. I had no idea what he wanted. I asked him what it was about. He instructed me to step aside and talk to him. This was not one of those, "Hey, do you have a second to chat" interactions. He was full on cop mode. He informed me that I was not being detained or under arrest. I said, "Great. What is this all about?" He then told me that he had me on surveillance picking up some headphones. It then all became clear. On Monday when I flew to Juneau I noticed a leather case on the ground by the baggage carousel when I was waiting for my bag. I picked it up and realized it was some Bose headphones. Representative Sara Rasmussen (R – Anchorage) had just been where I found them so I thought maybe they belonged to her. I called to ask and she said she did not lose any headphones. I got my bag and was in a hurry to get the the Capitol. As I was walking out the door with Senator Bill Wielechowski (D – Anchorage), who offered to give me a ride, I gave the headphones to the lady at the Avis counter and told her, "I found these headphones. Can you please turn them in to lost and found?" She said yes.
I told Phelps all of this and his response was, "The tape doesn't show that." So loose. I told him, "Well, watch it again." He then told me he would review the tape again and asked for my phone number if he needed to follow up. He had already asked for my ID. Then he let me go. The whole thing was so bizarre. I honestly thought I was on some kind of hidden camera show. Ben Stevens was sitting right by where it happened and saw the whole thing. I later told him that if he was active on social media he could have posted that Landfield is being detained by the Juneau Police at the airport.
The whole thing really bothered me. How did he know I was going to be at the airport? Was he waiting for me? Why did he watch the tape of me picking up the headphones? I told a few people about it and they all agreed it was weird. One lobbyist told me, "Yeah it's definitely weird but you do have a very unique countenance." Great. He gave me his card when he stopped me. So when I got back to Anchorage I called him and left a message saying I had some questions. I also called the Juneau Police chief and left a message. He never called back. I also called the Juneau Airport to see if they employ facial recognition. I was told they do not.
The next day Phelps called me back. The first thing I asked him was what law would I have broken if I had picked up the headphones and taken them. He told me theft. Three lawyers I spoke with told me finding something on the ground and taking it is not theft. Who knows! I then asked him how he came to stop me at the airport. I asked if he was investigating me or knew that I would be at the airport. He told me he did not know I would be there but that he recognized me from the surveillance tape. He said that someone called and reported the headphones missing. When he did not find them at lost and found he went to check the tape. First of all if I lost a pair of headphones at an airport I would call the airport manager, not the police. Anyway he said he saw me pick up the headphones and followed me on the surveillance. He said he "zoomed" in on me when I walked out and missed the part where I gave them to the rental car agent. Loose! He said after we spoke he went back and watched it again and verified my story. He also said he was able to return the headphones to their owner. I'm glad to hear that. But is this what the police in Juneau do at the airport? I have personally seen homeless people in Downtown Juneau fight each other and harass people walking by. There are also a bunch of tents and people sleeping there. But I guess investigating me picking up some headphones is what really matters! Super loose.
If you have a nomination for this week's Loose Unit, or if you have any political news, stories or gossip (or any old pics of politicians or public officials) please email me at [email protected]