The Legislature was not able to pass the budget by the 121-day constitutional session limit. But they were able to pass it on the first day of a special session called by Governor Mike Dunleavy (R – Alaska) after the House and Senate gaveled out of the regular session. The one day special session was strange, and the outcome was extremely bizarre. The House demonstrated some real "caucus of equals" energy. While the Legislature has done their job and passed a budget, it is still subject to veto from Dunleavy. He has 20 days (not including Sundays) once it is transmitted to him.
A friendly message and reminder to all our readers. The Landmine is made possible by myself and a team of awesome Alaskans. I just got back from Juneau for my fifth session in a row reporting on the Legislature. If you enjoy the content we provide, please consider making a one time or recurring monthly donation. You can click here to donate. We have a donation system that makes it super easy. We would really appreciate it. And thanks to everyone who has been supportive!
They Actually Passed a Budget 
On Thursday, on the first day of a special session, the Legislature was able to pass a budget. But it sure was a weird process. The Senate did not transmit their "turducken" budget – the operating, capital, and supplemental budgets all combined into one bill – until Tuesday. Because Wednesday was the constitutional last day of session, the House needed to suspend the Uniform Rule requiring bills for concurrence to sit for 24 hours before being voted on. That requires a two-thirds vote, which is 27 in the House. It was not even clear if they had 21 votes to concur with the Senate's budget. After minimal debate, and then an at ease to discuss suspending the 24-hour rule, the House came back and just adjourned out – ending the regular session with no budget.
Not long after the House gaveled out Wednesday night (the Senate gaveled out earlier that day), Dunleavy issued a proclamation for a special session starting on Thursday. Lieutenant Governor Nancy Dahlstrom (R – Alaska) delivered it with some staff as Dunleavy was out of town on a hunting trip. Still can't believe that one. Many legislators were unhappy as they had plans to go home on Thursday.
The Senate gaveled in for the special session early Thursday afternoon. But the House kept delaying. Senate President Gary Stevens (R – Kodiak), Senator Bill Wielechowski (D – Anchorage), and Senator Bert Stedman (R – Sitka) – members of Senate leadership – were spotted going into House Speaker Cathy Tilton's (R – Wasilla) office to meet with House leadership. Later, Representative Jesse Sumner (R – Wasilla) was spotted going into Senate President Stevens' office to meet with the Senate leadership. Late into the afternoon, it was clear something was coming happening.
There's an odd phenomenon in the Capitol when a deal comes together. Even if you have no idea what the deal is, or if there is a deal, or are a total foreigner to the Capitol, you can feel the energy in the building radically shift when one is made. That happened late on Thursday afternoon.
The negotiations that day had resulted in an extremely convoluted deal to get the budget passed. Because the House had not yet acted on the budget bill the Senate sent them, they could still send it back to the Senate. Because it was a House bill sent back to the House for a concurrence vote, the House could not make any changes. They could only accept or reject it. Many in the House majority were angry the dividend was only $1,300 and they never had a chance to officially weigh in on the capital budget.
Surprisingly, the deal had nothing to do with the amount of the dividend. The Senate agreed to give the House $35 million in any capital projects they wanted. Up until that point, the Senate was firm on only accept statewide or regional projects. This was to avoid ballooning the capital budget with individual district projects. But Thursday was another sunny and hot day in Juneau and people wanted to get out of town. In fact, several senators had already left and more were leaving that night. It was a truly a last minute deal scenario.
With the deal made, the House convened early Thursday evening. They voted to send the budget back to the Senate. Once the Senate received it, Senator Stedman ran an amendment to load up the budget with the capital money to grease the wheels of House majority members. They then sent it back to the House and gaveled out. Here is the list of projects and whose districts benefitted: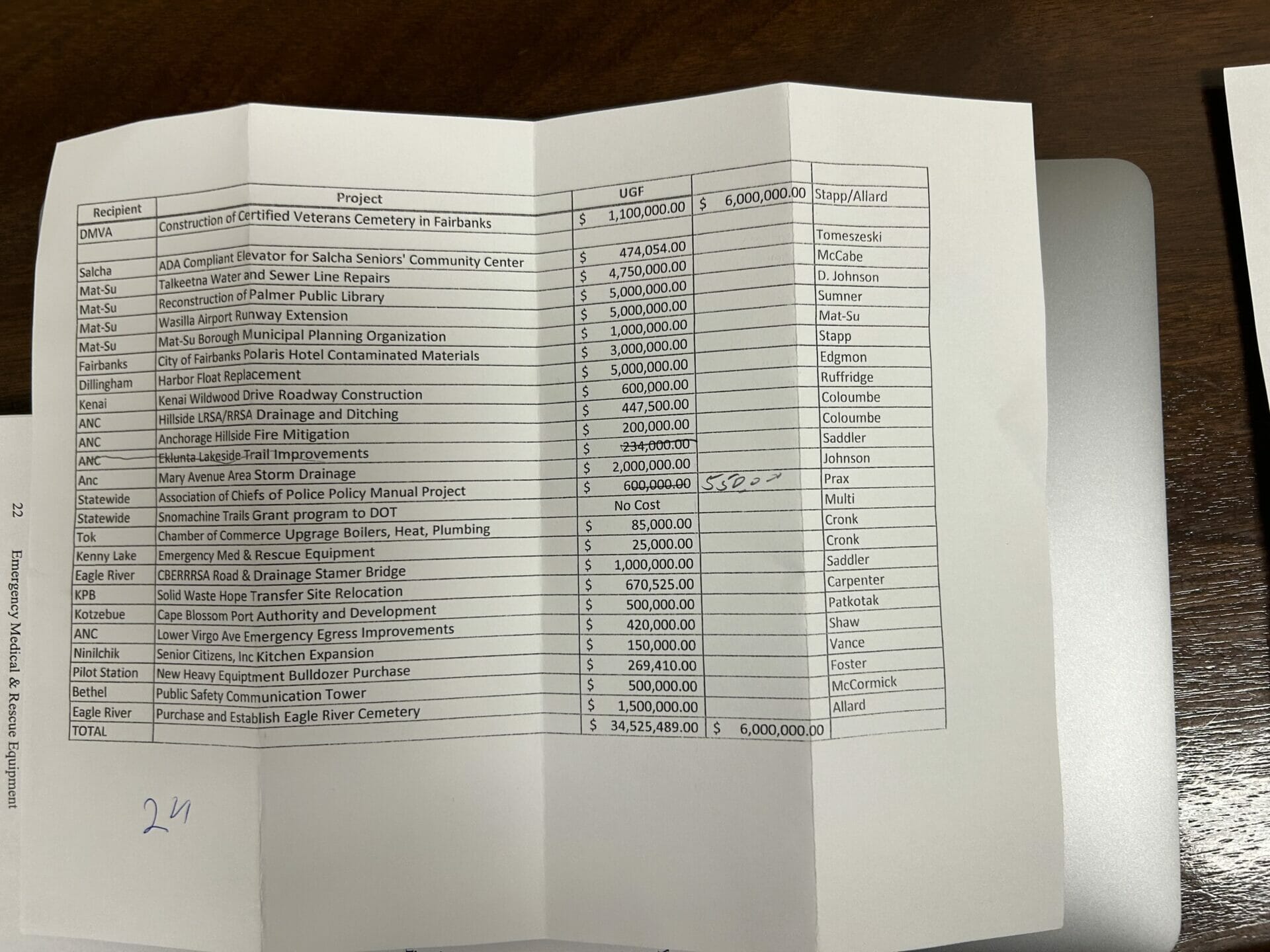 Once the House got it back, Representative David Eastman (R – Wasilla) said the 24-hour rule again applied because the budget was amended. Speaker Tilton ruled that it had barely changed and the budget had already sat for more than a day. Her ruling was upheld. Then something shocking happened. There was no debate on the budget. Normally, the budget is debated at length as most members want to go on record with what they like or don't like. But there was not a word. And this is the first time since 1982 the House concurred with the Senate's budget, avoiding a conference committee. People were tired and wanted to go home, and many of them were on the night flight.
The House voted 26-14 to concur with the Senate's budget. But the wildest thing was the vote breakdown. Only ten members of the House majority voted for it. The other 16 votes were from the 16-member House minority. Speaker Tilton as well as Representatives Neal Foster (D – Nome), a finance co-chair, and Dan Saddler (R – Eagle River), the majority leader, voted no. And a lot of the majority members who benefited from the capital pork also voted no. The vote was maximum loose!
Budget concurrence passed but amazingly 13 majority members, including the Speaker, the majority leader and one of the finance co-chairs, voted no. They only got concurrence because of minority. Just like the old Senate majority. Effective date also passed. #akleg pic.twitter.com/5F9Wmi8XhP

— The Alaska Landmine (@alaskalandmine) May 19, 2023
The other fascinating part of the one day special session was how fast the House majority gave up on or just abandoned a larger dividend. Their caucus position has been 50/50, even though many of their members don't favor that. A 50/50 dividend would be around $2,600. At one point they offered to split the difference with the Senate number and go to $2,000. But the Senate said no. So in the end it just took $35 million in capital spending to get a budget passed. And even though the House majority negotiated the deal, it only passed because of the House minority. The whole thing is hard to believe.
The most interesting thing, however, is what Dunleavy ends up doing with the budget. Does he accept a 25/75 dividend? Or does he veto the whole thing and maybe education money or other money and call them back in another special session? It's really a lose-lose situation. If he accepts the 25/75 dividend, he sets a precedent for that amount. If he goes nuts with vetoes and calls them back, he will be contending with a lot of angry legislators. It will be fascinating to see what he does and says.
Other Happenings 
Dunleavy's Alaska Sustainable Energy Conference kicks off tomorrow in Anchorage at the Dena'ina Center. It's a a four-day event and there are some great speakers lined up including Erin Brockovich,  Daniel Yergin, and Ambassador Rahm Emanuel. You can click here to register or for more information.
Check this out. Unbelievably, this seems to be real. What was probably supposed to be a joke might just end up helping disgraced former Municipal Manager Amy Demboski in her unlawful termination lawsuit against Mayor Dave Bronson. Just read this baby! We are truly living in strange times.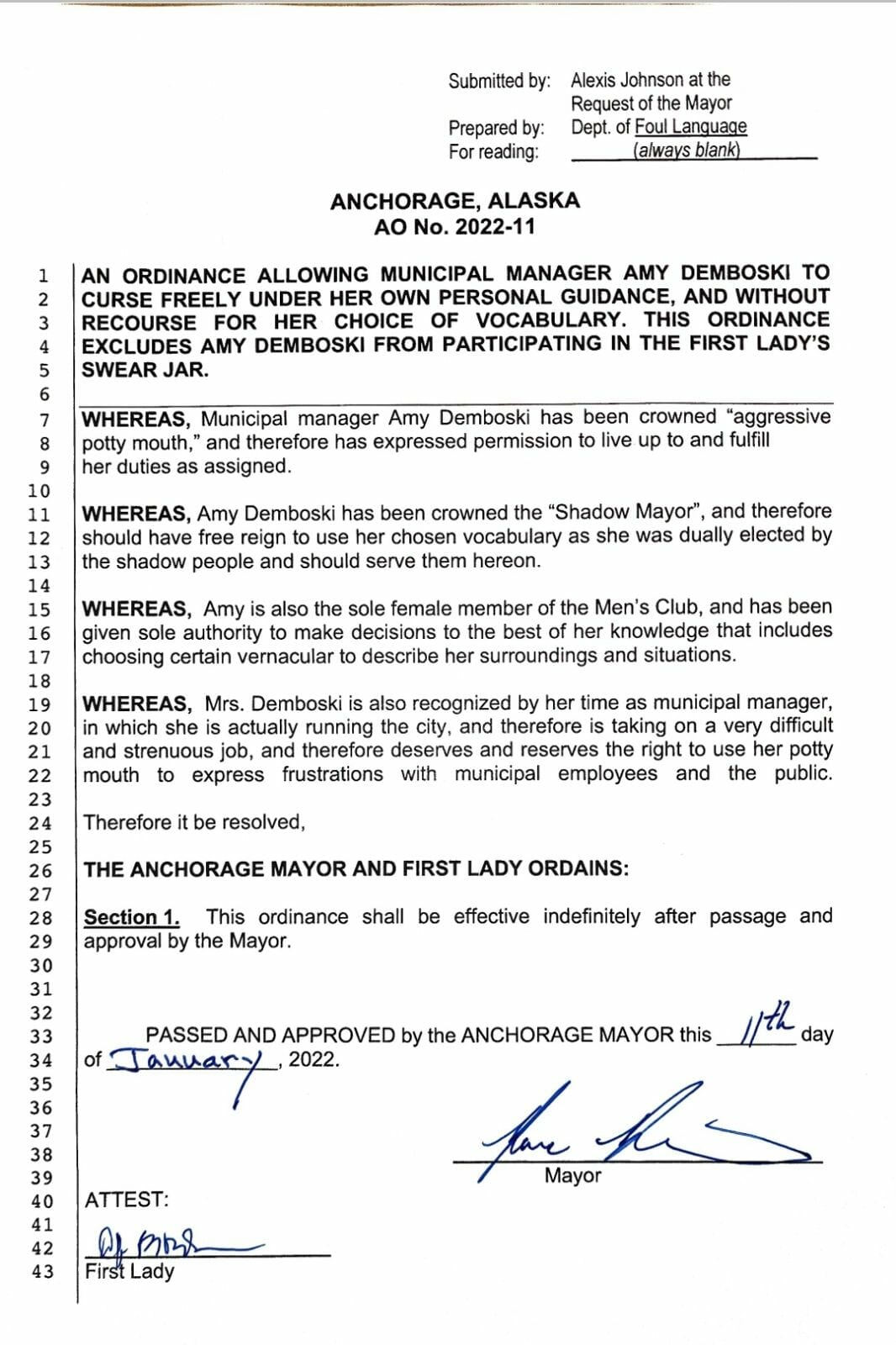 Sick Suzanne is at it again. Even after acknowledging Representative Mary Peltola's (D – Alaska) mom passed away, she still did a hit piece on her for missing a vote. When you think the bar can't go any lower for Suzanne Downing, you are always wrong.
Mark Begich was at a very high level dinner in South Korea this week!
This Week's Loose Unit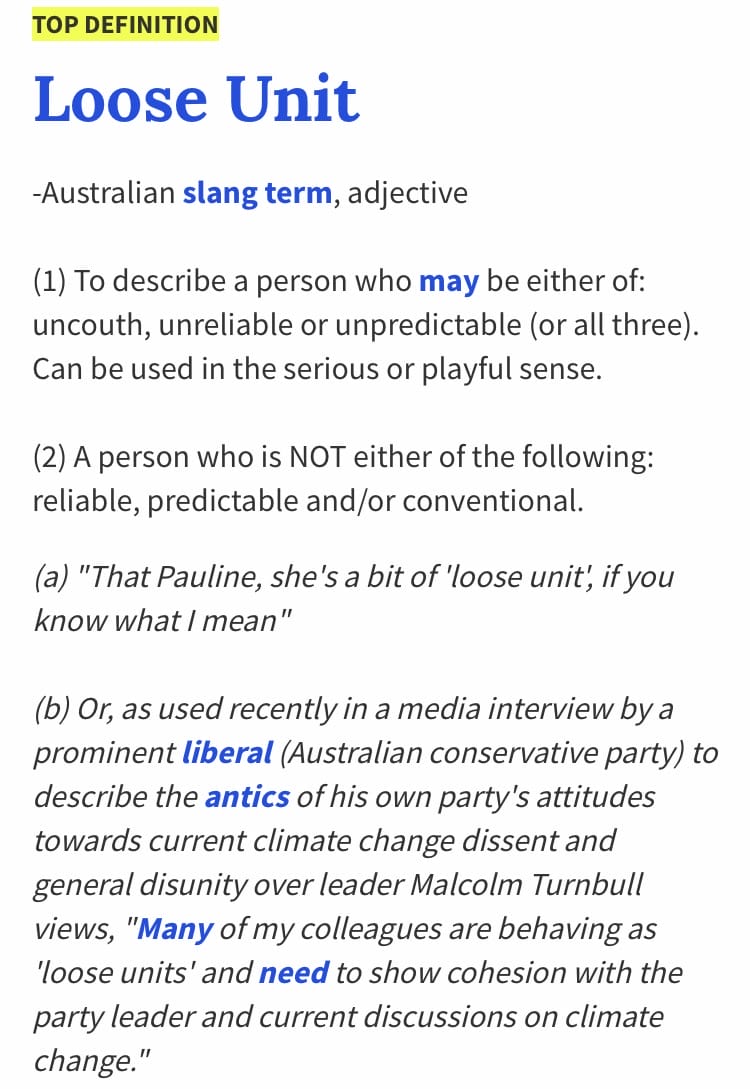 Easy week. This week's Loose Unit is the House majority. There's not really that much to say. The House concurred with the Senate's budget with only ten majority votes. That alone is super loose. The House is now like the old Senate majority "caucus of equals." But what is hyper loose is how quick they abandoned a bigger dividend for just $35 million in capital pork. And then a bunch of their members who got the capital money still voted no. Classic Loose Unit behavior. Next year's session is going to be lit.
If you have a nomination for this week's Loose Unit, or if you have any political news, stories or gossip (or any old pics of politicians or public officials) please email me at jeff@alaskalandmine.com.