The first session of the 31st Alaska Legislature has come and gone. And to the surprise of few, the first special session began the day next day. It was unclear if the special session was going to be held in Juneau or somewhere in Southcentral. Governor Michael J. Dunleavy (R – Alaska) eventually settled on Juneau, which probably pissed off a lot of people in the Valley but made most legislators very happy.
A friendly message and reminder to all our readers, the Landmine is made possible by myself and a team of awesome Alaskans. It takes a lot of work to provide the content we do. If you enjoy the content we provide, please consider making a one time or recurring monthly donation. You can click here to donate via PayPal. We would really appreciate it. And thanks to everyone who has been supportive!
The Last Week of Session
The week started out with the uncertainty of whether or not there was going to be a special session, and if so, where and when. As the end of session approaches, it's common for bills that have been moving through the Legislature get passed at the last minute. The alternative is waiting until the next session, and sometimes they are time sensitive. Three bills were passed out of the Senate that will be transmitted to Governor Dunleavy.
Senate Bill (SB) 83 passed the Senate 18-2 in a concurrence vote. This is Senator Chris Birch's (R – Anchorage) bill that deals with deregulating the telecom industry. It had a slight snag in the House State Affairs Committee last week when a bunch of last minute amendments were introduced. Once those were dealt with, it then passed the House 33-7, then the Senate concurred with the changes.
The Senate concurred 20-0 on SB 95 after the House passed it 40-0. But this was not before a little drama. The original Senate bill, sponsored by Senator John Coghill (R – North Pole), dealt with a land transfer from the Alaska Railroad to a Whittier condo association that leases land from the Railroad. Simple enough. But when it was in the House an amendment by Representative Dave Talerico (R – Healy) added the sale of State land to the Tok Shooters Association. No one in the Senate seemed to know much about it. There was some confusion and discussion and an at ease was called. Coghill was basically like I didn't put this Tok thing in there, have the person whose district it is in explain it. It eventually got worked out and the bill passed.
And maybe one of the most important bills passed was SB 16. This was a bill from Senator Peter Micciche (R – Soldotna) to deal with the liquor license for the State Fair. This stems from a rogue executive director and board members at the Alcohol Beverage Control Board. They have been revoking and denying recreational site licenses to venues all over Alaska recently. Very loose. This bill ended up having other venues, like Eagle Crest Ski Area, added. It's a short term fix. The Legislature will be looking at all of the alcohol license laws next year. The bill passed the House 37-0, where several amendments were adopted, and then the Senate concurred 17-2.
The crime bill was another big deal this week. Last week the Senate Finance Committee took the House's crime bill, HB 49, basically stripped everything out of it, and essentially put in Governor Dunleavy's crime bills. This was advertised by supporters as a repeal and replace. It passed the Senate 20-0, but many Senators told me they don't agree with the bill as it is. There is a lot of public pressure to fix the crime problem and a no vote would have been a bad look. One Senator described the bill as "a freight train that can't be stopped." They also knew the bill would go to a conference committee. On Tuesday, the House then failed to concur with the Senate version 18-22. Although it was not a surprise to many in the Capitol, it really triggered House Republicans and the Governor. They began promoting the narrative on social media and through press releases that the House Majority voted against repealing and replacing SB 91 and that they supported rape. You can't make this stuff up. In reality, they voted to go to a conference committee on a complex bill that was greatly altered by the Senate. The new fiscal notes are estimated to be as high as $100 million a year. There was some hope the conference committee could come to an agreement, but with the session about to end, there was not enough time.
Once it became apparent there was not going to be a deal on the crime bill, a budget was not going to get passed, and there was agreement in the Senate on the amount of the PFD, Governor Dunleavy called a press conference Wednesday afternoon to say he was planning on calling a special session. Earlier in the day he had said he was hopeful they would finish everything. Dunleavy said there was support to hold it in the Mat-Su Valley. Not sure who he was referring to there… It seemed likely it was going to be held there. However, he ultimately decided on keeping it in Juneau. Here is the proclamation: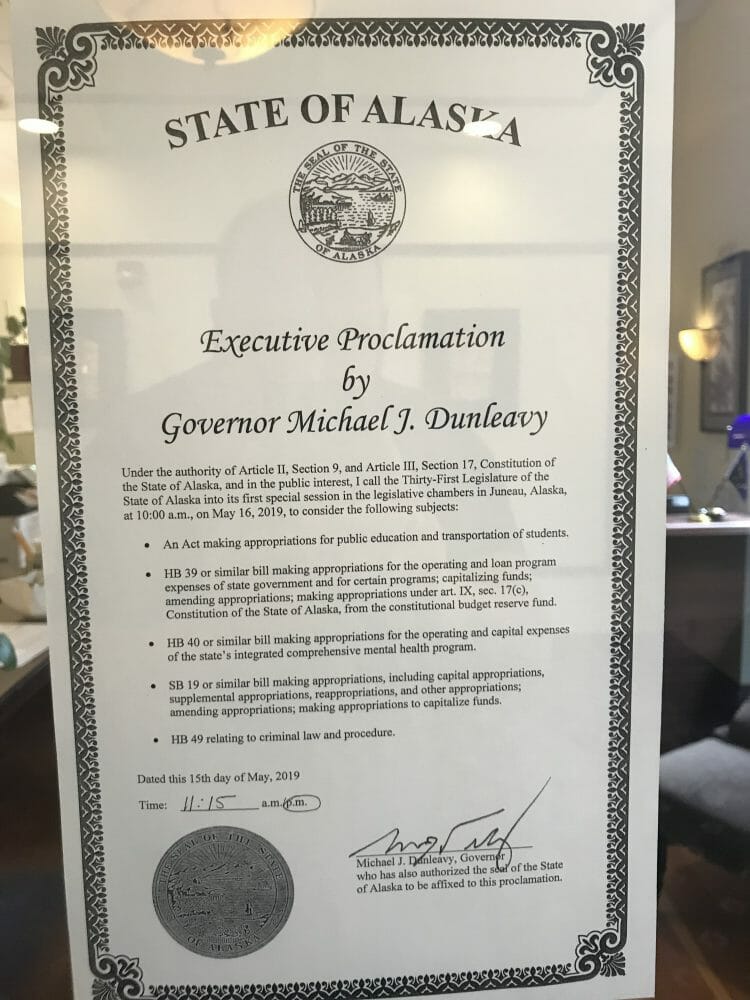 This means only those topics and bills can be dealt with in this special session. Sources tell me the House and Senate have basically come to an agreement on the crime bill. Part of the deal is to focus on rehabilitation and prevention next year. The budget is also basically agreed on. The big issue is the size of the PFD. The House Majority has already said they support a reasonable and responsible PFD around $1,600. The problem is in the Senate. The Senate Majority is split on the amount. Half of them want the full $3,000 PFD and the other half support a smaller and more responsible PFD. There is no telling how this will end up.
Many legislators went home for the weekend and a lot of staff have left Juneau as housing becomes a real issue in Juneau in the summer. Negotiations will resume next week. Also, don't forget that due to the ethics bill that passed last year, because the Legislature didn't pass a budget by day 121, per diem has now stopped. This is around $300 a day except for the Juneau legislators. That may just be the motivation they need as living in Juneau is expensive, especially in the summer.
Here is an interesting graphic depiction by Will Muldoon of all the bills introduced this year in the Legislature:
Other Happenings
Word on the street is that Moira Gallagher, longtime and well-respected Director of the Live. Work. Play. program at the Anchorage Economic Development Corporation, was fired without cause or notice last month by CEO Bill Popp. Sources inside AEDC, who spoke on condition of anonymity for fear of retaliation, said the move was very bizarre. Gallagher had been tasked by the Board of Directors to implement their primary economic development initiative this year, and by all accounts, was doing a great job. She's actually still listed on the website as the point person for AEDC's member outreach and economic development strategy implementation, along with documents she authored. Even stranger, Popp has not posted a job opening for that position, making it seem to a number of board members that he doesn't intend to pursue the Board's strategy. He has, however, posted an opening for a new full-time "Events Coordinator," leading some member companies to believe that Popp has decided to make AEDC exclusively an organization that puts on luncheons twice a year where Popp reads numbers off a page. Neat. It's not economic development, but whatever. I guess Popp's gotta keep making that $150,000 salary for giving two speeches a year. I wonder if his board knows that he's one of the highest paid nonprofit executives in the state? But just fired the only person in his organization doing actual economic development work, without giving a reason?
Mercedes Colbert, longtime Chief of Staff to Senator Scott Kawasaki (D – Fairbanks) will be transitioning to Chief of Staff to Senator Tom Begich (D – Anchorage). She will now be in leadership staff as Begich is the Senate Minority Leader. She will serve as the contact for other leadership offices in the Legislature. Congrats to her on the new job! She worked for Kawasaki when he was a rep back in 2009, then went to go work for then Senator Mark Begich, then went back to work for Kawasaki in 2015. She worked on his campaign last year when he defeated Senator Pete Kelly. If you know Mercedes, you know she is one of the hardest working staffers in the building. Scott, you looking for a new high energy staffer??? Call me maybe.
File this in "one of the most bizarre things ever" category. Check out this gem of lobbyist Paul Fuhs and musician Steve Nelson singing the Beatles song "Back in USSR" to a group of Soviet military officers in Vladivostok. This was in 1990, before the Soviet Union collapsed. That Soviet band leader tho. Very high energy! I bet they got so lit after this. I hear at one point Fuhs was arrested and jailed for partying too hard. I'm jealous.
The Alaska Republican Party central committee met in Kenai this week. They unanimously passed a motion to go after Representative Gary Knopp (R – Kenai).
Department of Administration Commissioner Kelly Tshibaka (Chewie) was the keynote speaker. When her mom introduced her, she said that Chewie is married to a prince from the Democratic Republic of Congo. Bizarre. Does that make her a princess? Only in Alaska. Someone at the meeting described her as a, "Super smart and scary robot." Oh, and check out that "Wall of Guns" under activities.
Scott Kendall, former Chief of Staff to Governor Bill Walker, got a ruling from a judge that dismissed a case from six fisherman, backed by Pebble Mine, to stop Bristol Bay Regional Seafood Development Association from opposing Pebble MIne. Kendall is representing the Bristol Bay Regional Seafood Development Association. This ADN article goes into more detail.
An anti-abortion bill introduced by Representative David Eastman (R – Wasilla) has caused quite a stir. The bill was referred to multiple House committees, which means it won't go anywhere, and won't be heard until next year's session. Representative Ivy Spohnholz (D – Anchorage), a Co-Chair of the House Health and Social Services Committee, has already said she won't hear the bill. Several states have recently passed restrictive abortion laws. While it is very unlikely such a law would be passed in Alaska, people are sure getting fired up. There was a rally against the bill in Anchorage Town Square yesterday.
This Week's Loose Unit
This week's designee became abundantly clear on Wednesday, and only got better after that. This week's Loose Unit is Representative Lance Pruitt (R – Anchorage). We all knew he could do it! On Wednesday, the ADN published an article on the special session. The article ended with:
House Minority Leader Lance Pruitt, R-Anchorage, said in an interview that if the House majority had done that work, the governor wouldn't have had to call a special session.
"We could've solved all of this if the majority had decided the majority actually wanted to do work," he said.
Pruitt was enthusiastic about the idea of a special session in the Mat-Su, saying that lawmakers can get trapped in what he calls "the Juneau bubble."
"They tell each other that they look good and they're really smart, and so sometimes they need to get back out to the public, where the public can tell them they're still as ugly and dumb as they were before," Pruitt said of members of the House majority.
The House Minority Leader calling his colleagues dumb and ugly. That's loose as fuck. But it gets WAY better. Pruitt was in a bad mood and must have been feeling really loose. When Representative Steve Thompson (R – Fairbanks) moved to adjourn, Eastman objected. Pruitt can be seen talking with Representative DeLena Johnson (R – Palmer). He must have been tired or not been paying attention because after Eastman objected he rambled about something and then, "What the freak happened?!" It's even on the record! You can watch it all here. I was in the room when it happened and it was VERY loose. Thompson explained to Pruitt that one of his members objected to adjourning. Pruitt then said something like, "Seriously, what is happening!" So loose.
And to get even looser, check out what he told Louisiana radio host Dan Fagan this week about his colleagues. He angrily said Representative Chuck Kopp (R – Alaska) hates Governor Dunleavy and has a, "Sheer, absolute, and unbridled lust for power." He went on to say the entire House Majority is built on the basis of, "A lust for power." So loose.
To commemorate and memorialize Pruitt for the Loose Unit, check out this little variation on his well known campaign jingle. You're welcome.
If you have a nomination for This Week's Loose Unit, or if you have any political news, stories or gossip (or any old pics of politicians or public officials) please email me at [email protected]