The constitutional session limit is three days away, and an operating budget has yet to be passed by the legislature. But the legislature need not worry as Governor Mike Dunleavy (R – Alaska) issued proclamations for two special sessions – one starting on Thursday and one starting on August 2. Several legislators and staff have been moving around Juneau as many leases have expired. I am back home, at the Driftwood! As more ballots have been counted in the Anchorage mayoral runoff, Dave Bronson has increased his lead over Forrest Dunbar.
A friendly message and reminder to all our readers, the Landmine is made possible by myself and a team of awesome Alaskans. It takes a lot of work to provide the content we do. I am now in Juneau for the session, which means paying rent for the place I'm staying at. If you enjoy the content we provide, please consider making a one time or recurring monthly donation. You can click here to donate. We have a donation system that makes it super easy. We would really appreciate it. And thanks to everyone who has been supportive!
The Legislature 
The House passed an operating budget on Monday (5/10/2021), and sent it to the Senate. So far the Senate Finance Committee has adopted their own version of the operating budget, but has not done much more since. Once it gets out of the finance committee it will go the the floor for debate and a vote. It will then go back to the House for concurrence, which requires a majority vote. If that does not happen, which likely will be the case, it will then go to a conference committee – made up of three people from each body. Because Dunleavy called a special session beginning on May 20, there is no longer a rush to finish by Wednesday night. You can see the topics for the first special session below: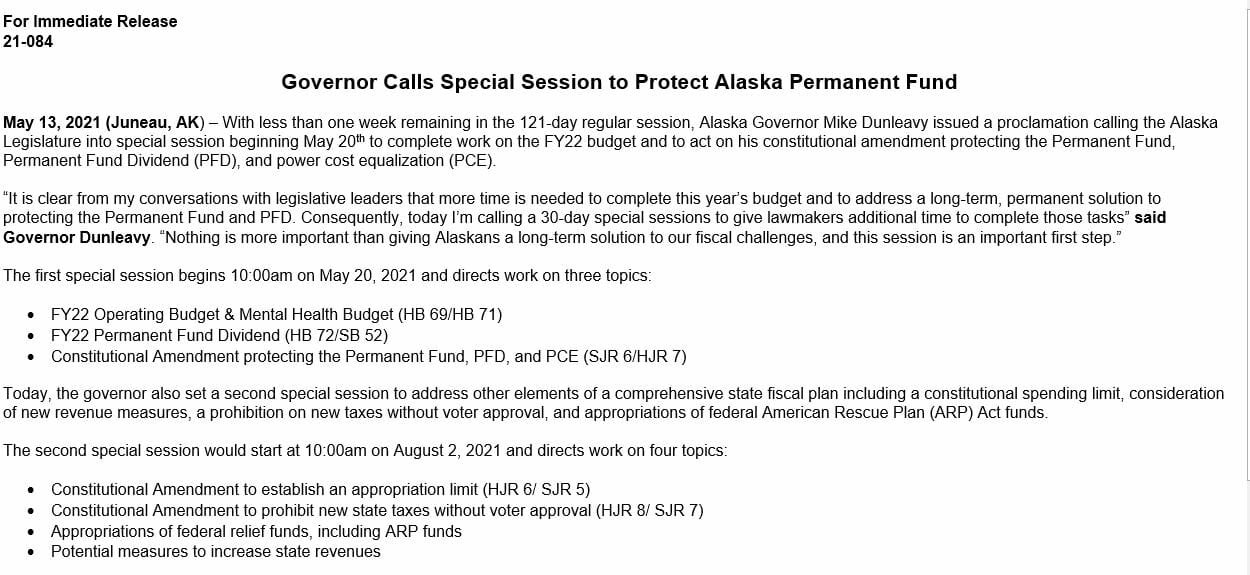 Leadership in the House and Senate have expressed they do not wish to take up Dunleavy's new proposed constitutional amendment this session. Getting the 2/3 support from each body for the constitutional amendment as is will be difficult. A 50/50 approach leaves a projected billion dollar deficit, and Dunleavy has proposed no new revenues. There seems to be agreement to take it up in August after they are able to go home and talk to their constituents. Most people just want to get out of here. My guess is the operating budget will be finished during the week of May 24 and then the legislature will gavel out. A lot of people want to be out of here and home by Memorial Day weekend. Plus, a lot of senators and representatives are excused in early June.
The legislature held a joint session on Tuesday (5/11/2021) to vote on Governor Dunleavy's cabinet picks and nominees to boards and commissions. It lasted all day. Of the more than 100 names, all but three were confirmed. John Cox to the Alcohol Beverage Control Board, Abe Williams to the Board of Fish, and Annette Gwalthney-Jones to the Alaska Mental Health Trust Authority Board of Trustees were not confirmed. Kristie Babcock squeaked through to the Alaska Judicial Council. Jim Cockrell was confirmed as the new Public Safety Commissioner and Treg Taylor was confirmed as Attorney General. Dunleavy's team did much better this year getting his nominees confirmed.
Other Happenings
Dave Bronson's lead over Forrest Dunbar has increased with more than 87,000 votes cast. At this point it looks like Dave Bronson will be Anchorage's next mayor. Check out this savage parody video that Kevin Cross just posted titled "Assembly Man."
Dave Bronson now ahead of Forrest Dunbar by 1,116 votes with new count. Approximately 7,000 more ballots today. Yesterday Bronson was up by 627, so he picked up another 489 votes. pic.twitter.com/UVLpHNbJSt

— The Alaska Landmine (@alaskalandmine) May 15, 2021
This is pretty wild. Check out Mark Begich and Mike Dunleavy at a debate before the 2018 election. Dunleavy's new plan is exactly what Begich proposed in 2018.
The University of Alaska announced this week that they selected former Governor Sean Parnell as the new Chancellor for the University of Alaska Anchorage. He starts on June 12. Congrats on the new job, guvna!
Brooke Ivy announced she will be leaving her role as external affairs manager at the Alaska Oil and Gas Association to go to the Alaska Children's Trust as VP of policy and advocacy. Congrats, Brooke! She won't start there until August 2 as she will be taking over as acting president/CEO of AOGA while Kara Moriarty goes on a sabbatical.
Big shout out to my homegirl Alliana Salanguit! Her birthday is tomorrow. She works as a legislative staffer for Representative Liz Snyder (D – Anchorage). She was also on the Anchorage Sister Cities Commission with me. She's awesome!
Alaska's credit rating was upgraded from negative to stable by Standard and Poor's. Keep in mind, these folks gave A+ ratings to the garbage mortgage bonds before the global financial crisis…
Glenn Clary officially resigned as Chair of the Alaska Republican Party to take a job at Liberty University. Vice-Chair Ann Brown, who takes a Soviet approach to running meetings, will take over as chair.
The annual House/Senate softball game was today. The House won the first game 6-4. The Senate won the second game 19-7. Senate President Peter Micciche (R – Soldotna) had 6 RBIs and was MVP for the second game!
This Week's Loose Unit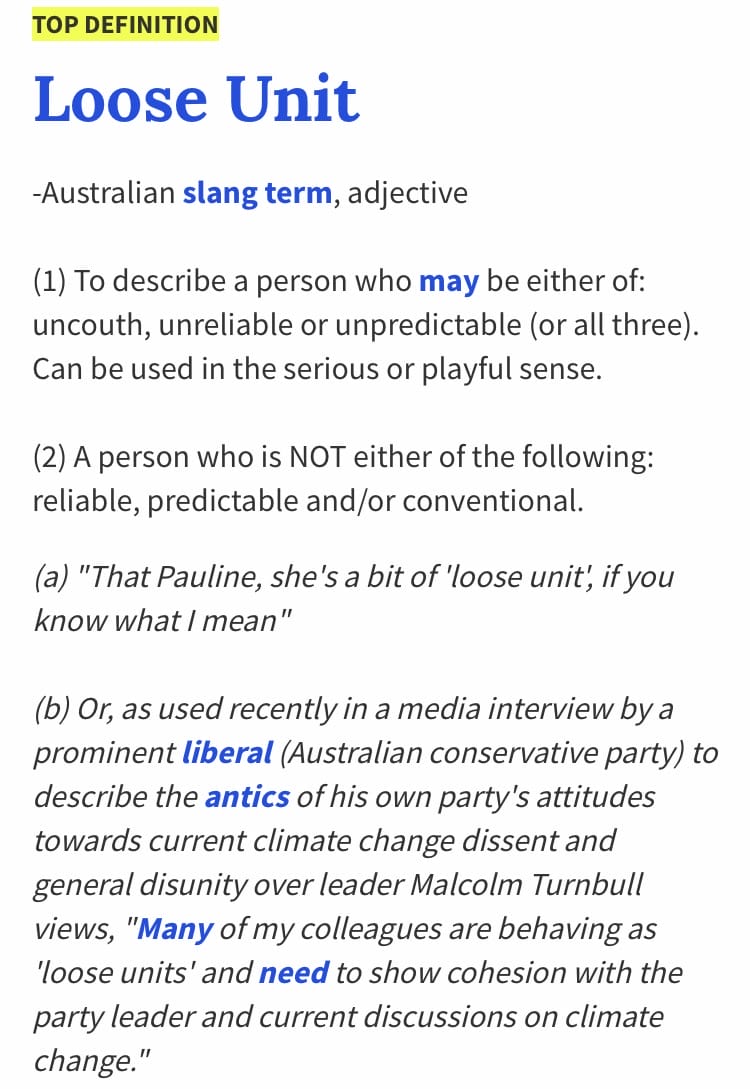 Oddly enough this week was pretty tame for Loose Units even though the end of session is fast approaching. But a development on Friday evening made this week's designee clear. This week's Loose Unit is Brandon Brefczynski. Brefczynski is a former legislative staffer who has worked as a special advisor to Governor Dunleavy since he started his term. On Friday evening I was at McGivney's having dinner with some people. At one point I saw Randy Ruaro, Dunleavy's acting chief of staff, walking out. I walked up to him to ask about why John Moller is no longer working for the Governor's Office. I've been working on this all week. No one in the Governor's Office will say a word about it. Anyhoo, Ruaro didn't want to talk to me. But before I could say anything else, Brefczynski, who was sitting nearby, got in between us like some kind of bodyguard. He put his arm in front of me and told me to back off. Super loose. I told him to get away from me. This further triggered him. He got angrier and tried telling me I could not talk to Ruaro. So loose. I've known Brandon for a long time and like him. But he tends to get loose after a few, and this was super loose. Maybe he should change his title to hired muscle or bodyguard. Classic Loose Unit.
If you have a nomination for this week's Loose Unit, or if you have any political news, stories or gossip (or any old pics of politicians or public officials) please email me at jeff@alaskalandmine.com.