Happy Mother's Day to all the moms out there who read the Landmine! The regular session is set to end in three days but with major unresolved issues like the dividend and crime, it's looking very likely there will be a special session. The only question is where? Moving it to Southcentral would be expensive and logistically difficult, but housing in Juneau is a real problem in the summer. My bet is Anchorage or Wasilla.
A friendly message and reminder to all our readers, the Landmine is made possible by myself and a team of awesome Alaskans. It takes a lot of work to provide the content we do. There are now additional costs that I have temporarily located to Juneau. If you enjoy the content we provide, please consider making a one time or recurring monthly donation. You can click here to donate via PayPal. We would really appreciate it! And thanks to everyone who has been supportive.
The Governor
Governor Michael J. Dunleavy (R – Alaska) held an impromptu press conference on Monday (5/6/2019) on crime. He basically said he was working with the House Majority and was ok with their crime bill. Which later proved to not really be the case. Multiple sources reported that while some of Dunleavy's people were working with the House Majority, others were working with the House Minority. The entire thing has turned into a mess. The bill went over to the Senate. As of this writing, the Senate Finance Committee is stripping out nearly everything the House did in the bill and are replacing it with Dunleavy's crime bills. It's interesting watching the poor legislative staffers, who aren't lawyers, try and go through the bill. Another example of trying to cram through complex legislation in a short period of time. It will probably pass the Senate but it's very unlikely the House will agree with the changes.
I think this was all by design. Get the House to pass a crime bill that Dunleavy said he can get behind because it repeals and replaces the worst parts of SB 91. Then have it go to the Senate where he gets what he really wants in the bill. Then have it go back to the House and pressure them to pass it. If they don't he can blame the House Majority for not repealing SB 91. Sounds like a good plan, except there is just one problem. Playing the House like that is a sure fire way to lose good faith and trust. Dunleavy's staff are too focused on the short term. People who do well in politics think ten steps ahead, not one.
Dunleavy is also using Facebook to go after legislators. There are several Facebook pages that are being run by his office and that are running paid ads. Here is one from Restore the PFD that is singling out Senate President Cathy Giessel (R – Anchorage). They seem to be targeting any legislators who don't support a full PFD. Dunleavy is essentially running an independent expenditure out of the Governor's Office using State money. Legal questions aside, it definitely crosses ethical lines.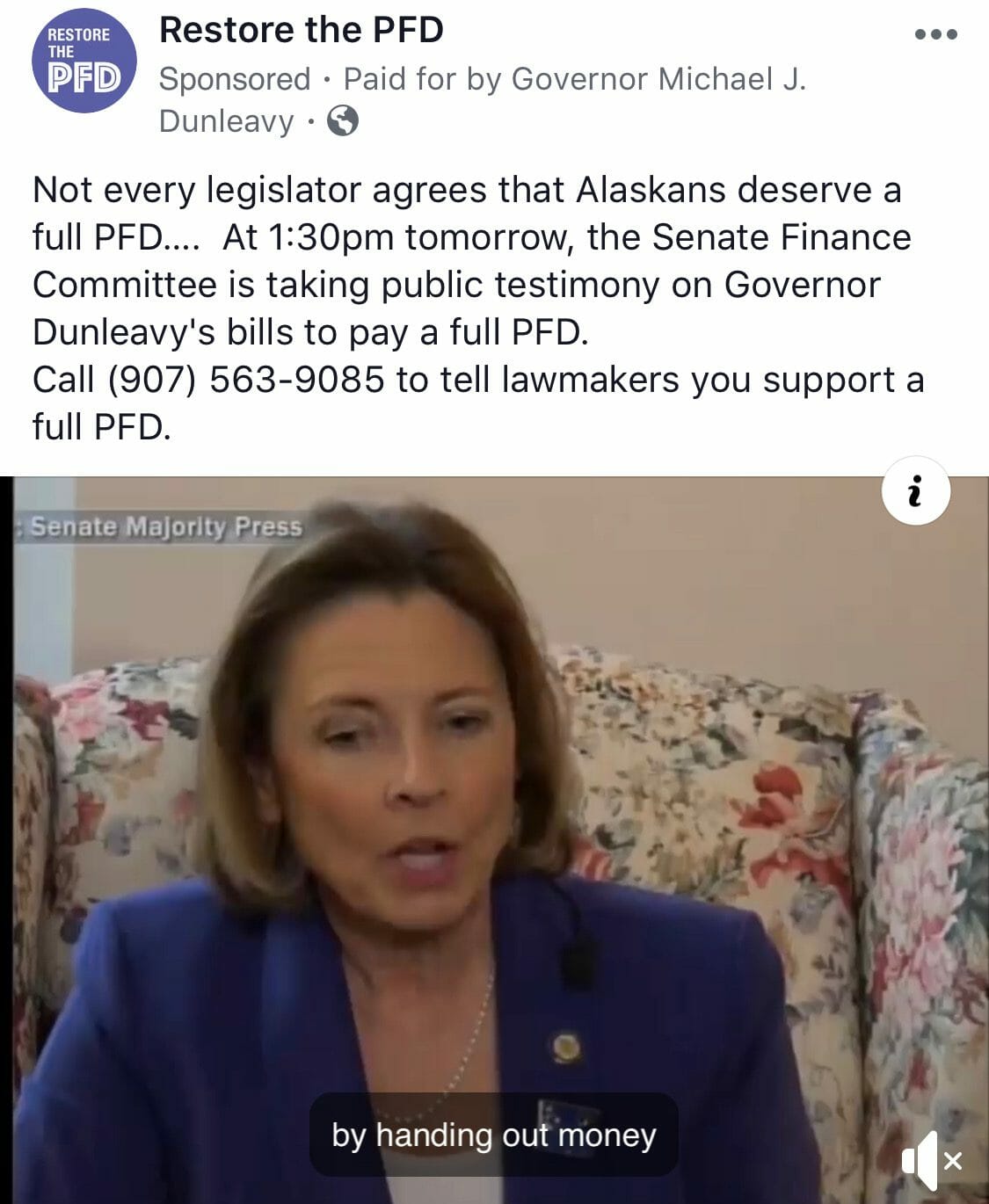 Giessel is very conservative and has done a great job running the Senate this year. Dunleavy targeting her is hard to understand. Maybe they are just employing for the Trump chaos strategy. I have had my issues with Giessel in the past but I have to give her some major credit. You can tell a lot about a person when you give them some power. Giessel has risen to the occasion as Senate President. Just like Dunleavy's strategy with the House Majority on crime, this is short term thinking that will surely create long term problems. There is something else curious about this ad. There are some rumors that Representative Lance Pruitt (R – Anchorage) may run against Giessel next year. Pruitt's wife, Mary Ann Pruitt, is Dunleavy's Communications Director. Isn't that convenient.
Dunleavy is also sending out texts to people to call into committee hearings. This was sent to me by a progressive Democrat who got it. Weird. The numbers go to the legislative call in line.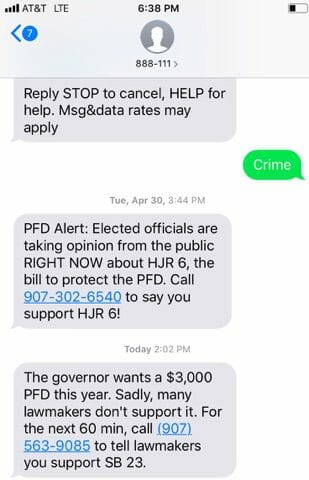 As one long time Senate Majority staffer said, "As bad as things got with us and Walker, he never did anything like this."
Here is a tweet that he put out this week. Are nicknames for legislators next?
Dunleavy held a Facebook Live townhall this week where he answered questions. Some of the comments are fire lol. You can check it out here.
Big Mike and Lieutenant Governor Kevin Meyer (R – Alaska) had birthdays this week! Dunleavy is May 5 and Meyer is May 9. Meyer turned 63, he's five year older than Big Mike. But they are both looking good!
Sources report that Deputy Chief of Staff Amy Demboski is leaving her job and heading over the Department of Commerce, Community and Economic Development (DCCED) to be an assistant commissioner. Word is she got sideways with Tuckerman Babcock over the whole Amanda Price ordeal. Sources also report that John Springsteen, the former CEO of AIDEA, is going to become a deputy commissioner of DCCED. Which probably makes sense because the current assistant commissioner, Shawn Williams, last job was a DJ. Maybe someone can look at the sole source contract that Bob Penney's grandson, Clark, got from DCCED and AIDEA. The Landmine broke that story this week. I'm not a fan of the term 'white privilege' but it fits this Clark Penney guy perfectly.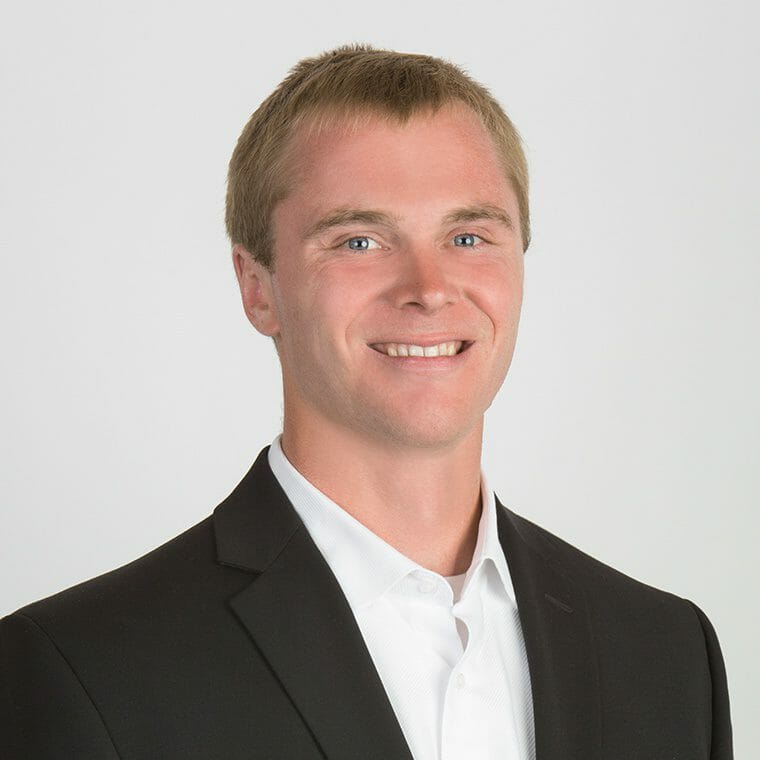 The Legislature
Things got real interesting this week in the Legislature. It got real loose on the House floor when they were debating the crime bill. People were yelling during the breaks. KTUU reporter Sean Maguire nailed it!
As stated above, the crime bill passed the House and is now in the Senate. House Republicans were very upset over the marriage being a defense of rape issue. Which has not been a defense in this country for many years. The issue was discussed in depth in committees. I'm not a lawyer, and neither is anyone in the House Minority. The crux of what was being discussed dealt with couples where one had dementia. If anyone really believes that any legislators believe that marriage should be a defense for rape, they should probably find something else to do.
Representative Laddie Shaw (R – Anchorage), who is a member of the House Minority, became chair of the House Military and Veterans' Affairs Committee this week. This was in response to Representative Gabrielle LeDoux (R – Anchorage) leaving the caucus over her vote on the budget. It's not unheard of for someone in the Minority to chair a committee but it's also very uncommon. But after all, we are talking about the living legend Laddie Shaw!
Vic Fischer was in the Capitol this week. He is the last living delegate to the Constitutional Convention. He testified before the House State Affairs Committee over Governor Dunleavy's proposed constitutional amendments. Let's just say he's not a fan. The best part was when a phone started ringing with a very happy ringtone during Fischer's testimony. Everyone was trying to figure out whose it was. Turns out it was Fischer's! He said, "Excuse me," and everyone laughed. After, he had a birthday party in the Capitol. It was full of legislators and staff. I was happy to be there. Thanks to Senator Shelley Hughes (R – Palmer) for taking the pic!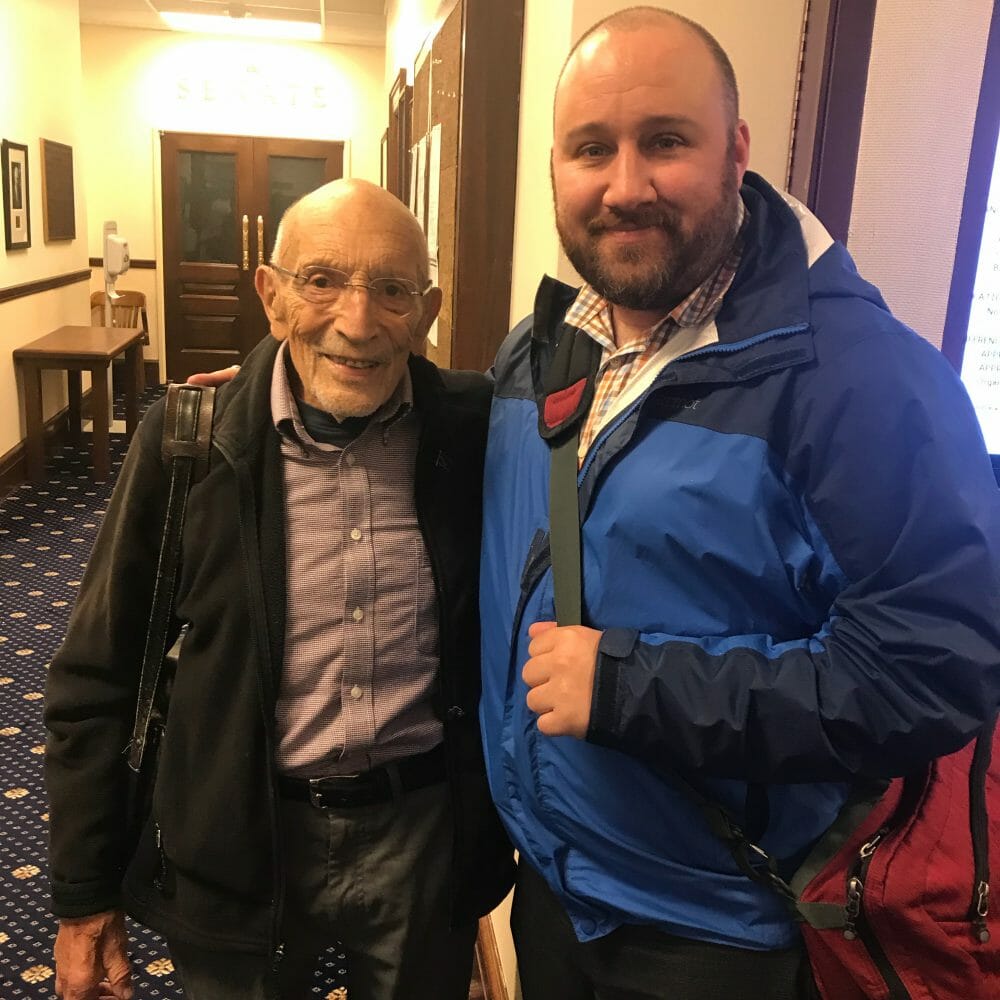 Check out how Department of Environmental Conservation Commissioner Jason Brune name dropped me during a hearing in the House Resources Committee on PFAS! Jason, when I was a kid the others kids would make fun of me and call me Jeff Landfill. You just made me relive that lol.
The House Labor and Commerce Committee held a hearing yesterday on a variety of bills. During SB 83, a telcom bill by Senator Chris Birch (R – Anchorage), things got heated. Birch was not happy that Representative Zack Fields (D – Anchorage) had introduced a bunch of amendments at the last minute. At one point, Representative Louise Stutes (R – Kodiak) called the question on an amendment. The new chair of the committee, Representative Adam Wool (D – Fairbanks), called an at ease and basically told the committee members he's not rushing the bill through because people are impatient. He also told members they could leave if they want! Maybe Wool's new nickname should be Thor. He just needs to replace that gavel with a hammer!
Representative Chris Tuck (D – Anchorage) was in Vegas this week at WasteExpo 2019! It's a big trash convention. He was there last year as well. His lady friend and baby momma, Bernadette Wilson, has a trash business in Anchorage. Some members of the House Majority weren't happy he went there at the end of the session. Tuck also did not attend the House Majority press conference on Friday even though he was back in the building. Hmm…
Other Happenings
Some lobbyists have been busy the last few months. The North Slope Borough hired Reggie Joule, Christine Hess, and Jerry Mackie as lobbyists. Joule and Hess are getting $30,000 each a year and Mackie is getting a cool $60,000 a year. This contract puts Mackie in the million dollar a year club! Which makes him one of the top paid lobbyists in the State. But if you know Jerry, you know Jerry Mackie's favorite client is Jerry Mackie.
Up-and-comer lobbyist and ginger Sonia Henrick picked up Norwegian Cruise Lines for a cool $60,000 a year. She picked up BP at the beginning of the year for $60,000 as well. Looks like she is on a European tour. Which European based company will she get next?
Kris Knauss, through Confluence Strategies, picked up Transparent Business, Inc. for $82,500 a year! They sell software for governments to use for procurement. Confluence is made up of Knauss, Kent Dawson, and Royce Weller. They are doing VERY well.
Word is there are going to be some big changes this summer in the lobbyist world. Sounds juicy.
Dr. Alan Gross is launching an exploratory committee for a bid for U.S. Senate against Senator Dan Sullivan (R – Alaska). It will be on Tuesday in Petersburg. I thought exploratory committees were for people running for president. I'm not sure but I think he's planning on running as an Independent in the Democratic primary.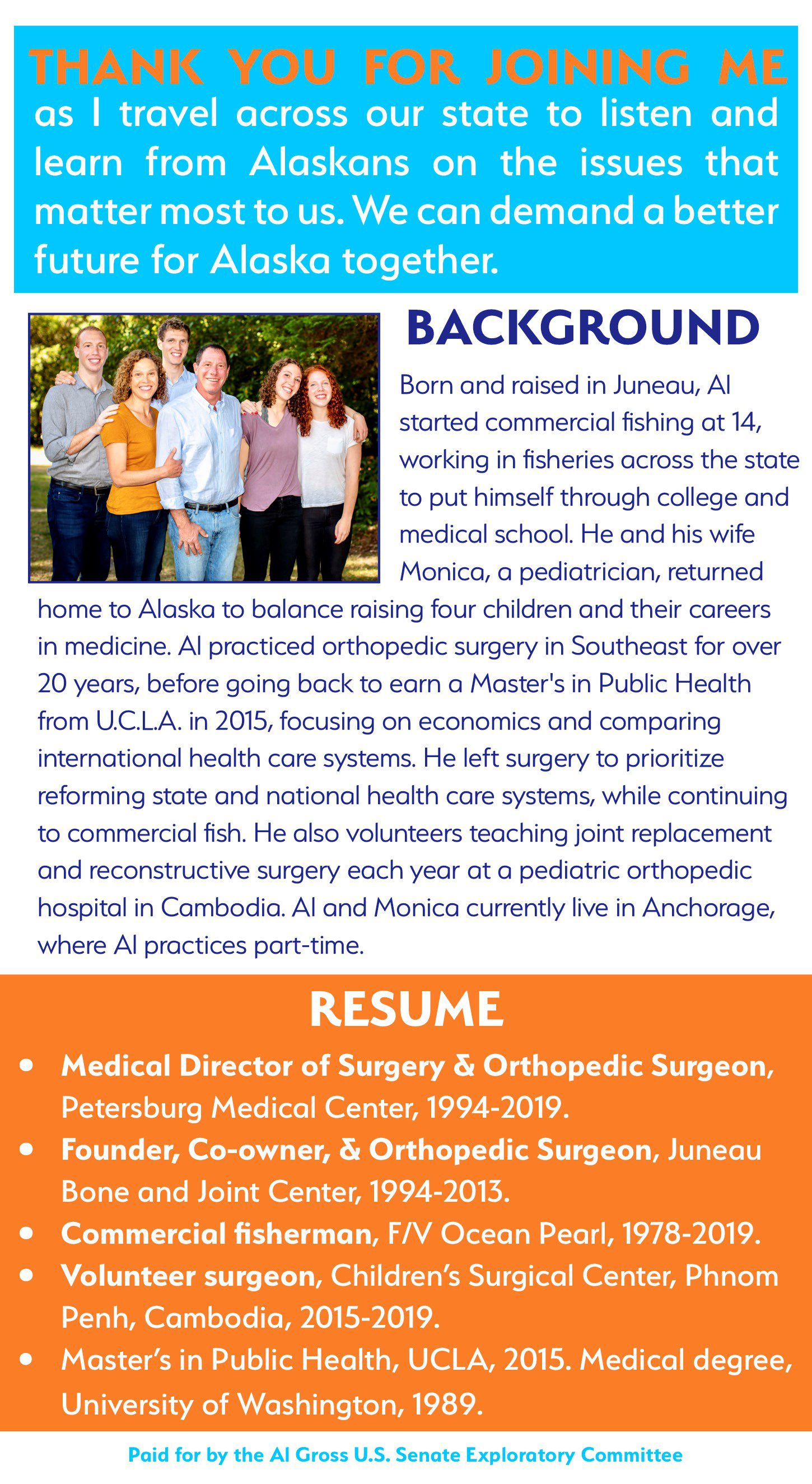 Representative Adam Wool closed the sale this week on his iconic Fairbanks bar, the Blue Loon. That place is awesome! I wonder what his next business venture will be?
The Alaska Municipal League board was in Juneau this week. Sources report that not a single Valley legislator came to their dinner. Who turns down a free meal?
Former Governor Frank "The Bank" Murkowski was also in Juneau this week. For 86 years old he is still hustling and making deals. Very legit. If you missed it, check out the podcast he did with me. He tells some awesome stories.
650 KENI morning radio host Dan Fagan sure has some strong opinions about the dividend. Which is really funny because he lives in Louisiana and doesn't even get one. I don't think many of his listeners realize he doesn't even live here! Dan, see below.
Last night got a bit weird. I was at McGivney's and overheard some politicos talking about a "Rager at Micciche's house." I was intrigued. I made some calls and eventually got someone to send me the email invite. I picked up a bottle of Jack Daniels and called a Lyft. I arrived to discover it wasn't a rager but a nice gathering of people, nearly all legislators! After some folks left it was just me and a bunch of legislators. Pretty sure my presence confused almost everyone. Thanks for letting me hang out, Peter! The food was great, and what a view. Just sad no one would do a shot of Jack with me. Oh, I was told very clearly that I was NOT allowed to get in the hot tub. Damn.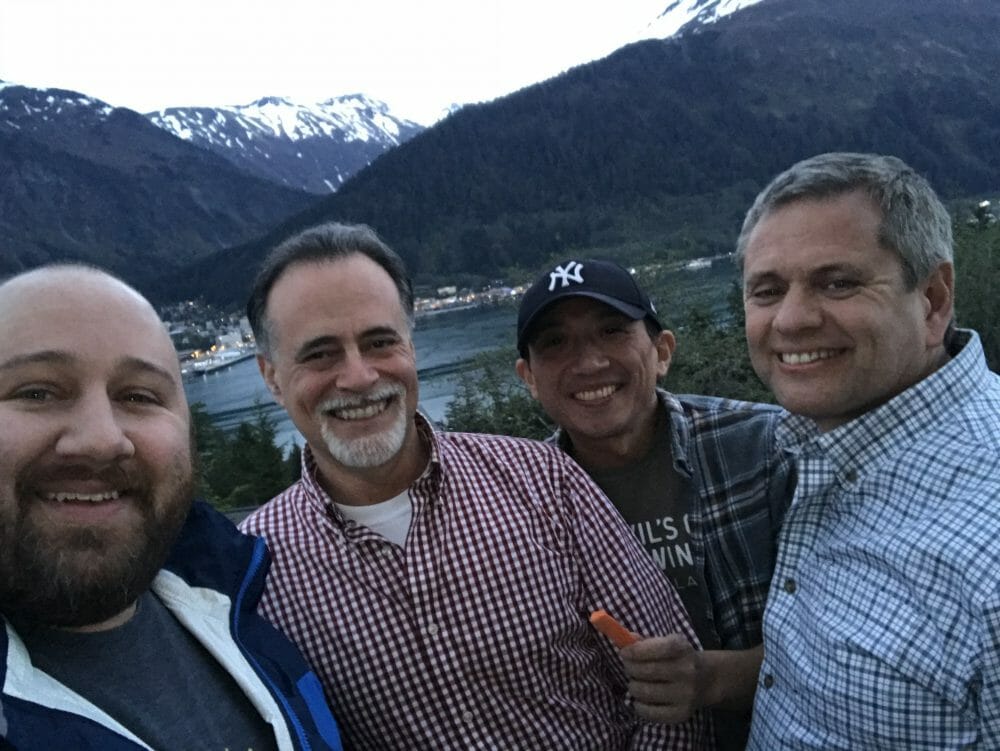 This Week's Loose Unit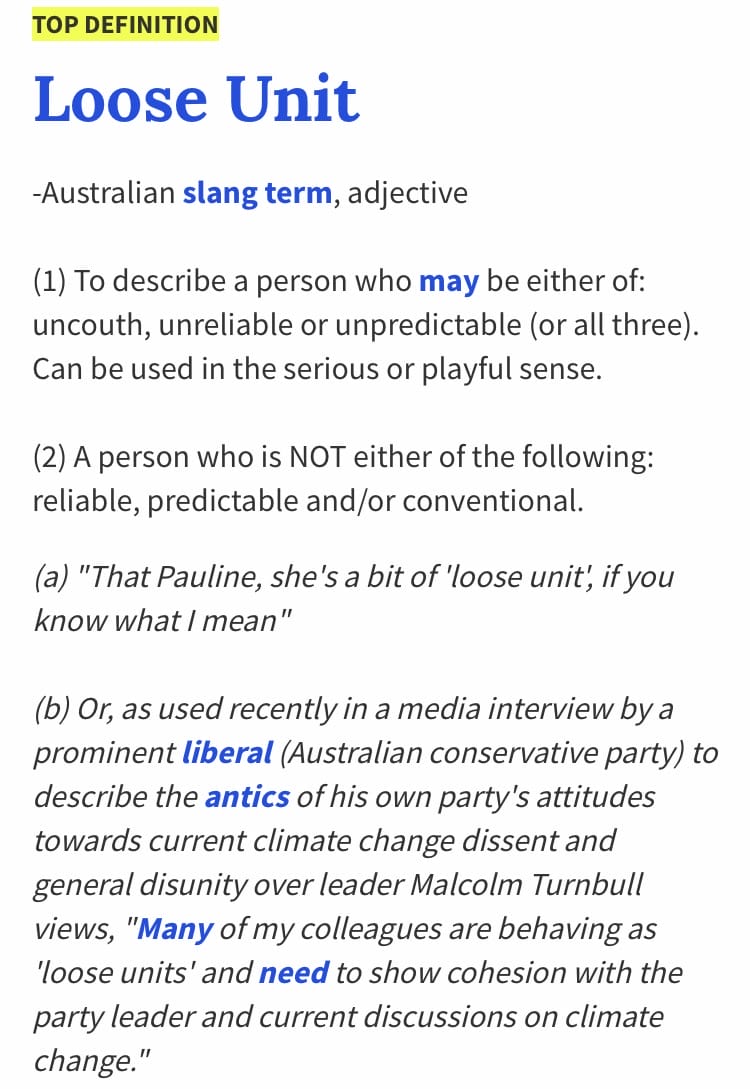 As the end of session approaches, the number of Loose Units around Juneau is increasing at an exponential level. But something that happened on Wednesday made this week's winner clear. This week's Loose Unit is Senator Natasha von Imhof (R – Anchorage). During a Senate Finance Committee hearing on SB 23 and SB 24, bills from Governor Dunleavy dealing with the PFD, things got very loose during public testimony. Von Imhof, who was chairing the meeting, made it clear that people needed to sign up to testify by 2:15 pm. Nearly everyone who called in supported the bills. They all basically said, "Give us our money back and don't change the formula!" They probably got that text from Dunleavy to call in. Von Imhof was not amused. At 2:34 pm, von Imhof got pissed and told the poor legislative employee who handles the callers, "You continually add people. So, can you tell me what's going on?" The audio then cuts off. But luckily there were several people in the room to tell me what went down. And the video keeps going!
You can see von Imhof getting visibly upset. I heard that something like 25 additional callers were signed up after 2:15 pm! She was really mad. Very loose. She then takes off her glasses. At this point staff got concerned. Senators Peter Micciche (R – Soldotna) and Click Bishop (R – Fairbanks) were also keenly aware of what was about to go down. Bishop decided to intervene and got in between her and the staffers. He told her she needed to cool off and that he would take over. She puts her glasses back on and gathers her things. She then goes to sit down in another chair but instead decided to go full Loose Unit. She takes her glasse off again, throws them on the table, walks into her office, and closes the door. She never returned to the meeting. Very loose. Micciche also left. You can see Senator Mike Shower (R – Wasilla) rocking in his chair with a big smile on his face. He even looks at the camera! Legend.
You can watch the whole thing here. It's worth the watch!
If you have a nomination for This Week's Loose Unit, or if you have any political news, stories or gossip (or any old pics of politicians or public officials) please email me at jeff@alaskalandmine.com.