We are more than halfway through the "90-day" legislative session. The hopes by some to finish by the end of March look extremely unlikely. None of the Senate Finance Subcommittees have done closeouts yet and House Finance Subcommittees only recently started meeting. Based on how things are going, finishing by day 90 (April 20) looks very difficult. Tomorrow is International Women's Day. Shout out to all my ladies out there!
A friendly message and reminder to all our readers, the Landmine is made possible by myself and a team of awesome Alaskans. It takes a lot of work to provide the content we do. I am now in Juneau for the session, which means paying rent for the place I'm staying at. If you enjoy the content we provide, please consider making a one time or recurring monthly donation. You can click here to donate. We have a donation system that makes it super easy. We would really appreciate  it. And thanks to everyone who has been supportive!
The Legislature
The most interesting thing that happened this week took place on Thursday. Senator Lora Reinbold (R – Eagle River) held a press conference where she read a bizarre statement calling out Governor Mike Dunleavy (R – Alaska) for the scathing letter he sent her. Her statement took nearly 20 minutes. The press conference was held right in front of the Senate chambers, which prevented people from going in or out of the Senate Secretary's office. The rambling included so many false statements it would be hard to list them all. She referred to Dunleavy as a "dictator" and falsely claimed legislative lawyers said the disaster declaration was unconstitutional. She listed all of her committee positions and said how awesome of a legislator she is. She concluded by admonishing Dunleavy and stating if he did not apologize he was "setting a dangerous precedent that is unknown in the free world, including Alaska." She referred to the power of the people several times. At the end I asked her about how she consistently deletes comments and blocks constituents on her official Facebook page. She refused to respond to the question. She also stated she supports "Eagle Exit," the movement for Eagle River to break off from the Municipality of Anchorage. You can watch the whole thing here. The day after the press conference her staffer Aaron Weaver, who filmed the press conference, resigned. Can't say I blame him. Word is he got a position in the administration. Reinbold sent the governor an eight page letter that is definitely worth reading. My favorite part was her reference to Edward Coke. Coke was appointed Chief Justice of the Common Pleas by King James I in 1606. She also referenced the Magna Carta. You can't make this stuff up.
You may recall the Eagle River town hall last weekend that went off the rails. Representative Ken McCarty (R – Eagle River) put out a press release where he said "the rant of these community 'leaders' has brought shame upon themselves, our community, and on those values that we hold dear – respect for others."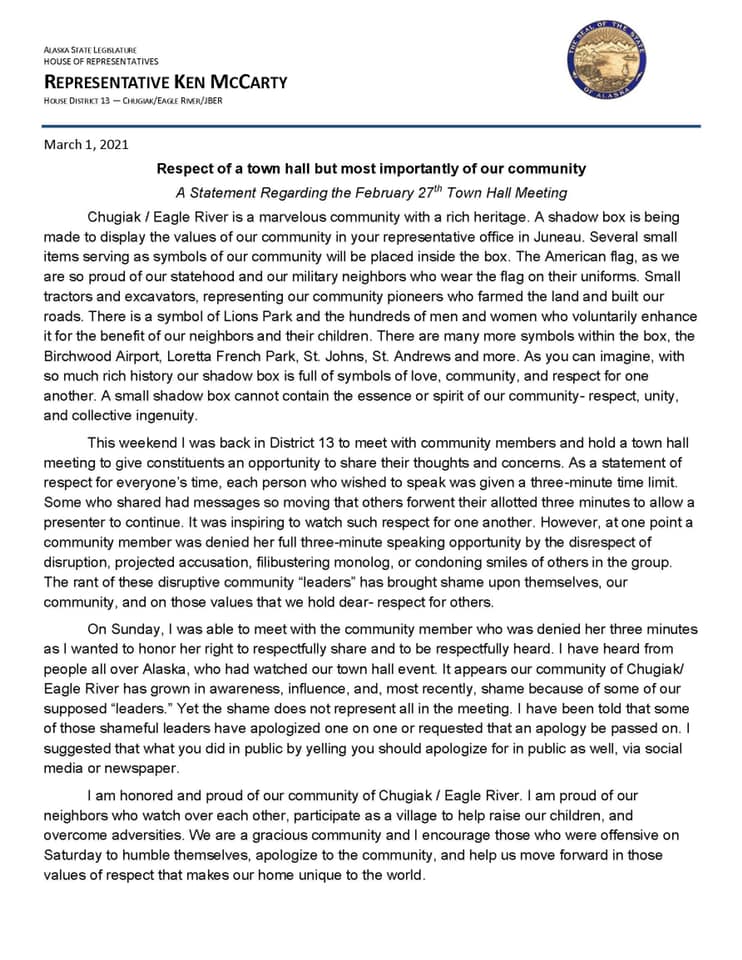 The legislative auditor sent a letter this week to members of the Legislative Budget and Audit Committee informing them that Alaska is one of four groups being audited by the federal government for the spending of CARES Act funds. The letter stated it is "due to the large number of complaints received by the department alleging unallowable use of the Coronavirus Relief Fund." The other three are South Dakota, the U.S. Virgin Islands, and a tribal organization.
Several news outlets reported on how Labor Commissioner Tamika Ledbetter reduced a $450,000 safety fine to Copper River Seafoods. Here is the APRN story. On Friday Representatives Zack Fields (D – Anchorage) and Ivy Spohnholz (D – Anchorage) sent Ledbetter a letter saying they have become aware of an attempt to find out who leaked the story. This will be one to watch.
On Friday the House unanimously passed a Sense of the House from Representative Sarah Vance (R – Homer) that condemned inappropriate comments Representative Fields made about Representative Sara Rasmussen (R – Anchorage) last week. I think this is the first thing Vance has been able to pass. After Vance spoke, Fields apologized and Rasmussen gave a heartfelt speech about the entire thing. Vance was so excited she took to Facebook and sent out a press release. They love spiking the football! Here is the press release: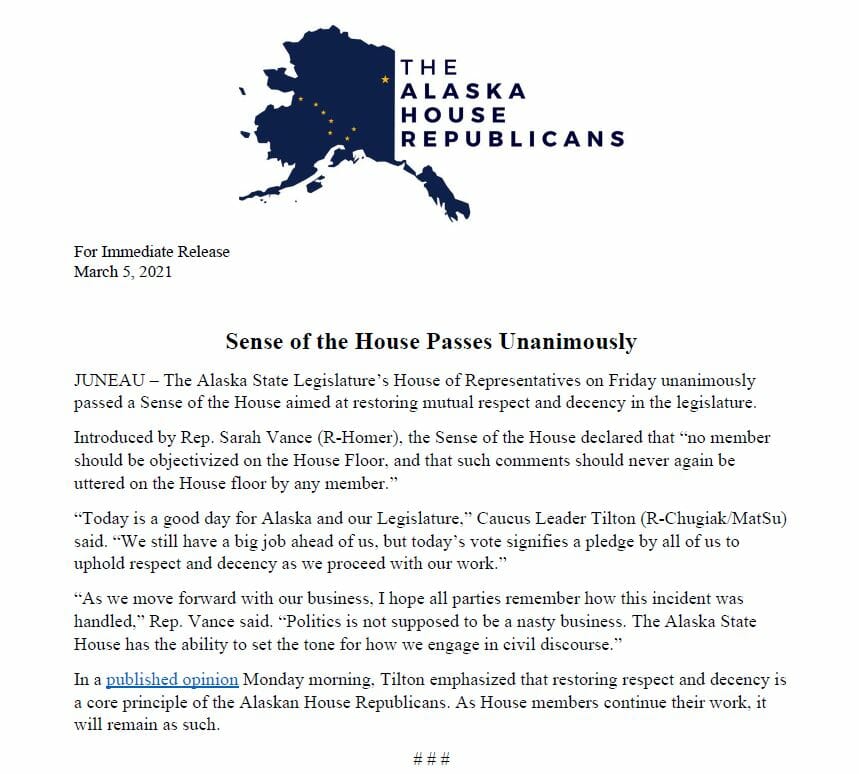 As this was clearly politically motivated, I sent Vance and Representative Cathy Tilton (R – Wasilla) a few questions that came to mind. You can see below. A spokesperson for the House Republicans responded by saying, "We're going to decline to comment." Honestly can't say I blame them.
Other Happenings 
Longtime legislative staffer Laura Stidolph jumped to the executive branch this week. She started her new role as Governor Dunleavy's deputy legislative director. Congrats, Laura! She came from Representative Bryce Edgmon's (I – Dillingham) office.
Ariel Svetlik has been hired to work in Representative Edgmon's office. I have a feeling she will make a REALLY good gatekeeper. Check out this 2013 story about a bear that came into the Alaskan while she was bartending! There is video. She yelled, "No, bear, get out. No, you can't be in here." Then the bear left. What a legend.
Tyson Gallagher was spotted in the Capitol this week. He started his new role as Governor Dunleavy's new deputy chief of staff. Gallagher comes from GCI.
Ben Stevens is off and running in his new role at ConocoPhillips Alaska. He was on a weekly Alaska Oil and Gas Association phone call on Friday. Gotta love that revolving door!
Please make this happen!
Please don't make this happen.
This Week's Loose Unit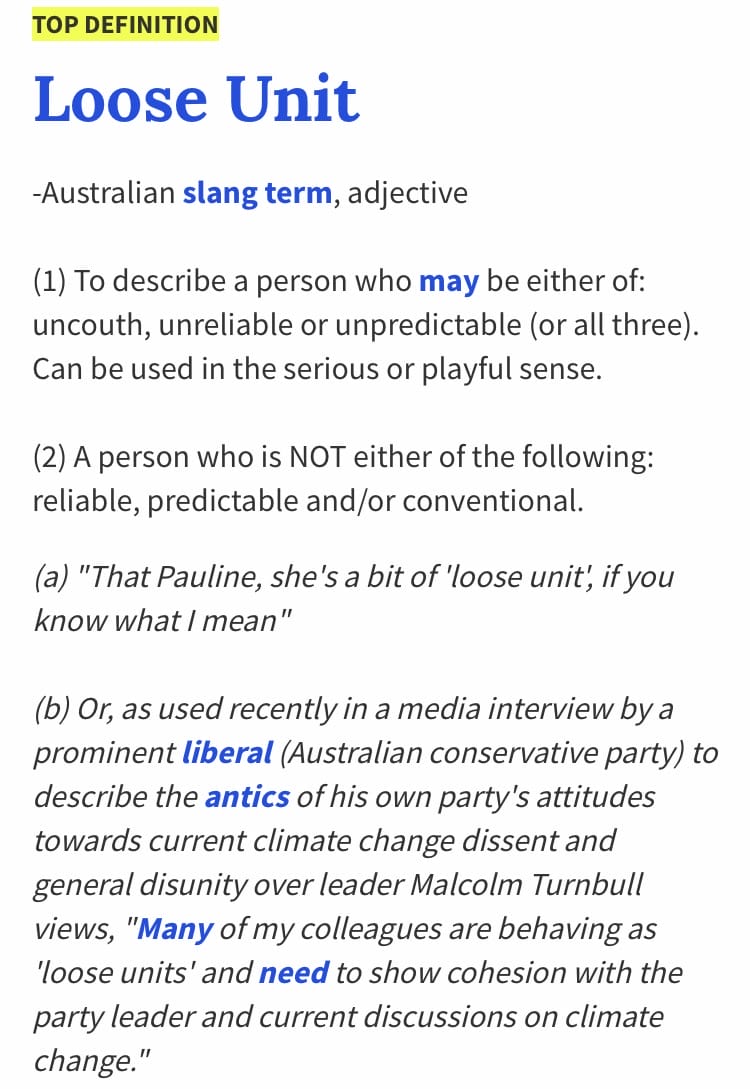 This was another week with many worthy candidates. But a Wednesday email made this week's designee clear. This week's Loose Unit is Senate President Peter Micciche (R – Soldotna). On Wednesday Micciche sent out an email to senators and staff about Covid mitigation. In the email he specifically mentioned the Triangle Club as "probably not safe." Keep in mind Covid came in the building after a bunch of legislators, including Micciche, attended an event in Palmer a few weeks ago. And there have been no cases of Covid in the building tied to the Triangle. Super loose.
I asked for a statement about why he singled out one Juneau business. He responded with this:
The intent behind referencing a specific drinking establishment was not to pick on any individual business, but to help folks think about avoiding large social gatherings in order to reduce the spread of COVID-19 during the legislative session.
Regardless of his intent, he did pick on an individual business. How Republican, and how loose. It gets better. Micciche is asking staff to sign a letter saying they will follow the Covid mitigation policy. But at least two members of the Senate Majority went back to Anchorage this weekend. And don't forget the infamous October photo, which you can see in the above tweet, where a maskless Micciche is in a room with a ton of people. And l won't even get into how he has tolerated the behavior of Senator Reinbold. It must be really cool being a legislator and not having to follow any of the rules the staff have to follow. Also, I had an awesome time at the Triangle last night having some drinks and losing at pull tabs. The staff that was there had an awesome time too!
If you have a nomination for this week's Loose Unit, or if you have any political news, stories or gossip (or any old pics of politicians or public officials) please email me at jeff@alaskalandmine.com.