We are more than halfway into the "90-day" legislative session. The bulk of the House Finance subcommittees are scheduled to closeout this week, sending the operating to House Finance Committee. Several rural legislators were in D.C. to encourage the Biden administration to approve the Willow project. A Senate bill introduced this week seeks to return to a defined benefit pension system for state workers. And Anchorage legislators held a town hall today at UAA to hear from constituents, the vast majority of which were there to testify in support of increasing education funding. We will be holding debates this week in our studio for all seven Anchorage Assembly races. Stay tuned!
A friendly message and reminder to all our readers. The Landmine is made possible by myself and a team of awesome Alaskans. We worked hard on all of our election coverage. I am back in Juneau for the fifth session in a row to report on the Legislature. If you enjoy the content we provide, please consider making a one time or recurring monthly donation. You can click here to donate. We have a donation system that makes it super easy. We would really appreciate it. And thanks to everyone who has been supportive!
Indirect Expenditure Report shows $1 billion in foregone revenue in FY 2021
The following is an excerpt from this week's edition of the Alaska Political Report. You can click here for more information about the Political Report. A subscription is $1,299/year per organization. Discounted pricing is available for non-profits and government entities. Our coverage of the budget starts with the governor's proposed budget in mid-December and we track everything in detail through the entire process. If you have any questions or would like to subscribe, please email jeff@akpoliticalreport.com.
Each year, the administration is legally required to file a report on what are known as "indirect expenditures" — subsidies, effectively, where the state loses revenue in the form of tax credits, discounts or exemptions.
This year, the Department of Revenue identified 263 indirect expenditures totaling at least $1 billion for FY 2021. The largest is an $8 per barrel sliding scale credit from Alaska's oil and gas production tax, which cost the state $740 million in 2021. Lawmakers have frequently debated this provision, which was part of Senate Bill 21 passed in 2013 — especially when the state faces deficits.
The top ten expenditures can be seen below. Topping the list are various exemptions from the motor/jet fuel tax such as for foreign flights, government, and heating fuel.

Other interesting indirect expenditures we found include:
Various DMV license plate and registration discounts for seniors, amateur radio operators, families of various military honor recipients, government and charitable entities and individuals with disabilities. All told, the DMV discounts totaled $6.3 million in FY 2021.
The Department of Commerce issues loans below market interest rates for commercial fishermen, bulk fuel purchases, alternative energy projects, mariculture companies, and small businesses. GOP Gov. Mike Dunleavy also waived most business creation and reporting fees due to COVID, totaling $3.7 million in lost revenue.
The Alaska Student Loan Corporation provided interest deductions and subsidies to Alaskans totaling $273,000, with an additional $1.8 million in loan forgiveness to doctors who completed the WWAMI medical school program.
The Department of Environmental Conservation halted fees and inspections on hair and nail salons, overnight accommodation facilities, public toilets, showers, and laundromats, and public-school sanitation facilities. They also charge no fee for cheese, dairy, and marine toxin testing.
The Department of Environmental Conservation forgave $4.6 million and subsidized $7.5 million in interest for municipalities borrowing money for wastewater and public water systems.
The Department of Fish and Game lost $658,000 issuing in-state commercial fishing permits at a discount to out-of-state resident permits. The department also issues discounted hunting and fishing permits to Alaska residents, with further discounts to blind, disabled, and veteran hunters and fishermen.
Pioneer home fees are subsidized by $29.7 million.
Alaska Occupational Safety and Health (AKOSH) reduced fines to employers by $1.2 million in FY 2021. That same year former Labor Commissioner Tamika Ledbetter found herself in hot water for canceling a $450,000 fine against a seafood operator who was accused of failing to fix known safety issues, including one that caused a man to lose his arm in a conveyor belt accident.
The Department of Natural Resources has numerous discounts, including a royalty discount for the Nikaitchuq and Oooguruk North Slope units, totaling $6.2 million. This program was created by the Legislature in 2008 and requires approval from the DNR commissioner.
The Department of Revenue provides numerous tax breaks for small breweries ($2.7 million), Indian reservation tobacco and cigarette sales ($543,000), reduced tax rates for cruise ships stopping in Juneau and Ketchikan ($10.9 million in FY 2020), and hundreds of millions in oil and gas production tax credits.
The Department of Transportation offers ferry discounts for children, seniors, and employees.
The Legislative Finance Division combs through the report and makes legislative recommendations for repeal, though bills are rarely passed to remove these indirect expenditures. This year, seven are recommended for either repeal or reconsideration:
A 90% discount, enacted in 1978, for municipal and charitable organization DMV license plate and registration fees, totaling $623,000 in lost revenues in FY 2021.
The DMV registration fee waiver for Pearl Harbor survivors, which may be similarly waived under the senior citizen waiver. This has cost nothing in foregone revenue since at least FY 2017.
The Education Tax Credit allows taxpayers to deduct contributions to education for 50% of donations up to $1 million. The credit is set to sunset at the end of 2024. This totaled $3 million in lost revenue in FY 2020; data is unavailable for FY 2021.
The WWAMI medical school repays 50% of costs for program participants who stay in Alaska to practice. Legislative Finance believes a stronger incentive may be necessary to retain medical professionals. This totaled $1.75 million in lost revenue in FY 2021.
Cook Inlet oil and gas platforms pay a reduced royalty rate, and Legislative Finance recommends it be reconsidered as it may no longer be in the state's economic interest. This totaled $4.2 million in foregone revenue in FY 2021.
Certain Cook Inlet discoveries, similar to item five, receive reduced royalty rates, and Legislative Finance suggests reconsideration as it may no longer be in the state's economic interest.
Small C-corporations in certain industries with less than $50 million in assets are exempt from the state's corporate income tax. These industries include doctor's offices, law firms, tech startups, engineering, and accounting firms. This totaled $2 million in foregone revenue in FY 2020 (data is unavailable for FY 2021).
In previous years, the Legislative Finance Division recommended repeal of lower tax rates for alcohol taxes for small breweries ($3 million in foregone revenue), inclusion of S-Corps into the corporate tax statutes (unknown revenue impact), increases to mining tax rates that have not materially changed since the 1950s ($30 million in foregone revenue), and a complete overhaul of the corporate income tax rate structure to remain competitive with other states.
Legislators in D.C. for Willow
All four members of the House Bush Caucus and the two Bush members of the State Senate were in D.C. this week. On Monday (2/27/2023), the Senate unanimously passed a resolution encouraging the Biden administration to approve the Willow project on the North Slope. The House unanimously passed the resolution the week before. All three members of Alaska's Congressional Delegation also support the project. If the Biden administration limits or takes steps to prevent the project from happening, they will be spitting in the eyes of every single one of Alaska's elected state leaders. Also, Senator Mike Shower (R – Wasilla) was also in D.C. I guess he he has a lot of time on his hands as he is not on any standing committees or part of a real caucus.
Anchorage Caucus 
Anchorage legislators heard from constituents today at a town hall held at UAA. Everyone appeared to be there except Senator Löki Tobin (D – Anchorage), who was spotted in Willow directing traffic for the start of the Iditarod. Hey, when you are gift wrapped a four-year Senate seat you can be flexible.
I live streamed the entire town hall meeting. You can watch that here.
Planning could have been better. Representative Donna Mears (D – Anchorage) and Senator James Kaufman (R – Anchorage) are the co-chairs, though Mears was running the show. It was supposed to start at 2 pm but people kind of just hung out until 2:15 pm, when it finally started. It was not made clear to any of the legislators where to sit. It was held in a lecture hall and there were not enough seats for every legislator, so halfway through they had this awkward swap out. But several people in the room thought they had to leave and were not going to be allowed to testify, which required clarification. Next time they should pick a larger venue.
The room, save one or two people, were basically in full agreement on what they wanted:
Increase student funding
A better pension system
Expel Representative David Eastman (R – Wasilla)
Raise oil taxes and/or pass an income or sales tax (or reduce the PFD)
It was incredible that there were not any organized groups of people for a large or full PFD, or really any conservative groups at all. Maybe people have given up on a full dividend or are just tired of the fight. One older woman spoke against abortion and said "killing babies" is not good for women. I have a lot of respect for her. That was not a friendly room for that message but she nonetheless said what she came to say. Several people in attendance were visibly triggered by her remarks. Another woman spoke in favor of increasing student funding, but not at any cost. She also noted the makeup of our schools, and said she did not agree with the sentiment that we are a racist society. That comment also triggered several white people.
This Week's Loose Unit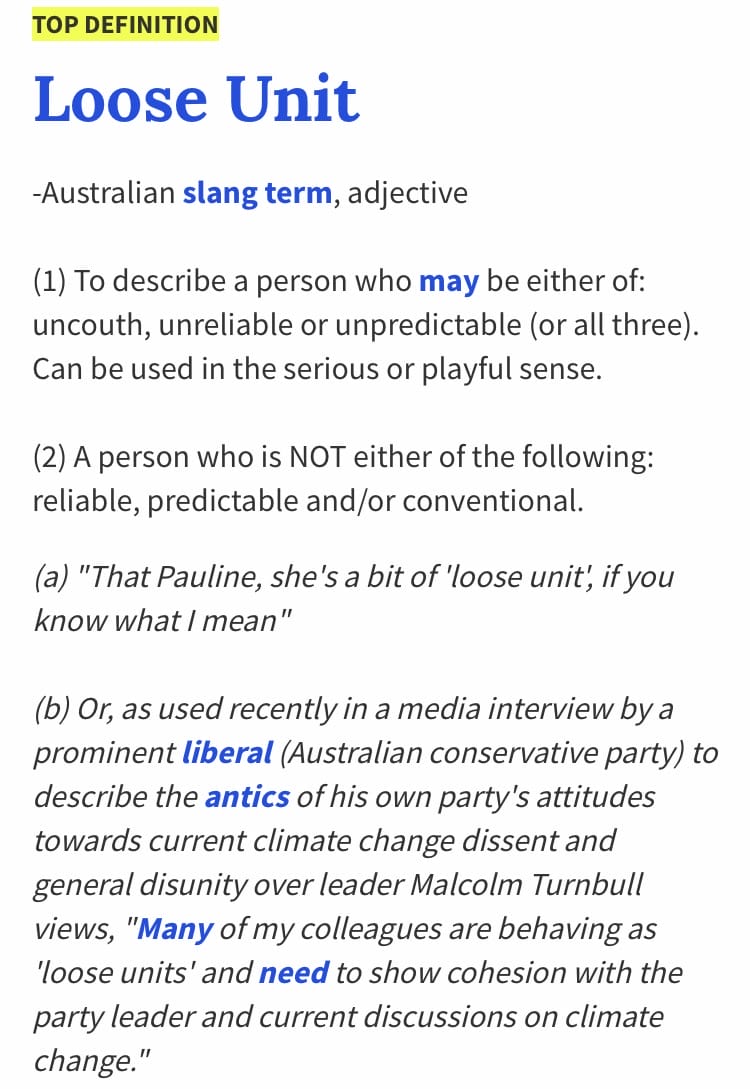 This week's designee really earned it. This week's Loose Unit is Anchorage Community Councils manager Mark Butler. First, let me say I like Mark Butler. I worked with him when I was chair of the Federation of Community Councils. But Butler went maximum loose at a meeting in Girdwood last weekend. Luckily, Paxson Woelber was there to report on the meeting. He wrote a great article about it, which you can read here.
Butler was invited to speak to a group of Girdwood NIMBYs who were celebrating how they killed the proposed Holtan Hills housing development. Butler was there for a victory lap. At the meeting he bragged about how he helped them defeat Holtan Hills by advising them to not talk about specifics, but instead speak in vague generalities so that they couldn't be outmaneuvered by people who actually knew what they were talking about. Butler also helped the NIMBYs come up with a plan to go to Anchorage community councils and convince them to pass resolutions against Holtan Hills. The NIMBYs did just that, and in some cases openly lied to other community councils about the development. Yes, Landmine has receipts. Stay tuned.
But where Butler got really loose was when he started talking about Anchorage Assembly member Chris Constant, the vice-chair of the Assembly. Per Paxson's article:
"Butler noted that Constant is 'up for re-election this time. We get to decide whether to vote for him or not.' At this point, Butler made a thumbs-down gesture to the room. 'Revenge is a dish best served cold,' Butler said."
Encouraging "revenge" against the person paying your salary is fucking loose. The Assembly grant that pays for Butler's job specifically prohibits "any activity to further the election or defeat of any candidate for public, political, or party office as part of or in connection with this grant…"
If you have the time you should really listen to the audio of the two hour meeting. Butler's comments are loose, but the Girdwood NIMBYs also don't disappoint. One woman said of the defeat, "It helps that we have a totally dysfunctional city government right now." Another man said "There's nothing wrong with being NIMBY. NIMBY just means protecting your neighborhood."
I would love to see the fucking house(s) that guy owns and the car(s) he drives. The people in Girdwood who killed Holtan Hills are some of the wealthiest and most entitled people in Alaska. They want to think of themselves as groovy, community-focused people but in reality many of them are multimillionaires who have no shame and zero perspective on what it's like for people who are just trying to get by and live a dignified middle class life. The utter lack of self-awareness and selfishness from these people is astounding.
If you have a nomination for this week's Loose Unit, or if you have any political news, stories or gossip (or any old pics of politicians or public officials) please email me at jeff@alaskalandmine.com.