I needed a break yesterday. So the Sunday Minefield is the Monday Minefield this week. It's almost April, but it feels like far from spring around most of Alaska. Easter is next Sunday. Many committee meetings on Thursday and Friday are cancelled. Expect many legislators to head home for the Easter weekend. House Finance subcommittees finished their closeouts this week. Expect Senate Finance subcommittees to start doing closeouts next week. By the looks of things the legislature will likely go the full 120-day constitutional limit, which would be mid-May.
A friendly message and reminder to all our readers, the Landmine is made possible by myself and a team of awesome Alaskans. It takes a lot of work to provide the content we do. I am now in Juneau for the session, which means paying rent for the place I'm staying at. If you enjoy the content we provide, please consider making a one time or recurring monthly donation. You can click here to donate. We have a donation system that makes it super easy. We would really appreciate  it. And thanks to everyone who has been supportive!
Tshibaka Finally Announces 
Today, Kelly Tshibaka announced she was resigning as Commissioner for the Department of Administration to challenge Senator Lisa Murkowski (R – Alaska), who is up for reelection next year. For anyone who has paid any level of attention to Tshibaka since she came back to Alaska, this should come as no surprise. This was from my November 10, 2019 Sunday Minefield:

This election cycle is gonna be lit. Check this out:
Also, the bingo card has been updated!
The Legislature
After much debate, the House passed House Bill 76 on Friday. 22-15. This bill retroactively extends Governor Mike Dunleavy's (R – Alaska) emergency declaration, which expired in January. Dunleavy says he does not need the disaster declaration extended, only that he needs some additional tools. He sent this letter to all legislators on Wednesday (March 24, 2021).
The bill now goes to the Senate. If they pass it as is, which is unlikely, it would then go to Dunleavy. He could sign it, veto it, or do neither. If he does neither it automatically goes into effect in 15 days. If he were to veto the bill the legislature would need 2/3 (40 votes) to override the veto (non-appropriation bills are 2/3, appropriation bills are 3/4), which they do not have the votes for. If the Senate amends the bill it goes back to the House for an up or down vote to accept the changes. If they were to not concur on the changes, it would go to a conference committee.
The Senate Judiciary Committee continues to go off the rails. On Wednesday (3/24/2021) Attorney General nominee Tregg Taylor appeared before the committee for a confirmation hearing. This contradicted Dunleavy's position about not cooperating with the committee as long as Senator Lora Reinbold (R – Eagle River) is chair. The hearing was everything you would have imagined. Reinbold spent the majority of the time asking Taylor about Dunleavy's Covid mandates. It went on for almost two hours. She repeatedly stated she never voted for the disaster declaration, which is not true. See below vote on final passage of SB 241 last March. Reinbold was a yes vote.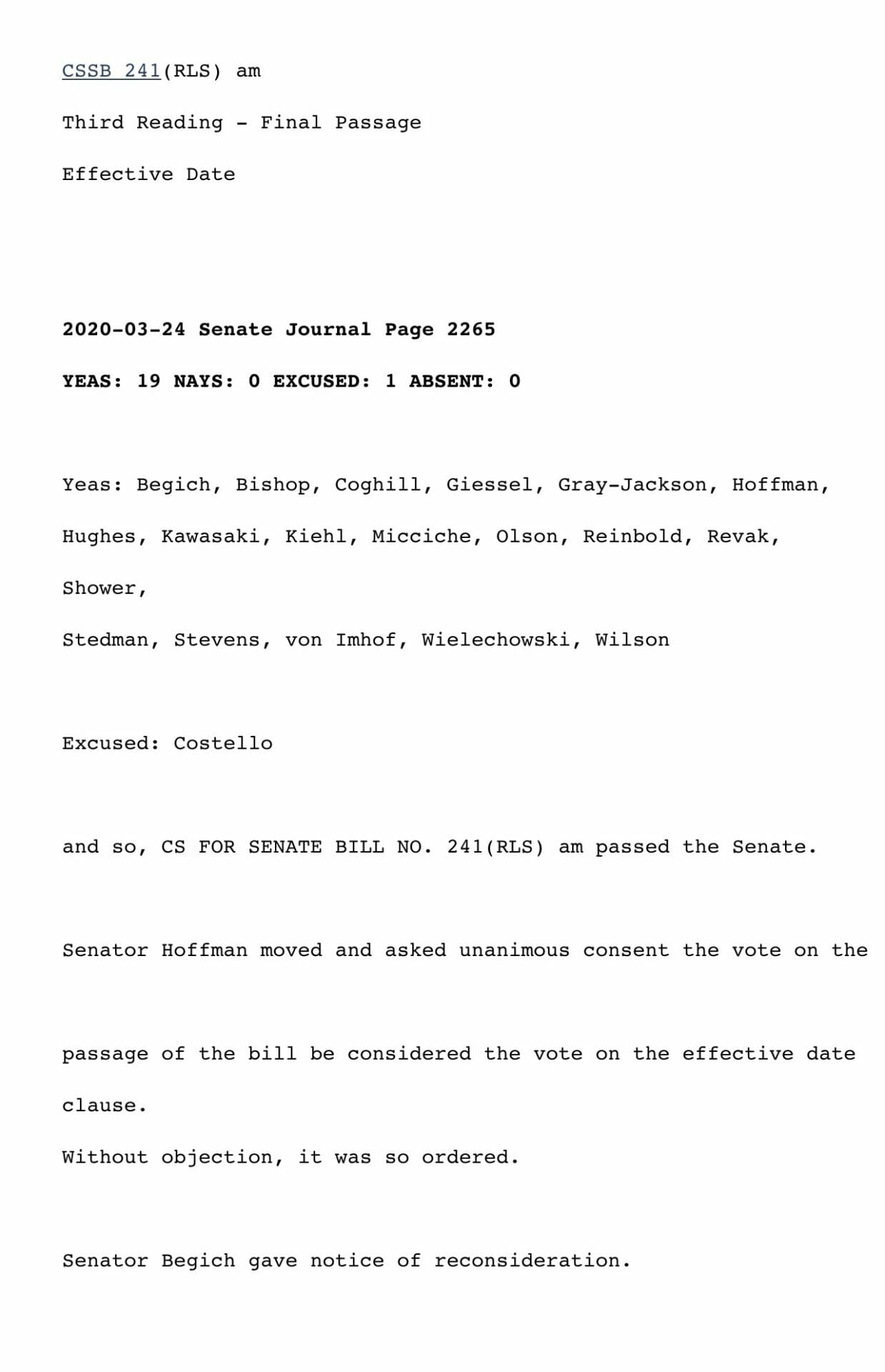 But the worst part of the hearing was Senate President Peter Micciche (R – Soldotna), whose alcohol regulation bill was scheduled, sat through the entire hearing without his bill being heard. If you regularly watch the Senate Judiciary Committee, you are aware that Reinbold has no concept of time management.
Other Happenings 
Andrew Halcro abruptly resigned as executive director of the Anchorage Community Development Authority this week. He cited "bad faith dealings with the MOA" in his resignation letter. You can read this Landmine story for more information.
Governor Dunleavy appointed Scott "Campbell Lake" Jepsen to the University of Alaska Board of Regents. Jepsen recently retired as vice president of ConocoPhillips Alaska. Ben Stevens replaced him.
Governor Dunleavy held a press conference on Friday about pushing back against the federal government over access to navigable waterways in Alaska. John Sturgeon, who successfully went to the U.S. Supreme Court over federal agents fining him for using a hovercraft on the Nation River, spoke at the press conference. So did Senator Micciche, Senator Josh Revak (R – Anchorage), and DNR officials. When I asked about the state's failure to deal with harassment and blocking access to Campbell Lake, Dunleavy stated it's a public lake, but did not add much else. Keep in mind Ed Rasmuson, father of Senator Natasha von Imhof (R – Anchorage) – who lives on the lake and has an access easement crossing her property – donated $500,000 to John Sturgeon's legal fund. Many residents of the lake are big campaign donors, which probably explains why Revak and Micciche, and other legislators, have said nothing about public access to Campbell Lake. Imagine if the federal government was doing what some  residents of Campbell Lake are doing to the public…
Senator Dan Sullivan (R – Alaska) said he will support Senator Murkowski if she runs for reelection. 2022 is going to be lit!
This Week's Loose Unit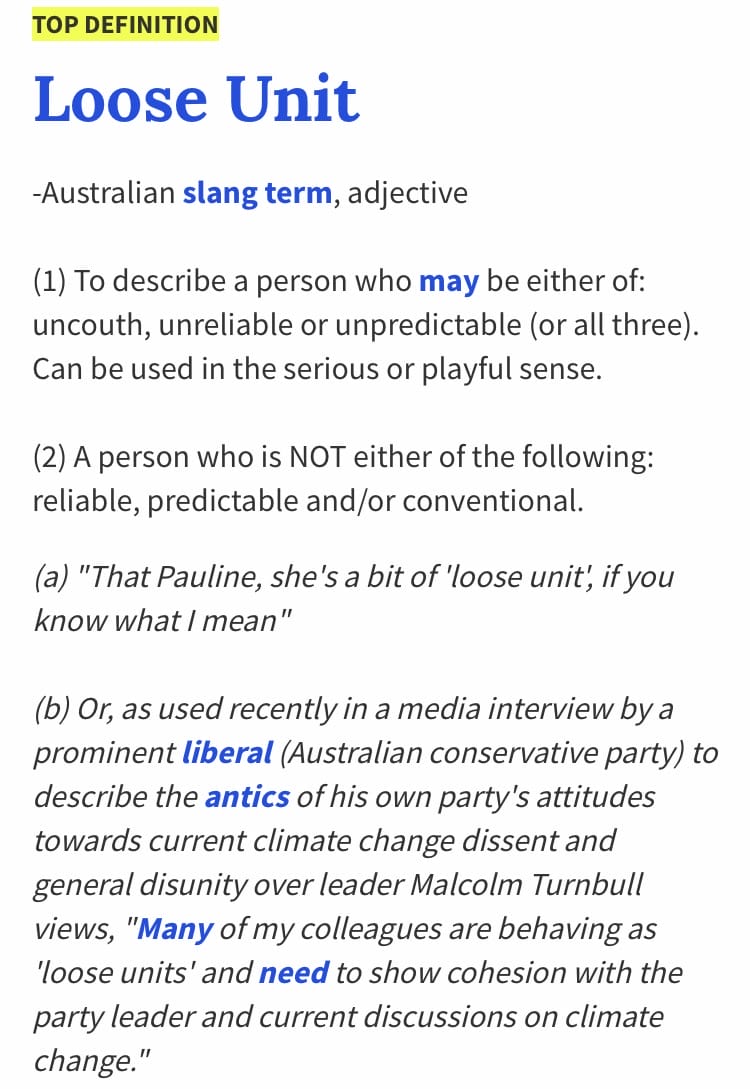 This week's designee became clear after a House Majority press release went out on Wednesday (3/24/2021). This week's Loose Unit is Representative Geran Tarr (D – Anchorage). The press release was about Equal Pay Day. In the press release Tarr was quoted as saying, "Women in this country and around the world have yet to receive equal compensation for equal work relative to their male counterparts. In 2021, the average woman in this country receives 82 cents for every dollar the average man earns for equivalent work." This is entirely inaccurate. That figure is based on Census Bureau data for earnings of women of all races compared to earnings of men of all races, not for equivalent work. Super loose. While a pay gap does exist between all men and all women, gender is only one of the many factors. This is evidenced by extensive statistical analysis. I recommend watching this video that breaks down the whole thing.
If you have a nomination for this week's Loose Unit, or if you have any political news, stories or gossip (or any old pics of politicians or public officials) please email me at jeff@alaskalandmine.com.