I am writing this week's column from Narva, Estonia – the third largest city in the small Baltic country of 1.3 million. Narva is separated from Ivangorod, Russia by the Narva River that includes a large border crossing over a bridge. Over 95% of the people in Narva are native Russian speakers. I have been traveling around Estonia, a former Soviet Republic, for a week talking to people about how the situation in Ukraine is affecting them. Stay tuned for a special Landmine report on that.
Even though I am far away from Alaska, I have been getting nonstop texts and messages about the special election to replace Don Young. The deadline to file for the special election is just five days away, giving those considering a run little time to decide. The House Finance Committee passed the operating budget on Thursday. It now goes to the House floor. And the Alaska Supreme Court ruled that the Redistricting Board violated the Alaska Constitution with one of its Eagle River Senate pairings and part of a House district that includes Cantwell.
A friendly message and reminder to all our readers, the Landmine is made possible by myself and a team of awesome Alaskans. It takes a lot of work to provide the content we do. I am back in Juneau to report on the Legislature. Living in Juneau for session is not cheap. If you enjoy the content we provide, please consider making a one time or recurring monthly donation. You can click here to donate. We have a donation system that makes it super easy. We would really appreciate it. And thanks to everyone who has been supportive!
Special Election
The sudden passing of Congressman Don Young has led to a once in a generation special election to fill his seat. Dozens of Alaska politicos around the state are scrambling to decide whether or not they will run. And they only have until Friday at 5 pm to decide.
Before Young's passing the only serious conservative challenger was Nick Begich. Begich co-chaired Young's 2020 campaign but then decided Young wasn't conservative enough this year. Neat. His campaign,  heavily supported by lobbyist Ashley Reed (whose son Truman is Begich's campaign manager), had been running attacks ads against Young. That strategy is now worthless, and will likely come back to haunt him.
Senator Josh Revak (R – Anchorage), who previously worked for Young and was a co-chair of his campaign, is gearing up for a run. Former Senator John Coghill told me he is also contemplating a run. Former Representative and podcast host Andrew Halcro is also considering it. And Tara Sweeney, a former Assistant Secretary of the Interior for the Trump administration and also a co-chair of Young's campaign, is being encouraged to run. The list goes on.
In February, Anchorage Assembly Chris Constant filed to run against Young. He was the only Democrat to file and seemed to be doing it to boost his name for a future Anchorage mayoral run. Now, Representative Chris Tuck (D – Anchorage) is too contemplating a run now that Senator Elvi Gray-Jackson (D – Anchorage) decided to abandon her run the the U.S. Senate and run for re-election to the State Senate. Tuck, who was redistricted into Gray-Jackson's Senate seat, filed to run for the seat when she announced her run for the U.S. Senate. This could change now that the Redistricting Board has been directed to undo one of the Eagle River Senate pairings, which could have a domino effect on the other pairings.
A lot of people will be doing some soul searching this week. And when the field is set, they will only have a few months to campaign. The special primary election will be held on June 11 and will be conducted by mail. From there, the top-four will advance to the special general election, which will be the same day as the regular primary election, August 16. Most, if not all of the candidates in the special general, will also be running in the regular primary. It's going to be chaotic and confusing, both for the candidates and the voters. The special general will be the first time Alaska will use the new ranked choice voting system. Buckle up.
House Finance Committee passes budget
The House Finance Committee passed the operating budget this week. It now heads to the House floor for debate. The budget includes an approximate $1,250 dividend and a $1,300 one-time energy rebate. Some noteworthy amendments that failed the committee were:
An amendment from Representative Neal Foster (D – Nome), who co-chairs the committee, for a full statutory dividend failed to pass on a vote of 4-7.
An amendment from Representative DeLena Johnson (R – Palmer) for a 50/50 dividend failed to pass on a vote of 3-8.
Look for a big floor fight on the full statutory dividend and, if that fails to pass, a 50/50 dividend. It's hard to say how the full House will vote. Some key members of the House majority, including Foster and Tuck, support a full dividend. But some members of the House minority don't. It will be a close vote. And whatever they end up doing, the budget then goes to the Senate where it will be amended again and then finally resolved in a conference committee.
Some noteworthy amendments that did pass the committee are:
An amendment from Representative Johnson for $495,000 to fund the settlements the Dunleavy administration agreed to for the API doctors who were fired passed 10-1.
An amendment from Representative Ben Carpenter (R – Nikiski) to transfer $250 million to the Constitutional Budget Reserve passed 6-5.
An amendment from Anchorage Representative Sara Rasmussen (R – Anchorage) to pay all the outstanding oil and gas tax credits, totaling around $560 million, passed 7-4.
Other Happenings
The Alaska Redistricting Board announced they will hold a meeting on April 2 at 10am via Zoom to "take public testimony, receive a report from our legal team and discuss next steps." In a press release, they stated:
Late Friday the Alaska Supreme Court issued an order affirming 39 of 40 House districts and 19 of 20 Senate districts in the Board's 2021 Final Proclamation Plan. The Court remanded the Board to rework the boundary of House District 36 and Senate District K. The remand order is brief with a full decision explaining the Court's reasoning to follow at a later date. The Board's litigation page has been updated with a link to the full Court order.
A map must be adopted by June 1 for the upcoming elections.
Kenai Peninsula Borough Assembly member Jesse Bjorkman filed to run for the State Senate this week. He lives in Senate President Peter Micciche's (R – Soldotna) Senate district. Tuckerman Babcock, Governor Mike Dunleavy's (R – Alaska) first chief of staff, has also filed to run for the seat. Bjorkman, who is a friend of Micciche, getting into the race likely means Micciche will not seek re-election.
The Anchorage Assembly and School Board elections are ongoing. The election concludes on April 5. We will be hosting an Election Central event at our Anchorage studio on election night. It will be live streamed on Facebook and YouTube. We will provide election results and talk to candidates and politicos. I will be joined Sabrena Combs and Sarah Erkmann Ward. We are looking for sponsors! Get in touch with me if you are interested in being a sponsor for the event.
This Week's Loose Unit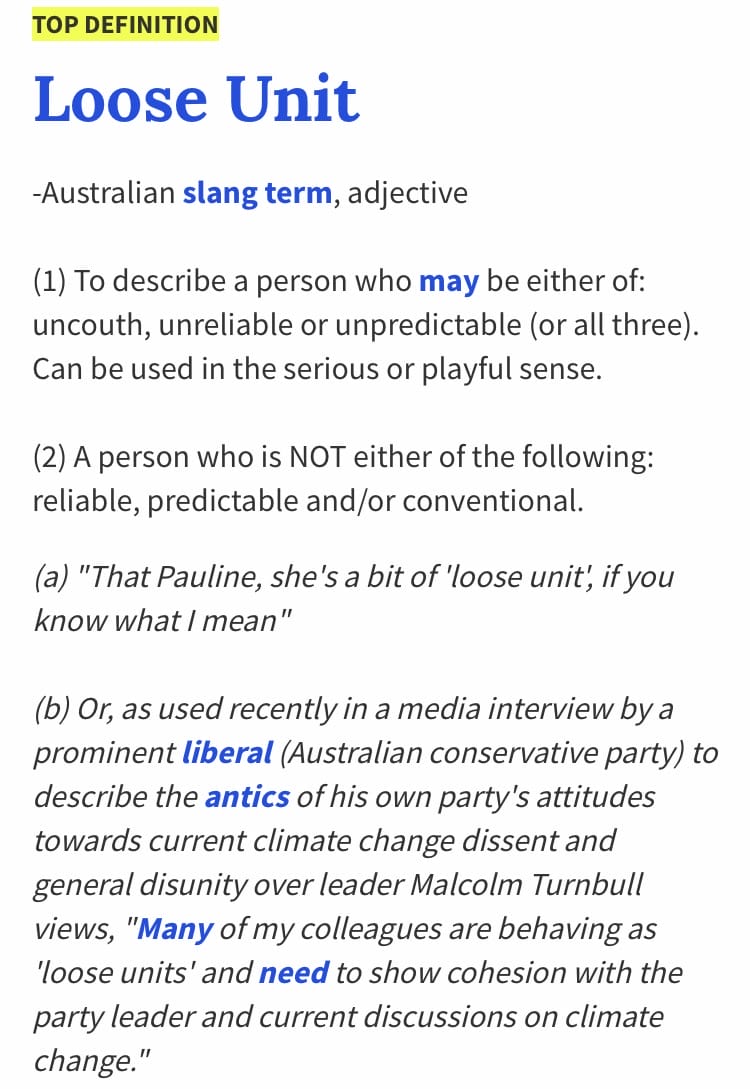 This was one of those weeks where the designee was a no brainer. This week's Loose Unit is Suzanne Downing. On Wednesday, Downing published an article on her propaganda site about Josh Revak's run for Congress. It opened with, "State Sen. Josh Revak, a Republican legislator from Anchorage, leaked to a leftwing blogger on Wednesday that he is running for the seat left empty by Congressman Don Young, who passed last week." The "leftwing blogger" she's referring to is me. I am a lot of things. Leftwing is not one of them. But that was not even close to the loosest part.
She goes on to incorrectly write that Revak was elected in 2016 and has had an "8 year political career." Revak was elected in 2018, not even four years ago. Even if he was elected in 2016, that would only be six years. So loose. She also wrote that Revak is supported by "many D.C. lobbyists." Which is funny because her guy Nick Begich is heavily supported by lobbyist Ashley Reed. Super loose.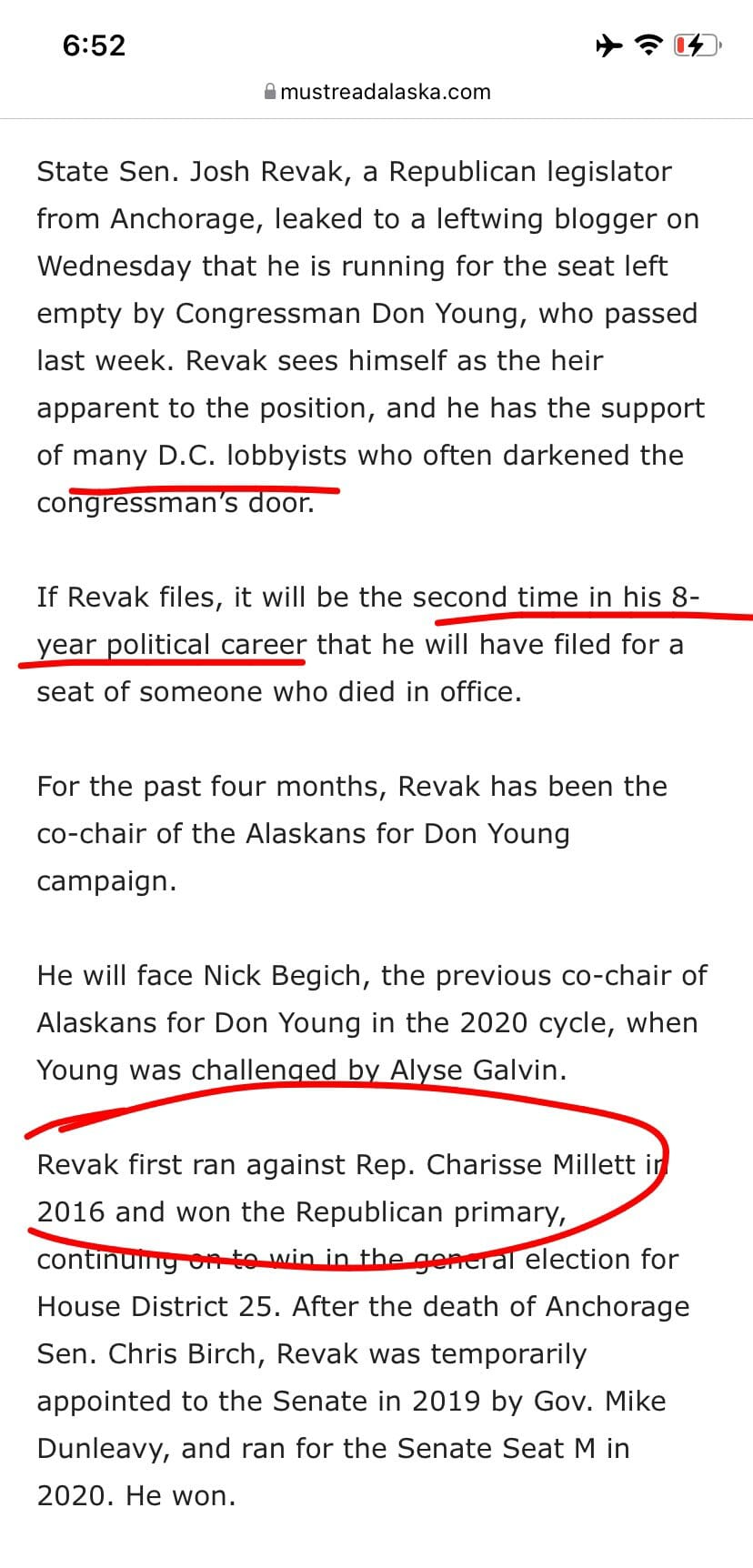 You see, Downing is pissed now that Nick Begich is not the only conservative challenger in the race. She's big in the tank for Begich, likely getting paid for the hit pieces she was putting out on Young. Now, in addition to looking like a fucking idiot, a lot of conservatives have finally realized what a piece of garbage she is. So she resorts to doing what she does best: Attacking good people and lying to do so. Classic Loose Unit.
If you have a nomination for this week's Loose Unit, or if you have any political news, stories or gossip (or any old pics of politicians or public officials) please email me at jeff@alaskalandmine.com.