The first session of the 31st Alaska Legislature is quickly coming to an end. It is set to conclude on June 14th. The only major action taken so far was the House and Senate passed the crime bill. However, there was a big development this weekend in the conference committee on the budget. Look for things to get very loose in Juneau this week.
A friendly message and reminder to all our readers, the Landmine is made possible by myself and a team of awesome Alaskans. It takes a lot of work to provide the content we do. If you enjoy the content we provide, please consider making a one time or recurring monthly donation. You can click here to donate via PayPal. We would really appreciate it. And thanks to everyone who has been supportive!
The Legislature
This week was rather uneventful in Juneau. But yesterday something important happened. The conference committee passed a budget that includes a roughly $10 billion transfer from the earnings reserve of the Permanent Fund to the corpus of the fund. The earnings reserve has around $19 billion in it. Once money is transferred to the corpus of the fund the Legislature cannot access it. They can access the earnings reserve with a simple majority.
One thing it does not include is a dividend. There is no constitutional requirement to pay a dividend or have it in the budget. The conference committee report will now go to the House and Senate to be voted on. This is an up or down vote, no amendments are allowed. It should pass the House, the Senate is another story. The Senate Majority (14 out of 20 senators) is split on the dividend issue. Their caucus is not binding, meaning their members aren't required to vote for the budget. The divided issue is causing serious problems in their caucus.
There is a talk, and a lot of speculation, of the possibility of a reorganization. How would that work? What would likely happen is the Senate Minority (6 Democrats) would cut a deal with one of the factions in the Majority that are split over the dividend. They are split 7/7, so if either group joined with the Democrats a new majority would have 13. The Democrats in the Minority are definitely a block. They would most likely go with whoever would offer the best deal. It could get very loose, especially if they joined up with the VD (Valley delegation).
You may be wondering why the conference committee version of the budget did not include a dividend. I would say it's due to the following reasons:
Pink slips will go out soon. If there is no budget passed by July 1 we will have a government shutdown. No one really wants that. Passing a budget would avoid that.
The Senate Majority does not have the votes for any amount of a PFD, full or otherwise. They could, in theory, pass a budget and figure out the divided issue this summer.
If the Legislature sends Governor Mike Dunleavy (R – Alaska) their budget, without a PFD, they could use the dividend as leverage for him not to go ballistic with vetoes. The deal would be to send a separate dividend bill after he signs the budget. If he vetoes the entire thing and sends it back, demanding they include a dividend, then it's on him and not them.
There is some really complex stuff going on here. It's anyone's guess how it all shakes out. It is looking increasingly likely that there will be a special session in the Mat-Su Valley. That is if the Dunleavy has his way. He could call it in Wasilla but the Legislature could gavel in there, gavel out, and then go to Juneau.
Other Happenings
Colony Days is happening in Palmer! I was one of the judges yesterday for the parade. No big deal. Thanks to  Sabrena Combs, from the Palmer City Council, for inviting me out. She did an awesome job emceeing with Gordon Fletcher. One of the floats was a giant cage where they were doing axe throwing! There was also a little piggy who insisted on being carried. Overall a very fun and high energy parade.
Carnival Corp. had a rough week. They agreed to pay $20 million for illegal dumping in Alaska and the Bahamas. The executives did not even show up to the initial hearing in April. The judge was so pissed about that she threatened to block them from docking in U.S ports. That got them to pay attention! That judge sounds like a legend. This AP article explains it all. Here is an excerpt. Damn.
Now Carnival has acknowledged that in the years since its ships have committed environmental crimes such as dumping "gray water" in prohibited places such Alaska's Glacier Bay National Park and knowingly allowing plastic to be discharged along with food waste in the Bahamas, which poses a severe threat to marine life.
Things literally got very loose in Healy this week. A helicopter carrying a few tons of concrete for an electrical project either lost or accidentally dropped the load onto some power lines. Yikes! Luckily the only thing that got hurt was the bottom line for whoever is running the project.
A more than ten year labor dispute and boycott at the Sheraton in Downtown Anchorage has finally ended. Management and labor finally came to an agreement. I hear the party at the Sheraton last night was lit. It included a bunch of labor folks, workers, and management. I wouldn't know as I was not invited. Imagine if I had been there! Representative Zack Fields (D – Anchorage) had this to say about it. That bottom-feeder comment about the Hilton tho.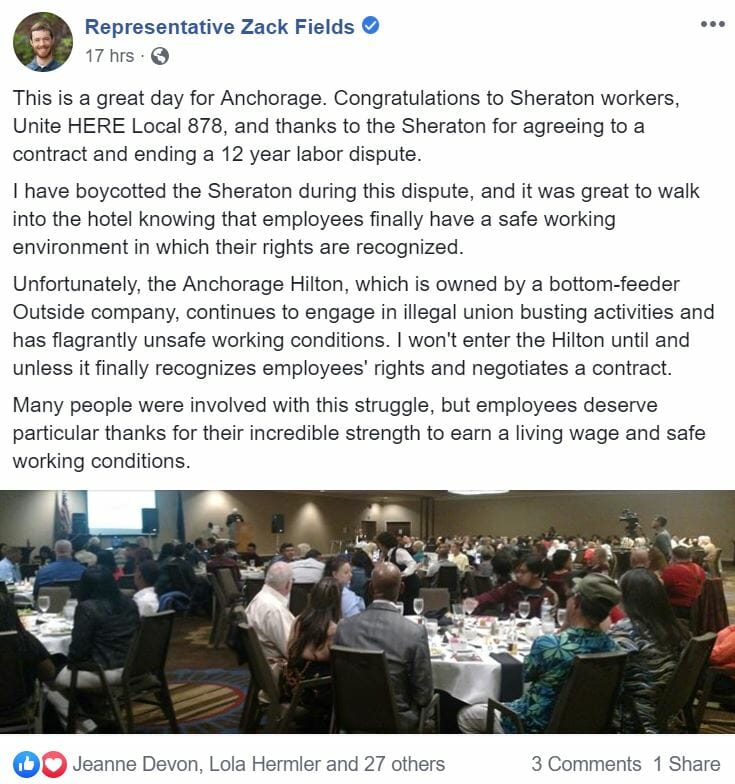 Erick Cordero's last day with Representative Sharon Jackson (R – Eagle River) will be tomorrow. He is moving to a new role with the Dunleavy administration. He will be replacing Stanley Wright as executive assistant to the chief of staff and deputy chief of staff. Wright has taken the job as legislative liaison for the Department of Military and Veterans Affairs.
This Week's Loose Unit
You may have noticed this week's column is a bit shorter than normal. I spent Thursday night at Governor Dunleavy's Rally in the Valley. As you can imagine, things got pretty loose. I was there with Scott Jensen filming the event. We spent the weekend making this video. This week's Loose Unit is the Rally in the Valley! You be the judge who was the loosest. My personal favorite is the Rino Safari guy. They have 13 tags out, eight in the House, 5 in the Senate. Very loose.
Check out the video below. Thanks to everyone who spoke with us.
If you have a nomination for this week's Loose Unit, or if you have any political news, stories or gossip (or any old pics of politicians or public officials) please email me at jeff@alaskalandmine.com.