The warm and sunny weather has been amazing! Though I'm sure the heat is getting to a lot of us. The June 1 candidate filing deadline has come and gone, meaning the field has been set for all the races. Though candidates can still withdraw. The ongoing special congressional primary election concludes on Saturday night. As of June 3, 102,071 (20%) of ballots have been returned. Just four of the 48 candidates will advance to the ranked choice general election.
A friendly message and reminder to all our readers. The Landmine is made possible by myself and a team of awesome Alaskans. It takes a lot of work to provide the content we do. I am back in Juneau to report on the Legislature. Living in Juneau for session is not cheap. If you enjoy the content we provide, please consider making a one time or recurring monthly donation. You can click here to donate. We have a donation system that makes it super easy. We would really appreciate it. And thanks to everyone who has been supportive!
Field set for Alaska's first ranked-choice election cycle
The following is an excerpt from this week's edition (6/2/2022) of the Alaska Political Report. You can click here for more information about the Alaska Political Report. A subscription is $1,299/year per organization. Discounted pricing is available for non-profits and government entities. We will be providing extensive election coverage this year in addition to our session coverage. If you have any questions or would like to subscribe, please email jeff@akpoliticalreport.com.
The June 1 candidate filing deadline has come and gone, and there were a few last-minute surprises.
Anchorage Democratic Sen. Tom Begich, who was elected in 2016 and has served as minority leader since 2019, announced he will not seek re-election. Begich waited until the last minute to announce this, likely because he did not want other Democrats jumping in the race. He endorsed his staffer, Democrat Löki Gale Tobin. Begich has not yet officially withdrawn from the race, however.
The other surprise was Anchorage Democratic Rep. Liz Snyder, who narrowly defeated Republican Lance Pruitt in 2020, announced she will not seek re-election. Donna Mears, who Snyder endorsed, is the only Democrat in the four-way race. Republican Forrest Wolfe, who has worked as a legislative staffer for a decade, also filed to run for the seat.
We will have a more comprehensive breakdown of all the races, as well as an analysis of the financial disclosures for the non-incumbents who recently filed. Below are some statistics on each of the elections.
Note that Ballot Measure 2 eliminated party replacement candidates, which means that if someone with a party affiliation withdraws before the withdrawal deadline, a party replacement is no longer possible. If a race has more than four people, and someone withdraws after the primary but before the withdrawal deadline, the fifth place finisher would move to the general election.
Republican U.S. Sen. Lisa Murkowski faces 19 primary challengers. Her main GOP opponent is Kelly Tshibaka, but there are seven other Republican candidates. Three Democrats are in the race, led by Pat Chesbro, as well as two Alaska Independence Party candidates, one Libertarian and five Independents. The top four will advance to the ranked choice general election. Barring something unforeseen, Murkowski and Tshibaka will be two of the four.
The open U.S. House seat has 31 candidates in the primary — 17 fewer than the ongoing special primary election. Many, but not all, of the candidates are running in both. The regular primary candidates include 11 Republicans, four Democrats, two Libertarians, one American Independence Party candidate and 13 independents. The top four will advance to the ranked choice general election.
GOP Gov. Mike Dunleavy and his running mate Nancy Dahlstrom face nine primary challengers: four Republicans, one Democrat, one Libertarian, one Alaska Independence Party ticket and two independent tickets. Dunleavy's main challengers are Democratic former Anchorage Rep. Les Gara and his running mate Jessica Cook, and former Independent Gov. Bill Walker and his running mate Heidi Drygas. The top four will advance to the ranked choice general election.
Of the 59 legislative seats that are up — 9 additional Senate seats are up due to redistricting — seven are uncontested, 22 have just two candidates (including Begich's race, though he has not officially withdrawn), 18 have three candidates, 11 have four candidates and just one has five candidates. The race with five candidates is the Fairbanks seat that is open because Democratic Rep. Adam Wool is running for U.S. House. This means that Wool's seat will be the only legislative race where the top four primary matters, unless someone withdraws.
Just before publication, South Anchorage independent House candidate Jennifer Sonne announced she is suspending her campaign and endorsing independent Walter Featherly. This is an open seat because Anchorage Republican Rep. James Kaufman is running for the Senate. If she officially withdraws, there will be 19 races with three people and nine races with four people.
Six of the seven uncontested seats are incumbents. The seventh is the Bethel House seat that Democratic Rep. Tiffany Zulkosky is not contesting. Independent C.J. McCormick was the only person to file for the seat. He's 24 and vice mayor of Bethel. Democratic former Rep. Bob Herron and Bethel Mayor Mark Springer both filed letters of intent, but neither one officially filed.
The uncontested incumbents are Juneau Democratic Sen. Jesse Kiehl, Juneau Democratic Rep. Andi Story, Nikiski Republican Rep. Ben Carpenter, North Pole Republican Rep. Mike Prax (who was also unopposed in 2020), Dillingham independent Rep. Bryce Edgmon (who was also unopposed in 2020), and Utqiagvik independent Rep. Josiah Patkotak.
Due to retirement, redistricting, and legislators running for higher office, both the House and Senate will look significantly different next year.
The House will have a minimum of 15 new members, or a 37.5% turnover. But that number will likely be higher, as several legislators are in competitive races and some were redistricted into unfavorable districts. One example is Fairbanks Democratic Rep. Grier Hopkins, who is now in a very Republican district. Also, Anchorage Democratic Reps. Chris Tuck and Andy Josephson were paired and are running against each other in a four-way primary, though they have said one will withdraw. And Anchorage Democratic Reps. Zack Fields and Harriett Drummond are running against each other in a heads-up matchup.
The Senate, which traditionally has few members leaving, will have at least five new members, or a 25% turnover — though that number could also be higher, as five incumbents are in competitive races.
Downtown Anchorage Assembly Race
The special election for the new Downtown Anchorage Assembly seat is underway. Ballots went out on May 31 and the election concludes on June 21. Turnout will likely be low as it's a special election during summer. There are six candidates running for what will be the new twelfth seat on the Anchorage Assembly:
Robin Phillips – Works at the Ted Stevens Foundation. Daughter of former House Speaker Gail Phillips.
Tasha Hotch – Works at ANTHC. Unsuccessfully ran for the Anchorage School Board in 2017 and 2018.
Daniel Volland – Optometrist and owner of Ursa Optical. Vice president of the South Addition Community Council.
Robyn Forbes – Former owner of Shred Alaska and current owner of the Eureka Space.
Cliff Baker – Retired land surveyor who worked at the Department of Natural Resources.
Stephanie Taylor – Unsuccessfully challenged Anchorage Assembly member Forrest Dunbar in April's election.
This is a highly Democratic district. But because there are six candidates comprised of liberals and conservatives – combined with a likely low turnout – there's the possibility of an odd result. There is no runoff for Assembly races. So someone could theoretically win with a plurality that is much lower than 50%.
Other Happenings 
Check out our coverage and analysis of the 40 House races. We will be doing the 19 Senate races tomorrow. Stay tuned! Big shout out to Senator Bill Wielechowski (D – Anchorage) and political consultant Matt Shuckeorw for being on the panel.
Something odd happened during the May 25 meeting of the Alaska Industrial Development Export Authority. Dana Pruhs, who chairs the board, made some kind of loose comment about staff during the Alaska Energy Authority (AEA) part of the meeting. Whatever he said was bad enough for him to state later in the meeting that he was going to resign. But he never did. Apparently they had some kind of all hands meeting this week where staff were allowed to tell Pruhs what they thought. Sounds really bizarre. I am continuing to look into this.
AIDEA Board Chair Dana Pruhs said he was resigning due to something he said during today's meeting (I missed that part). He was urged to reconsider by other board members and the AIDEA ED Alan Weitzner, but Chair Pruhs did not commit either way. #akleg pic.twitter.com/JBuAjw7Wdp

— Lois Epstein (@loisepstein) May 25, 2022
My good buddy "Independent" Jennifer Sonne, who announced she's withdrawing from the South Anchorage House race, briefly changed her official campaign Twitter account to "jenn_says_fucku" that included "hey JL can go F himself" in the bio. She must be so fun to hang out with. Nice find by the Alaska Stalker.
This one is wild. Some dude in Florida, Larry Scroggins, allegedly tried to steal PFDs. According to the press release, a Revenue investigator traveled to Florida to track him down. It all started back in January of 2020, but due to COVID he was only indicted this week. Multiple local, state, and federal agencies were involved in executing the warrant. Wild.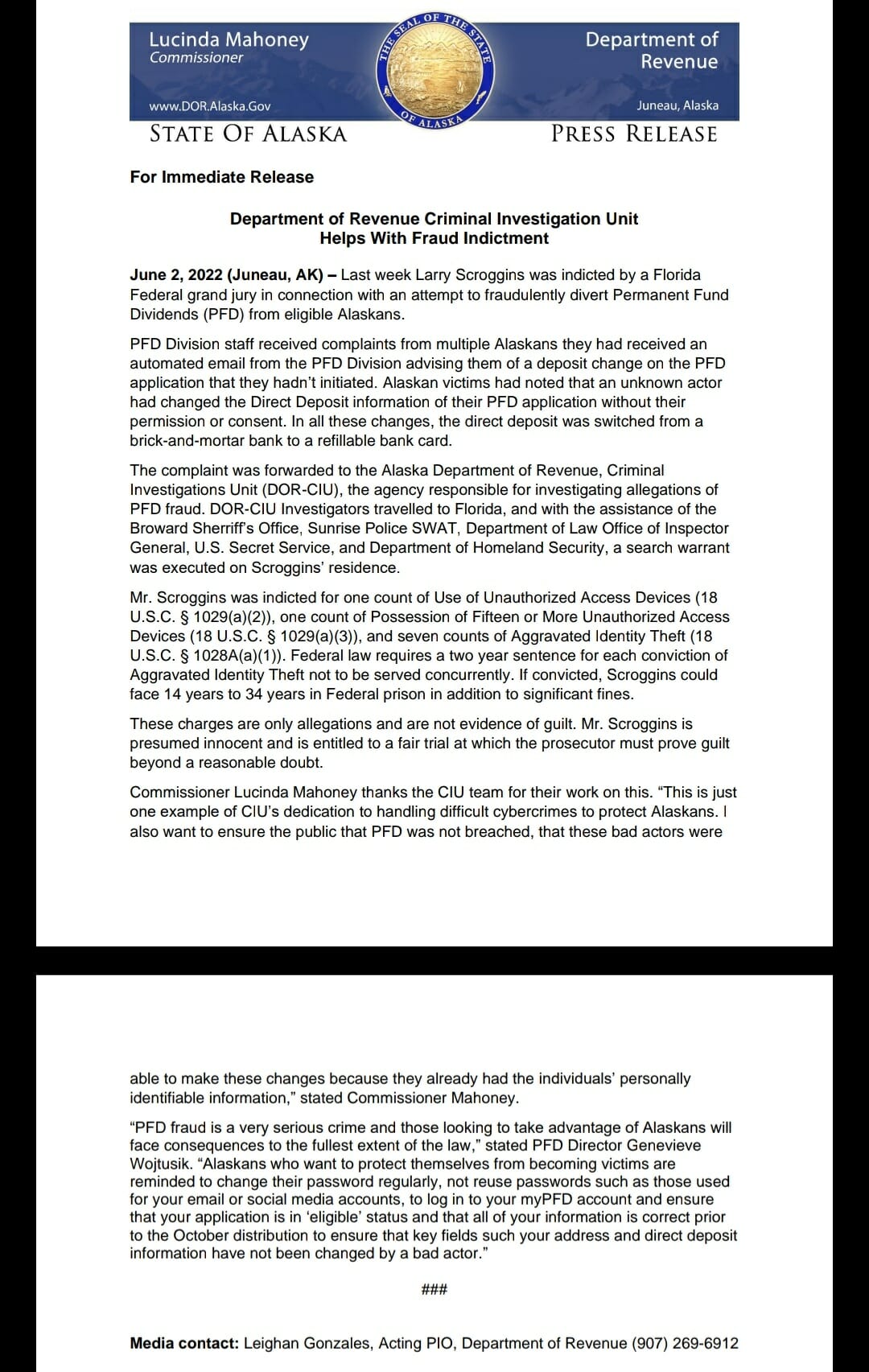 The Anchorage Assembly held a special Wednesday (6/1/2022) meeting on the proposed ordinance that would allow the Assembly to remove the mayor. I saw Assembly member Jamie Allard after the meeting ended. I joked with her that it looked like she had a very easy race and will end up in the Legislature. She then told me, in front of several women she was talking to, "Your friend is going down!" I asked her who she meant. She responded, "Your beer pong buddy." She was referring to Representative Kelly Merrick (R – Eagle River), who defeated Allard in the 2018 Republican primary. I told her we never played beer pong but it was a great time! I also told her Merrick is a friend but I also like Representative Ken McCarty (R – Eagle River) and I really don't care who wins that race. Allard then went on this bizarre rant about Merrick and told me she's lining up money for an independent expenditure (IE) group that is going to "take care of her." I suggested maybe she consider worrying about her own race because she may end up having to work with Merrick and running campaigns take a lot of time. She responded by telling me Merrick "fucked the state" and that Tom Anderson, owner of Optima Public Relations, was going to run the group. I called Anderson the next day to ask him about it. He told me he "would never run or administer an Allard IE or any IE for that matter, but that his firm does help with branding and messaging." He also said he "was surprised and uncomfortable Allard cited his name as managing an unformed IE." Juneau is going to be so lit next year with Allard in the House.
Independent U.S. Senate candidate Huhnkie Lee has some interesting campaign material… The Kool-Aid and Colt 45. Very loose.
This Week's Loose Unit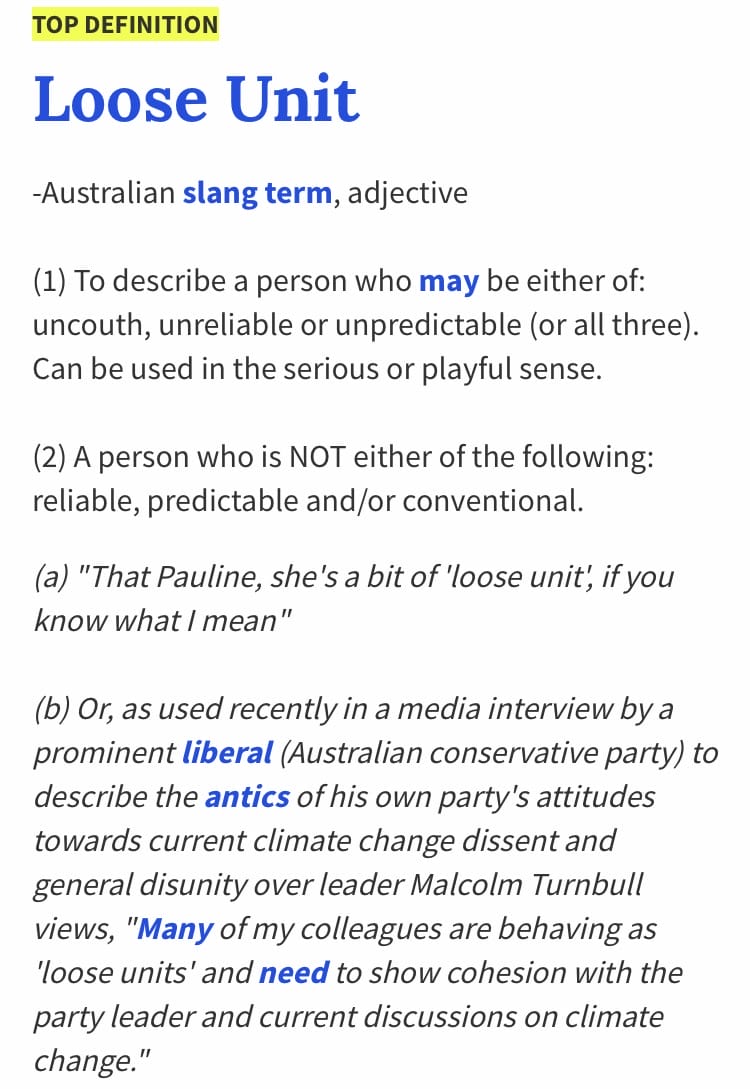 This week's designee became abundantly clear on June 1. This week's Loose Unit is Senator Tom Begich (D – Anchorage). It all started right before the 5 pm filing deadline on June 1 when Löki Gale Tobin, a staffer who worked for Begich, filed paperwork to run for the Senate. When observers noted this, neither was answering their phones. Ignoring how amazing it is they were able to keep this a secret, this was classic Loose Unit behavior. Representatives Zack Fields (D – Anchorage) and Harriet Drummond (D – Anchorage), who were paired in the same House district, would have loved to have known Begich was not running for re-election.
Begich effectively hand selected his successor by filing for office himself and informing few people of the bait-and-switch plan. While it was an extremely cunning move, it was also extremely loose. Begich's seat is one of 10 four-year seats. So his shady and loose move will result in Tobin being effectively unchallenged for a four-year seat. Her only opponent, Heather Herndon, is supporting Christopher Kurka for governor and got 0.61%, or 451 votes, when she ran for Anchorage mayor last year.
If you have a nomination for this week's Loose Unit, or if you have any political news, stories or gossip (or any old pics of politicians or public officials) please email me at jeff@alaskalandmine.com.