It's been quite a week. The heat and smoke continues to consume Southcentral Alaska. It was 85 degrees inside my house yesterday! Governor Mike Dunleavy (R – Alaska) rolled out his budget vetoes on Friday, causing some serious panic for many Alaskans. And there is still the question about where exactly the Legislature will meet for the second special session.
A friendly message and reminder to all our readers, the Landmine is made possible by myself and a team of awesome Alaskans. It takes a lot of work to provide the content we do. If you enjoy the content we provide, please consider making a one time or recurring monthly donation. You can click here to donate via PayPal. We would really appreciate it. And thanks to everyone who has been supportive!
Big Veteos
Governor Dunleavy announced his vetoes on Friday (6/28/2019) at a press conference in Juneau. Because he signed it before July 1 there will not be a government shutdown. The vetoes are significant, totaling $444 million, in addition to few hundred million the Legislature had reduced from the amount of last year's budget amount. Dunleavy unveiled his budget in February and proposed cuts of over $1.6 billion, citing the deficit. Around half of that was not actually cuts, it relied on transfers of local taxes (fisheries landing tax, oil and gas property taxes) to the State. That proposal went nowhere in the Legislature. The Legislature ended up clawing back most of Dunleavy's proposed cuts.
This ADN article lists all of the line item vetoes.
Dunleavy stated that the process to balance the budget will now be a two year process. What's interesting is something David Teal said yesterday at a meeting of the Permanent Fund Working Group in Anchorage. After Dunleavy's veteos, the dividend amount would need to be $1,600 for a balanced budget. Dunleavy has been clear he wants a $3,000 dividend. If this were to happen, under the budget he has signed with his veteos, an additional draw on savings or the earnings reserve would be required to pay that amount.
The most controversial veto was probably the $130 million to the University of Alaska. This is a huge cut to their budget. I started a non-scientific Facebook poll yesterday asking if people think the Legislature should vote to override this veto. Here are the current result with over 2,000 votes.
The override question is the one everyone is asking. I have spoken to many legislators and staff. I don't think they have the votes to override much. 3/4 of the Legislature is required to override a budget veto. This is 45 votes. The 15 Republicans in the House Minority are either aligned with Dunleavy or too scared to cross him, likely fearing a primary challenger endorsed by him. Even if three or four of them voted for an override, there are still the three Valley senators plus Senator Lora Reinbold (R – Eagle River), that will likely not vote to override any of the veteos. There have only been a handful of veto overrides in the last 30 years. It looks unlikely that there will be any overrides.
Dunleavy is running ads for some Republican legislators. Here is one for Representative Sara Rasmussen (R – Anchorage). There is also one running for Representative Josh Revak (R – Anchorage). Rasmussen told me she asked them to take down the ad.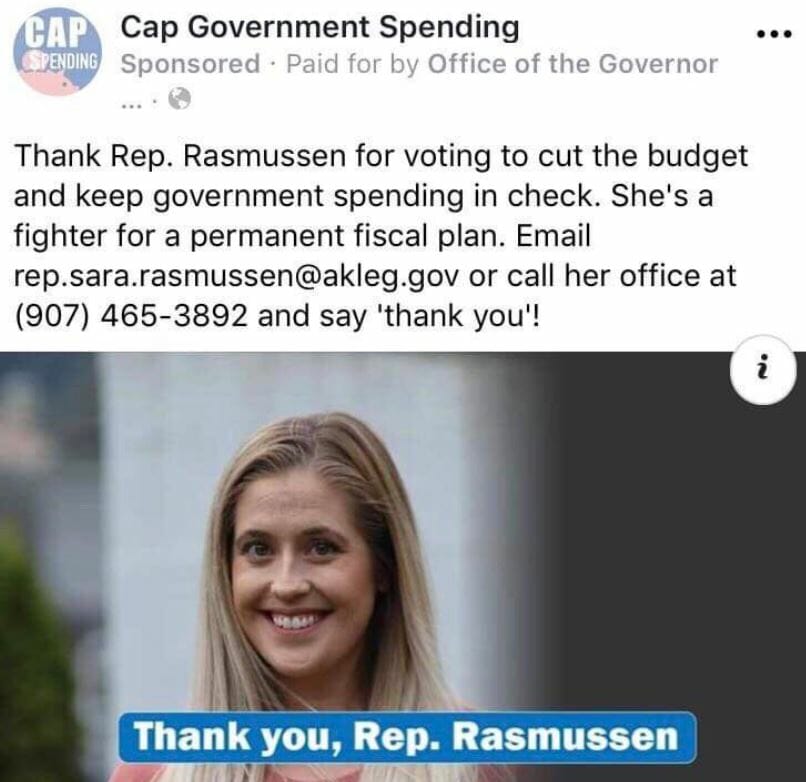 Second Special Session 
The other big question is where the second special session, that Governor Dunleavy called, is going to be held. Dunleavy called for it to be in Wasilla. This week the Legislature said they would gavel in in Juneau and then hold most of the meetings in Anchorage. The situation is unprecedented. There are several legal memos out there about the whole thing. This Landmine article explains it.
The crux of the issue is that the Legislature is one vote shy of the 40 votes they need to call themselves into a special session. Sources inform me there are 24 in the House Majority plus Representative Gabrielle LeDoux (R – Anchorage), eight in the Senate Majority and the six in the Senate Minority. Unless someone changes their mind we are on the verge of a constitutional crisis over this issue. I predict someone will change their mind. It's the smart thing to do. One, it averts this crisis. Two, it will allow the Legislature to add the capital budget funding issue to the call (Dunleavy only included the dividend). Three, it will get that person some serious positive press. And four, someone will owe them a big favor. Mark my words, when one changes their mind more will follow. Who will be the leader? Looking at you, Laddie Shaw.
Other Happenings
The Resource Development Council held their annual lunch meeting at the Dena'ina Center on Wednesday (6/26/2019). It was a packed house. Shout out to my boy DJ Fauske for inviting me to sit at his table. Jeanine St. John from Lynden was elected as the new president. Assistant Secretary of the Interior Joe Balash announced that the federal government will be transferring 1.3 million acres to the State. Keiran Wulff, the President of Oil Search Alaska and a true Aussie, gave an update on what Oil Search is doing on the North Slope. Lots of the women in the audience seemed to really enjoy his accent. One told me, "I could listen to that man talk for hours."
Senator Joe Manchin (D – WV) is in town. He was at a private event at an Anchorage home on Friday night that included Senators Lisa Murkowski (R – Alaska), Dan Sullivan (R – Alaska), and Congressman Don Young (R – Alaska). Word is he is headed to the Slope tomorrow. Manchin has been one of the few Democrats in the Senate that support drilling in ANWR.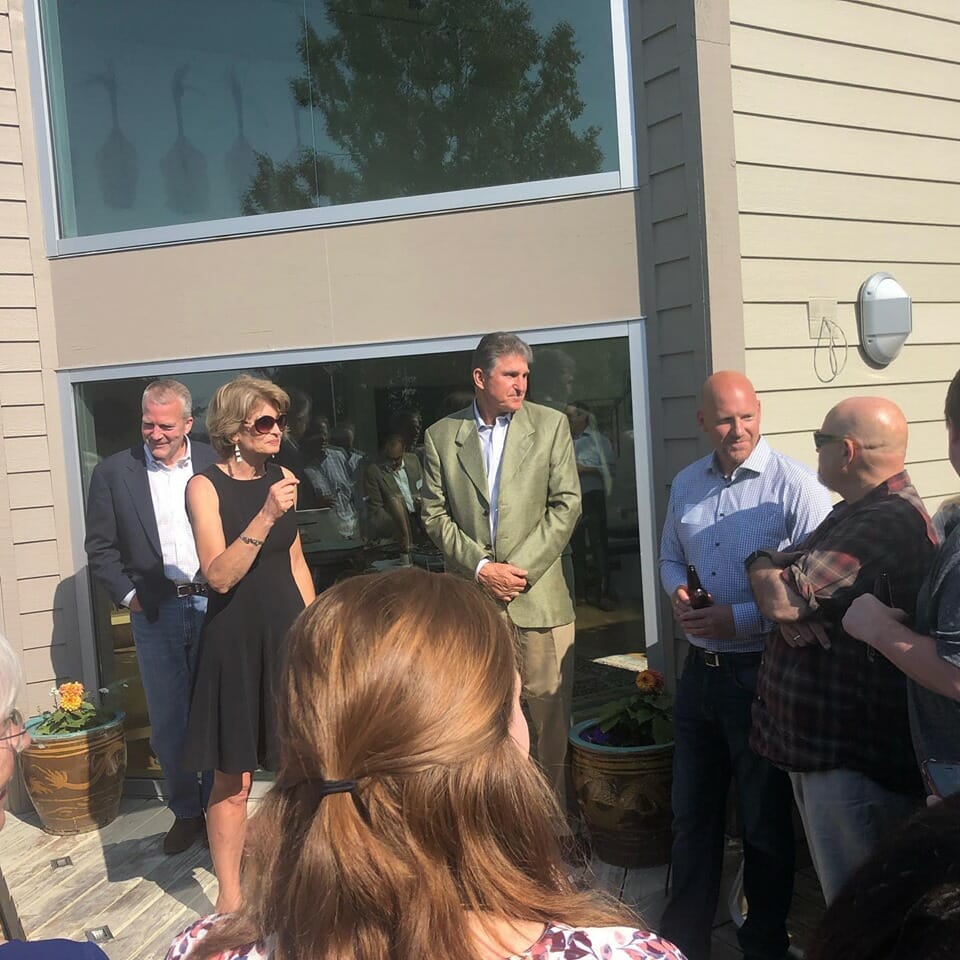 Speaking of Don Young. The legend is going for his 25th term!
Mary Ann Pruitt was having some fun in Chicago this week with some of her PS Strategies employees. I thought someone else was running the business lol.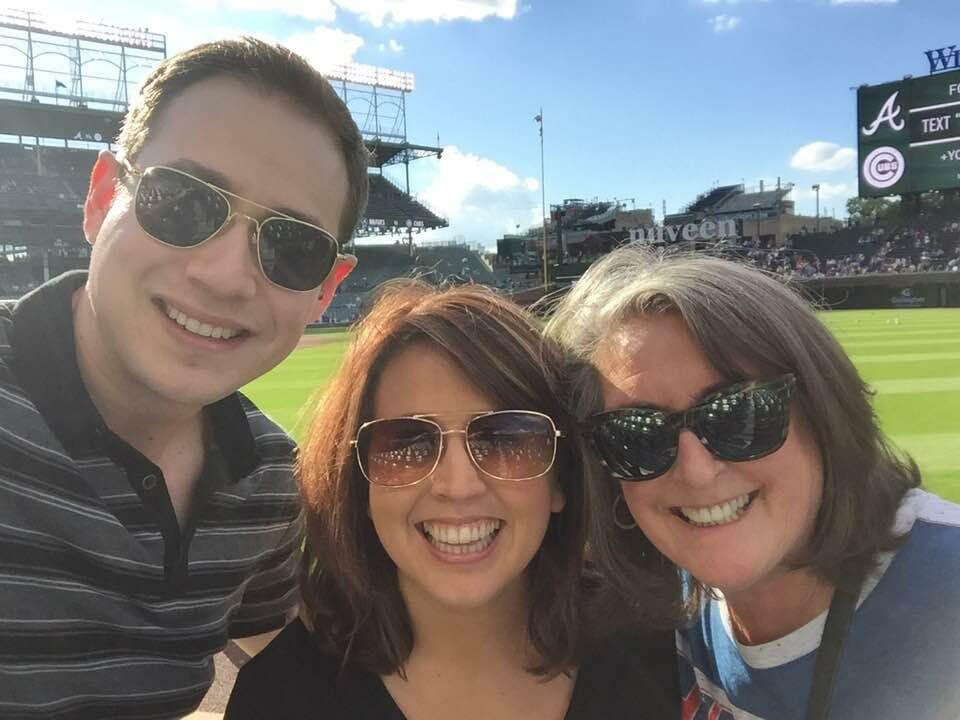 There is some talk that Liz Hensley, Anchorage attorney and daughter of Willie Hensley, is thinking about running against Representative Josh Revak (R – Anchorage). She's a Democrat. That would be an interesting one.
Will Treadwell, one of Mead Treadwell's sons, has joined the Marines. Nice, Will. Will has been living and working in D.C. for the last few years.
Word on the street is that Anchorage Mayor Ethan Berkowitz had two kayaks stolen from his house this week. Very loose.
Sources confirm that Lacey Sanders is leaving her job as Budget Director at the Office of Management and Budget. I got a tip that Hans Zigmund, a friend of Donna Arduin, will be starting soon as Director of the Division of Finance. His Linkedin page shows he has been working for the Governor of Illinois for the last few years. He looks like a very cheerful fellow.
Check out this exchange between Department of Public Safety Commissioner Amanda Price, policy advisor John Moller, and Representative John Lincoln (D – Kotzebue) at a meeting about public safety in Kotzebue. Lincoln was not happy.
This Week's Loose Unit
This week was tough. Between the Legislature going rogue on the special session, some saying they will go to Wasilla regardless, and Dunleavy's vetoes, there were many deserving candidates this week. But one person really stood out. This week's Loose Unit is Budget Director Donna Arduin. She clearly had a role in the huge vetoes from Dunleavy. Not that she really cares as her Facebook page still says she lives in Petoskey, Michigan. Very loose. But not long after the vetoes were announced, she updated her Facebook profile pic to this. Like what in the hell is that about? Looks like a big fuck you to Alaska. Classic Loose Unit!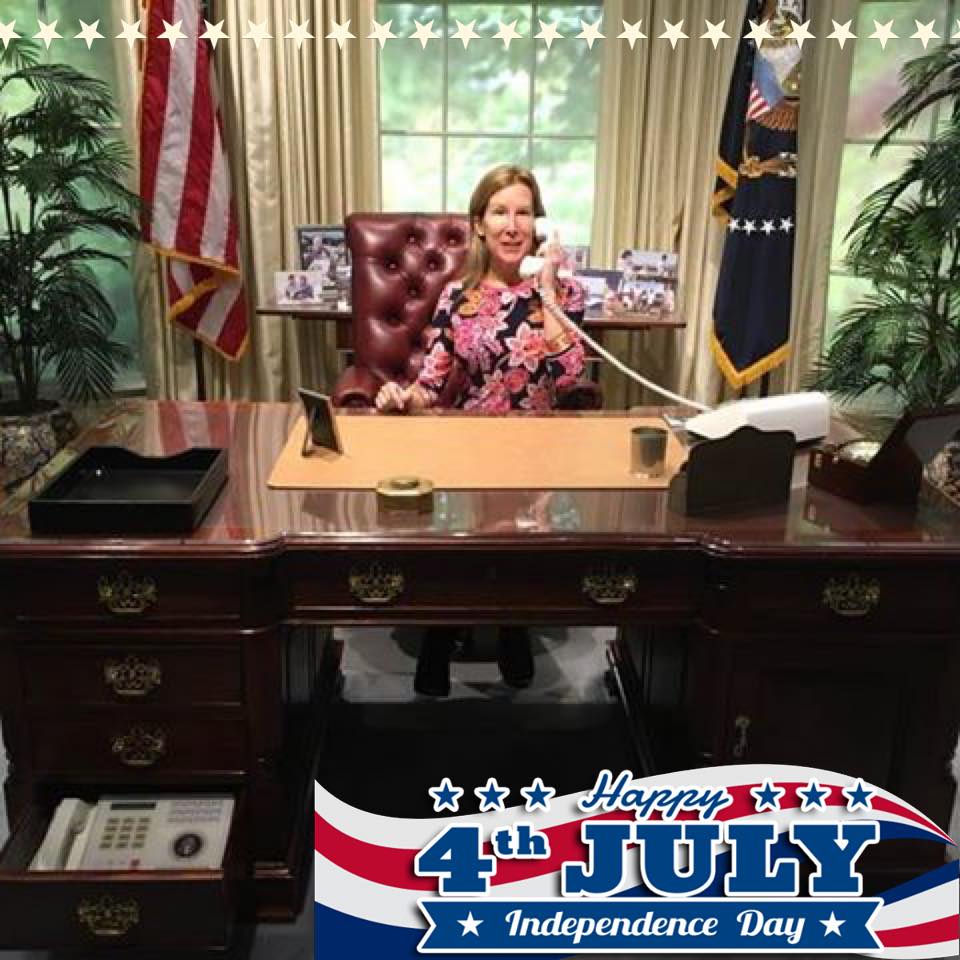 Her happiness must have not been very long lived because she then posted this pic. So loose. I wonder why she feels so alone?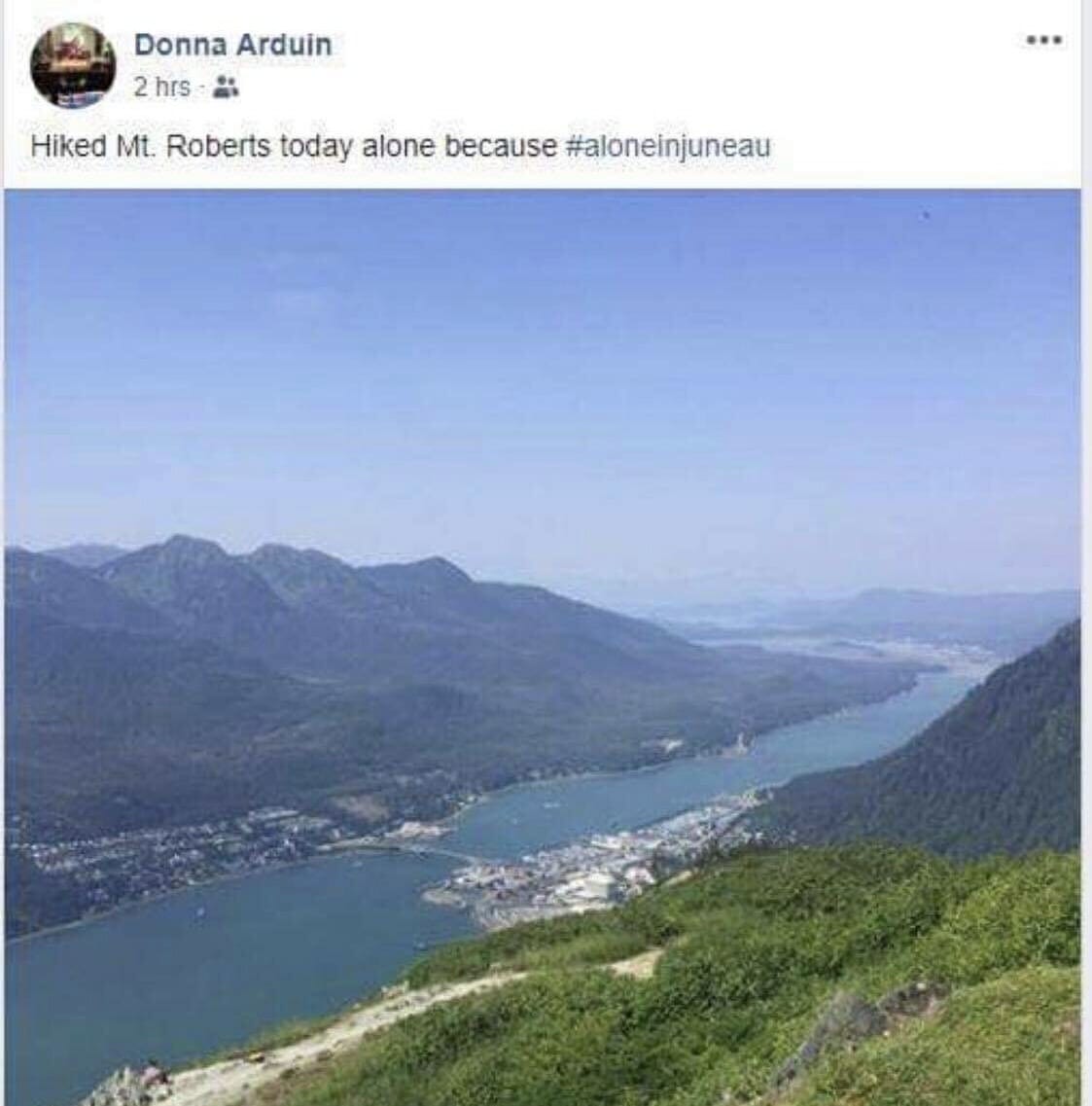 Donna, are you ok? Do you need a hiking partner?
If you have a nomination for this week's Loose Unit, or if you have any political news, stories or gossip (or any old pics of politicians or public officials) please email me at [email protected]