It was a wild week in Alaska politics. Al Gross' withdrawal from the U.S. House race, that the Landmine broke on Wednesday, culminated in an Alaska Supreme Court decision three days later that leaves us with just three candidates instead of four in the special congressional general election. The withdrawal deadline for the August primary election was on Saturday, meaning the field for the primary is now set. And a special election for a new seat on the Anchorage Assembly concluded on Tuesday.
Apologies for the Minefield being a day late. We had an issue with the website yesterday that ended up being a pretty technical database issue. Big thanks to my buddy Lauchie Johnston from LMJ Consulting for recommending Jesse at JP Technical, who then engaged Resource Data, and worked together to get us back up. It's awesome having local resources who can assist with these issues.
A friendly message and reminder to all our readers. The Landmine is made possible by myself and a team of awesome Alaskans. We are working hard to provide in-depth election coverage for all of the ongoing races. If you enjoy the content we provide, please consider making a one time or recurring monthly donation. You can click here to donate. We have a donation system that makes it super easy. We would really appreciate it. And thanks to everyone who has been supportive!
Super Special Election 
Alaska's first ever top-four ranked choice election in August will only have three candidates on the ballot. After Independent Al Gross – who finished in third place in the U.S. House special primary election – abruptly withdrew from the special regular election on Thursday (6/23/2022). Most people assumed Republican Tara Sweeney, who finished in fifth place, would get moved up. The new election system requires the fifth place finisher to move up if one of the top-four finishers drops before the withdrawal deadline. But the statute says a candidate needs to withdraw 64 days before the election to be replaced. For the primary and general elections, those withdrawal deadlines correspond with the statute. But because this is a special election to replace the late Don Young, the dates got screwed up.
Per statute, Governor Mike Dunleavy (R – Alaska) called the dates of the special election. It's clear he wanted the special general election to be on the same date as the regular primary election (August 16) to save money. Because the special primary was held on June 11 and the special general election is on August 16, a candidate in the top-four would have had to withdraw by June 12 – the day after the special primary – for there to be four people on the special general ballot. But the withdrawal deadline for the special general was June 26. Are you following? Don't worry, no one really understands how this happened.
A lawsuit to get Sweeney on the special general ballot was filed on Friday. A superior court judge ruled that statute was clear and that Sweeney would not appear on the ballot. That decision was upheld by the Alaska Supreme Court. Oddly, Republican Nick Begich, the second place finisher, intervened in the lawsuit on behalf of the state. So the bizarre result is that the "top-four" special ranked choice general election – where  48 candidates ran in the primary –  will only have three candidates: Republicans Sarah Palin and Nick Begich, and Democrat Mary Peltoa. The absurdity is on another level.
Many assumed Sweeney would withdraw from the regular primary after finishing in fifth place in the special primary. But after all that went down she has decided to run in the regular primary. There were originally 31 candidates in the regular U.S. House primary election, but several withdrew, leaving only 22. The candidates who withdrew from the regular U.S. House primary are:
Republican John Coghill
Anchorage Assembly member Chris Constant, a Democrat
Independent Al Gross
Independent Bill Hibler
Independent Jeff Lowenfels
Republican Mike Melander
Democrat Mike Milligan
Senator Josh Revak (R – Anchorage)
Representative Adam Wool (D – Fairbanks)
Based on the results from the special primary, Sweeney has a good chance of being in the top-four in November with Palin, Peltola, and Begich. But whoever wins the special general is going to have a huge advantage going into the November general election. It's going to be a wild next few months.
Primary Withdrawal Deadline
In addition to the candidates who withdrew from the regular U.S. House primary, several withdrew from the U.S. Senate race and some legislative races. The withdrawal deadline for the primary was on Saturday. The field is now set for the August primary. Keep in mind in the new system the top-four vote getters advance to the ranked choice general. For all but one of the 59 legislative races there are four or fewer candidates, so the primary is just a formality for 58 legislative races. The withdrawal deadline for the November general election is September 5. Unlike the special election debacle, the withdrawal deadlines for the August primary and November general correspond with the statute.
Three candidates withdrew from the U.S. Senate primary, leaving 19 total:
Senator Elvi Gray-Jackson (D – Anchorage), who decided to run for re-election to the State Senate instead
Republican Samuel Little
Alaska Independence Party candidate Shellie Wyatt
Senator Peter Micciche (R – Soldotna), who is not seeking re-election, withdrew several weeks ago. His seat has three candidates: Republicans Tuckerman Babcock and Jesse Bjorkman, and Independent Andy Cizek.
Republican Mark Anthony Cox withdrew from the South Anchorage Senate primary. This leaves three candidates: Incumbent Senator Roger Holland (R – Anchorage), former Senator Cathy Giessel, a Republican, and perennial Democratic candidate Roselynn Cacy. This will be a race to watch between Holland and Giessel.
Senator Tom Begich (D – Anchorage), who is not seeking re-election, withdrew weeks ago. His former staffer Democrat Loki Tobin faces a heads up match against Independent Heather Herndon in a very Democratic district. Democrat Ed Wesley is rumored to be mounting a write-in campaign. In the new system write-ins are only allowed in the general.
Republican Rick Castillo withdrew from the House District 9 race weeks ago. This leaves incumbent Representative Laddie Shaw (R – Anchorage) being challenged by Democrat David Schaff.
Independent Jennifer Sonne withdrew from the House District 11 race. She announced weeks ago she was dropping but only recently officially withdrew. This is an open seat because the incumbent, Representative James Kaufman (R – Anchorage), is running for the open State Senate seat that Senator Josh Revak is not seeking re-election for. This leaves three candidates in the House race: Republicans Ross Bieling and Julie Coulombe and Independent Walter Featherly.
Representative Chris Tuck (D – Anchorage) withdrew from the House District 13 race. Redistricting paired Tuck with his colleague Representative Andy Josephson (D – Anchorage). This leaves Josephson facing Republican Kathy Henslee and Alaska Independence Party candidate Timothy Huit.
Democrat Jim Wright withdrew from the House District 14 race. This is an open Anchorage seat where Independent Alyse Galvin faces perennial Republican candidate Nick Danger.
Independent Peter Knox withdrew from the House District 21 race. This is the an open House seat because Reprersentive Liz Snyder (D – Anchorage) is not seeking re-election. Three candidates remain: Democrat Donna Mears, Republican Forrest Wolfe, and Independent Patrick Sharrock.
Republican Jessica Reimann withdrew form the House District 26 race. This leaves incumbent Reprersentive Cathy Tilton (R – Wasilla) facing Libertarian Daniel Stokes.
Republican Joe Griffin withdrew from the House District 30 race. This leaves incumbent Representative Kevin McCabe (R – Big Lake) facing Republican Doyle Holmes and Democrat Joy Mindiola.
Other Happenings 
Progressive Daniel Volland will be the new twelfth member of the Anchorage Assembly. Conservative Stephanie Taylor was a little too close for comfort for many progressives in the very liberal Downtown Anchorage district. This was due to progressive Tasha Hotch getting more than 16% of the vote. Also note the very low turnout for a June special election. The special election is scheduled to be certified on July 12.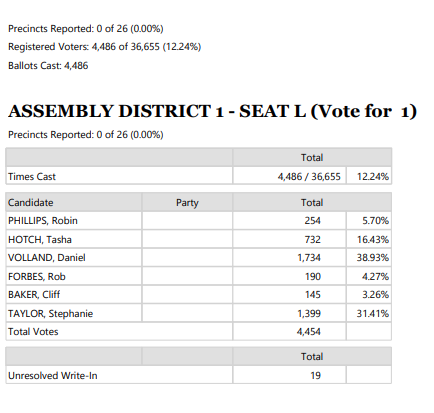 Governor Dunleavy appointed Environment Conservation Commissioner Jason Brune as lieutenant governor successor this week. Brune replaces former Education Commissioner Michael Johnson for the position. Lieutenant governor successor becomes lieutenant governor if the lieutenant governor dies or resigns or if the governor dies or resigns and the lieutenant governor becomes governor. Dunleavy also appointed Brune to the Alaska Permanent Fund Corporation's Board of Trustees this week. A big week for Brune, who is one of the few remaining original Dunleavy people.
Dunleavy also appointed Akis Gialopsos as acting Natural Resources commissioner this week. He replaces Corri Feige, who recently retired. Gialopsos was serving as Dunleavy's legislative director and was previously his deputy chief of staff. Before that he was a longtime legislative staffer, most recently serving as former Senate President Cathy Giessel's chief of staff.
This Week's Loose Unit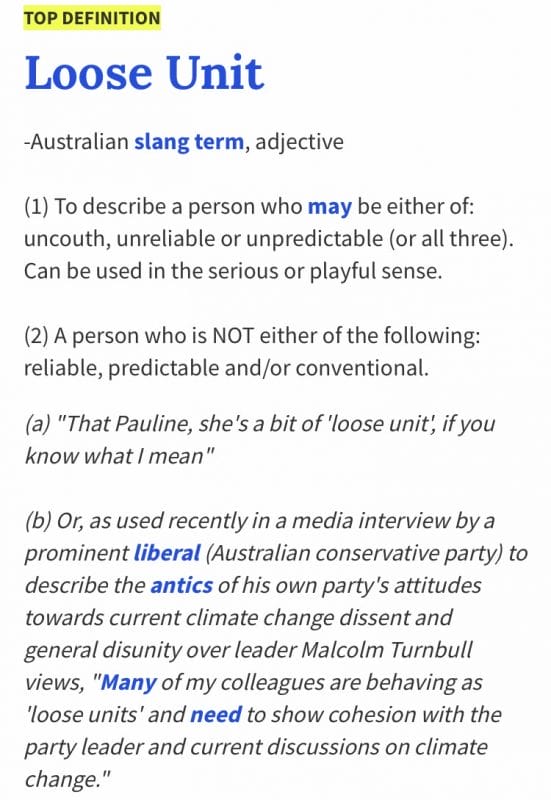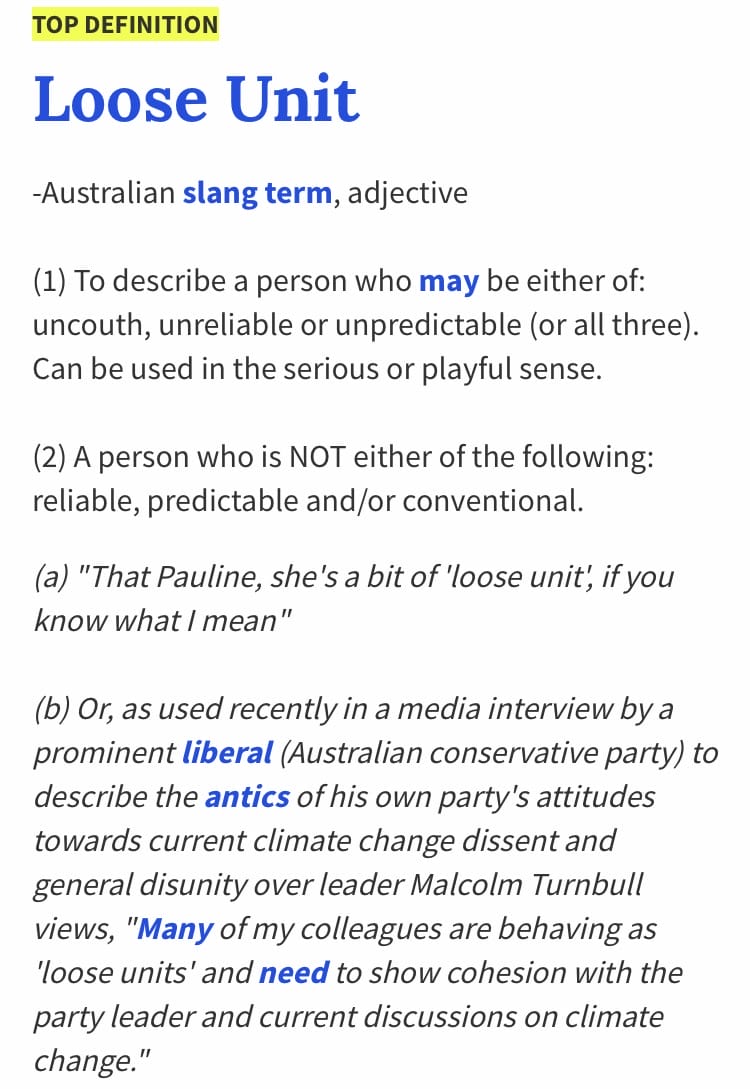 This week is one of those no brainer weeks. This week's Loose Unit is Al Gross. There's not that many words required to articulate how loose his behavior was this week. Gross suddenly withdrew from the special U.S. House general election after getting third place in the special primary and spending hundreds of thousands of dollars. He did this with zero explanation as to why. There's been plenty of rumors, which probably explains why he did not give a reason. Gross was campaigning days before his sudden withdrawal. Which makes the withdrawal that much more loose. And the loosest part is now there are just three candidates for the special general instead of four. I think it's safe to say Al Gross' career in Alaska politics is over. Classic Loose Unit.
If you have a nomination for this week's Loose Unit, or if you have any political news, stories or gossip (or any old pics of politicians or public officials) please email me at jeff@alaskalandmine.com.