The first special session of the 31st Alaska Legislature ended this week. But right after, Governor Mike Dunleavy (R – Alaska) called them back into another special session – this time in Wasilla! It is set to start on July 8 and the only item is the PFD.
A friendly message and reminder to all our readers, the Landmine is made possible by myself and a team of awesome Alaskans. It takes a lot of work to provide the content we do. If you enjoy the content we provide, please consider making a one time or recurring monthly donation. You can click here to donate via PayPal. We would really appreciate it. And thanks to everyone who has been supportive!
The Governor
Governor Dunleavy isn't exactly getting what he wants. The Legislature sent him an operating budget this week, but it did not include a PFD and most of the cuts in his proposed budget were reversed. However, he does have strong veto power. He can either veto the entire budget or use a line item veto. If he gets too loose with his vetoes, the Legislature might have the votes to override. This takes 45 votes during a joint session (3/4 of the membership for appropriate overrides). It's very hard to get 45 votes. He also risks alienating more members of the Legislature with excessive vetoes. This is really the only leverage they have to give him a full PFD, something he clearly stated he wants.
He has 20 days (not including Sundays) to act on the budget. That date is July 6. But a government shutdown – something that has never happened before – would happen on July 1 if he fails to act on the budget. He has basically said there won't be a government shutdown. So expect him to decide what he is going to veto before that.
This Landmine article explains the scenarios and how the Legislature may handle it.
And now the second special session. After Dunleavy called them into a second special session, at Wasilla Middle School, he held a press conference there to explain why. It was probably also about building the narrative to the public that it will be held there. Notice in the proclamation that it says "recommended venue." The governor can choose a location. But it is ultimately up to the Legislature to decide the venue for a special session.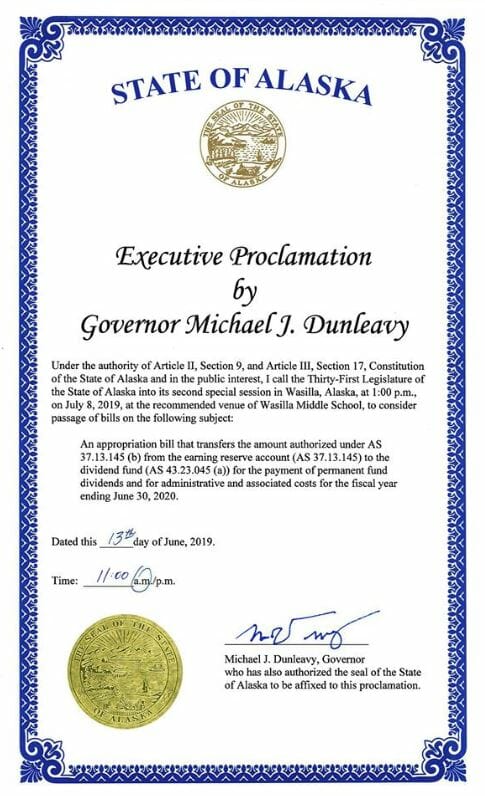 After the press conference, that included Representatives David Eastman (R – Wasilla) and George Rauscher (R -Sutton), as well as Wasilla Mayor Bert Cottle and other city officials, Dunleavy's Deputy Chief of Staff, Jeremy Price, gave the media a tour of Wasilla Middle School. Floor sessions would be in the gym. The cafeteria would be serving food. Sloppy joes should be on the menu!  Here is a link to a Facebook Live I did of the tour.
Governor Dunleavy decided to release the $20 million for education that was approved by the Legislature last year. That money is for the current fiscal year. This does not end the dispute over the forward funded money for the upcoming fiscal year. Dunleavy thinks the Legislature needs to include it in the budget. The Legislature disgaress because it was forward funded last year. A court battle over the issue is all but inevitable.
Check out this letter from Big Mike when he was a senator. Yikes.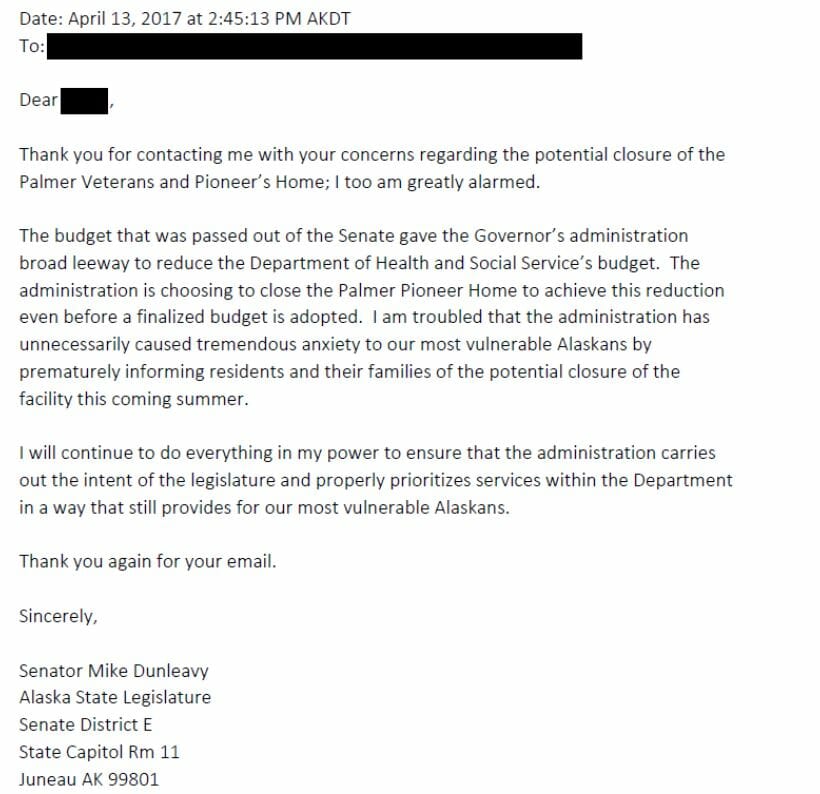 The Legislature
The Legislature sent Governor Dunleavy a capital budget that was mostly unfunded. The House Finance Committee decided to use the Constitutional Budget Reserve (CBR) to fund the capital budget. This requires a 3/4 vote. The budget passed but the 3/4 vote failed. This was likely done to tie the reverse sweep, which also requires a 3/4 vote, to the funding for the capital budget.
On July 1, as soon as the new fiscal year begins, a bunch of money in different accounts, that is designated and not dedicated, gets swept into the general fund. This includes things like Power Cost Equalization, the Renewable Energy Fund, and several others. Usually there is a reverse sweep and as soon as the money gets swept it automatically gets reversed. But the Legislature did not have the votes for it this time. The Republicans in the Minority finally have some leverage. But I thought Republicans loved capital budgets? Once the money gets swept it can later be put back. But in the meantime all those funds will not be able to be used for their intended purposes. Which is in law by the way (follow the law?). The capital budget also includes funding for elements of the recently passed crime bill, as well as money for federal highway and aviation projects that get major federal matching.
Did you catch that folks? Everyone's favorite crime bill, HB 49, is virtually unfunded because of this voting stunt by the House Minority. Good thing they were so supportive of crime reform! But that seems to be the House Minority's tactic these days – vote for the bill, but don't vote for funding it. How does that work? Did the Governor tell them to do this?
Let's not pretend that Representative Lance Pruitt's (R – Anchorage) "connection" to the Governor's Office isn't influencing this move from the House Minority. The Governor will get exactly what he wants on June 30 when all of these subaccounts of the General Fund are drained in the sweep. After all, Dunleavy never included the reverse sweep provision in his original budget proposal. He couldn't get his bills passed to repeal some of these funds, so he's going through the back door to drain the accounts.
Pruitt has experience in the Legislature. He's played the game. Stunts like this make me wonder if he is being upfront with the freshman legislators in his caucus about the repercussions of these votes they are taking. How do you go back to your constituents and talk about the crime bill you supported passing, but leave out the part where you voted against funding it? Do they just think their constituents won't notice?
The Legislature could call themselves back into a special session. But that requires 2/3, or 40 members, to agree. Sources say that they don't think the Legislature has the numbers for that right now. But that could change.
The Legislature also did something that I predicted they would. Legislative Council voted to pay themselves back the per diem they did not receive after the Legislature had not passed a budget by day 121. This was from a law passed last year, championed by former Representative Jason Grenn. The idea was that if they did not pass a budget by the end of session then they would not receive per diem until they did. It was supposed to be an incentive for them to get their work done. I have mixed feelings on it. The intent was clear. But living in Juneau is expensive, especially in the summer. Legislators only earn $50,000/year and the vast majority don't live in or have a place in Juneau. There are specific reasons that per diem for legislators is in the Alaska Constitution. Before statehood, legislators in the Territorial Legislature would get bought off by different special interests. We're supposed to have a citizen legislature but the current reality is that most citizens can't afford to be in it.
It was something else hearing Senators Lora Reinbold (R – Eagle River) and David Wilson (R – Wasilla) vote yes on the Conference Committee report on the operating budget. The Senate Majority is binding on this vote. It was the saddest "yes" I have ever heard in my life.
The Legislature established a working group on the Permanent Fund. You can see the members below. They have already had a few meetings.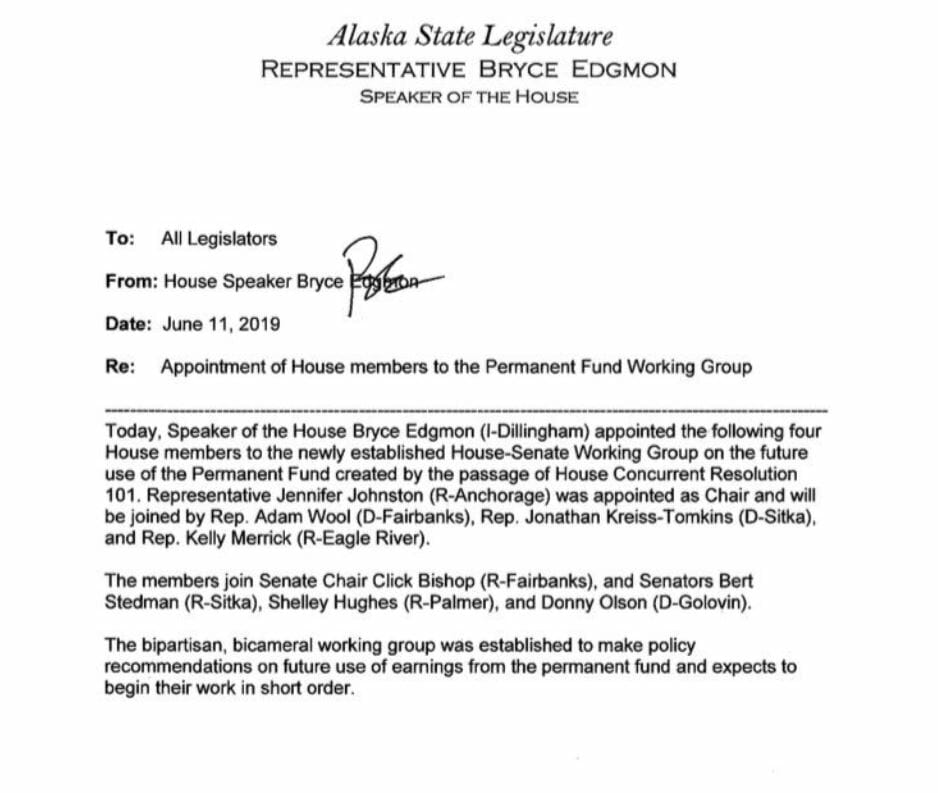 Brad Keithley is not impressed with the group lol. Thanks for the shout out, Brad!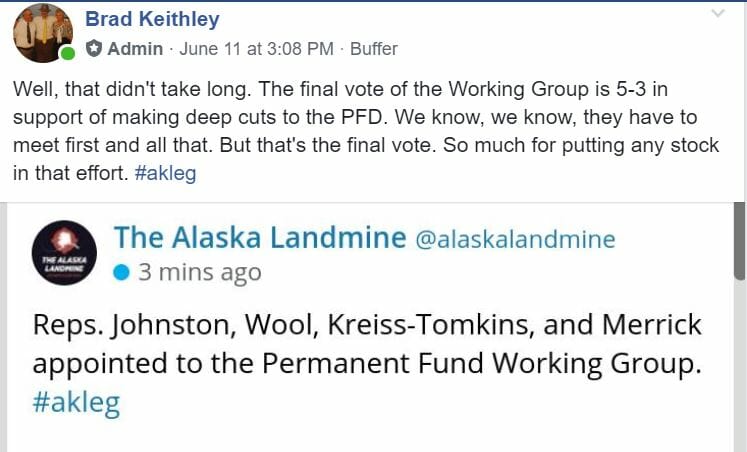 Yesterday, I reported on Twitter that Senator Mike Shower (R – Wasilla) was prevented from hiring former Senator Scott Ogan as a staffer again. This was confirmed by several sources. Shower had put out a poll on Facebook asking people whether he should be able to hire who he wants. Senator Shower contacted me and said it has due to a miscommunication and Ogan has been hired for the interim. I would have loved to be a fly on the wall during those conversations.
1/2 Sources confirm that Senate President Cathy Giessel has forbidden Sen. Mike Shower from hiring former Sen. Scott Ogan as his staffer again. Apparently, Ogan was interfering with talks between the Senate and House earlier this session. #akleg

— The Alaska Landmine (@alaskalandmine) June 15, 2019
Other Happenings
There have been quite a few politicos switching jobs recently. Here is a breakdown:
Albert Fogle, the vice president of the Alaska State Chamber of Commerce, left the Chamber this week. He got a job great offer at Moda Health. Hey Kati, you looking for a new VP???
The Wilderness Society announced that Karlin Itchoak has joined their staff as Alaska state director and will, over the next few weeks and months, be expanding his role as a spokesperson for the organization.
Jamie Allard is no longer at the Department of Military and Veterans Affairs.
Jamie Allard, former candidate for State House in Eagle River, who was hired as a Special Assistant to the Commissioner of Dept. of Military and Veterans Affairs, is no longer working there. Her last day was May 23. It's unclear why she left as it's a "personnel matter." #akleg

— The Alaska Landmine (@alaskalandmine) June 14, 2019
On a sad note, Casey Reynolds and Amy Coffman have left Alaska and moved to Kansas City to be closer to family. I have gotten to know them well over the years. I was lucky to work with Amy on my role as a commissioner on the Anchorage Sister City Commission. She's an awesome public servant. I will never forget when Casey schooled me up when I went on his radio show in 2012 when I was running for State Senate. He asked me what committee I would like to be on if I won. I said the finance committee (the only one I really knew). He was like, "Yeah, that's not going to happen. What do you really want to be on?" They will be missed by many here in Alaska. I wish them all the best on their new venture. I will definitely come visit!
Hilcorp held an event on Thursday on the Slope for Moose Pad coming online. I'm told it was VERY high level. Governor Dunleavy, as well as oil and gas leaders were there.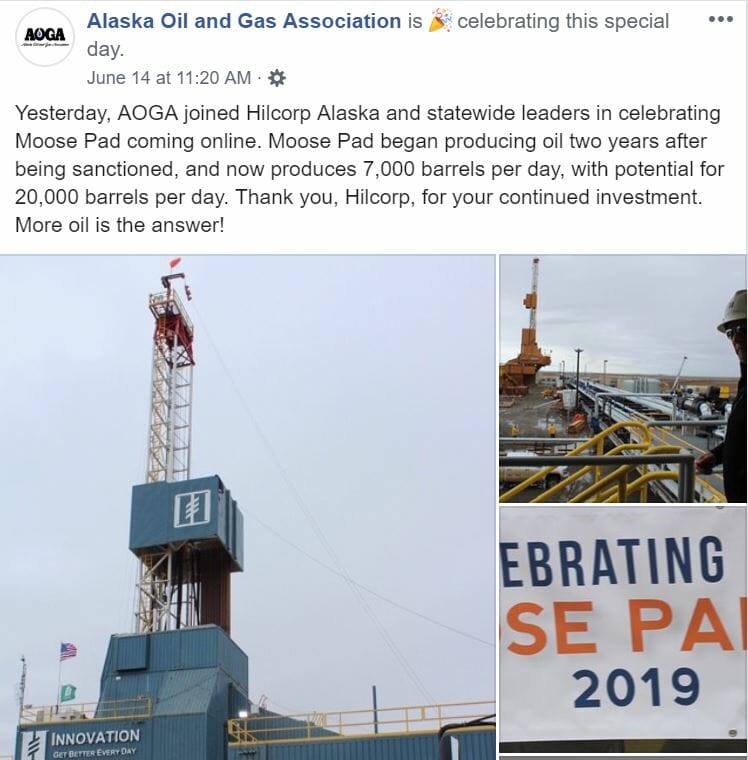 This Week's Loose Unit 
As usual, there were no shortage of Loose Units this week. But one thing that happened made this week's winner clear. This week's Loose Unit is the House Minority. As I stated above, the Republicans in the Minority blocked the draw on the CBR to fund the capital budget. This alone is very loose considering all the private sector jobs the capital budget provides. But what really earns them Loose Unit status is why they did it. An amendment for a $3,000 dividend was introduced by Representative Dave Talerico (R – Healy). A bunch of Republicans from the Minority signed onto it, as well as Representative Gabrielle LeDoux (R – Anchorage). What ensued was a bunch of Republicans whining about a government check. The amendment was voted down 15-21. As one longtime staffer told me, "You know things are fucked up when Andy Josephson is the fiscal conservative in the room."
So, because the dividend amendment failed they decided they would hold funding for the capital budget hostage because they did not get their way. Republicans voting against funding for a capital budget, that would create private sector jobs, because they did not get their way on a government check. Very loose! And I would be remiss if I did not include the extreme Loose Units who voted FOR the capital budget but AGAINST the CBR draw to fund it. This is as loose as it gets. These folks are:
Representative Kelly Merrick (R – Eagle River)
Representative Lance Pruitt (R – Anchorage)
Representative Sara Rasmussen (R – Anchorage)
Representative George Rauscher (R – Sutton)
Representative Josh Revak (R – Anchorage)
Representative Colleen Sullivan-Leonard (R – Wasilla)
Representative Dave Talerico (R – Healy)
Representative Cathy Tilton (R – Wasilla)
Representative DeLena Johnson (R – Palmer)
Talk about having your cake and eating it too. I have a feeling when trade groups and donors start putting pressure on them, most of them will change their mind and vote to fund the capital budget. So loose.
If you have a nomination for this week's Loose Unit, or if you have any political news, stories or gossip (or any old pics of politicians or public officials) please email me at jeff@alaskalandmine.com.