We are a more than a week into July and summer in Southcentral has been, so far, disappointing. Southeast, on the other hand, has had some great summer weather recently. The not great weather did not stop Alaskans from enjoying a long 4th of July weekend. I was down in Seward for Mount Marathon and spotted several politicos in the crowd. Things in the political realm remain slow as there is no election this year. Some politicos are on the move, including Governor Mike Dunleavy's (R – Alaska) tax director, who was quietly let go two weeks ago.
A friendly message and reminder to all our readers. The Landmine is made possible by myself and a team of awesome Alaskans. I recently got back from Juneau for my fifth session in a row reporting on the Legislature. If you enjoy the content we provide, please consider making a one time or recurring monthly donation. You can click here to donate. We have a donation system that makes it super easy. We would really appreciate it. And thanks to everyone who has been supportive!
Interim Staff Lists
The interim legislative staff lists with salaries are out. The Alaska Political Report obtained them from the Legislative Affairs Agency. Legislators are usually assigned more staffing points during session than interim. Some staff are session only, while most are year-round. Majority members typically have more staff points than minority members. Several legislators have made staffing changes since session.
You can see the breakdown of staff salaries for the House and Senate at these links:
Other Happenings 
Brooke Ivy, a former legislative staffer, has been hired by the oil company Santos as their new senior advisor of government affairs. Congrats, Brooke! She comes from the Alaska Children's Trust, where she was the VP of policy and advocacy. Prior to that she was the external affairs manager at the Alaska Oil & Gas Association.
The problems with the large homeless camp on 3rd Avenue are ever growing. In addition to the vandalism and theft local business owners are experiencing, someone recently spray painted "WHYTE POWER" on the street. The guy clearly never won a spelling bee. It was caught on surveillance, which was posted to the 3rd Avenue Radicals Facebook page. I have heard no outcry from any elected city officials about this. It appears if you are homeless you get a pass from spray painting that kind of garbage on the street.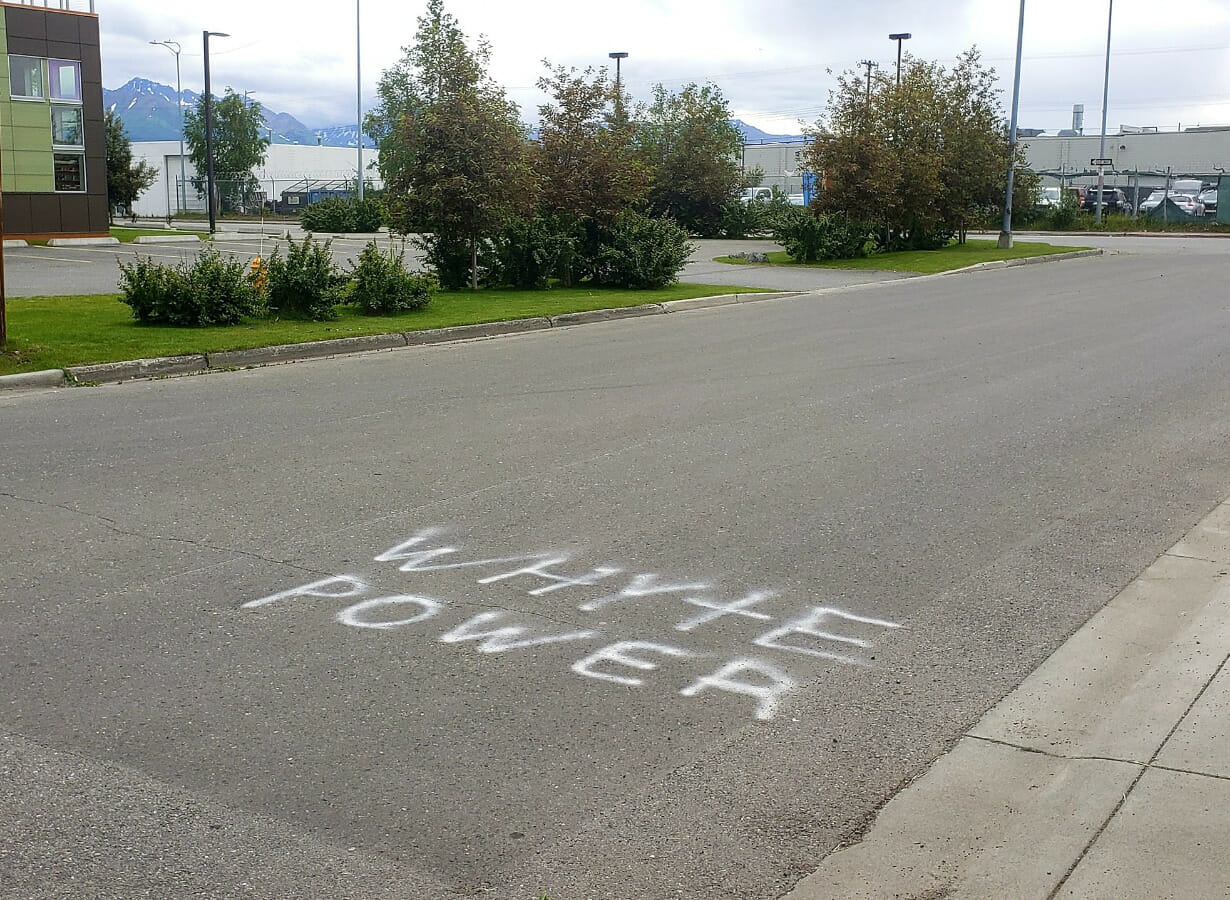 Sara Erickson, owner of AlaSkins, was presented with the state's annual Manufacturer of the Year award this week in Soldotna. Congrats, Sara! Several politicos were in attendance including Representative Justin Ruffridge (R – Soldotna) and Kenai Peninsula Borough Mayor Peter Micciche. Oddly, Governor Dunleavy was in town and only a few miles away, but opted not to come to the presentation. Erickson is the sister of former Representative Chuck Kopp.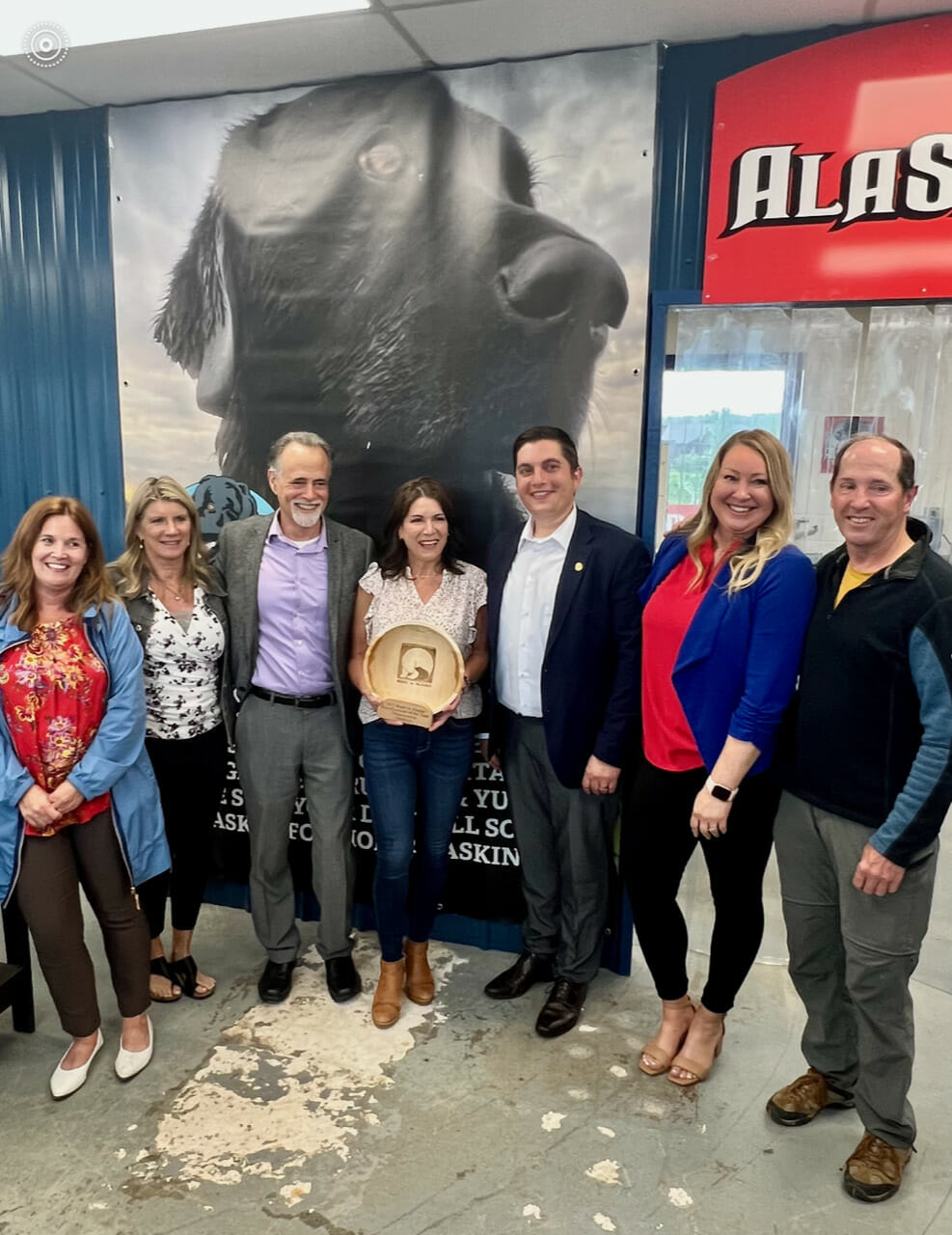 July 1 marked two years in office for Anchorage Mayor Dave Bronson. I recently did a podcast with him where he reflected on his first two years in office and discussed some of the major issues facing Anchorage including homelessness, housing, and the Port of Alaska. The mayoral race is nine months away. So far Bronson, former Anchorage Assembly member Suzanne LaFrance, former Representative Chris Tuck, and Darin Colbry have filed letters of intent to run. There is a lot of chatter that Bill Popp, president and CEO of the Anchorage Economic Development Corporation, will get in the race in the fall. The deadline to file is not until January. Every third year, when the mayor is up, there are no Assembly races. So the next six Assembly seats up will not be until April 2025.
This Week's Loose Unit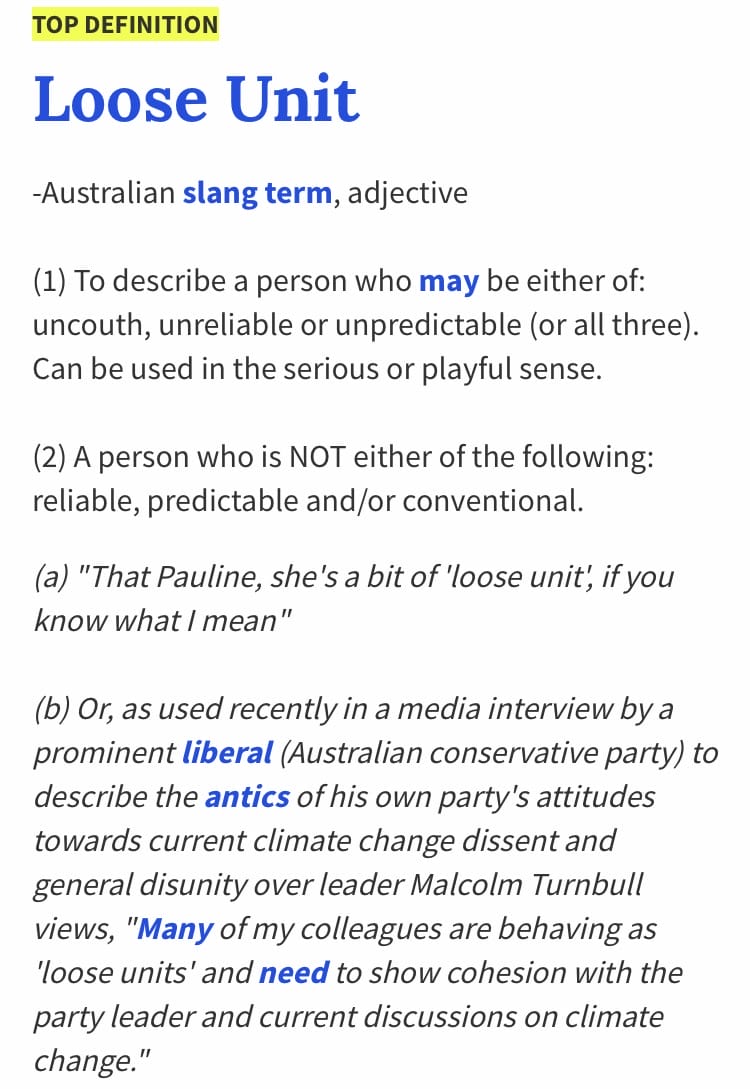 This week's designee became clear after a tip to the Landmine panned out. This week's Loose Unit is Revenue Commissioner Adam Crum. On Thursday, I received a tip that Tax Director Colleen Glover, who has served in the role since Dunleavy took office in 2018, was let go. At first I thought it was suspect because there was no announcement about it. After some digging, I confirmed she was in fact fired. But it gets much looser. It turns out Crum fired Glover two weeks ago! No announcement was made and several legislators told me they were not informed of the decision. While Glover was in a partially exempt position and served at the pleasure of Crum, not telling the public or legislators the tax director was let go is classic Loose Unit behavior.
The tax director oversees all major tax collections to the state, as well as manages the audit process to ensure taxpayer compliance. It's an important role in government. And it gets looser. A good source reported that Cody Rice was the new tax director. But then I was told that had not been finalized. Brandon Spanos, the deputy tax director, is listed on the Tax Division's website as acting commissioner, but few people in the administratoin seemed aware of that. Very loose.
This is not the first high profile departure in the Department of Revenue since Crum stepped into the role. In February, then-Deputy Commissioner Brian Fechter abruptly resigned. Fechter's departure was also not announced. The Department of Revenue manages billions in tax revenue to the state. They should be the most transparent department. But Crum seems to enjoy a more opaque style of management. Very loose.
If you have a nomination for this week's Loose Unit, or if you have any political news, stories or gossip (or any old pics of politicians or public officials) please email me at jeff@alaskalandmine.com.