I hope everyone had an awesome Independence Day holiday weekend. The weather around much of the state was amazing! Hopefully we don't see an increased spike in positive COVID after the weekend. As I'm sure everyone is aware, COVID is on the rise throughout the state. My hiking plans fell through so I enjoyed a nice weekend in Anchorage getting caught up on some work. Enjoy the column!
A friendly message and reminder to all our readers, the Landmine is made possible by myself and a team of awesome Alaskans. It takes a lot of work to provide the content we do. If you enjoy the content we provide, please consider making a one time or recurring monthly donation. You can click here to donate. We have a donation system that makes it super easy. We would really appreciate it. And thanks to everyone who has been supportive!
COVID-19
Positive COVID cases have been on the rise around the state for the last few weeks. Here is the latest graph from the State of Alaska's dashboard. Testing has become easier to get so it could be that we are just seeing more positive cases because more people are being tested. But since businesses have opened back up people are around each other more. This has likely contributed to the spread. It's hard to say what the next few weeks or months will bring but we clearly are not out of the woods yet.

On Friday (July 3) Anchorage Mayor Ethan Berkowitz released the names of several bars on restaurants around Anchorage (and a few in the Valley) where customers had tested positive for COVID. State and local officials say that because of the increase in positive test results they no longer have the capacity to successfully contract trace. Some business owners and legislators are not happy that Berkowitz only released the names of bars and restaurants, or that he included some not located in Anchorage. Matt Tomter, the owner of the Matanuska Brewing Company posted this on the business's Facebook page. Senator Shelley Hughes (R – Palmer) made this Facebook post. It will be interesting to see what Berkowitz says when asked about this.
Other Happenings 
The Alaska CARES grants to small businesses continues to be a problem. Because so many small business have received some other form of federal aid they are not eligible for a state grant. As of June 30 just over $6 million of the $290 million has been disbursed. Talk of the legislature returning to Juneau to fix this is ongoing but it is looking less likely they will go back before the August primary. The House Labor and Commerce Committee held a hearing on the matter this week. You can watch it here. There is a lot of compelling testimony.
The House State Affairs Committee held a hearing this week on the election ballot measure. Interestingly enough Kay Brown, a former legislator and former chair of the Alaska Democratic Party, and Glenn Clary, the current chair of the Alaska Republican Party, both testified against the initiative. Neither like the ranked choice element of the ballot initiative. Brown's testimony was measured and normal. Clary kind of went off the rails. The best part was when he said the ballot initiative is, "Paving the way for the elite to control the will of the people. Voters want to decide for themselves who will represent them, not some monkey business jungle primary backroom sleight of hand process to manipulate the voting process for the benefit of the few." You can watch the hearing here.
Monday July 29 was the last day to withdraw from the primary. Peter Hoepfner, who was running as a Democrat against Representative Louise Stutes (R – Kodiak), withdrew from the race. No one else is running in that race so now Stutes is unopposed. This brings the total number of legislators running unopposed to ten. The deadline to withdraw from the general is August 31.
BP Alaska turned over the keys to Hilcorp this week. This ends over 60 years of them operating in Alaska. Their corporate team was quick to take Alaska off their website. As a final parting gift BP made a more than $3 million donation to OneAlaska on June 25. $3,004,994.00 to be exact. You can see it on an APOC report the group filed yesterday.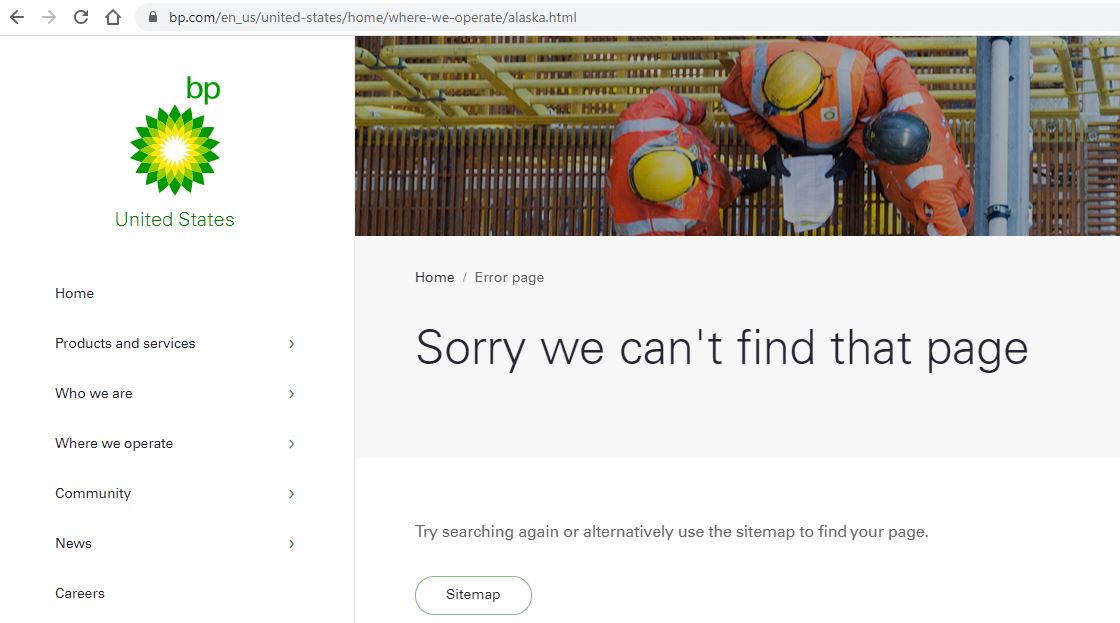 Some new independent expenditure groups have registered in the last few weeks. One is Make Liberty Win Alaska. According to their APOC filing their purpose is, "Supporting pro-liberty candidates." Another is Future Now Fund – AK. According to their filing their purpose is, "To elect the next generation of American leaders with a focus on state legislatures." All the agents for the Future Fund Now – AK are in D.C. Look for a lot of money, both from within the state and outside of the state, to pour in this election cycle.
One of the reporters at the Juneau Empire tested positive for COVID-19. Wishing them a quick recovery.
Sources confirm a @JuneauEmpire reporter has tested positive for COVID-19. No word on how exactly the 4-person newsroom at the Empire is dealing with this but we are told they are all in quarantine until everyone gets tested. Stay safe! #akleg

— The Alaska Landmine (@alaskalandmine) July 3, 2020
Tom McKay, who is challenging Representative Chuck Kopp (R – Anchorage) in the Republican primary, put out a campaign video this week. After attacking Kopp on a variety of things, that included, "But he chose two radical pro-abortion liberals to control the committee that decided on legislation affecting the unborn," he said, "I'm pledging to run a positive campaign." Ok!
This Week's Loose Unit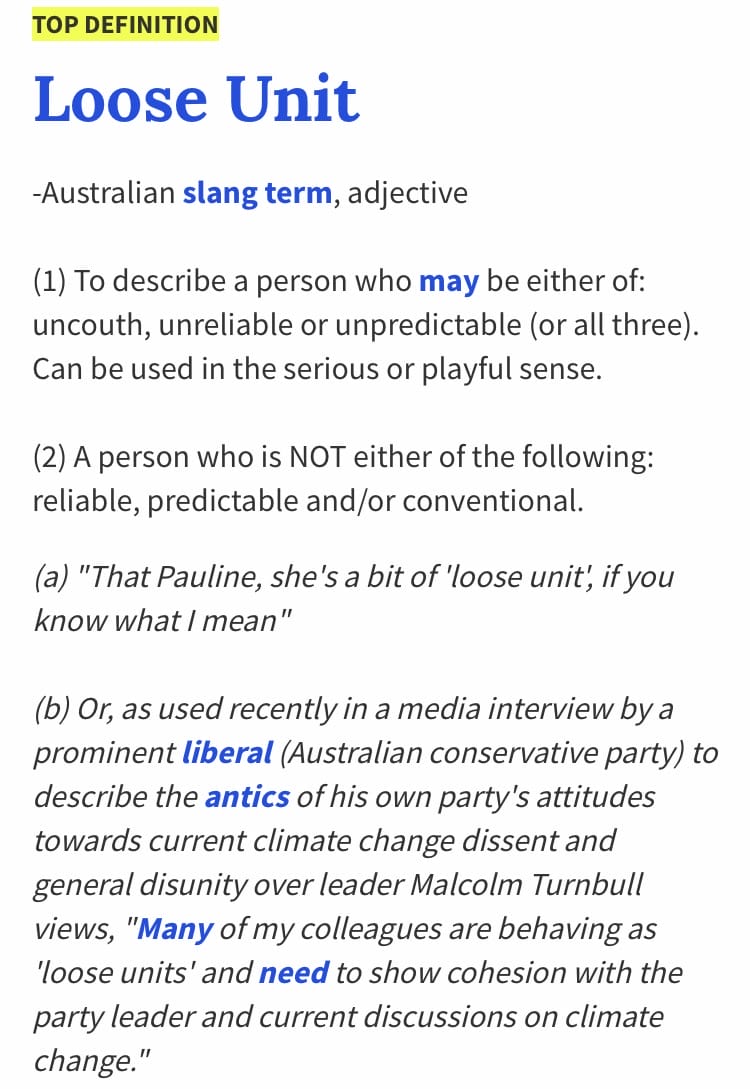 This was a tough week. I was debating between Mayor Berkowitz for putting all of those business on blast – while giving them almost no notice – and all the people who are not taking COVID serious. But a last minute submission made this week's designee clear. This week's Loose Unit is Representative Laddie Shaw (R – Anchorage). On July 3 a new political group was registered with APOC. It's called Laddie Political Action Committee or Laddie PAC! The group's stated purpose is, "Receiving and making contributions for the 2020 State election cycle." Super loose. The group was registered by his wife, Linda Shaw. Get this, the chair of the group is Josh Walton. Walton is one of Laddie's staffers! Talk about loose. Laddie is listed as a deputy treasurer.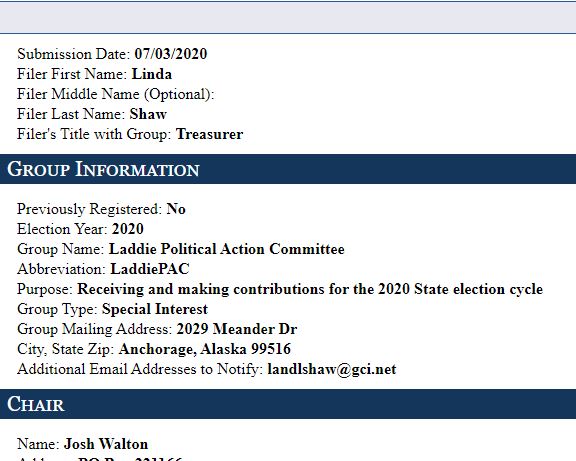 You may recall that Representative Gabrielle LeDoux (R – Anchorage) formed a PAC several years ago. As a sitting legislator she was scrutinized for the move but it was ultimately determined the law did not prohibit this. Maybe he and Gabby can combine forces! Shaw is running unopposed. So it looks like he decided to go full Loose Unit so he could stay in the game this cycle. It's not yet clear how much money Laddie PAC will have or who will benefit from Laddie PAC, but we will all be watching. It's also really fun to say Laddie PAC!
If you have a nomination for this week's Loose Unit, or if you have any political news, stories or gossip (or any old pics of politicians or public officials) please email me at jeff@alaskalandmine.com.