I hope everyone is enjoying the 4th of July holiday weekend! The weather around Southcentral and much of Alaska has been amazing, though very hot. I hiked out to and camped at Rabbit Lake yesterday with a buddy and had a great time. But I am pretty exhausted writing this week's column! The big news this week is that former President Donald Trump will hold a rally on Saturday in Anchorage to campaign for Kelly Tshibaka, Sarah Palin, and Governor Mike Dunleavy (R – Alaska). This will definitely be loose! And Governor Dunleavy signed the budget into law and announced his vetoes this week.
A friendly message and reminder to all our readers. The Landmine is made possible by myself and a team of awesome Alaskans. We are working hard to provide in-depth election coverage for all of the ongoing races. If you enjoy the content we provide, please consider making a one time or recurring monthly donation. You can click here to donate. We have a donation system that makes it super easy. We would really appreciate it. And thanks to everyone who has been supportive!
Primary field set after withdrawal deadline passes
The following is an excerpt from this week's edition (6/30/2022) of the Alaska Political Report. You can click here for more information about the Alaska Political Report. A subscription is $1,299/year per organization. Discounted pricing is available for non-profits and government entities. We will be providing extensive election coverage this year in addition to our session coverage. If you have any questions or would like to subscribe, please email jeff@akpoliticalreport.com.
The deadline to withdraw from the August 16 open primary was June 25. A total of 23 candidates withdrew from the U.S. Senate race, the U.S. House race, and various legislative races. A few, like Anchorage Democratic Sen. Elvi Gray-Jackson, withdrew several months ago. Gray Jackson had filed to run for the U.S. Senate but switched back to run for her State Senate seat. The bulk of the withdrawals came after the June 1 candidate filing deadline. In our June 2 edition we provided a breakdown of the races after the filing deadline. Below is an update that factors in the withdrawals:
Republican U.S. Sen. Lisa Murkowski faced 19 primary challengers. She now faces 18 with the withdrawal of Republican Samuel Little. Murkowski's main GOP opponent is Kelly Tshibaka, but there are still six other Republican candidates. Former President Donald Trump is holding a rally in Anchorage on July 9 to campaign for Tshibaka, Sarah Palin, and Mike Dunleavy. Three Democrats remain in the race, led by Pat Chesbro – who the Alaska Democratic Party just endorsed – as well as two Alaska Independence Party candidates, one Libertarian, and five Independents. The top four will advance to the ranked choice general election. Barring something unforeseen, Murkowski, Tshibaka, and Chesbro will be three of the four.
The open U.S. House seat primary saw nine candiate withdrawals, bringing the number down to 22 candidates from 31 —  26 fewer than the special primary election. Most of the withdrawals were due to poor performance in the special primary election. The nine withdrawals include three Republicans, three Democrats, and three Independents: Republican John Coghill, Republican Mike Melander, Anchorage Republican Sen. Josh Revak, Democrat Chris Constant, Fairbanks Democratic Rep. Adam Wool, Independent Al Gross, Independent Bill Hibler, and Independent Jeff Lowenfels. The race now has 8 Republicans, one Democrat, two Libertarians, one American Independence Party candidate, and ten independents. Republican Sarah Palin, Republican Nick Begich, and Democrat Mary Peltola – who all advanced to the special general election – should have no issue advancing to the regular general. Republican Tara Sweeney, who placed fifth in the special primary but was prevented from being on the special general ballot after Gross withdrew, is still running in the regular primary election. Sweeney, who has a PAC supporting her, should be the fourth candidate to advance to the regular general.
There were no withdrawals in the gubernational race. Dunleavy and his running mate Nancy Dahlstrom still face nine primary challengers: four Republicans, one Democrat, one Libertarian, one Alaska Independence Party ticket, and two independent tickets. Dunleavy's main challengers are Democratic former Anchorage Rep. Les Gara and his running mate Jessica Cook, and former Independent Gov. Bill Walker and his running mate Heidi Drygas.
A total of eleven candidates withdrew from some of the 59 legislative races. Seven seats remain uncontested, 24 have have just two candidates (up from 22), 21 have three candidates (up from 18), six have four candidates (down from 11), and just one has five candidates. The race with five candidates is the Fairbanks seat that is open because Democratic Rep. Adam Wool is not seeking re-election. This means that Wool's seat will be the only legislative race where the top four primary matters. Here is a summary of the legislative withdrawals:
Soldotna Republican Senate President Peter Micciche announced he would not see re-election. This leaves Republican Tuckerman Babcock, Republican Jesse Bjorkman, and Independent Andy Cizek vying for the open Senate seat.
Republican Mark Anthony Cox withdrew from the South Anchorage Senate race. This leaves incumbent Republican Sen. Roger Holland facing Republican Cathy Giessel and perennial Democratic candidate Roselynn Cacy.
Republican Kathy Henslee withdrew from the Midtown Anchorage Senate race before the filing deadline to run for the Taku/Campbell House seat that paired Anchorage Democratic Reps. Chris Tuck and Andy Josephson. Tuck withdrew from the race, leaving Josephson, Henslee, and perennial Alaska Independence Party candidate Timothy Huit.
Anchorage Democratic Sen. Tom Begich withdrew from the Downtown Anchorage Senate race after he setup his staffer Löki Gale Tobin for the seat. Tobin faces Independent Heather Herndon, a conservative, in a heavily Democratic district. Democrat Ed Wesley, who lost to Begich in the 2016 Democratic primary, filed to be a write-in candidate for the general election.
Republican Rick Castillo withdrew from the South Anchorage House seat held by Anchorage Republican Rep. Laddie Shaw. Shaw now faces Democrat David Schaff in a heads-up match.
Independent Jennifer Sonne withdrew from the open South Anchorage House seat. The incumbent, Anchorage Republican Rep. James Kaufman, is running for the open Senate seat that Sen. Revak is not seeking re-election for. This leaves Republican Ross Bieling, Republican Julie Coulombe, and Independent Walter Featherly.
Democrat Jim Wright had previously withdrawn from the open Midtown Anchorage House seat. Independent Alyse Galvin faces perennial Republican candidate Nick Danger.
Independent Peter Knox withdrew from the East Anchorage House seat that Anchorage Democratic Rep. Liz Snyder is not seeking re-election for. This leaves Democrat Donna Mears, Republican Forrest Wolfe, and Independent Patrick Sharrock vying for the open House seat.
Republican Jessica Reimann withdrew from the Mat-Su Valley House seat held by Wasilla Republican Rep. Cathy Tilton. Tilton now faces Libertarian Daniel Stokes in a heads-up match.
Republican Joe Griffin withdrew from the Mat-Su Valley House seat held by Big Lake Republican Rep. Kevin McCabe. McCabe now faces Republican Doyle Holmes and Democrat Joy Mindiola.
Other Happenings 
After months of speculation, Donald Trump announced he will hold a rally on Saturday at the Alaska Airlines Center at UAA. You can get tickets here. It's definitely going to be a packed event. In a tweet that blew up on Alaska Twitter in June 2020, Trump vowed he would come to Alaska in two years to campaign against Senator Lisa Murkowski (R – Alaska). Kelly Tshibaka does in fact meet Trump's sole qualifier – she has a pulse. He sure set the bar low. Trump will also campaign for Sarah Palin, who endorsed him when he was running for president, and Mike Dunleavy, who Trump became buddies with when he was president. This rally is sure to be maximum loose!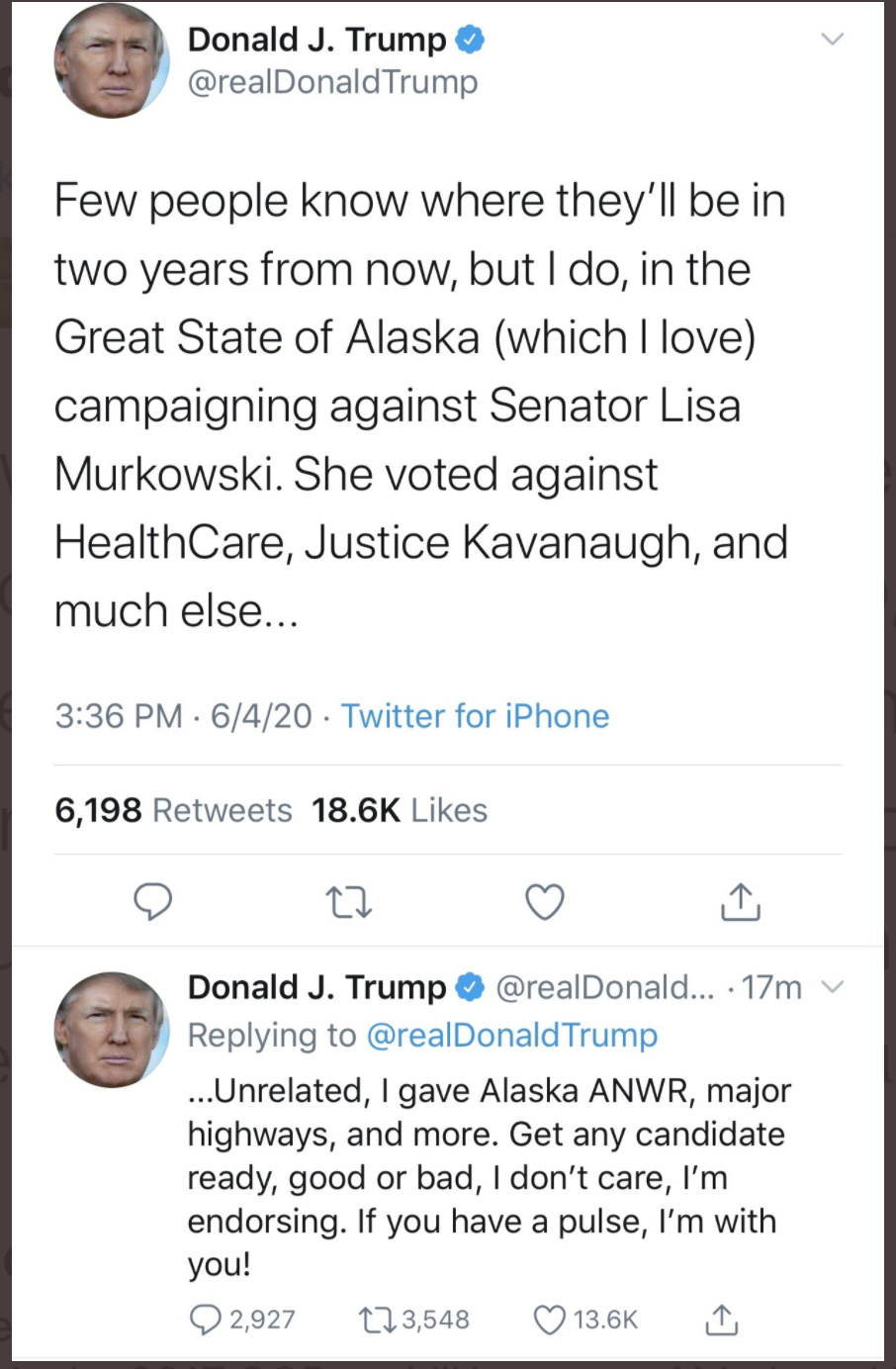 Governor Dunleavy held a press conference on Tuesday (6/28/2022) where he talked about the budget and his vetoes, totaling some $400 million. Some of the larger ones were:
$23 million was vetoed from Medicaid services. Dunleavy's veto document states that the veto was made because of savings realized from "tribal reclaiming" – a phrase which is not explained in detail – and from the continued public health emergency.
$62.5 million to repair schools across Alaska was subject to a veto. Dunleavy's largest single veto was a reduction to the Major Maintenance Fund and to Regional Educational Attendance Area (REAA) funds. The veto document states, "The remaining Major Maintenance and REAA appropriations are combined and are sufficient to fund priority school construction and address Major Maintenance priorities."
$27 million in funding for University of Alaska deferred maintenance projects was eliminated. University of Alaska President Pat Pitney wrote earlier this year to say that the system needs $50 million a year to stay on top of its estimated $1.4 billion deferred maintenance backlog, but Dunleavy left only $23 million.
$9.7 million to build various segments of the Alaska Long Trail was cut. Dunleavy vetoed funding needed to construct a trail running from the Parks Highway to Fairbanks via Ester Dome, for the Isberg 4-Season Trail, Palmer Hay Flats Trail, GPRA Traverse, and Little Susitna Loop, Carlo Creek, and the Tanana State Forest.
Stay tuned for a Landmine article on the dilemma Dunleavy has created for himself by growing the budget and supporting big dividends with no taxes.
Governor Dunleavy appointed Kim Kovol as acting commissioner of the new Alaska Department of Family and Community Services this week. Kovol had previously served as a special assistant to Dunleavy. On July 1, the split of the Department of Health and Social Services that Dunleavy requested went into effect. The two new departments are the Alaska Department of Health and the Alaska Department of Family and Community Services. Health Commissioner Adam Crum will stay commissioner of the Department of Health, though he will have to go through the confirmation process again if Dunleavy wins re-election.
Democratic U.S. House candidate Mary Peltola is looking for a campaign manager, and is offering good compensation. You can see the entire job description here.

The Northeast Community Council held an emergency meeting on Monday (6/27/2022) on Mayor Dave Bronson's move to turn Centennial Park into a designated camping area for homeless people. Senator Bill Wielechowski (D – Anchorage) live streamed it on Facebook. It was something else! Not surprisingly, Assembly Jamie Allard and Assembly member Forrest Dunbar got into it in what may have been a little preview of the next legislative session. Mayor Bronson's Chief of Staff Alexis Johnson politely answered questions from the largely hostile NIMBY crowd. Now that the Sullivan Arena is closed, more people are going to Centennial Park to camp. Which is not the worse thing considering the fire and safety danger that these camps all over Anchorage pose.
Former Juneau Senator Dennis Egan passed away this week this week in Oregon. He was 75. Egan was the son of Bill Egan, Alaska's first and fourth governor. Initially appointed by former Governor Sarah Palin, Egan served as a senator from 2009-2019. He also served as Juneau's mayor from 1995-2000.
This Week's Loose Unit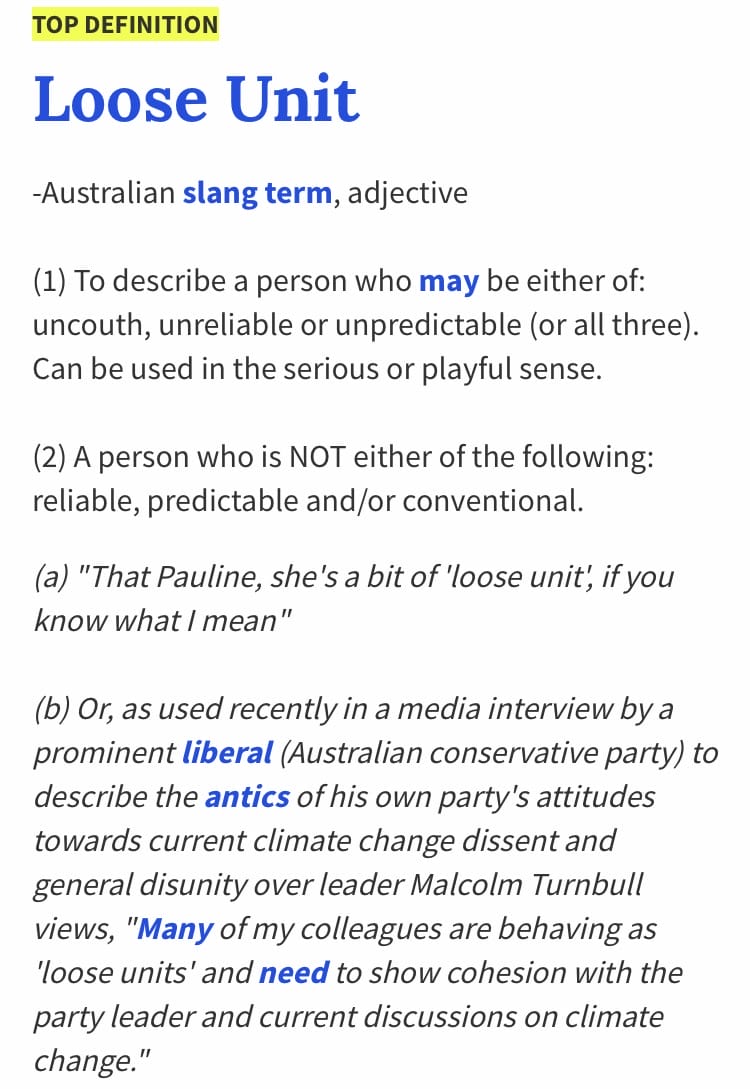 It was a pretty tame week considering we are in the middle of an election cycle. But if I have learned one thing in Alaska politics, there is always someone to choose from! This week's Loose Unit is Anchorage Mayor Dave Bronson. Bronson sent out the below letter with the property tax bills that went out to some 92,000 Anchorage property owners. Ignoring the misleading math, using municipal funds to send out what is essentially a campaign mailer attacking the Assembly and encouraging voters to contact them is hyper loose. In his letter, Bronson fails to mention that property values have increased even though the mill rate decreased to maintain the tax cap. Classic Loose Unit behavior. And personally, after the recent fires in town and a gruesome murder that just happened in my neighborhood, I am more than happy to pay for police and fire.
Filing this one in the very loose category. @mayor_bronson included this letter with all the property tax bills. The letter blames the Assembly for higher property taxes and encourages property owners to contact them. This is for a campaign, not an official Muni communication. pic.twitter.com/l5dzkfgH8h

— The Alaska Landmine (@alaskalandmine) July 1, 2022
If you have a nomination for this week's Loose Unit, or if you have any political news, stories or gossip (or any old pics of politicians or public officials) please email me at jeff@alaskalandmine.com.