Summer is flying by. The August 21 primary is less than a month away. It's been another busy week in Alaska politics as candidates hustle to raise money and get their message out. Many legislative races will be decided in the primary, so a lot of the candidates are approaching their final sprint. Others are waiting until after the primary to get into full campaign mode. And a handful of lucky candidates have no primary or general opponents. I'm sure they are sitting back and enjoying watching.
Republican Party Picnic
The Alaska Republican Party held their annual picnic on Thursday (7/26/2018) at Kincaid Park. Despite the rain there were a lot of candidates and people in attendance. The festivities included a three-legged race for the candidates. Check out this pic of Senator Kevin Meyer (R – Anchorage) and former Representative Lynn Gattis, both running for lieutenant governor in the Republican primary. They sure don't look like opponents to me. #Collusion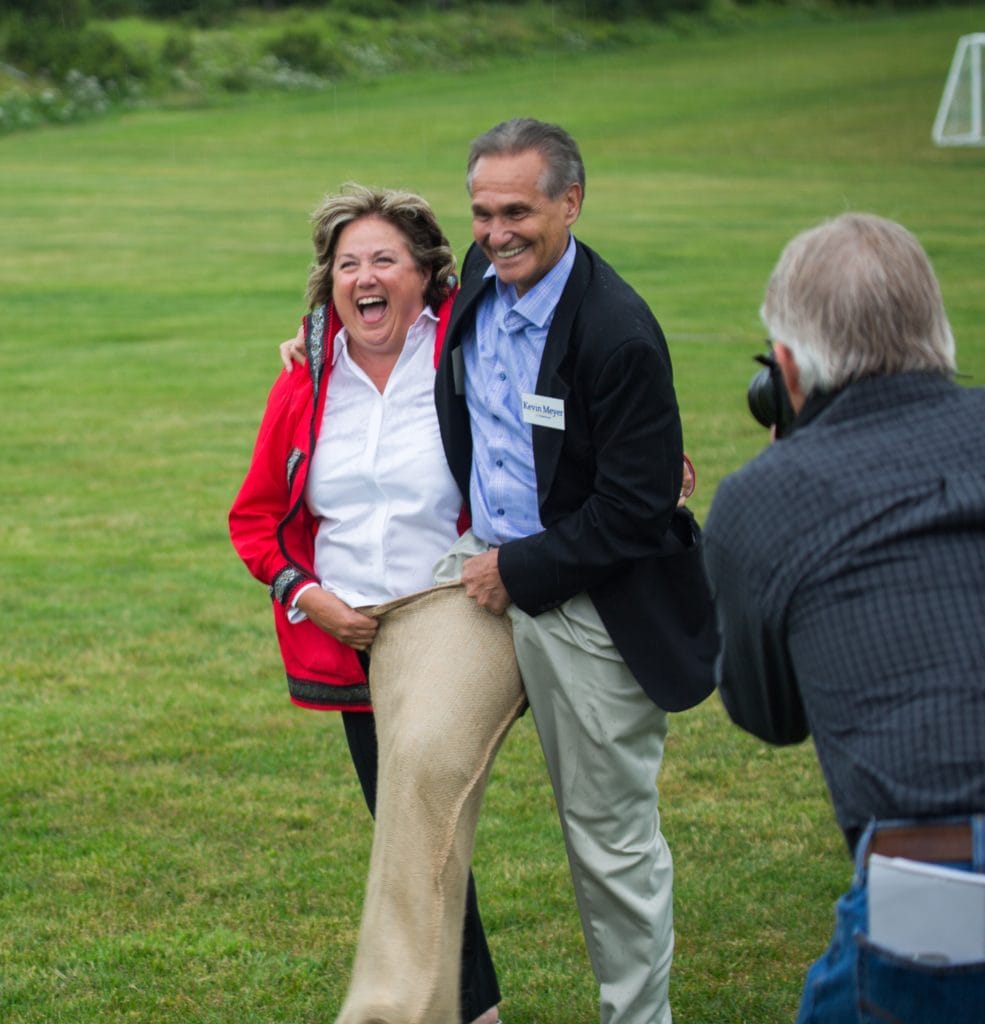 Alaska Republican Party Propaganda Minister Suzanne Downing was also in attendance conducting straw polls. But remember, she has nothing to do with the Party…
Bizarre Campaign Activities
Danyelle Kimp is an Independent running in the Democratic primary for House District 13. The seat is currently occupied by Representative Dan Saddler (R – Eagle River), who is running for the open senate seat. Kimp is the only person running in the Democratic primary, so he will face the winner of the Republican primary in the general. This guy is either nuts or a next level of high energy. Check out this event he has this week.
Yes, that's 5:30 in the morning! And this is not a one time deal, dude has a running event scheduled every Tuesday and Thursday morning up to the November election. This gives a whole new meaning to the concept of losing some weight going door to door during campaign season. He should challenge the people running in the Republican primary to join him. Because he is sure going to be lonely Tuesday and Thursday mornings.
The super reasonable folks over at Alaska Right to Life really don't like Representative George Rauscher (R – Sutton). First, they revoke their endorsement of him. Then, they start to go after him. Check out this graphic they posted of him. Why does Rauscher look like Hitler? Someone even asked Patrick Martin, the Chairman of the group, that very question, and his answer was very peculiar.
I was really amused how Facebook suggested I join a Howard Stern group while I was looking at a post from Alaska Right to Life. Strange times we are living in. And I'm guessing Alaska Right to Life doesn't care much for Jim Colver either. He is also running in the Republican primary against Rauscher and Goode, but he isn't even mentioned in their candidate comparison. At least he didn't get likened to Hitler.
Did you know that Congressman Don Young (R – Alaska) has a few primary opponents? One of them is a guy named John Nelson. I was unware of this guy until I got an email from him announcing that he sent Don Young a letter asking him to step down and informing Young that he has a succession plan all figured out. This is for real. Young even responded to him! Below is an excerpt from his website. You can click here to see the entirety of the bizarreness. Of all the words to describe this I think delusional is probably the best one. Loose is in a close second.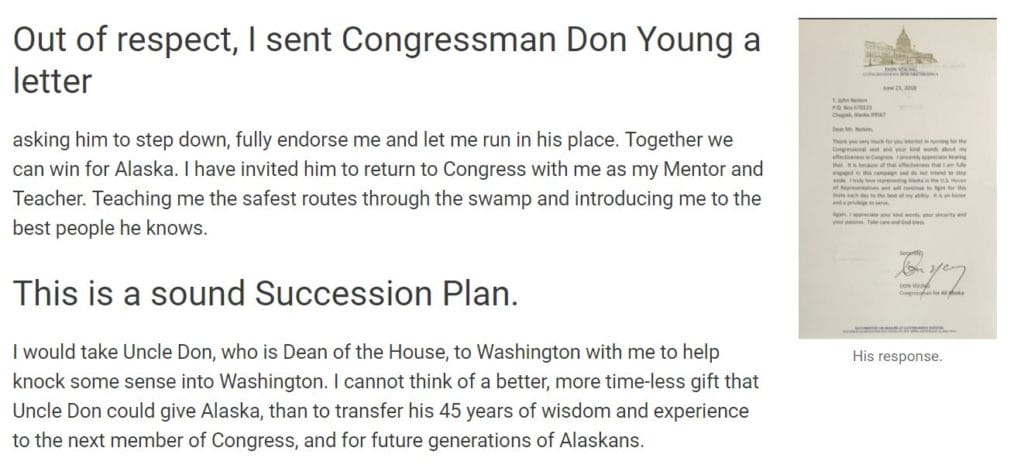 A New Kind of Sign War
The Alaska Department of Transportation (DOT) has gone rogue this week. They have been flagging political signs with different colored tape indicating they need to be taken down. I know this because some signs for the independent expenditure group I am chairing were flagged. They were located at AT Publishing on Abbott, along with other campaign signs for many other candidates. I was contacted by AT Publishing and I quickly took them down. Many of the signs from the other campaigns remain (lots from people currently in the legislature, coincidence? I think not). Other signs around Anchorage have also been flagged. No word on other parts of Alaska.
According to DOT, they are flagging signs that are visible from state roads. If the flagged signs are not removed within a certain time period (no idea how long) DOT says they will remove them and then charge the campaign a removal fee per sign. A state law prohibits signage from being visible from state roads yet this is the first time in my memory that DOT has actively enforced it. There are a lot of theories about why they are doing it. DOT says they have received a record number of complaints. Whatever the reason, it is causing some angst among many candidates, some of which will surely be on the House or Senate Transportation Committees next year. I predict some very targeted budget cuts to DOT. Those will be some fun hearings.
The Russians!
The Russian American Pacific Partnership held their annual conference in Anchorage this week at the Marriott. The group rotates the conference every year between the U.S. and Russia. Lots of very high level people were in attendance including some deputies from the Sakhalin Duma, the Minister of Economic Development from Kamchatka, representatives from Exxon in Sakhalin, and many other high level government and business people. I attended the conference and had a great time meeting many of the Russians. Representative Andy Josephson (D – Anchorage) was spotted talking to some Russian politicians through interpreters. No collusion was observed.
Two of the deputies from Sakhalin were especially awesome. One was the chairman of the Duma in Sakhalin, equivalent to our senate president. They wanted to buy some toys for their kids so I drove them to the Dimond Center for a little shopping trip. Alex and Andrei are my kind of people!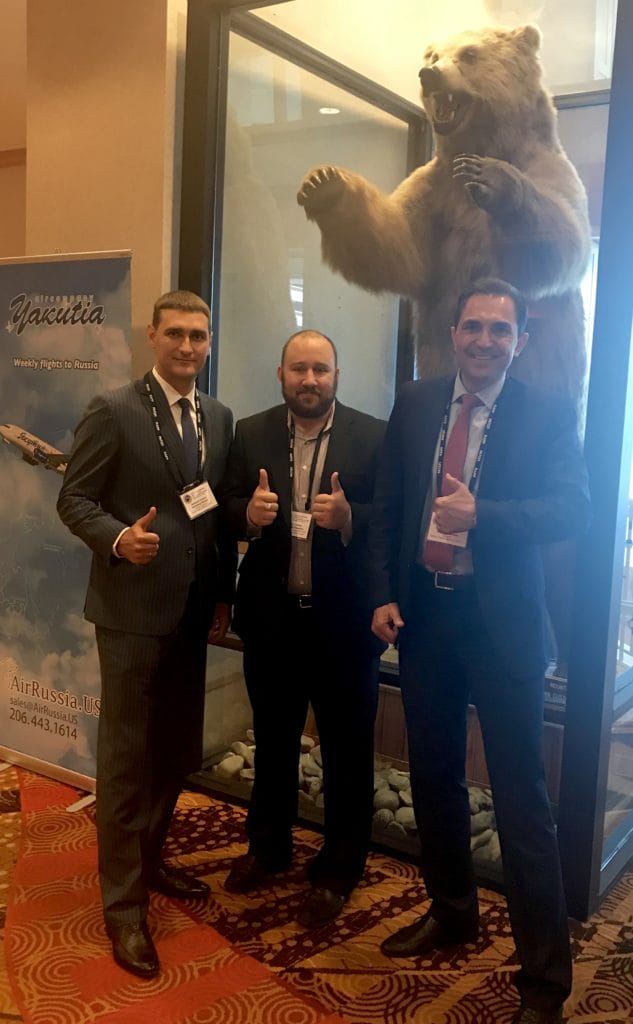 Other Happenings
If you are into politics and have spent any time on Facebook odds are you have come across Art Chance. This guy takes trolling to the next level. He is one of the few people I have unfriended on Facebook. He would routinely tell my male friends that he would "make their girlfriends toes curl" when they disagreed with him or challenged him. His go to is calling anyone he does not like or that disagrees with him a lefty. Not surprisingly he is also a senior contributor on Alaska Republican Party Propaganda Minister Suzanne Downing's blog. He recently wrote a hit piece on Kelly Merrick, who is running in the District 14 Republican primary. A woman posted a comment disagreeing with him. He posted a response that ended, "So, go die." Classy, Art. He also responded to a comment with a rhyme about money and honey, honey being sex. You can see them here.
And check out his bio on the bottom of the articles he writes for Downing's blog. Dude is next level. Art, if you are reading this and have something you want to say to me I will do you a favor. My response is "cool story bro."
Rumor has it that Fish and Game is considering closing the king crab fishery this year. I'm not well versed in fish and game issues but something tells me if this happens some people are going to be very upset about it. If you have any more information on this, let me know.
Republican Marcus Sanders is running against Representative Andy Josephson (D – Anchorage). He's a very high energy guy and has a great campaign slogan, "Marcus in the House." But I wonder if some of this might become a campaign issue at some point. Yikes.

The Alaska Center sent out an email informing people in West Anchorage that their ballots are in the mail. The email also asks for a donation and adds "so we can support Austin and other candidates like her in the upcoming state legislative elections in November. Aren't they a non-profit? Are they allowed to do that?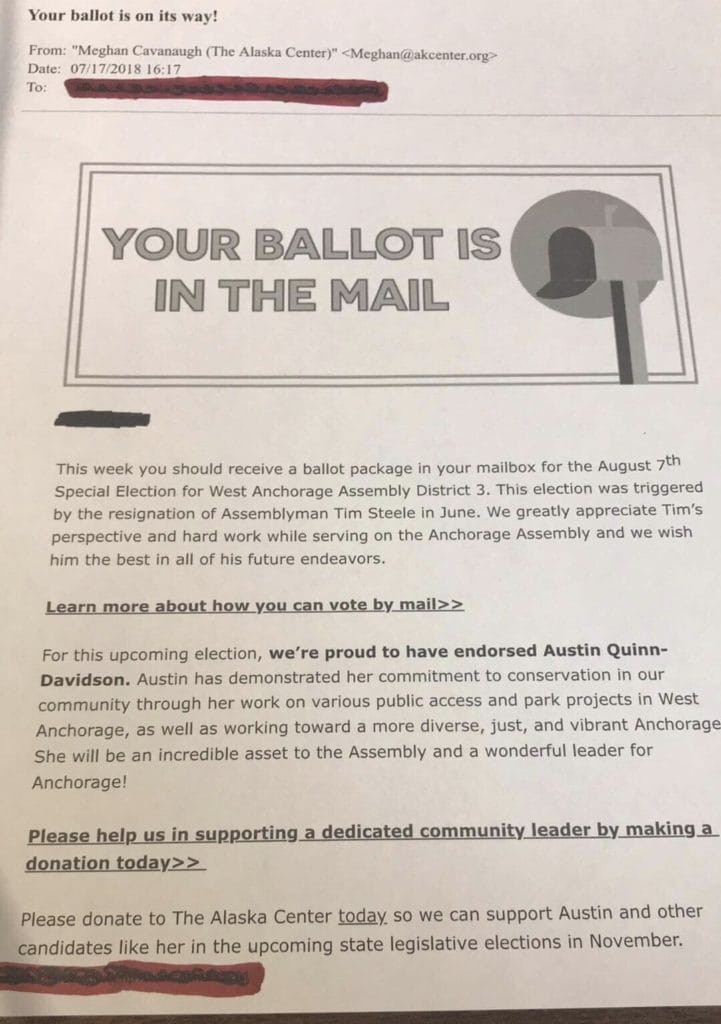 What's going on with Eagle River Republicans? Check out this video that the Districts 13 and 14 Alaska Republican Party Facebook page shared. Very odd. I wonder what Jim Minnery thinks about it?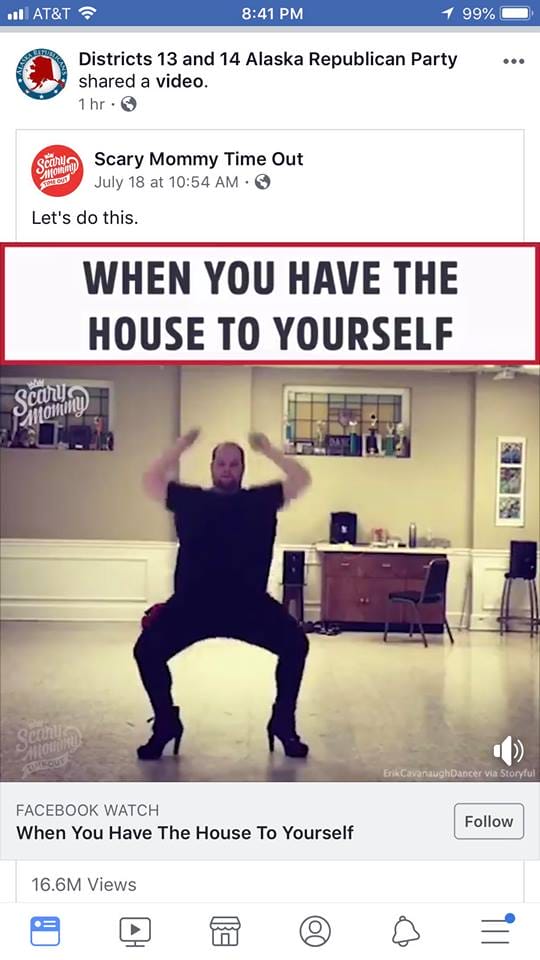 This Week's Loose Unit
As usual there were many deserving candidates this week but one stood out. This week's Loose Unit is West Anchorage Assembly special election candidate Nikki Rose. We have written about her antics as president of the Sand Lake Community Council (SLCC) in the past. Being rude to Representative Jason Grenn (I – Anchorage) when he calls into meetings from Juneau, trying to recall Grenn by improperly filing a petition with the City of Anchorage instead of the State, and using the SLCC Facebook page to promote her campaign are only a few examples of her loose behavior. But it's what has happened in the recent weeks that has earned her Loose Unit status.
Rose has been continually posting pictures on her campaign Facebook page of her and different high level people including (but not limited to) Senator Lisa Murkowski R – Alaska), Senator Dan Sullivan (R – Alaska), Representative Chris Birch (R – Anchorage), and OAN host Liz Wheeler saying or implying they have endorsed her. They haven't. Classic Loose Unit. She eventually removed the pictures. Probably after receiving a few phone calls.
She has been saying she is a product of the Anchorage School District, which is interesting because she attended Grace Christian. Very loose. She posted a campaign video that did not include an audible "paid for by" which she took down and re-posted after the Landmine pointed that out. The video included drone footage in Class C and D airspace, which is very puzzling. The person who made the video told the Landmine, "Everyone plays by the same rules but if you know how to use the rules to your advantage you can play a better game." Tell that to the FAA buddy. Very loose! She also refused to participate in a candidate profile of the West Anchorage Assembly race that new Landmine writer Chaz Rivas wrote. So loose.
And a last minute submission. Check out this excerpt from an Anchorage Press article where Rose says the rise in crime is because of immigrants. She also throws in some blame on Mayor Ethan Berkowitz and his wife Mara, who has done so much good work on behalf of immigrants. Loose and xenophobic, great combo.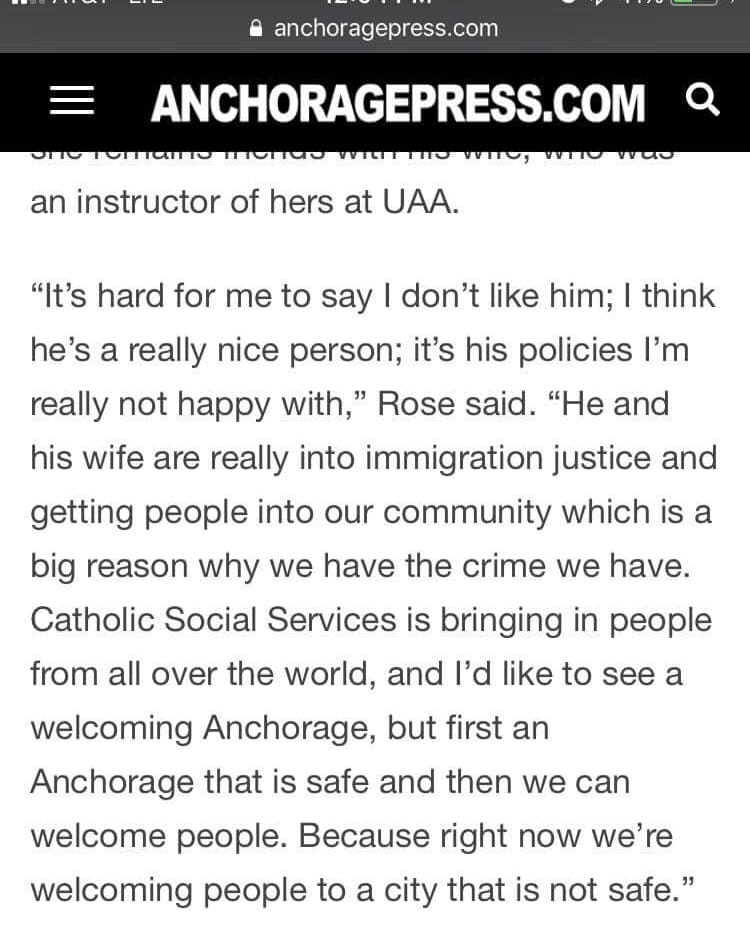 Rose is an example of someone we do not need in elected office. Talk about a Loose Unit.
If you have a nomination for This Week's Loose Unit, or if you have any political news, stories or gossip (or any old pics of politicians or public officials) please email me at jeff@alaskalandmine.com.