The August 16 primary is just over three weeks away. Early and absentee in-person voting starts on August 1. It feels a bit like the calm before the storm as its been relatively quiet considering the number of races and candidates. The big news this week was an officer involved shooting at Centennial Park. Luckily, no one lost their life. Campaign finance reports showed some six-figure donations to Governor Mike Dunleavy (R – Alaska) and former Governor Bill Walker. And morning talk radio host Dan Fagan proved this week he sure can dish it out but can't take it.
A friendly message and reminder to all our readers. The Landmine is made possible by myself and a team of awesome Alaskans. We are working hard to provide in-depth election coverage for all of the ongoing races. If you enjoy the content we provide, please consider making a one time or recurring monthly donation. You can click here to donate. We have a donation system that makes it super easy. We would really appreciate it. And thanks to everyone who has been supportive!
Gubernatorial Campaign Finance Reports 
30-day Alaska Public Offices Commission (APOC) reports were due this week. These reports cover activity from February 2 – July 15 and are the first reports since APOC voted against staff recommendations for individual-to-candidate donation limits. The race for governor saw several large donations that exceeded $10,000, and some that were even $100,000 or more! Below is a summary of the main gubernatorial tickets, as well as U.S. Senate and House races.
The following is an excerpt from this week's edition of the Alaska Political Report. You can click here for more information about the Alaska Political Report. A subscription is $1,299/year per organization. Discounted pricing is available for non-profits and government entities. We will be providing extensive election coverage this year in addition to our session coverage. If you have any questions or would like to subscribe, please email jeff@akpoliticalreport.com.
Mike Dunleavy/Nancy Dahlstrom
Incumbent GOP Gov. Mike Dunleavy and his running mate Nancy Dahlstrom reported over $1 million in income – $550,000 of that came as a transfer on May 23 from Dunleavy's prior campaign before he picked Dahlstrom as his running mate. The campaign notably reported no political action committee (PAC) donations. $420,000, or 42% of the $1 million in donations, came from five donors:
Dunleavy's wealthy brother Francis, who donated hundreds of thousands of dollars to an independent expenditure that supported Dunleavy in 2018, donated $200,000. He lives in Texas.
Bob Penney, the wealthy Alaska businessman who also donated hundreds of thousands of dollars to the Dunleavy independent expenditure in 2018, donated $100,000.
Armand Brachman, a businessman from Minnesota, donated $100,000.
Steve Alivs, a commercial real estate developer from Texas, donated $10,000.
John Minder, the CEO of Great Northwest Inc. based in Fairbanks, donated $10,000.
The campaign reported $232,000 in expenditures and lists $30,000 in debt, leaving them with just under $800,000 cash on hand. The campaign reported only $6,200 on staff, $5,000 of which went to Cassandra Day, who previously served as the Republican House Minority's communications director. Jordan Shilling, Tyson Gallagher, and Andrew Jensen, who all work on the campaign, were not paid any money from the campaign. Shilling previously worked for Dunleavy but left to work on the campaign. He received a $50,000 contract with the Office of the Governor last December for "management/consulting" services. Gallagher was recently promoted to acting chief of staff, a position that pays approximately $150,000/year. Andrew Jensen works in communications for Dunleavy and earns a state salary of $90,000/year.
The campaign spent $159,000 with Hackney & Hackney, owned by veteran political consultant Art Hackney, for "TV advertising" and $12,800 for "radio advertising." They spent $60,000 with Utah based Arena for "digital communications and monthly fees." They spent nearly $20,000 with Nevada based Hubbard Strategies for "fundraising." They spent $11,500 with the Don Young Institute for Alaska in Seward for "office rent." They spent nearly $10,000 with Dittman Research, owned by Matt Larkin (who ran the 2018 pro-Dunleavy independent expenditure group), for "Consulting & Research." They spent $5,000 with Bold Media, owned by Corey Mulder (daughter of lobbyist Wendy Chamberlain), for "video production."
The campaign lists a $7,700 debt to Hubbard Strategies for a "Fundraising Contract," a $7,500 debt to Michigan based Templar Baker Group for "fundraising," a $13,000 debt to Arena for "digital advertising," and a $2,000 debt to Rina Bretz for "contract staffing."
Bill Walker/Heidi Drygas
Independent Bill Walker and his running mate Heidi Drygas reported $831,000 in income. $300,000 of that, or 36%, came from three donors:
Greg Orman, a Kansas businessman who unsuccessfully ran as an independent for Kansas governor in 2018, donated $100,000 in cash. He also donated $28,500 as a non-monetary contribution for a poll
Jason Carroll, founder and managing partner of Hudson River Trading, donated $100,000
Kathy Murdoch, daughter-in-law of conservative media mogul Rupert Murdoch, and who works for the Clinton Climate Initiative, donated $100,000
The campaign reported $653,000 in expenditures and no debt, leaving them with just over $750,000 cash on hand. Unlike the Dunleavy-Dahlstrom campaign, the Walker-Drygas campaign spent significant money on campaign staff. The campaign spent $180,000 on various staff over the reporting period:
TJ Presley, the campaign manager, has been paid $37,500 since March. His salary is $7,500/month
Moira Gallagher, the finance director, has been paid $35,600 since February
Carolyn Hall's company Porter Square has been paid $34,000 since March. Hall is the operations manager
Mary Hewitt's company Solstice Social Media & Web Design has been paid $30,000 since April for social media management
Austin Baird's company 4950 Consulting has been paid $22,500 since February. Baird is being paid for communications and strategy
Tristan Walsh, the deputy campaign manager, has been paid $13,000 since May
Austin Mahan's company Mahan Reporting has been paid $6,000 since March. Mahan is the treasurer
Alliana Salanguit's company AMS Consulting has been paid $2,000 since June. Salanguit is the political director
The campaign spent $140,000 with the D.C. communications firm Betty&Smith for television, radio, and digital ads. They spent $15,000 with the D.C. firm Citizen, Inc. for "strategic support." They spent $10,000 with Ivan Moore's company Alaska Survey Research for polling. They paid Ship Creek Group, a progressive consulting group, $7,500 for "fundraising consulting." They paid Paxson Woelber's company Paxson Design more than $9,000 for website and graphic design. They paid the Alaska Landmine $6,500 for "digital ads." Full disclosure, Jeff Landfield, the owner and publisher of the Alaska Political Report, is the majority owner of the Alaska Landmine and Paxson Woelber is a minority owner of the Landmine. 
Les Gara/Jessica Cook
Democrat Les Gara and his running mate Jessica Cook reported $939,000 in income – $638,000 of that came as a transfer on April 28 from Gara's prior campaign before he picked Cook as his running mate. The campaign did receive some large contributions but they paled in comparison to the six figure donations Dunleavy and Walker received. Nearly half of their income came from people who contributed under $1,500. Some of the larger donors include:
Robin Brena, an Anchorage businessman and former law partner of Bill Walker who also donated to Walker, donated $16,500
Jacqueline Carr from Anchorage donated $13,000
Juneau attorney Myra Munson donated $11,500
Rochelle Plotnick from Anchorage donated $6,500
The campaign reported $283,000 in expenditures and lists no debt, leaving them with just over $655,000 cash on hand. The campaign spent $49,000 on staff for the reporting period:
Nate Graham, the campaign manager, has been paid $24,000 since March
Ron Meehan, the sign coordinator, has been paid $11,000 since March
Lila Hobbs, the operations director, has been paid $9,000 since March
Jeremy Houston, the field director, has been paid $5,000 since May
The campaign spent $129,000 with the D.C. firm Sage Media Planning and Placement for a "media buy." They spent $31,000 with the D.C. firm Lake Research Partners for polling. They spent $7,000 with the Anchorage business Tommy's Dog for "video production." The paid more than $8,000 to the IRS in payroll taxes for campaign staff. They spent $6,000 with the Amber Lee, a progressive political consultant.
Charlie Pierce/Edie Grunwald
Republican Charlie Pierce and his running mate Edie Grunwald (report before Grunwald joined ticket) report a combined $138,000 in income, but $32,000 of that was from non-monetary contributions, making their cash contributions just over $100,000 – $10,000 of which came from Pierce. Sheila Pollard from Kenai donated $10,300 and Duane Bannock from Kenai donated $3,000. The remainder came from donations under $1,500. The campaign reported no PAC income.
The campaign reported $65,000 in expenditures and no debt, leaving them with just over $40,000 cash on hand. They spent more than $26,000 since February with Juggernaut Consulting, owned by Peter Zuyus, for a "monthly retainer and consulting." The spent $12,500 since February with MobiBiz Marketing, owned by Joseph Lurtsema, for video and website development. They paid Must Read Alaska $1,500 for ads in April and May.
Christopher Kurka/Paul Hueper
Wasilla Republican Rep. Christopher Kurka and his running mate Paul Hueper, who filed separate reports, report a combined income of more than $40,000 – $12,400 from Kurka and $28,500 from Hueper. Caleb Sternhagen from Big Lake donated $4,000 and $3,600 came from Hueper. Clint Hall from Kenai donated $2,500.
The campaign reported $79,000 in expenditures and lists an $8,400 debt to Alaska Printing for "printing," leaving the campaign $4,000 in the red. They spent $13,000 with B Original Signs for campaign signs, $13,000 in rent to Alaska Business Park in Wasilla, and more than $6,000 to Daniel Navejas, the campaign manager.
U.S. Senate Campaign Finance Reports 
Lisa Murkowski
Incumbent Sen. Lisa Murkowski raised and spent more money than all her opponents by an order of magnitude. The campaign has brought in $1.6 million since April, bringing her total raised this cycle to $8.5 million. Murkowski has $6.1 million cash on hand. She amassed the lead with the help of many powerful individuals and institutions, including:
A total of $2.8 million from political action committees ($473,400 this quarter)
Nearly $100,000 from two organizations that advocate for strong relations between the U.S. and Israeli governments: NORPAC and American Israeli Public Affairs Committee
Donations of $10,000 or more from nearly three dozen political action committees, including Walmart Inc., Google Inc. NetPAC, Nike Inc. Federal PAC, Automotive Free International PAC, Employees of Raytheon PAC, American Crystal Sugar PAC, Ernst & Young PAC, LIUNA PAC, NEA Fund for Children & Public Education, and Value in Electing Women PAC
The National Republican Senatorial Committee, the organization that supports the campaigns of incumbent Republican senators, donated $46,500. Team McConnell, a PAC operated by Senate Minority Leader Mitch McConnell, also donated $39,600
Kelly Tshibaka
Republican Kelly Tshibaka's campaign has amassed $3.1 million so far this election cycle, including $586,717 this quarter. In contrast to Murkowski, she has not been able to attract the support of national Republican Party committees and has seen limited interest from political action committees. PAC contributions account for $16,500 of her total raised, with $1,000 from committees since April. Tshibaka has instead received donations from Alaskans and individuals across the country.
Pat Chesbro
Democrat Pat Chesbro raised $37,978 in total contributions. Approximately 20% of that total came from a donation she made to her own campaign.
Remaining Candidates
Other candidates in the race who filed reports this quarter include Independent Shoshana Gungurstein ($15,365 raised overall) and Libertarian Sean Michael Thorne ($4,497 raised overall). Anchorage Democratic Sen. Elvi Gray-Jackson initially filed and raised $161,518 but withdrew from the race. Republican Karl Speights, Republican Samuel Little, and Alaska Independence Party Candidate Joe Stephens all filed as candidates but reported zero fundraising.
U.S. House Campaign Finance Reports 
In the race to decide who will replace the late Congressman Don Young, the most recent filings with the FEC show that Republican Nick Begich III has the largest campaign war chest in the race.
However, a closer look at the financial reports of all candidates highlights the difficulty in saying who is really the frontrunner. Begich has amassed $1.3 million in his campaign account since launching his bid, partly due to the fact that he was running an aggressive campaign even before Young's death. Further, $650,000 of Begich's overall income is a personal loan he made to his own campaign, setting up the possibility of wealthy donors paying off that amount if he wins a seat in Congress. (Debt retirement parties are very much a thing in Washington.)
With that in mind, former Alaska Gov. Sarah Palin's $833,000 overall fundraising this cycle looks stronger when you don't factor in Begich's campaign loan. Mary Peltola, a Democrat and former state representative from Bethel who will appear on the ballot for the August special general election, has raised $243,000 so far. Tara Sweeney, the Republican who was assistant secretary of the Interior for Indian Affairs during the Trump Administration, has raised $277,000 so far; and while she is likely to secure a spot on the top four general election ballot, she will not participate in the August special general election.
Another factor that makes it difficult to call Begich the favorite based on his fundraising totals is the most recent quarterly FEC filings: Palin raised more than anyone in the race during that period, bringing in $203,533, compared to $161,543 for Peltoa, $82,386 for Begich, and $45,936 for Sweeney.
Other Happenings
Republican Charlie Pierce and his running mate Edie Grunwald picked up the endorsement of Senator Lora Reinbold (R – Eagle River). Looks like Reinbold's Eagle River connection to Nancy Dahlstrom, Dunleavy's running mate, wasn't enough to get her on board.
According to a campaign announcement, Sen. Lora Reinbold has endorsed Charlie Pierce and Edie Grunwald for governor/lieutenant governor. Reinbold has long been critical of @GovDunleavy for his response to COVID. Dunleavy's running mate Nancy Dahlstrom is from Eagle River! #akleg pic.twitter.com/0dRFYQEIjd

— The Alaska Landmine (@alaskalandmine) July 25, 2022
The officer involved shooting at Centennial Park on Wednesday was a wake-up call for many. Luckily, neither the officer or the low-life that shot him were killed. But this incident does bring up an important issue. In April 2021, Anchorage voters approved funding for body cameras for Anchorage Police Department (APD) Officers. Fifteen months later and there are still no body cams. It would have been good for everyone if the two officers were wearing body cams during the shooting. The Bronson administration, Assembly, and APD need to get this worked out immediately so all of the APD officers are equipped with body cams.
Northeast Community Council President George Martinez, who is running for the Anchorage Assembly, referred to Centennial Park as the "Bronson concentration camp." Not surprisingly, there has been little condemnation for the comment from progressives or Democrats.
Wow. Northeast Community Council President George Martinez, who ran for mayor last year, calls Centennial Park the "Bronson Concentration Camp." Just when we thought we were over the Nazi references, Martinez goes fully loose. pic.twitter.com/PmlwbAXoZA

— The Alaska Landmine (@alaskalandmine) July 22, 2022
KTUU recently lost two reporters. Sean Maguire, their Capitol reporter based in Juneau, left to be the new Juneau political reporter for the Anchorage Daily News. Congrats to that Aussie legend! And reporter Hank Davis left to take a communications job at the Anchorage Museum. Congrats, Hank! KTUU has lost some big talent lately and they have several job openings posted. It's hard to get good TV reporters when they make them do their own camera work…
This Week's Loose Unit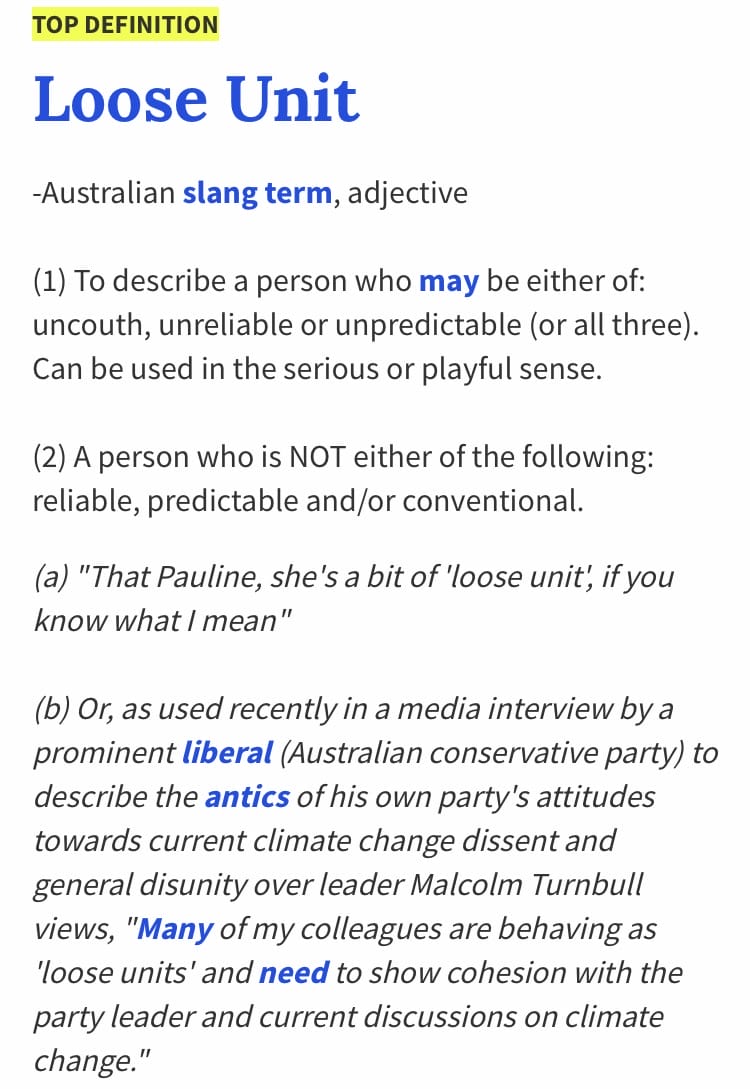 This week's designee became abundantly clear on Tuesday. This week's Loose Unit is Louisiana based talk radio host Dan Fagan. On Monday I recorded a podcast with U.S. House candidate Sarah Palin. Towards the end I asked her about those who criticize her about resigning as governor in 2009, including Fagan. During her answer she said Fagan used to come to her house and added, "It's almost like he had a crush on me for many years." She then said after he was "rebuffed, he kind of turned on me. Boohoo."
Fagan, who sure can dish it out but clearly can't take it, absolutely lost it the next day on his show. It's a must listen. He had his buddy Suzanne Downing on there with him. It's the 7/19/2022 show and starts at 1:39:30. Fagan went off for a third of his show about what Palin said on the podcast. It was classic Loose Unit behavior. Keep in mind, Fagan routinely calls people he doesn't like "communists" and "traitors." It gets so awkward that even Downing wanted Fagan to move on after he told her, "Maybe she's going to accuse you of having a crush on her. Maybe she's going to accuse you of being a lesbian, and wanting her secretly." That is so loose. Fagan repeatedly denied she "rebuffed" him, then wrote a column for Must Read Alaska titled, "Dan Fagan: Palin made a false accusation against me. I'm setting the record straight — there was no crush," then had Downing publish an article, "Palin goes 'me too,' accusing talk show host Dan Fagan of having crush on her that she had to 'rebuff.' Me thinks he doth protest too much. Maximum loose. And it gets even better! Check out what Eddie Burke recently posted on Facebook. LOOSE!
If you have a nomination for this week's Loose Unit, or if you have any political news, stories or gossip (or any old pics of politicians or public officials) please email me at jeff@alaskalandmine.com.