This has undoubtedly been the best weather we have had over a weekend in Southcentral this summer. The thermometer in my office is currently reading 88 degrees! I can't believe it's almost August. Governor Mike Dunleavy (R – Alaska) signed two bills into law this week. A tragic helicopter crash on the North Slope left four people dead. Attorney General Treg Taylor got into some hot water when he signed onto a letter advocating the right of states to have access to out-of-state abortion records. And things got very loose at the annual Golden Days parade in Fairbanks.
A friendly message and reminder to all our readers. The Landmine is made possible by myself and a team of awesome Alaskans. I recently got back from Juneau for my fifth session in a row reporting on the Legislature. If you enjoy the content we provide, please consider making a one time or recurring monthly donation. You can click here to donate. We have a donation system that makes it super easy. We would really appreciate it. And thanks to everyone who has been supportive!
Dunleavy Signs Bills 
Governor Dunleavy signed two bills into law this week. The first, Senate Bill 58, is a bill he requested that extends postpartum Medicaid coverage from 60 days to 12 months. It passed the Senate 16-3 and the House 35-3. In a press release Dunleavy said, "I want to see Alaska be the best state in the country for families. This legislation helps ensure that Alaskan mothers and their babies will have access to essential medical care. Thank you to the legislature for its overwhelming support of this pro-family bill." The press release also stated:
In addition to extending postpartum coverage, the bill also increases coverage for the "pregnant women" category in Medicaid from the existing rate of 200% federal poverty line to 225% federal poverty line. The Department of Health estimates that this will extend coverage to an additional approximately 450 pregnant women annually.
The second, House Bill 78, a bill from Representative CJ McCormick (D – Bethel) that designates September 10 as Alaska Community Health Aide Appreciation Day. It passed the House 36-0 and the Senate 16-0. In a House majority press release McCormick said, "I wanted to express my gratitude for the hard work and dedication shown by community health aides and acknowledge that their contributions are critical to the health and well-being of Alaska's communities. I'm proud to move forward the efforts started by my predecessor and carry this bill across the finish line for rural Alaska. And I am grateful to my colleagues in the House Majority who helped support my first piece of legislation."
Other Happenings
Four people were killed in a tragic helicopter crash on the North Slope on Friday morning. According to a statement from the Department of Natural Resources (DNR), three of the four worked for the Division of Geological and Geophysical Surveys. The fourth was the helicopter pilot. DNR provided the following statement about the tragedy:
It is with very heavy hearts we announce the loss of DGGS employees Ronnie Daanen, Justin Germann and Tori Moore, along with pilot Tony Higdon. DNR will remain in close contact with their families, and continue to offer our prayers and condolences to all of their loved ones.
The Department is beginning the process of grieving for our colleagues, supporting our team through this challenging time, and working with partner agencies to learn everything we can about this incident. We are grateful to the North Slope Borough Search & Rescue and Police Departments, the Alaska Department of Public Safety, the Alaska State Troopers, the National Transportation Safety Board, the Red Cross, and especially the volunteer Alaska Dive, Search, Rescue, and Recovery Team for their efforts to locate and recover our coworkers. Thank you all for your support of the DNR family during this tragedy.
Attorney General Treg Taylor signed onto a letter from Mississippi Attorney General Lynn Fitch that says states should be able to compel other states to give medical records for abortions. The ADN editorial board published a scathing piece about the letter.
The basic thrust of the letter is simple: If you leave Alaska and seek an abortion or gender-affirming care, Treg Taylor wants to know about it so he can determine if it's legal or not. As he said in the letter, "The conclusion whether such care is lawful depends on state authorities' ability to make an informed determination based on relevant evidence …" In this case, he considers your private medical records his "relevant evidence."
Democrat David Schaff, who unsuccessfully challenged Representative Laddie Shaw (R – Anchorage) last year, just filed a letter of intent to run for the House again next year. Shaw beat Schaff by almost ten points last year in a heads up match.
Representative Mike Cronk (R – Tok/Northway) also filed a letter of intent this week, but did not indicate House or Senate. Cronk lives in Senator Click Bishop's (R – Fairbanks) Senate district. Bishop's seat is up next year. There is speculation Bishop won't seek re-election next year so he can run for governor in 2026.
The Alaska Travel Industry Association board of directors announced the creation of a dedicated seat for a member of a federally recognized tribe in Alaska or a shareholder of an Alaska Native Corporation. In a press release, ATIA President and CEO Jillian Simpson said, "We've had conversations for some time about creating a tribally designated seat. The idea gained critical mass in the past year as our cultural marketing efforts increased and we collaborated with Indigenous content producers for recent campaigns. I am thrilled to lead the organization into this new era of partnership with the Alaska Native community."
This Week's Loose Unit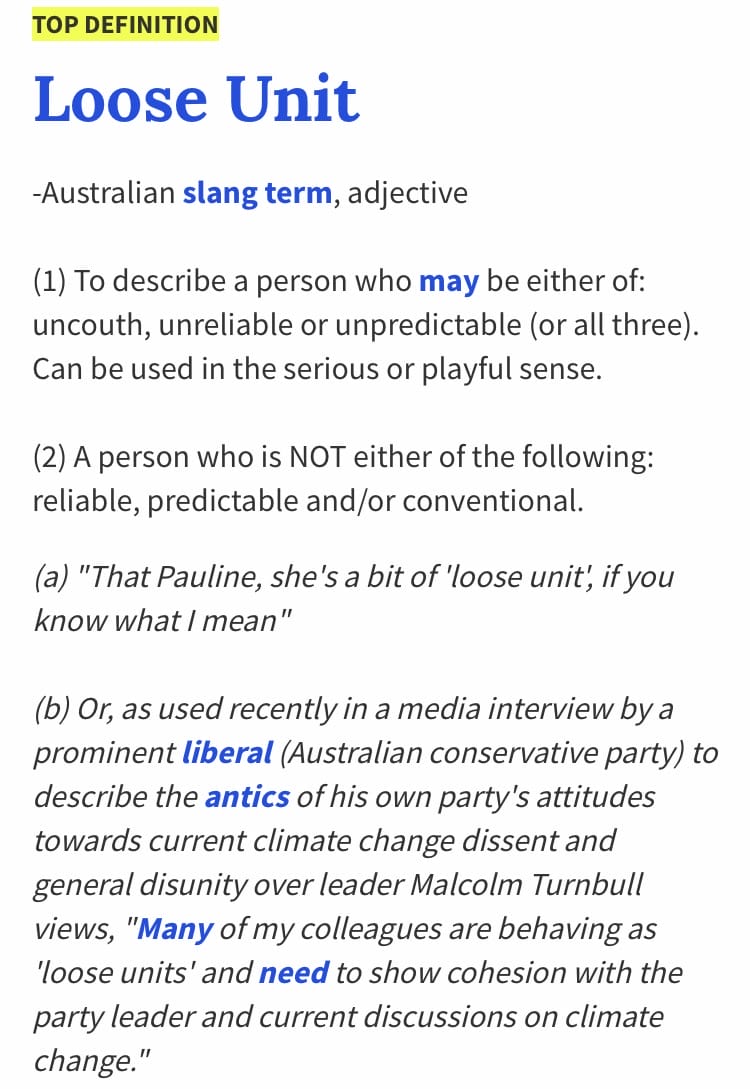 This week's designee was a no brainer. This week's Loose Unit is the Golden Days parade judges who awarded the first place float to Johnny the Walrus. First, some background. Conservative commentator Matt Walsh, who made the film "What is a Woman" published a children's book last year titled "Johnny the Walrus." The book is about a boy who thinks he's a walrus, an allegory to transgenderism. Anyhoo, Fairbanks North Star Borough School Board candidate Michael Humphrey decided to have some fun with it. He had a Johnny the Walrus float in the Golden Days parade for his campaign.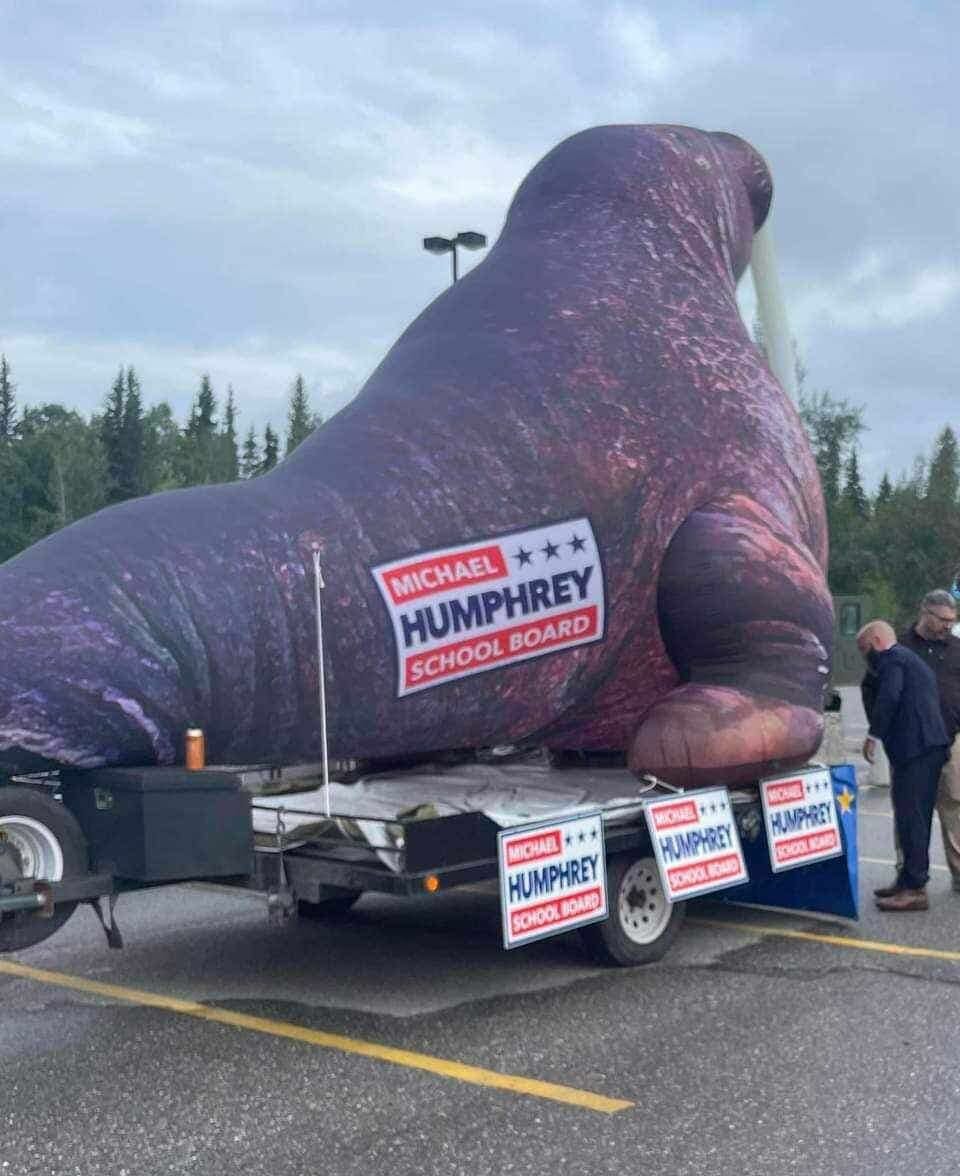 The judges awarded the float first place. But once they found out about the Matt Walsh book, they lost their shit. It's hilarious and extremely loose.

Even Matt Walsh tweeted about it! The irony is if they had just said nothing, it probably would not have been a thing. Very loose!
This is awesome. A school board candidate in Fairbanks won first place in a local parade for his Johnny the Walrus float. The judges were libs who only realized after the fact that the float was based on my children's book, which caused massive meltdowns

— Matt Walsh (@MattWalshBlog) July 17, 2023
If you have a nomination for this week's Loose Unit, or if you have any political news, stories or gossip (or any old pics of politicians or public officials) please email me at jeff@alaskalandmine.com.