This week may go down as one of the loosest in Alaska political history. While the majority of the Legislature convened in Juneau on Monday, a little over a third of Republican legislators instead "convened" at Wasilla Middle School – the location Governor Mike Dunleavy (R – Alaska) chose for the second special session. As crazy as this week was, at least it has finally cooled off!
A friendly message and reminder to all our readers, the Landmine is made possible by myself and a team of awesome Alaskans. It takes a lot of work to provide the content we do. If you enjoy the content we provide, please consider making a one time or recurring monthly donation. You can click here to donate via PayPal. We would really appreciate it. And thanks to everyone who has been supportive!
Duelling Sessions
While House and Senate leadership gaveled in on Monday in Juneau, a bunch of Republican legislators had some kind of meeting at Wasilla Middle School. The first day was pretty bizarre. There were a bunch of pro-PFD protestors on the road right before the turn to the middle school. They eventually all came to the school. While I was doing a Facebook Live outside I saw Representative Tammie Wilson (R – North Pole) driving around in what appeared to be a 1987 Subaru. The smoke coming out of the exhaust was a nice touch. Monday was basically a dog and pony show. There were protestors on both sides there. Senator Mia Costello (R – Anchorage) and Representative Lance Pruitt (R – Anchorage) were the emcees. Budget Director Donna Arduin was acting as security for the "Legislators Only" area (teachers lounge). Super bizarre. The legislators later held a press conference after the "joint floor session". The temperature in the building was probably 85 degrees. The cell connection was not great and my live stream kept cutting out. The Landmine RV was NOT the hit I was hoping it would have been.
The next day was uneventful. They had a five minute meeting and fewer legislators were present. However, Wednesday was absolutely lit! See this week's Loose Unit on that. Thursday only had five legislators present. There was a lot of Save our State protestors there urging them to override Governor Dunleavy's budget vetoes. These included a bunch of kids and some awesome fruit snacks! A nice mom gave me some. The layout of the gym was changed – the bleachers were folded up and chairs were set up. This was to prevent people from having to cross between the two "floors" to sit in the bleachers. Buddy Whitt, Chief of Staff to Senator Shelley Hughes (R – Palmer), filled in as the de facto spokesperson for the event. There was even a little Q&A!
Friday saw more legislators, many pro-PFD people, and few Save our State protestors. There was the pledge, Alaska's Flag was sung by Alaska singer Adele Morgan, and there were some brief comments. After, all the legislators mingled with everyone in the crowd. It felt like the reception after a wedding, just no booze. You can check out my live streams in the video section of the Alaska Landmine Facebook page.
As one legislator told me in the parking lot on Friday, "Jeff, I heard Antifa is coming. The real Antifa." Ok.
There was some pretty serious fallout because of this Wasilla "session." Senator Mia Costello was stripped of her position as Senate Majority Leader and was replaced by Senator Lyman Hoffman (D – Bethel). Representative Tammie Wilson left the House Majority and her position as Co-Chair of the House Finance Committee. The combination of showing up to Wasilla on Monday and being the sole no vote against the veto override was the death blow. She was offered vice-chair of the Finance Committee, a demotion, but instead opted to leave the caucus. She joins Representative Gabrielle LeDoux (R – Anchorage) in the caucus-less category. Wilson was replaced by Representative Jennifer Johnston (R – Anchorage). The House Majority now stands at 23.
I wonder if this caucus agreement is still intact?
Another peculiar thing is that Senator David Wilson (R – Wasilla) was in both Wasilla and Juneau. I guess he was hedging his bets. He did have time to be in this photo with Governor Dunleavy with fellow legislators. Check out that Jesus is Lord sign above Pruitt.
Because there were only 38 legislators present in Juneau, they were not able to override any of Dunleavy's budget vetoes. 45 votes are required to override a budget veto. It wouldn't have mattered if the Legislature was all together, they did not have the votes. So the vetoes stand. There may be some kind of deal on a supplemental budget or something added in the capital budget to fund some of the things that were cut. But Dunleavy will have to agree to sign it. This is where the PFD comes in. Will legislators agree to a $3,000 PFD in exchange for more funding for healthcare, the university, etc..? That is the big question.
There has been some chatter that Dunleavy is quietly pushing a proposal for a $2,200 PFD that would be in statute, along with a constitutional amendment that says the statute can't be changed without a vote of the people. Word is he is getting a lot of flack from the business community to resolve all of the chaos. Open for business!
Other Happenings 
The lawsuit, from former Representative Al Vezey (aka Sleezy Vezey), challenging the Juneau location of the special session hit a snag this week. The request for an expedited hearing was denied by Judge MacDonald.
Related to that, want to know how small Alaska is? Vezey has a stepdaughter, Josie Bahnke. Bahnke is the former head of the Division of Elections under former Governor Bill Walker. Only in Alaska.
Save our State had a huge rally on Tuesday at UAA to encourage legislators to override the budget vetoes. Portugal. The Man was featured. If you did not see our video of the event, you can check it out here.
On Friday I got a text that Terre Gales was let go from his job at the Department of Labor on Friday. It said he was "terminated with prejudice and escorted out of the building." I was able to confirm that he is no longer in his position but could not confirm why or what happened. Gales was the chair of the independent expenditure group, Dunleavy for Alaska. Word is Deputy Commissioner Cathy Munoz, along with other high level officials, came in on Friday and informed him he was being let go. Gales left a good job at the Municipality of Anchorage to take a job with the administration. He was offered a director job but on his first day they told him that job was eliminated and that he would be a deputy director. Gales is a veteran and former cop. He was the chair of the group that had a big impact on getting Dunleavy elected. This administration really knows how to treat its friends…
The Alaska Republican Party is getting very loose on Twitter. The current ratio on this tweet is 375 comments and 15 likes. That ratio tho. They have been blocking people left and right. Who the hell is running their social media? Sounds like propagandists Suzanne Downing. So much winning.
Speaking of propagandists Suzanne Downing, check this out!
Word is that several of Senator Lisa Murkowski's (R – Alaska) summer interns are UAA students who are recipients of former Governor Sean Parnell's signature program, the Alaska Performance Scholarship. They received the letters saying their scholarships are cancelled for now because of the sweep. Talk about some great summer news! I wonder what Parnell, an advisor to Dunleavy, thinks about all this?
Dunleavy is definitely patting himself on the back though. Check out that paid for by. Talk about bizarre.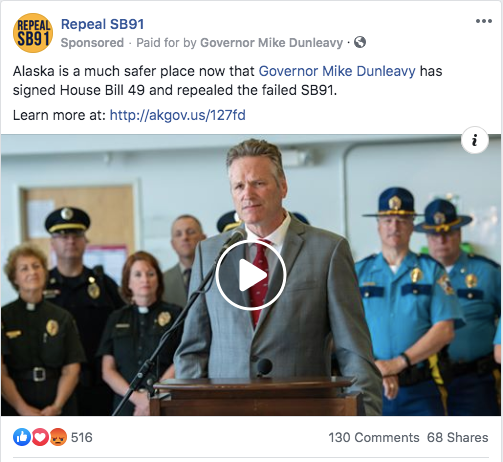 The Anchorage Young Republicans held their annual meeting and elections this weekend at the home of Rick Castillo. It was sponsored by Rick Whitbeck from Power the Future. The only legislator to attend was Representative Sharon Jackson (R – Eagle River). Department of Administration Commissioner Kelly Tshibaka (Chewie) was also there. Funny how legislators seem to always attend in election years and not in off years. Here are the results of the elections:
President – Hans Rodvik
Vice President – German Baquero
Secretary – Ashley Lamoureaux
Treasurer – Sam Moore
Committeeman – Elisha Waugh
Committeewoman – Brooke Cusack
Past Chair: Ryan McKee
Liz Snyder filed to challenge Representative Lance Pruitt again next year. She ran against him last year as a first time candidate. Here are the results of that election. 181 vote difference.

There was a legit phishing attack this week. I got an email from Jessica Geary, Executive Director of the Legislative Affairs Agency. It looked suspicious. I responded to see what would happen. The response I got confirmed my suspicions. KTOO reporter Andrew Kitchenman was also a victim. Once the hackers got ahold of their email credentials, they sent out these emails to everyone in their contacts. Folks, never give your email credentials to anyone who sends you an email! I also recommend setting up two-factor authentication.
Here is an interesting post from Senator Lora Reinbold (R – Eagle River). I would suggest that she either reads up on ANCSA or takes a class at UAA about it. On second thought, that class might not be offered anymore…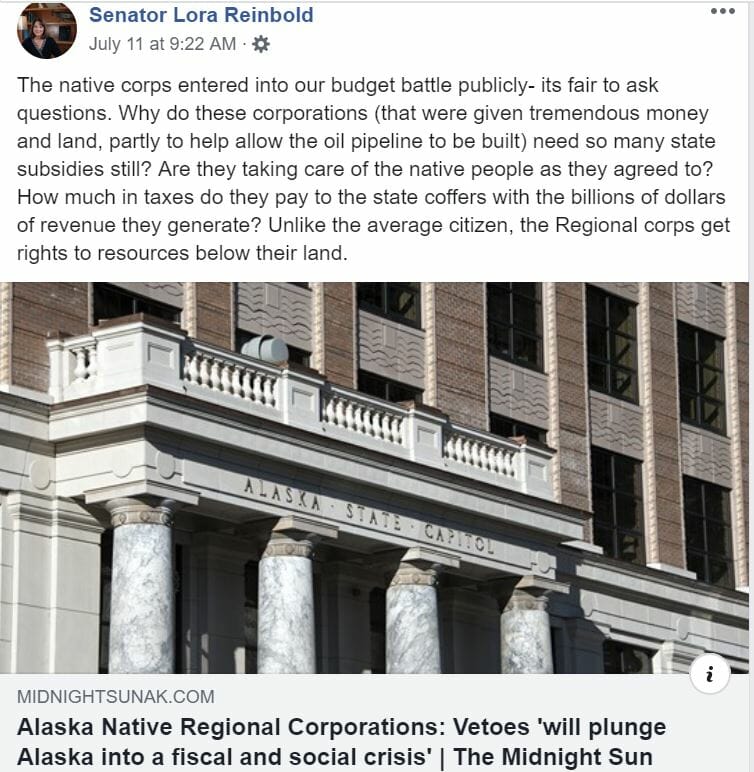 This Week's Loose Unit
As I previously stated, this may have been one of the loosest weeks in Alaska's history. There were MANY deserving candidates. After careful thought and consideration, this week's Loose Unit is a four-way tie. The four Loose Units are Representative Lance Pruitt, Zach Freeman, Judy Jessen, and Olivia Garrett.
Let's start with Jessen and Garrett. They were both part of the loose as fuck takeover of the Wasilla "session" on Wednesday. If you haven't seen a video of it, check this out below. Jessen and Garrett can be seen in the front row occupying two seats for legislators. While everyone there was deserving of the Loose Unit, Jessen and Garrett earned the designation this week because they are both former staffers. Garrett worked for Senator Scott Kawasaki (D – Fairbanks) when he was a representative and Jessen worked for Representative Ivy Spohnholz (D – Anchorage). Talk about loose! They know better. You try pulling this kind of stunt in Juneau there would be a very different outcome. At one point they could be heard cheering "Indigenous prayers on indigenous lands" while Amazing Grace was being sung. To quote Dave Stieren," Transcendent wokeness." So loose.
Now onto Pruitt and Freeman. During the mele, for reasons I cannot understand, Pruitt decided to stop and take a selfie with a protestor. You can see it all in the above video. The pic of Pruitt taking the selfie, along with the selfie, were shared widely on social media. His face tho! Freeman can be seen having a great time watching and laughing. Freeman is the Press Secretary for the House Minority. He was so proud of himself that he actually changed his Facebook profile pic to the one of him laughing in the background. But not long after, he changed it back to what it was. Loose! That pic will surely come back to bite Pruitt. So loose!
If you have a nomination for this week's Loose Unit, or if you have any political news, stories or gossip (or any old pics of politicians or public officials) please email me at jeff@alaskalandmine.com.