It's sad to think summer is nearly halfway over. I hope everyone is enjoying it despite the cooler than normal temperatures. It was relatively quiet this week in the world of Alaska politics. The Legislature's new fiscal plan working group had their first meeting in Anchorage. Anchorage Mayor Dave Bronson is already squaring off with the Assembly over how to best deal with the homelessness problem. And the Alaska Republican Party met in Fairbanks this weekend.
A friendly message and reminder to all our readers, the Landmine is made possible by myself and a team of awesome Alaskans. It takes a lot of work to provide the content we do. If you enjoy the content we provide, please consider making a one time or recurring monthly donation. You can click here to donate. We have a donation system that makes it super easy. We would really appreciate it. And thanks to everyone who has been supportive!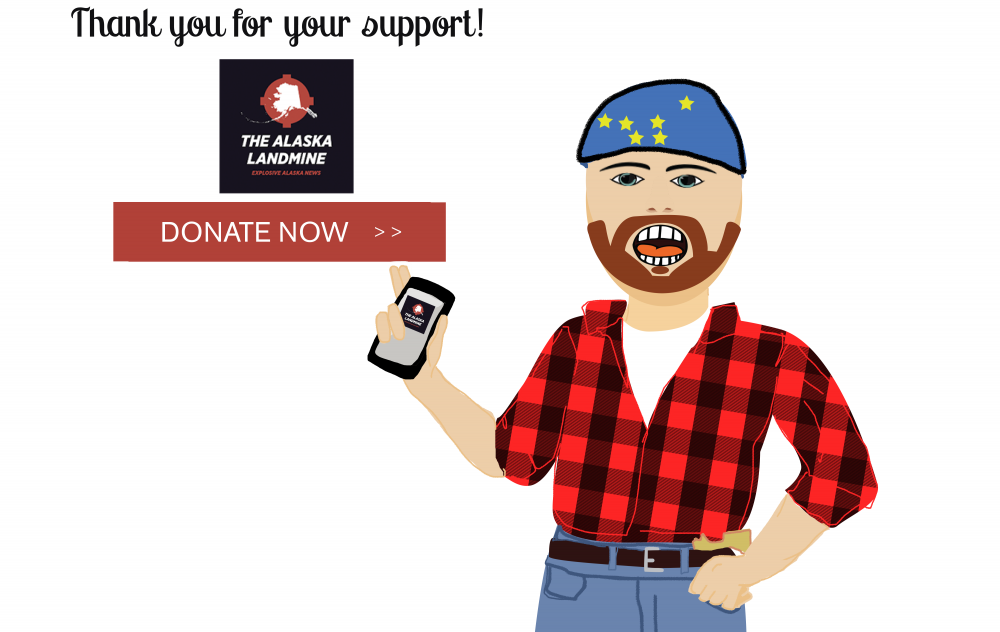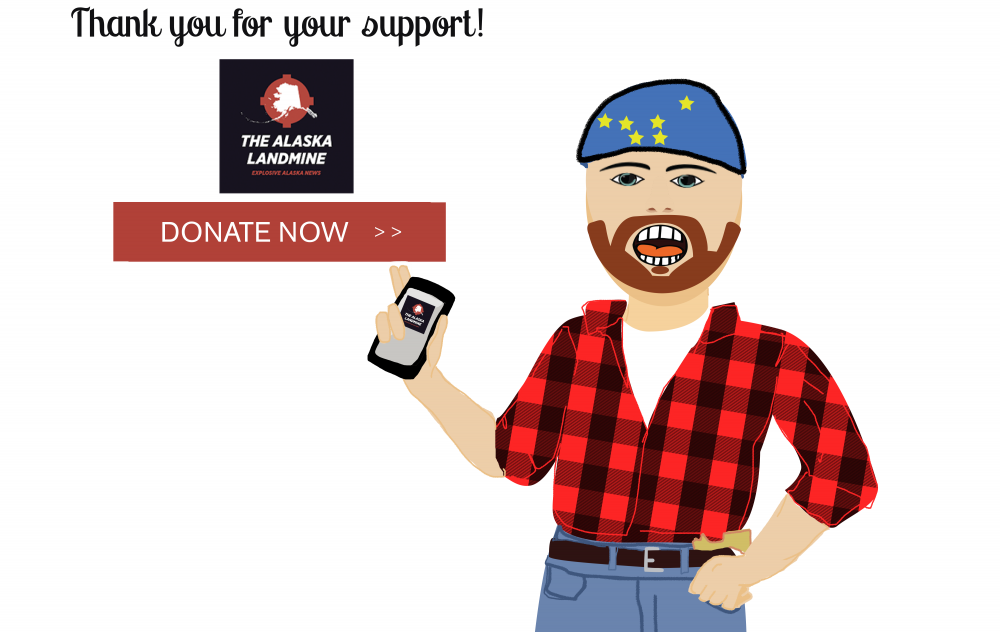 Fiscal Working Group
The new Compressive Plan Working Group had their first meeting in Anchorage on Tuesday (7/7/2021). It was labeled an "organizational meeting" but was really more of some kind of weird love fest. In summary, all the members basically echoed all of the things that Bill Walker said when he was governor. It's ironic that several of the members vilified Walker for proposing to do exactly what they are now saying. The group is comprised of two members from each caucus. Although Senate President Peter Micciche (R – Soldotna) is not part of the group, he sure spoke a lot. He continually referred to the co-chairs as "co-facilitators." Basically he said it's four caucuses of equals! The members are:
Senate Majority
Senator Lyman Hoffman (D – Bethel), co-chair
Senator Shelley Hughes (R – Palmer)
Senate Minority
Senator Scott Kawasaki (D – Fairbanks)
Senator Jesse Kiehl (D – Juneau)
House Majority
Represrntaire Jonathan Kreiss-Tomkins (D – Sitka), co-chair
Representative Calvin Schrage (I – Anchorage)
House Minority
Representative Ben Carpenter (R – Nikiski)
Representative Kevin McCabe (R – Big Lake)
It is telling that none of the House or Senate finance committee co-chairs are part of the group. The next meeting is this Wednesday at 2 pm at the Anchorage LIO. Don't hold your breath for a comprehensive plan. There has been several of these groups over the decades. Zero has changed. There are three levers: Permanent Fund, spending, revenues. That's it. A comprehensive plan will require pulling a bit on all three, which is unlikely. And even if they manage to do the impossible, whatever results from the group will still need to go through the legislative process. Which means a bill that goes to at the very least the finance committees and then the floor. The next special session is set to start in just over three weeks. But according to many at the meeting, it won't begin until the group is finished. As I said last week, most legislators do not want to go back to Juneau in August. My bet is it gets pushed back to September. In addition to the fiscal stuff, there is still the matter of the reverse sweep and the dividend. Look for the next special session to be as contentious as the previous ones, if not more.
Other Happenings
Anchorage Mayor Dave Bronson announced this week that he will not buy the former Alaska Club gym on Tudor. This is something the Assembly was pushing for to in order to turn it into a homeless shelter. Instead, Bronson is pushing for a facility he says will cost $15 million that would be located on Tudor and Elmore. But the Assembly would need to approve these funds, and many of them are skeptical. With the temporary shelter at the Sullivan Arena set to close at the end of September, only a few months remain to figure out what will happen to the 400 or so people that are staying there. My prediction is the homelessness issue becomes an albatross for Bronson.
Some of Bronson's key appointees are scheduled to be confirmed at Tuesday's Assembly meeting. The meeting packet included the names and salaries of the following appointees:
Amy Demboski, Municipal Manager – $140,982 ($67.78/hour)
Douglas Schrage, Fire Chief – $177,840 ($85.50/hour)
Travis Frisk, Chief Fiscal Officer – $139,984 (67.30/hour)
Patrick "Tito" Bergt, Municipal Attorney – $138,652 ($66.66/hour)
Jean Christian "Niki" Tshibaka (husband of U.S. Senate candidate Kelly Tshibaka), Human Resources Officer – $134,992 ($64.90/hour)
The Alaska Republicans Party's central committee met this weekend in Fairbanks. The big result of that meeting was the endorsement of Kelly Tshibaka (Chewie) for U.S. Senate. This solidifies the Party's support of Tshibaka over Senator Lisa Murkowski (R – Alaska). Murkowski has yet to officially file for reelection but has been raising money. If there were still party primaries, it's safe to say Murkowski would not have a path in the Republican primary. But with a single primary and ranked-choice voting in the general election, there is no telling how that election will go. It will definitely be loose!
Craig Campbell, who is Mayor Bronson's chief of staff, was elected vice chair of the Alaska Republican Party at the meeting. After Glen Clary left to go to Liberty University, vice chair Ann Brown became chair. Brown would make the Soviets jealous with the way she runs things. They also voted to hold the 2022 state convention in Fairbanks. It was last held there in 2016.
Governor Mike Dunleavy (R – Alaska) appointed Judge Jennifer Stuart Henderson to the Alaska Supreme Court this week. She was one of three names sent to him by the Alaska Judicial Council. Dunleavy had asked for more names but eventually picked Henderson before the July 11 deadline. I honestly think Dunleavy asked for more names just to see how triggered many of his opponents got.
Brett Huber is back in the Governor's Office! I called this back in May. While Huber is back, the reason for John Moller's quick departure remains a mystery.
Below is a records request I sent to the Governor's Office on May 14. I have sent several follow up emails and have yet to receive a response. The leading theory about why he left is not good. I am still trying to determine what happened but anyone who knows anything, and it's a small number of people, aren't saying a word. Let's just say in this case the third time is not the charm…


Shea Siegert left his job as director of external affairs for Alaskans for Better Elections to become the national campaigns manager for the Institute of Political Innovation. Congrats, Shea! He will continue to live in Anchorage. The Institute for Political Innovation was group founded by Katherine Gehl. If you want to read a good book check out "The Politics Industry: How Political Innovation Can Break Partisan Gridlock and Save Our Democracy" by Gehl and Michael Porter.
Congrats to legislative staffer Grace Kubitz for completing the Mt. Marathon race! She even managed to complete it with an injured foot. What a legend.
If you missed my recent podcast with Senator Murkowski, you can listen here. It was even covered by the Hill!
This Week's Loose Unit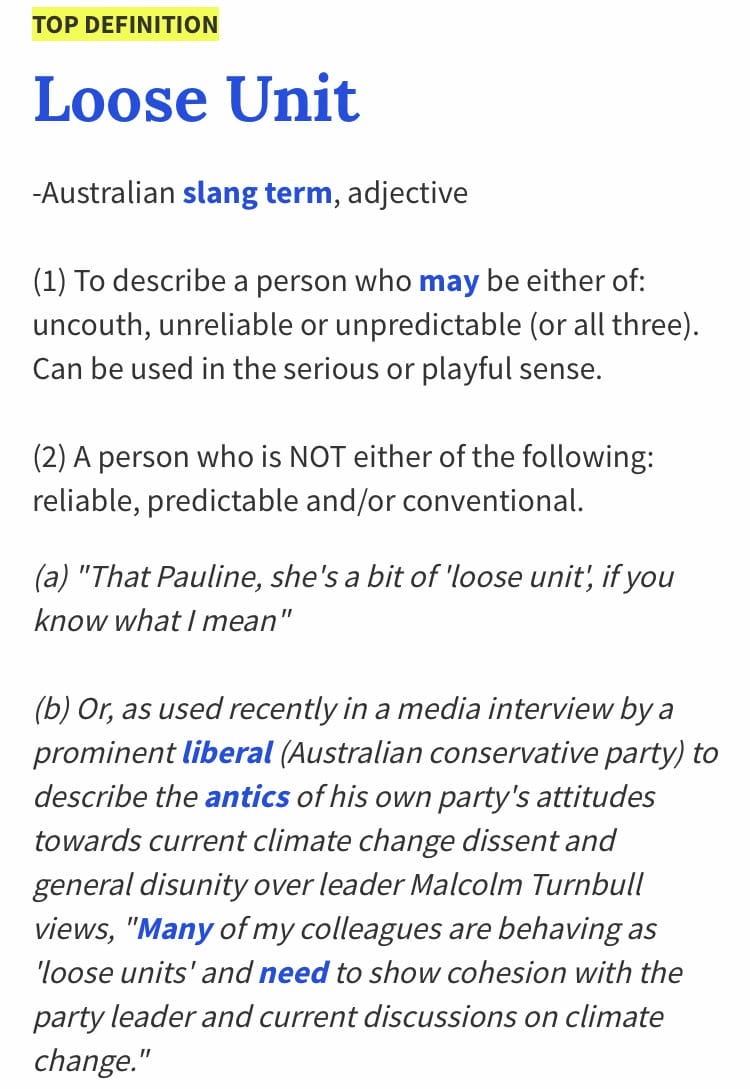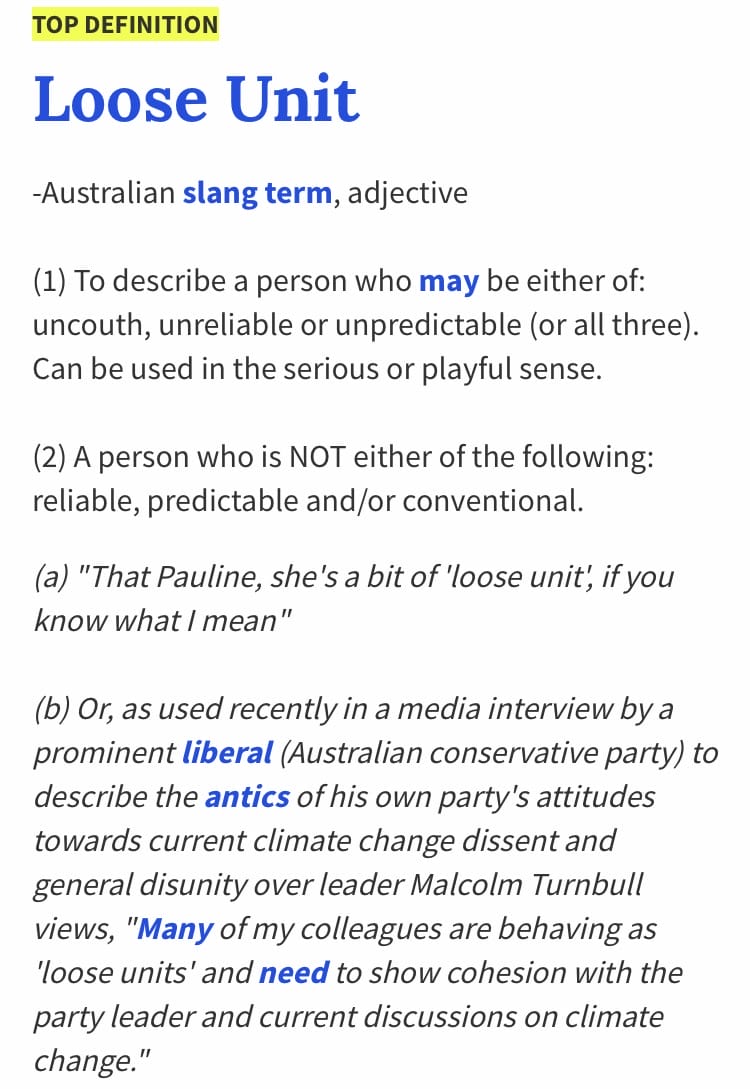 Even though it was a slow week, this week's designee was obvious. This week's Loose Unit is Bernie Karl. Karl, who owns Chena Hot Springs Resort, earned Loose Unit status by not only ignoring the mandatory fire evacuation earlier this week, but actually encouraging more people to show up! All while the Munson Creek Fire was fucking raging hundreds of feet from the resort. Now that is loose. And this was not the government being overly cautious. The fire was really close to the resort. But old Bernie was just like no big deal, come on down, folks! Classic Loose Unit. Their post from their official Facebook page to a Facebook group in Fairbanks is amazing. "We are open and operating at this time." Loose. People even showed up with horse trailers to evacuate the horses and other animals but Bernie was like, nah we are good. Employees were saying they were told if they left a place where a wildfire was raging they would be fired. Very loose.
Check out this Facebook video titled "Enjoy the smoke and have a soak." It gives you an idea of just how close the fire was. The comments are gold. The "crazy old man" is Karl. Another commenter mentions how they removed a post on their official Facebook page saying they were open for business.
And it gets even better. Only a few days after Karl ignored the evacuation order, Governor Dunleavy went up there and took pictures with him! Super loose. Karl, who is the king of obtaining government grants, fittingly serves on the board of AIDEA and is currently the vice chair.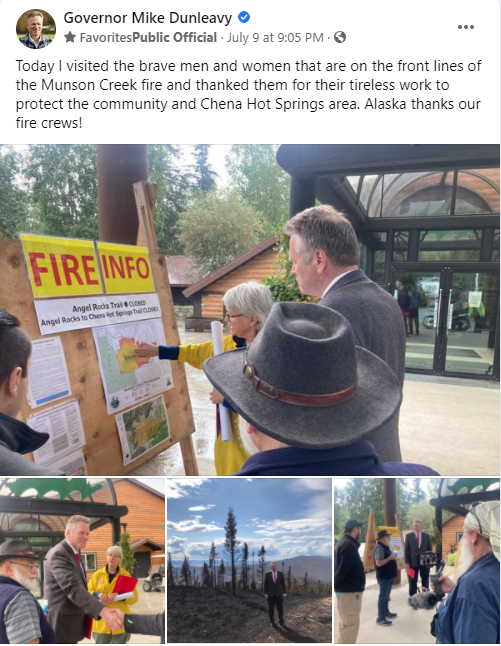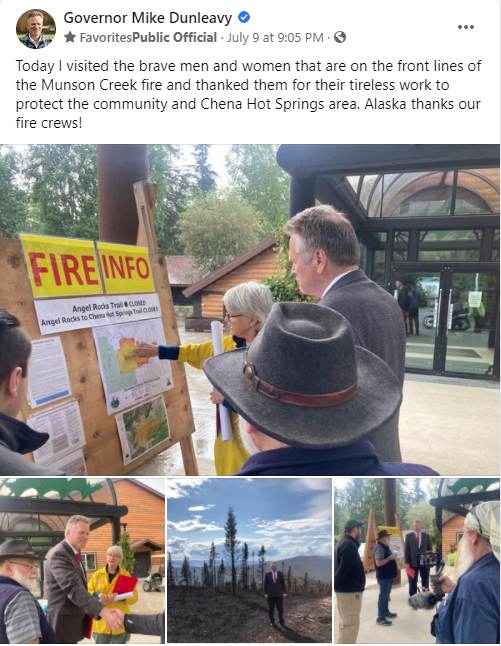 If you have a nomination for this week's Loose Unit, or if you have any political news, stories or gossip (or any old pics of politicians or public officials) please email me at [email protected]