We are almost two weeks into the legislative session. Everyone in Juneau is settling in to what is sure to be a weird session. With a Republican governor, bipartisan Senate majority, and a Republican controlled House thanks to the four members of the Bush Caucus, things are sure to get interesting the next few months. The deadline to file for the seven Anchorage Assembly seats was on Friday, though the withdrawal deadline is Tuesday at 5 pm. Governor Mike Dunleavy (R – Alaska) introduced his carbon bill, which he hopes will bring new revenues to the state. And some more politicos are on the move.
A friendly message and reminder to all our readers. The Landmine is made possible by myself and a team of awesome Alaskans. We worked hard on all of our election coverage. I am back in Juneau for the fifth session in a row to report on the Legislature. If you enjoy the content we provide, please consider making a one time or recurring monthly donation. You can click here to donate. We have a donation system that makes it super easy. We would really appreciate it. And thanks to everyone who has been supportive!
The finance committees are the Legislature's power centers. Here's how they could handle the PFD, the BSA and pensions
The following is an excerpt from this week's edition of the Alaska Political Report. You can click here for more information about the Political Report. A subscription is $1,299/year per organization. Discounted pricing is available for non-profits and government entities. Our coverage of the budget starts with the governor's proposed budget in mid-December and we track everything in detail through the entire process. If you have any questions or would like to subscribe, please email jeff@akpoliticalreport.com.
The makeup and dynamics of the House and Senate finance committees are much different than the previous Legislature. Each now has three co-chairs rather than the traditional two.
The two majorities did this to expand the leadership team of each body — giving them more plum positions to spread around. This new dynamic will affect the way lawmakers handle three major issues this session:
The size of the dividend
A boost to per-student spending, known as the Base Student Allocation (BSA)
Returning to a defined benefit pension system for public safety workers
What's interesting about the makeup of the House Finance Committee is its partisan split. Nineteen House Republicans made a deal with the four members of the Bush Caucus to form a 23-member majority. But Republicans only hold five of the 11 seats on the committee. Two of the majority members, Dillingham independent Bryce Edgmon and Nome Democrat Neal Foster, were part of the bipartisan coalition that controlled the House for the past six years. They are now two of the finance committee's three co-chairs.
The 11-member committee is divided between seven majority members and four minority members. The three co-chairs are Edgmon (capital budget), Foster (bills) and Palmer Republican DeLena Johnson (operating budget). Foster has been a co-chair since 2017. Johnson and Edgmon previously served on the committee, but for both of them, it's the first time serving as co-chair.
It takes six votes to pass a bill or amendment in the House Finance Committee. Edgmon and Foster could conceivably vote with the four Democratic minority members on a bigger boost to the BSA, and on returning to a defined benefit pension for public safety workers — which means those measures could pass even if the four Republican majority members vote no. Then there is the dividend. Foster is a supporter of the full dividend that GOP Gov. Mike Dunleavy proposed in his budget. But Edgmon has long been against a full dividend. If the majority members support a full dividend and the minority members vote against it — and if Foster votes yes and Edgmon votes no — it would pass 6-5.
But Fairbanks Republican Will Stapp, a member of the majority, has not endorsed a full dividend. He told the Political Report, "Without operational spending reductions or a high confidence in the governor's proposed new revenue, I would not be inclined to support a budget that requires a large CBR draw to balance."
The dividend, pensions and schools spending will be critical in the committee, and then on the House floor. Look for horse trading to take place on these issues, as well as between members and Dunleavy on his priorities, like his carbon proposal.
The three Senate co-chairs, meanwhile, are Sitka Republican Bert Stedman (operating), Bethel Democrat Lyman Hoffman (capital), and Golovin Democrat Donny Olson (bills). All three have long been members of the finance committee. This is Olson's first time serving as a co-chair.
The seven-member Senate Finance Committee does not include any minority members, because the three-member group is two short of being a recognized minority, and therefore are not entitled to any seats on the committee. Two members are new, Eagle River Republican Kelly Merrick and Juneau Democrat Jesse Kiehl. Merrick served as the capital budget finance co-chair in the House during the last Legislature.
It takes four votes to pass a bill or amendment in the Senate Finance Committee. The votes do not appear to be there for a full dividend. But the votes do appear to be there for an increase to the BSA and returning to a defined benefit for public safety workers. Like the House, these things will be subject to horse trading and a vote on the Senate floor.
A likely scenario is the House passes a full dividend and the Senate passes a lower dividend, possibly the 50/50 amount. This will be a key issue in the conference committee. If Foster is not on the conference committee again (he did not want to be last year even though he was a co-chair), it could be Edgmon, Johnson, and probably Ortiz from the minority. If Edmon and Ortiz vote together, a lower divided would be the result. This will be something to watch as it could spell turmoil in the House majority. We will be watching all of this closely throughout the session.
House Judiciary Committee First Meeting
The first meeting of the House Judiciary Committee, chaired by Representative Sarah Vance (R – Homer), was on Friday afternoon. And if that meeting was any indication of what is to come, we are all in for a real treat. Vance opened the meeting up by telling the members of the committee, "Is it liberty or social justice? Does it affirm the rule of law or the rule of man? Capitalism verses socialism. Individual rights verses collective rights. Does it preserve life or terminate it? These are the questions that I ask myself and I use as a measure before I consider any piece of legislation. Especially those that we consider in this committee." She also encouraged members to consult with the "great law books", including Leviticus.
But the real fun was just getting started. The first bill they took up was House Bill 38, a spending cap connected to GDP bill by Representative Will Stapp (R – Fairbanks). He was joined by Senator James Kaufman (R – Anchorage), who has a similar bill. Both are also supporting a constitutional amendment for a spending cap. Stapp and Kaufman presented on the bill but had to leave soon after for other meetings. So they let their staff finish the presentation and take questions from the committee. But before they left they took a few questions from the committee. And it was not pretty.
It got weird when they were asked by minority members why the dividend, the largest single item in the budget, was excluded. And it got weirder when Representative Cliff Groh (D – Anchorage) was trying to ask questions based a chart he was passing around that no one had ever seen. At one point Representative Ben Carpenter (R – Nikiski) asked Groh if it came from Legislative Finance. Groh said no, it was something he paid for on his own but added he showed it to the director of Legislative Finance and was given the old wink and nod. And then the poor staff were forced to basically say Dunleavy's current budget would be above their proposed spending cap. I highly suggest watching the meeting. This committee is definitely going to be one of the more entreating ones.
Other Happenings 
Here is the list of all the candidates for the seven Assembly seats up in April. Only two incumbents are running, Assembly members Christopher Constant and Felix Rivera. The withdrawal deadline is on Tuesday at 5 pm.
Here is the candidate list for the upcoming Anchorage Assembly elections in April. The withdrawal deadline is Tuesday (Jan. 31) at 5 pm. Only 2 incumbents are running for the 7 seats, Assembly members Constant and Rivera. So the Assembly will have at least 5 new members in April. pic.twitter.com/9fIkF5H2zb

— The Alaska Landmine (@alaskalandmine) January 29, 2023
Shirley Young is leaving her role as the public relations manager at the the Alaska Native Tribal Health Consortium to be the director of communications for the State Department of Health. Young has had a long career in media and is an awesome person. She also directed our last two live election shows. Congrats, Shirley!
Juli Lucky is the new executive director for Alaskan for Better Elections. Lucky, a former legislative staffer, joined the group a year ago as their chief operations officer. Congrats, Juli!
This Week's Loose Unit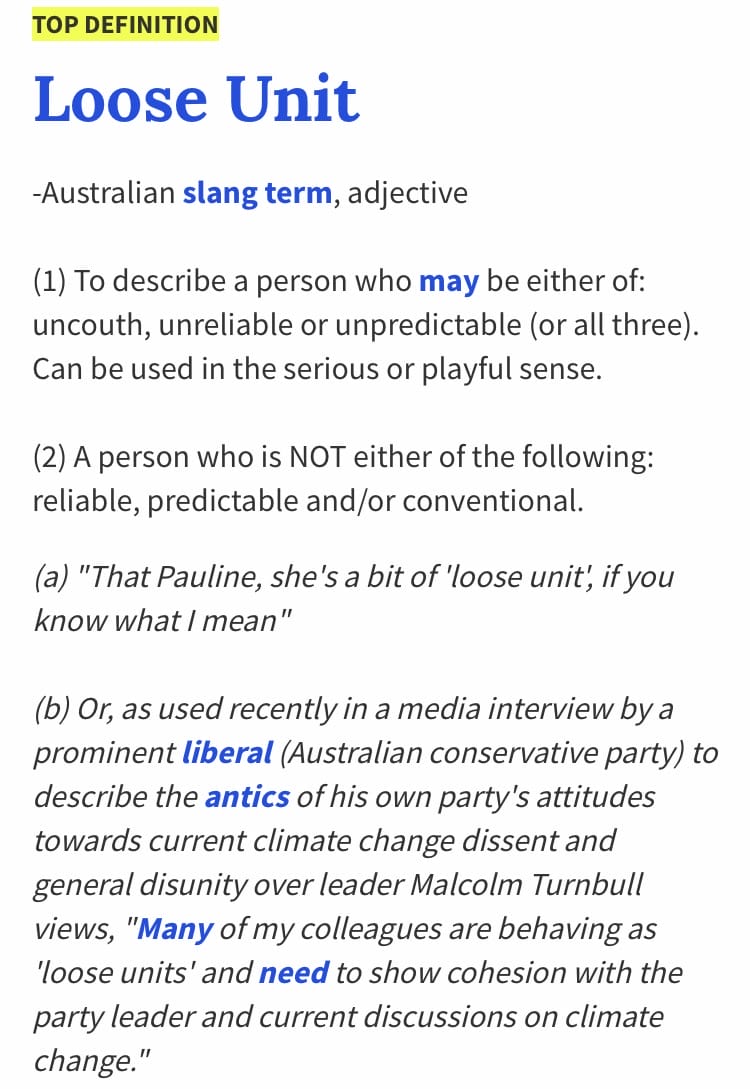 This week's designee is exactly what the Loose Unit is designed for. It really does not get looser than this one. And while I joke a lot in this section, this one is dead serious. This week's Loose Unit is the Alaska State Troopers. On January 18, Mary Fulp, Alaska's 2022 Principal of the Year, was hauled off to Mat-Su Regional Hospital by two troopers based on a non-existent or fabricated ex parte court order. Luckily, she was smart enough to post her interaction with them on Facebook Live. You can watch that here.
You can read this press release from her lawyers about what happened. But essentially it sounds like members of her family decided she needed to be committed and somehow convinced the troopers to do it without a court order. Keep in mind there is a very specific procedure the courts and troopers follow when dealing with commitment orders. But for Fulp, the troopers took her against her will to the hospital absent a court order. She spent three days there and was injected with antipsychotic drugs like Haldol. Imagine that for one second. This violation of her civil liberties is on another level. People need to be held accountable for this. And I hope she gets a major payday from the state for their major fuck up.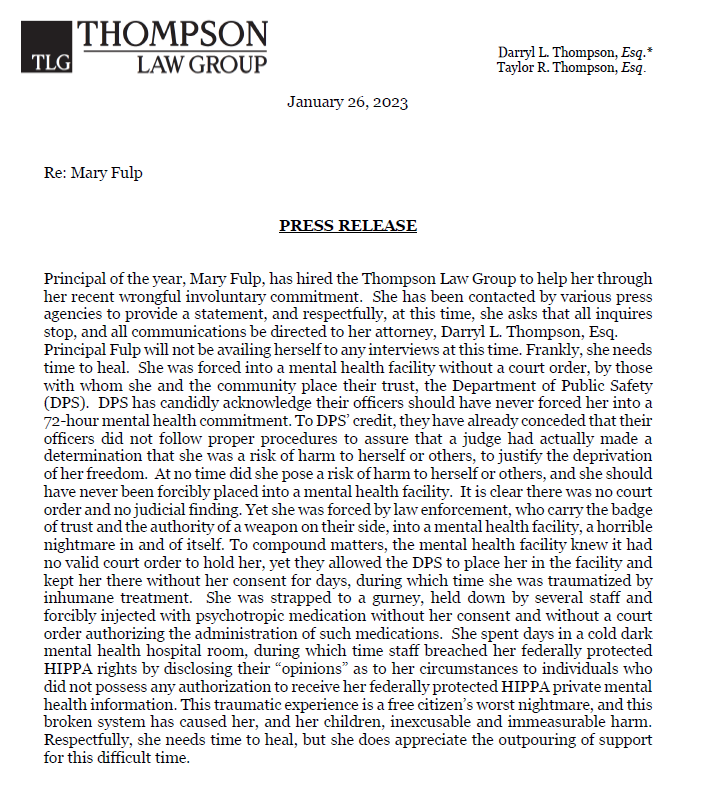 If you have a nomination for this week's Loose Unit, or if you have any political news, stories or gossip (or any old pics of politicians or public officials) please email me at jeff@alaskalandmine.com.