The first week of the second session of the 31st Alaska Legislature was something else. As one veteran of the Capitol told me, "In 25 years of working in Juneau I've never seen a first week this crazy. Not even close." That about sums it up. Between the Senate re-organizing committee assignments, a joint session that got real loose, and a representative resigning, there was something for everyone.
A friendly message and reminder to all our readers, the Landmine is made possible by myself and a team of awesome Alaskans. It takes a lot of work to provide the content we do. I'm in Juneau for session which adds additional costs. If you enjoy the content we provide, please consider making a one time or recurring monthly donation. You can click here to donate. We have a donation system that makes it super easy. We would really appreciate it. And thanks to everyone who has been supportive!
The Legislature
Where to start, The biggest news this week out of Juneau was the restructuring of committee assignments in the Senate. This all goes back to last July when Senators Mike Shower (R – Wasilla), Shelley Hughes (R – Palmer) took off from the Capitol to avoid voting on a budget that did not include a full PFD. Senator Lora Reinbold (R – Eagle River) stayed and voted against part of it. This broke the caucus agreement. This Landmine article provides a full summary. The result was Senators Shower, Hughes, and Reinbold lost their committee chairmanships. They were replaced by Senators Josh Revak (R – Anchorage), John Coghill (R – North Pole), and Click Bishop (R – Fairbanks). Here is the complete Committee on Committees report:
What was interesting about adopting the Committee on Committees report was that seven Republican members of the Senate Majority voted against it. It passed 13-7. All six Senate Democrats voted for it. Without the vote of Senate Democrats the report would not have been adopted. I asked the Senate Democrats why they did not seem to get much out of it during a press conference this week. Senator Tom Begich (D – Anchorage) commented, "We are about policy, not politics." While I'm sure that is partially true, the truth is they know the Majority needs their votes. So they are playing the long game. Which is kind of politics. Also, Begich has a great relationship with Senate President Cathy Giessel (R – Anchorage). Many legislators should take note – relationships are important, especially in politics.
Several staff who work for the senators who lost committee chairmanships are wondering if they will still have a job. Legislators get extra staffing points when they chair a committee or are on the Finance Committee. Senators Mike Shower and Peter Micciche (R – Soldotna) both lost their seats on the Finance Committee, but Micciche picked up chair of the Resources Committee. The Senate Finance Committee is now back down to seven members. All of the staffing decisions should be clear next week.
On Friday the Legislature held a joint session to take up veto overrides. The main ones were Governor Mike Dunleavy's (R – Alaska) veto of $5 million to the Alaska Marine Highway and a reduction of school bond debt reimbursement. This is from the supplemental budget the Legislature passed last summer. The vote failed 37-20. 45 votes are required to override a budget veto. Some wondered why they held a joint session on overrides when they knew they did not have the votes. My take is they wanted to get all of the legislators who went to Wasilla last summer to finally have to cast a vote on overrides. This will surely come up in the elections this year for some of the 20 who voted no. Below is a list of votes. Representative Sara Rasmussen (R – Anchorage) is not happy about the joint session!
During a meeting of the House State Affairs Committee this week, Corrections Commissioner Nancy Dahlstrom announced that the Department of Corrections (DOC) was cancelling their RFP to house Alaska inmates out of state. She also announced they would be reopening the Palmer Correctional Center. Sources report that DOC did not receive a single response to their RFP. So cancelling it may have been more about practicality than having a change of heart.
Trevor Fulton, who worked for the late Senator Chris Birch and briefly for Senator Josh Revak, has moved to Representative Chuck Kopp's (R – Anchorage) office. Ladies, Trevor's taken!
Other Happenings
Check out this scathing op-ed against Goldman Sachs editorial written by North Slope Borough Mayor Harry Brower. It includes:
By ignoring the concerns of Alaska Natives and basking in positive publicity, Goldman Sachs demonstrated the condescending, subtly racist attitude that too often has been the hallmark of the way Westerners deal with indigenous people. Had anyone at Goldman Sachs bothered to ask us what we thought about funding energy plays on the North Slope, here's what we would have said:
From the time of Western contact until we were able to claim the rights to our lands, the people of the North Slope and other indigenous Alaskan communities suffered and lived under horrific conditions. In 1953, researchers from the University of Pittsburgh traveled throughout rural Alaska conducting a health survey. The visitors were shocked by what they found.
Things got very loose this week for the Recall Dunleavy campaign. Judge Eric Aarseth ruled a halt to the Recall campaign, which confused everyone. But the next day he issued another ruling saying the previous ruling was inadvertent. The Alaska Court System said the mistake was due to Aarseth being out of town on an "urgent family issue." This KTUU article explains it in more detail. Aarseth ordered that petition booklets need to be printed by February 10. Sources report that the Recall campaign plans to rent out the Sullivan Arena for three days to collect signatures.
If this was literally any other week, MoHagani Magnetek would definitely be the Loose Unit. Magnetek recently announced she was going to run against Assemblymember Felix Rivera. She posted a ton on her Facebook page about it. But not long after someone either pointed out to her or she realized she did not live in Rivera's district. So she switched to run against Assemblymember Austin Quinn-Davidson! But it gets even better. She just edited all of the Facebook posts and switched it all from District 4 to District 3!
She has yet to file with the Alaska Public Offices Commission (APOC) but has been using her personal Facebook account to promote her campaign. I have yet to see a paid for by disclaimer anywhere. Someone needs to give her a campaign 101. Unrelated to the campaign, check out this video of MoHagani Magnetek acting like she is Miss Cleo and offering a free tarot readin! This campaign is going to be lit!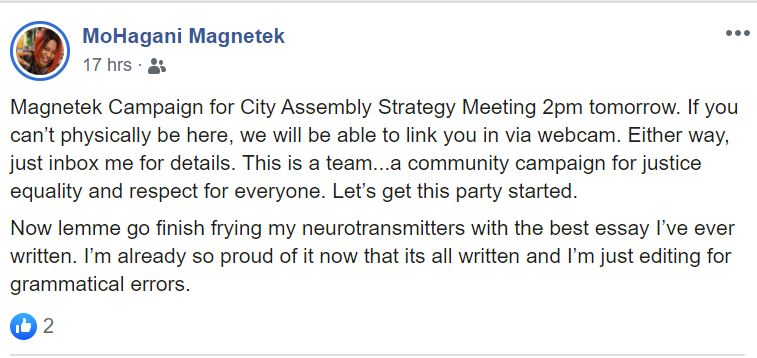 The last day to file to run for Anchorage Assembly is January 31. You can click here to see who has officially filed. So far Assemblymember Chris Constant has yet to pick up an opponent. Assemblymember Suzanne LaFrance is also officially unopposed but Rick Castillo has filed to run for that seat on APOC. Assemblymember Pete Petersen has also not officially filed yet but has filed with APOC. I'm really hoping Jamie Allard, who is running to replace Assemblymember Fred Dyson, does not run unopposed. Talk about a Loose Unit! What the hell is wrong with Eagle River?
Sources report that Matthew Greene was let go as the data director for the Alaska Democratic Party. I have not been able to determine why. I obtained an email from Alaska Democratic Party Executive Director Lindsay Kavanaugh to Neil Reiff at the D.C. law firm Sandler Reiff Lamb Rosenstein & Birkenstock. In the January 24 email she describes closing out the "incident with the former data director." She also says the FBI is coming out and "suggested we may want to have an attorney on the line." Weird.
This Week's Loose Unit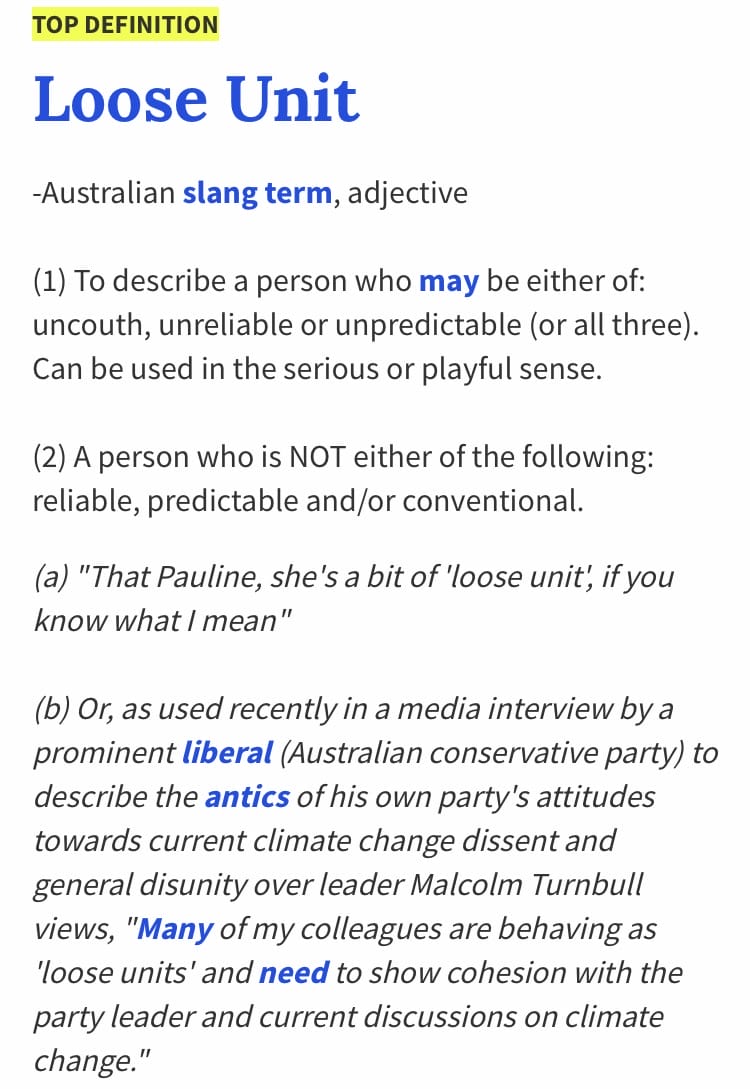 This has been one of those weeks. There were SO many deserving candidates. So many that it would be impossible to pick just one. So this week's Loose Unit is Juneau. It all started when I arrived on Monday. I went to go check into the Driftwood. When I tried to check in they asked me what I was doing there. I told them I was there to check in. They said but you called and cancelled last night. I was like what in the hell are you talking about. After discussing it, and checking their phone records, it was determined that someone had called the Driftwood on Sunday night impersonating me and cancelled my reservation! So loose. I have been unable to determine who it was, but the search continues. Thankfully the people at the Driftwood are cool and it's all good.
Then the whole thing with the Senate went down. Check out the shirt Shower was wearing on Tuesday! So loose.
After it all went down, Senator Reinbold went on the talk radio circuit. Here is what she told Dan Fagan:
Well, again, I can only tell you my position and he can speak for himself. But he said he would not punish us. He only needed seven votes, basically, to get into our Republican Senate. He acts all innocent, he acts all sweet and all that. But just remember, he worked for Don Young for a long time. He knows the game and he knows it well. He knows the players, he knows the lobbyist Ashley Reed. He's been around the block in politics for awhile. He ended up cutting backdoor deals. He can deny it all he wants – but I looked him in the eyes and asked him. He said 'yes.' It was confirmed by the Senate President. And so, yes, Josh was part of the reorganization and sadly he ended up getting several of my powerful positions and some of Senator Showers', which is incredible. His cover-up was to vote 'no' yesterday, so he's going to act all innocent. You know, but they covered for him – that's part of the game down here. He accepted those behind the door – excluding us, the four most conservative members of the Senate, alienating a couple hundred thousand Alaskans.
Then it got super loose during the joint session. Right as it got started Representative David Eastman (R – Wasilla) tried to put a call on the house for Representative Ben Carpenter (R – Nikiski). That halted everything while they figured out what to do. Eastman later removed his call. Then it got real loose. At one point Reinbold tried to again place a call for Carpenter, who was still shown as absent and not excused. Representative Kopp read from Mason's Manual and described dilatory actions only intended obstruct the process. He asked Giessel to rule her out of order, which Giessel did. Reinbold did not like that and then yelled, "You're out of order!" Now that is loose. It was kind of like this:
Then you had Senator Shelley Hughes say people choose to live in rural Alaska and basically fuck em. And you had several Mat-Su legislators say the Mat-Su Borough was cool paying more for school bond debt. Later I received a copy of this letter from December 2019 saying the opposite. So loose.
And then on Friday now-former Representative Tammie Wilson announced she was resigning to take a job with the Office of Children's Services. Well, kind of. She is going to work as a special advisor to Health and Social Services Commissioner Adam Crum. What in the hell. There is some question about whether that violated the Alaska Constitution. But as one legislator told me, "It all depends who works at the Department of Law." Wilson's resignation came as a big surprise to everyone. House members proceeded to say kind words about her. Representative Matt Claman (D – Anchorage) jokingly remarked that they had one thing in common – their spouses always asking why they would meet with each other after 10 pm. Very loose.
I had plans to come back to Anchorage on Saturday afternoon to do some tax stuff. My flight was scheduled to leave at 12:50 pm. We were stuck at the gate for an hour due to a plane behind us not moving. We finally got out and went for deicing. After nearly a two hour delay we were finally going to take off. But then the captain told us there was some kind of alarm for the rear stabilizer. So we had to return to the gate. Once we got back to the gate the captain told us it was a good thing we came back to the gate because when he tried to engage the brake the handle came right off! Super loose. So we all got off the plane to wait. And guess who was on the plane? Fucking Suzanne Downing. So I was now trapped in the Juneau airport with her. Talk about loose!
We were told that a freight plane would arrive at 6 pm with the needed part. So we all waited. And waited. We were later informed that the freight plane could not land after several attempts due to weather. So the flight was finally cancelled around 8 pm. What a great 8 hours spent at the Juneau airport. If this week is any indication about how loose session is going to go, everyone better hang on tight for the ride. Damn.
If you have a nomination for this week's Loose Unit, or if you have any political news, stories or gossip (or any old pics of politicians or public officials) please email me at jeff@alaskalandmine.com.