The first session of the 32nd Alaska Legislature began this week. The Senate was finally able organize a majority on the first day. The House is still divided at 20/20. The Capitol remains open to only legislators, staff, certain members of the executive, certain members of the judiciary, and media. It's a much different feeling in the halls of the Capitol without all the lobbyists and members of the public around.
A friendly message and reminder to all our readers, the Landmine is made possible by myself and a team of awesome Alaskans. It takes a lot of work to provide the content we do. I am now in Juneau for the session, which means paying rent for the place I'm staying at. If you enjoy the content we provide, please consider making a one time or recurring monthly donation. You can click here to donate. We have a donation system that makes it super easy. We would really appreciate  it. And thanks to everyone who has been supportive!
The Legislature 
The big news this week was the 13 Senate Republicans were finally able to organize a majority. Senator Peter Micciche (R – Soldotna) was chosen as Senate President. The majority hastily came together on Tuesday, the first day of session. A bipartisan coalition was almost formed last week, but it fell apart. This Landmine article, How the bipartisan Senate Majority fell apart, explains what happened. Of all the committee assignments the most interesting by far is Senator Lora Reinbold (R – Eagle River) will chair the Senate Judiciary Committee. She will be joined by Senators Mike Shower (R – Wasilla), Shelley Hughes (R – Palmer), Robb Myers (R – Fairbanks), and Jesse Kiehl (D – Juneau). Reinbold is already posting debunked articles on Facebook about masks and Covid vaccinations. That committee is going to be absolutely lit.
Here is a list of Senate committees and membership:
Senate Republicans remain deeply divided on the Permanent Fund Dividend. Their "caucus of equals" will likely fracture when controversial votes come up. The last two years Democrats in the Senate Minority were treated fairly and things were copacetic. The first day the Senate Majority prevented Democrats in the minority from having seats on Legislative Council and Legislative Budget & Audit. Just wait until Senate Democrats start introducing full PFD amendments and not giving their votes for important 3/4 votes. That "caucus of equals" will quickly start resembling Animal Farm. "All animals are equal, but some animals are more equal than others." My prediction is Senate President Micciche will soon become the kind of tyrant he criticized former Senate President Cathy Giessel of being. It will be fun to watch.
The House remains strongly divided at 20/20. There was an attempt to make Representative Bart LeBon (R – Fairbanks) Speaker pro tempore, but that failed 20-20. Twenty-one is needed. When the House again tried a few days later to elect a Speaker pro tempore, no one was even nominated. Until they can get that resolved, Lieutenant Governor Kevin Meyer (R – Alaska) will continue to preside over House floor sessions. Two years ago Representative Neal Foster (D – Nome) served as Speaker pro tempore for a month before the House finally organized and elected a Speaker. Now they can't even elect a pro tempore. Both sides are dug in. There was some talk that Representative LeBon and Representative Steve Thompson (R – Fairbanks) might go back to the coalition. But now that Tom Wright is in the building he is never far away from Thompson. It could be a while before the House figures things out. The advantage is definitely with the coalition (Democrats/Independents/Stutes). It includes Speaker Bryce Edgmon (I – Dillingham) and a lot of people who been in the majority. The only people in the Republican group who have been in a prior Republican majority are Representative Thompson and Representative Cathy Tilton (R – Wasilla). Of the 20 in the Republican group, nine were elected in 2020 (Representative Mike Prax (R – North Pole) was appointed in 2020 and then elected), and six were elected in 2018.
Other Happenings
Anchorage Republicans Judy Eledge and Marcus Sanders announced this week they are running for the Anchorage School Board. Below is the current list of candidates for Anchorage mayor and the Anchorage School Board. No Assembly seats are up this year. So far there are nine candidates for mayor! I had to take a closer look at candidate Heather Herndon's name. At first I read Heather Hebdon, the Executive Director of the Alaska Public Offices Commission. That would be awkward. The last day to file is Friday, January 29, 2021, by 5:00 pm.

While the Capitol is closed to the public, Juneau bars and restaurants are open for business! David Keith, Al Gross' former campaign manager, was spotted out in Juneau this weekend. For those wondering, he has not been hired as a staffer. He's in town visiting his lady friend.
The Recall Dunleavy group held a virtual press conference this week. They say they are rebooting their effort and plan to finish gathering their signatures in a few months. Speakers included Meda DeWitt, Scott Kendall, Vince Beltrami, and Pat Race. The group says they have internal polling but they are not sharing it. The group opposing the recall released their polling that shows Governor Mike Dunleavy (R – Alaska) is ahead 57-39.
The anti-recall group in Alaska, Keep Dunleavy, sends along polling data from last month that shows the governor running ahead, 57-39, with 4% undecided and 4.4% margin of error.

Keep Dunleavy paid for the poll.#AKleg pic.twitter.com/aIvKprpqOC

— Nat Herz (@Nat_Herz) January 20, 2021
ConocoPhillips is offering early retirements to their employees. Employees need to apply and then wait to see if they were selected. It would be interesting to see who in Alaska has applied so far. I wonder if a certain executive who lives on Campbell Lake has applied? I'll offer to plan the party as long as I'm invited.
I am thrilled to announce that a federal court granted my motion for preliminary injunction against Governor Dunleavy for excluding me from press conferences. This ruling means he must include me. It is a huge win for the First Amendment. This would not have been possible without my amazing lawyers Matt Singer and Lee Baxter from Schwabe, Williamson & Wyatt. Here is part of the order:
This Week's Loose Unit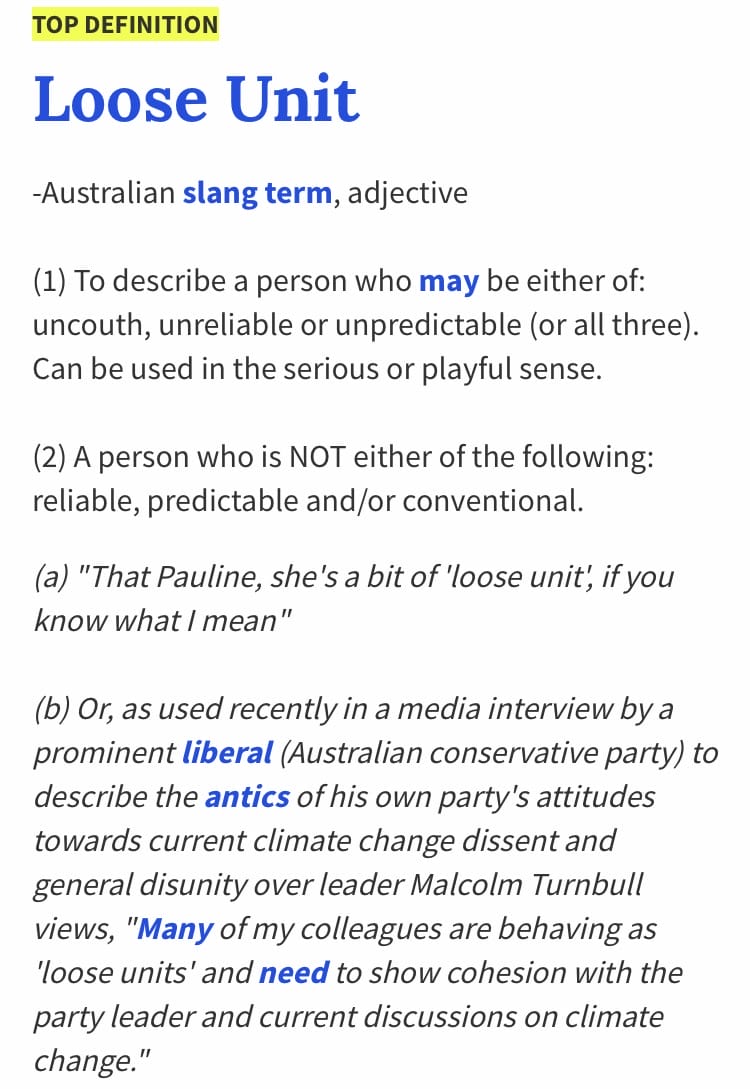 As it often happens, a late development on social media made this week's designee clear. This week's Loose Unit is Anchorage Assemblymember Jamie Allard. Yesterday, Suzanne Downing posted a bizarre article, "Rep. Hannan to request cancellation of '3REICH' vanity license plate." Downing's dislike for Libby Bakalar is so strong she actually tries to makes Bakalar the bad guy in this one. That is next level loose. Anyhoo, after it was revealed the same guy has the license plates "3REICH" and "FUHRER," Allard, fluent German speaker and constitutional scholar, could not help but jump in.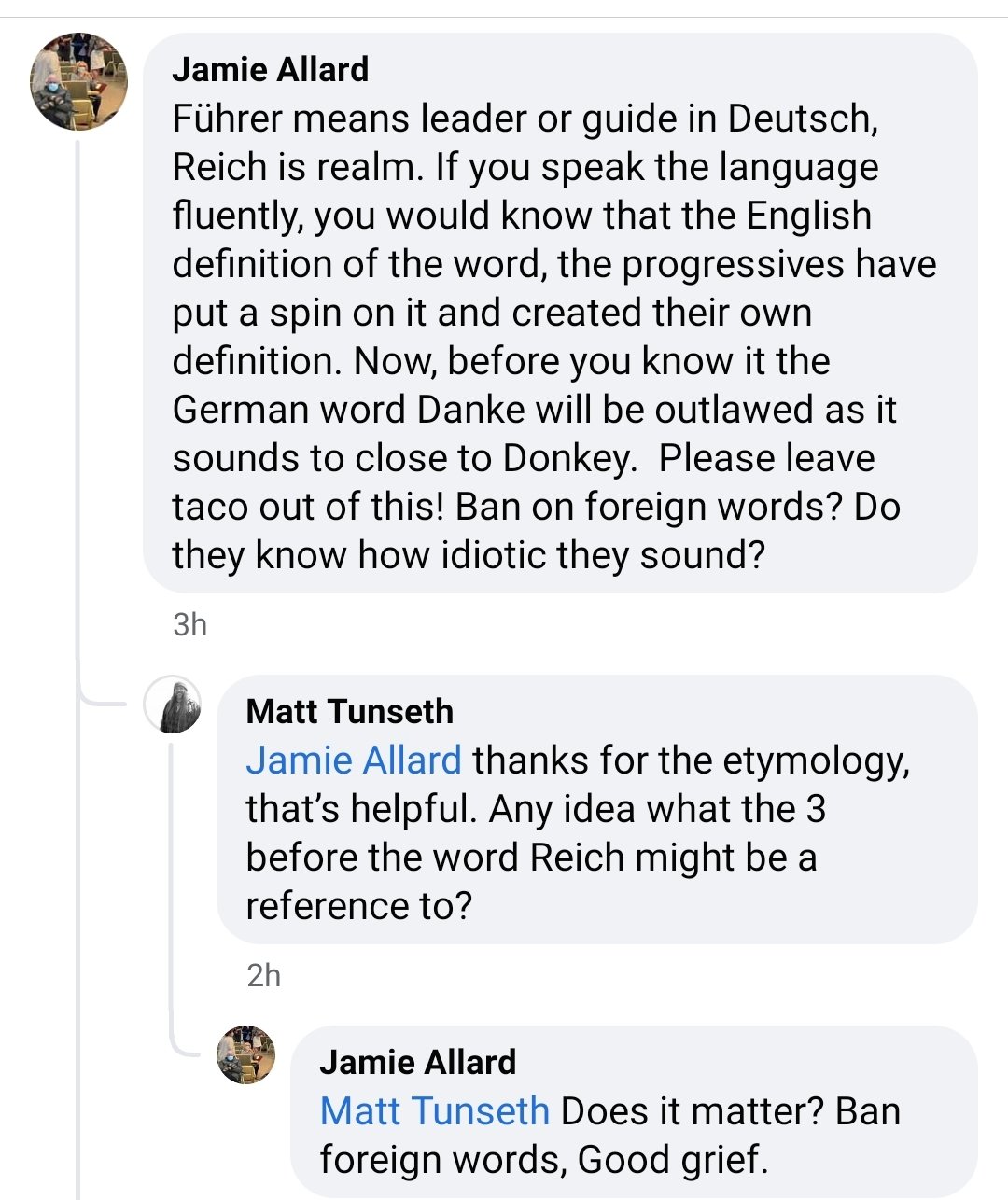 Ignoring the fact that there could probably be some odd First Amendment argument for these horrible license plates, Allard's ludicrous comment arguing "reich" and "fuhrer" are just regular German words is beyond loose. But she was just getting started. She then posted this to her official Facebook page: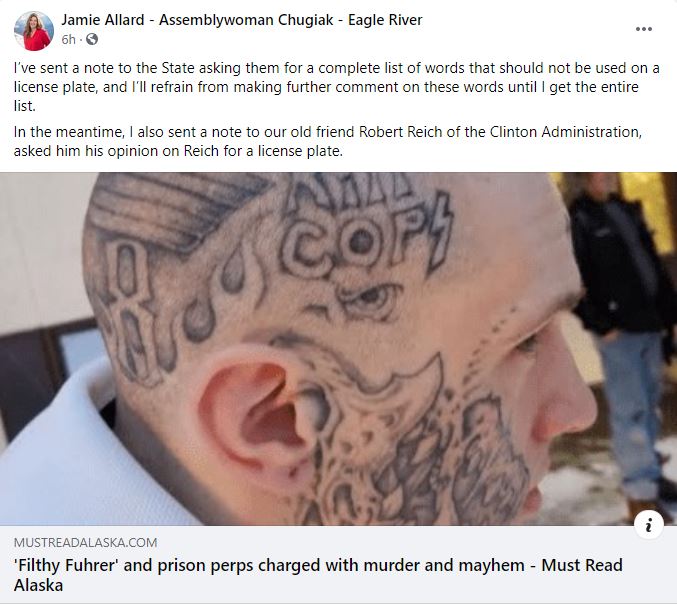 I can't think of the last time someone was such a textbook definition of a Loose Unit. Asking what Robert Reich, who is Jewish, thinks about a "3REICH" license plate is fucking loose. The next Anchorage Assembly meeting is going to be real fun to watch.
If you have a nomination for this week's Loose Unit, or if you have any political news, stories or gossip (or any old pics of politicians or public officials) please email me at jeff@alaskalandmine.com.