The first week of session has come and gone. While things were more or less cordial, it's clear that the divisions we have seen in the Legislature the last several years are still there. Governor Mike Dunleavy (R – Alaska) held a pre-session press conference on Monday that included an acrimonious tone about the press. Legislative Council voted to mandate masks in the Capitol and require COVID testing for legislators and staff, but no one else who enters the Capitol. And a new entrance into the governor's race this week marks the second elected Republican that is challenging Dunleavy.
A friendly message and reminder to all our readers, the Landmine is made possible by myself and a team of awesome Alaskans. It takes a lot of work to provide the content we do. I am back in Juneau to report on the Legislature. Living in Juneau for session is not cheap. If you enjoy the content we provide, please consider making a one time or recurring monthly donation. You can click here to donate. We have a donation system that makes it super easy. We would really appreciate it. And thanks to everyone who has been supportive!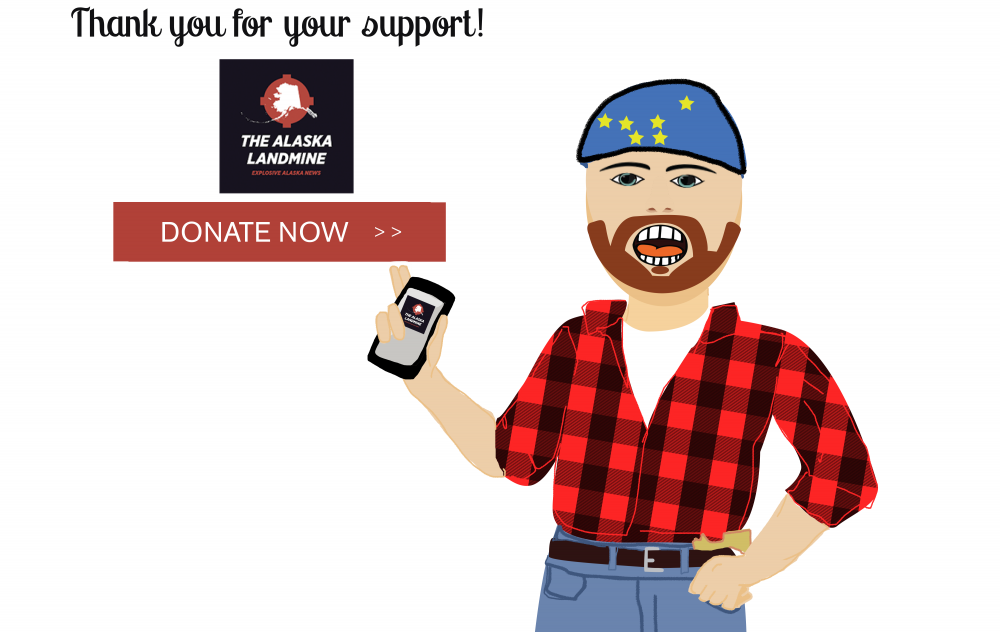 Mixed messages kick off election year legislative session
The following is an excerpt from this week's edition (1/20/2021) of the Alaska Political Report. You can click here for more information about the Alaska Political Report. A subscription is $1,299/year per organization. Discounted pricing is available for non-profits and government entities. We will be providing extensive election coverage this year in addition to our session coverage. If you have any questions or would like to subscribe, please email jeff@akpoliticalreport.com.
The second session of the 32nd Alaska Legislature kicked off this week. On Monday, GOP Gov. Mike Dunleavy held a press conference leading into the session, discussing his public safety initiative, election legislation, and the dividend. When asked, he again denied any involvement in the firing of Angela Rodell as chief executive of the Permanent Fund.
Dunleavy would not answer a question about the status of a report on the potential for legalized gambling that his administration commissioned for nearly $500,000. The report was provided to the media the next day, but sources inform the Political Report that Dunleavy is no longer planning on introducing a gaming bill, due to pressure from the charitable gaming industry and the religious community. He concluded the press conference with sharp words for the media — specifically the Anchorage Daily News. "We're just going to make sure we have a set of rules when we have press conferences anymore," he said.
Before the first House and Senate floor sessions began on Tuesday afternoon, the House Ways and Means Committee held a hearing on Dunleavy's 10-year fiscal plan. Alexei Painter, director of the Division of Legislative Finance, and Neil Steininger, director of Dunleavy's Office of Management and Budget, both testified.
Some observers wondered why Painter and Steininger were testifying before a special committee created a year ago to look into new revenues; typically, the directors of legislative finance and OMB testify before the finance committees. Anchorage Democratic Rep. Ivy Spohnholz, who chairs the ways and means committee, has not been shy about using it as a platform to highlight her fiscal positions. The slim House majority has little ability to rein in the special committee.
The House's opening floor session Tuesday got tense following an introductory plea for civility by Kodiak Republican House Speaker Louise Stutes. "First and foremost," she said, "decorum will be returned to this house."
"The impugning of members and their motives, or any conduct unbecoming of these chambers, will no longer be tolerated and will be met with a swift gavel," she said. She went on to lay out new rules for special orders, which are the speeches members can give at the end of floor sessions.
Anchorage Democratic Rep. Chris Tuck, the House majority leader, said his bipartisan caucus is "committed to putting aside party politics."
"We are committed to treat one another with respect. And we are committed to be fiscally responsible," he added. Big Lake Republican Rep. Kevin McCabe responded by applauding Tuck's speech but then added: "The minority has been trying to do that all last session and we will continue to try to do that." He then talked about his background in negotiations and said, "We have a saying: 'Watch what they do, not what they say.'" He went on to criticize Juneau Democratic Rep. Sara Hannan's decision not to let Anchorage Chief Medical Officer Dr. Michael Savitt answer questions during Monday's Legislative Council meeting on COVID protocols for the Capitol.
The opening Senate floor session was not as dramatic. But the next day members of the Senate Finance Committee, led by Sitka Republican Sen. Bert Stedman, came to a House Finance Committee meeting and offered them their choice of one of two giant symbolic checks that represent multi-billion-dollar transfers from the Permanent Fund's earnings reserve account to the principle account. One check, for $4.9 billion, represents the Legislature's transfer in 2020. The other check, for $4 billion, represents the $4 billion transfer that Dunleavy attempted to veto last year — but failed to because of a drafting error. The visit, celebrating a mistake by the governor, was a clear message from the Senate Finance Committee to Dunleavy.
Anchorage Assembly Races
Official registration for the upcoming April Assembly races closes on Friday (1/28/2022). Since last Sunday's column, Kevin Cross filed for the Eagle River/Chugiak seat, Kathy Henslee filed for the Midtown Anchorage seat, Assembly member Forrest Dunbar and Christopher Hall filed for the East Anchorage seat, and Randy Sulte filed for the South Anchorage seat. Assembly members Kameron Perez-Verdia (District 3), Meg Zaletel (District 4), and John Weddleton (District 6), who are all running for re-election, have not yet officially filed. Assembly member Crystal Kennedy (District 2) is not seeking re-election. Tiffany Lund, who is endorsed by Kennedy, is also running for District 2 seat. Former Republican Representative Liz Vazquez is challenging Perez-Verdia. Stay tuned for a full breakdown of the Assembly races after filing closed. We will also be hosting debates for all of the races. Ballots are mailed out on March 15.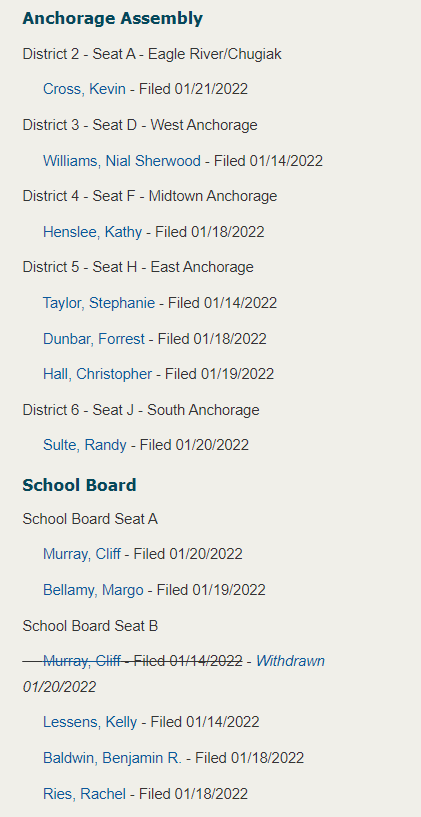 Other Happenings 
Kenai Peninsula Mayor Charlie Pierce filed a letter of intent this week to run for governor. This marks the second elected Republican official to challenge Dunleavy. Representative Christopher Kurka (R – Wasilla) being the other. Pierce was elected mayor in 2017. He has been popular among conservatives for opposing many of the strict COVID protocols adopted in Anchorage and other parts of the state. I spoke with Pierce this weekend. He said he's been frustrated at how things have been going in the state. He said he's been thinking of getting in the race for a while. "I am a Republican, but I am an Alaskan first. I will always have an open door policy," he said. Dunleavy campaign spokesperson Andrew Jensen provided this statement about Pierce's entrance into the race:
With just more than four months until the June 1 filing deadline, we aren't surprised to see candidates enter the race for governor and anticipate there will be more. From a budget deficit to a surplus, from skyrocketing crime rates to safer streets, and with steady leadership through a major earthquake, a destructive wildfire season and a once-in-a-lifetime pandemic, Governor Dunleavy is proud to run on his record and looks forward to engaging in this race on the issues that are important to Alaska's voters.
The Alaska Supreme Court upheld Judge Greg Miller's ruling, rejecting a constitutional challenge to Ballot Measure 2, this week after oral arguments. This means the new voting system, an open primary and ranked choice voting in the general, is here to stay. At least for this year. A future legislature or ballot initiative could change it.
Doug Smith is no longer serving on the Alaska Gasline Development Corporation board. His seat expired in December and he did not seek reappointment. He was appointed by Dunleavy in 2019 and had served as board chair since. Smith says he enjoyed his time on the board and hopes the project moves forward, but that it will depend on private investment. Dunleavy appointed Dennis Michael of Fairbanks to replace Smith. Warren Christian is the new board chair.
A meeting of the House Health and Social Services Finance subcommittee got weird this week. Representative Kurka, who was not wearing his mask, was told by Representative Andy Josephson (D – Anchorage), who chairs the committee, that if he did not put his mask on Josephson was going to have to call security. But when he said it, there was some calm elevator music playing on Gavel Alaska. It made the whole interaction that much better. Check it out here:
Mike Barnhill, who left his role as deputy commissioner for the Department of Revenue last July, is now the executive director for the Cincinnati Retirement System. Congrats, Mike! So much for that sabbatical…
Mike Barnhill, former acting Revenue commissioner and former Revenue deputy commissioner, is now the executive director for the Cincinnati Retirement System. Looks like he won't be coming back to Alaska. #akleg pic.twitter.com/nQHcxWy2DR

— The Alaska Landmine (@alaskalandmine) January 24, 2022
This Week's Loose Unit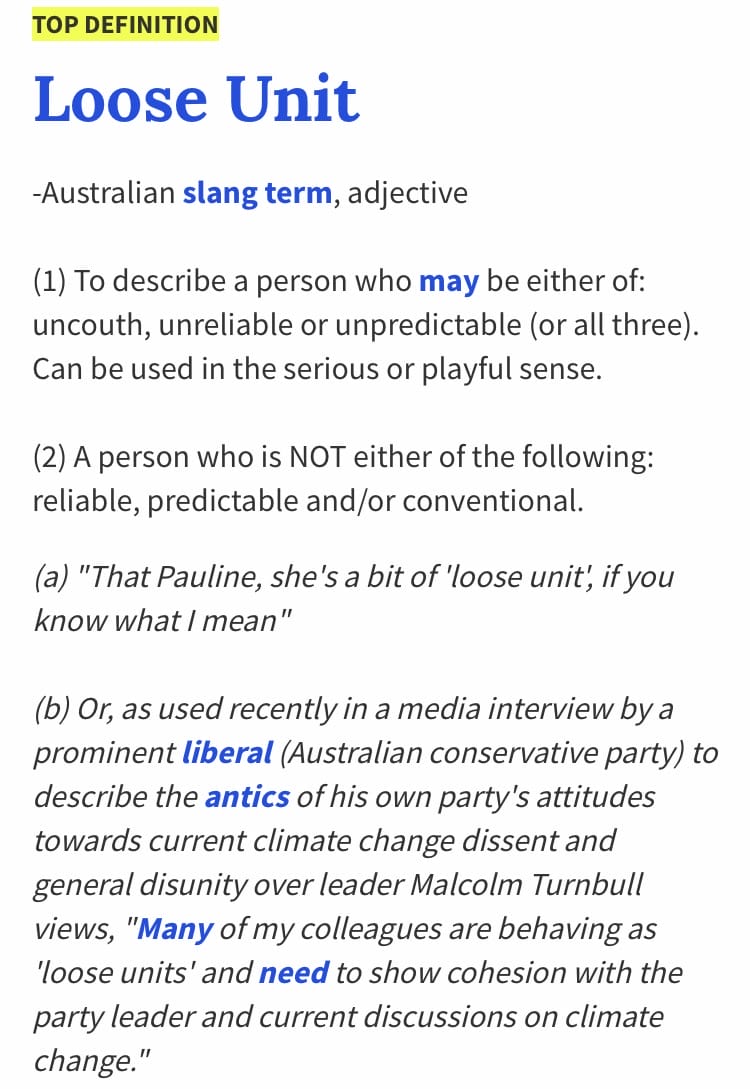 Session starting always amplifies the number of Loose Unit candidates. This week's designee became abundantly clear the day after session started. This week's Loose Unit is Senator Bert Stedman (R – Sitka). On Wednesday, Stedman, who co-chairs the Senate Finance Committee, came into a meeting of the House Finance Committee with two Publishers Clearing House style checks. Classic Loose Unit behavior. Stedman had members of the Senate Finance Committee in tow. The checks represent legislative transfers from the earnings reserve to the principal of the Permanent Fund. One check, for $4.9 billion, represents the FY 20 transfer. The other check, for $4 billion, represents the $4 billion transfer that Dunleavy's people meant to veto last year but forgot to.
Stedman proceeded to give a speech to the House Finance Committee and then offered them one of the two checks. The other Senate Finance members stood there looking really uncomfortable. The House Finance Committee opted to take the larger check, probably because of what the smaller check had written on it. The note on the smaller check reads, "Scrivner's Error." That refers to the drafting error by Dunleavy's people that prevented his veto of the $4 billion transfer. Hyper loose. After Stedman and his finance members left, Representative Neal Foster (D – Nome), co-chair of the House Finance Committee, awkwardly commented, "Well that was the first time I've ever seen anything like that. That was fun." The whole thing was really loose. You can watch the whole thing here.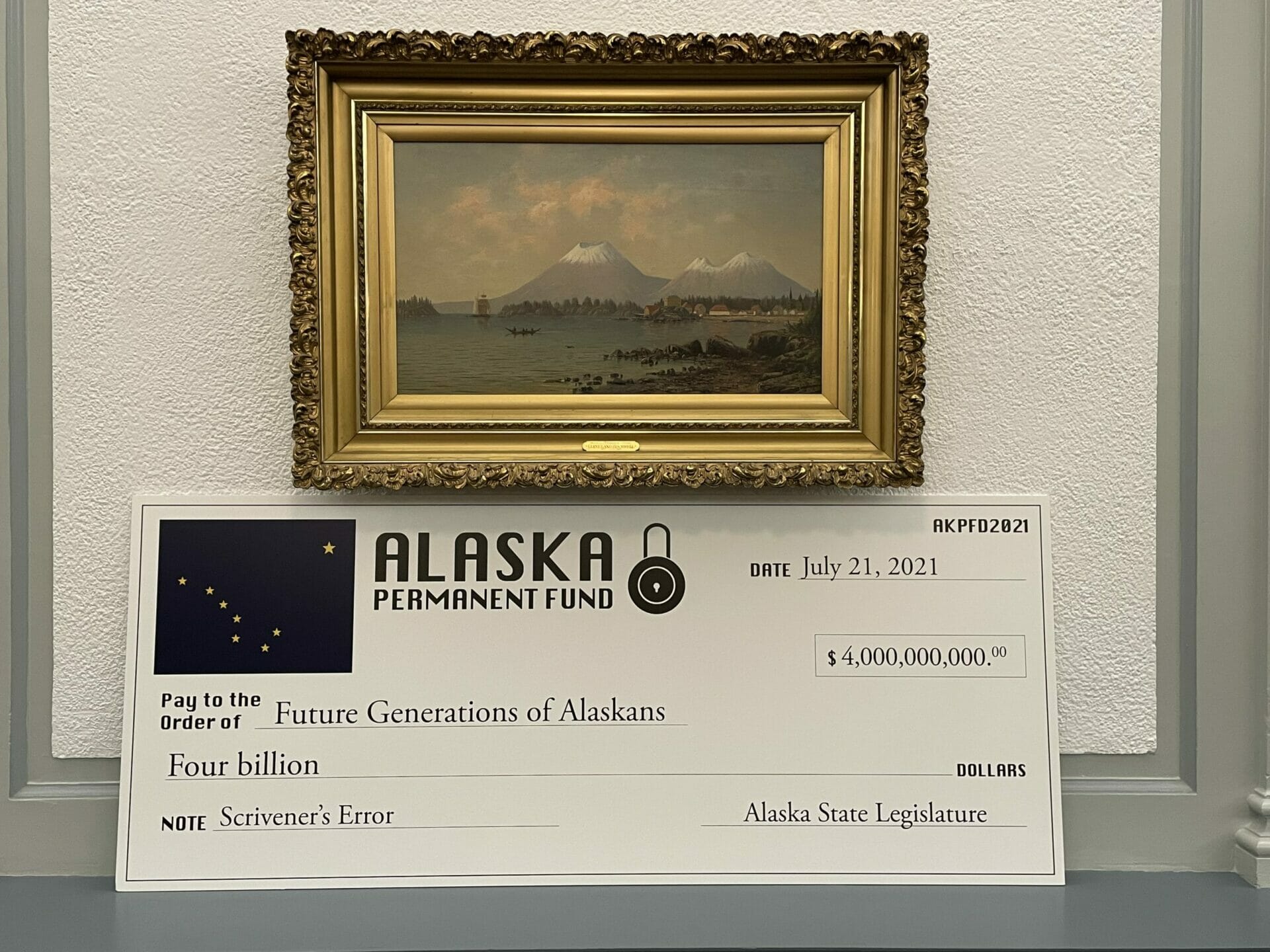 If you have a nomination for this week's Loose Unit, or if you have any political news, stories or gossip (or any old pics of politicians or public officials) please email me at jeff@alaskalandmine.com.