The legislative session starts in two days! But there is a Legislative Budget & Audit Committee (LB&A) meeting tomorrow afternoon on Angela Rodell's firing. Get ready for that one. Legislative Council attempted to meet this week but some IT issues prevented them from voting on a new COVID-19 mitigation policy. They are set to reconvene tomorrow morning. And official filing opened on Friday for the upcoming Anchorage Assembly and School Board races. I head to Juneau tomorrow morning! Stay tuned for a ton of Landmine updates from the Capitol.
A friendly message and reminder to all our readers, the Landmine is made possible by myself and a team of awesome Alaskans. It takes a lot of work to provide the content we do. I am heading back to Juneau to report on the Legislature. Living in Juneau for session is not cheap. If you enjoy the content we provide, please consider making a one time or recurring monthly donation. You can click here to donate. We have a donation system that makes it super easy. We would really appreciate it. And thanks to everyone who has been supportive!
Start of Session
Session starts on Tuesday. The House and Senate are both set to gavel in at 1 pm. There are already several committee hearings set for this week. Here are a few to watch:
House State Affairs on Ballot Measure 2 implementation:

Senate Finance on the revenue forecast:

House Finance on Governor Mike Dunleavy's (R – Alaska) proposed operating budget:

Senate Finance on Dunleavy's proposed budget:

My prediction is the tone of the first week will not be a pleasant one. The House and Senate finance committees will be especially critical of Dunleavy's proposed budget that heavily relies on one-time federal COVID money to avoid raising any new revenues in an election year. As I noted in last week's column, there is more pressure in the second session than the first. Look for things between the legislative and executive branches to start off bad and only get worse as session moves along.
LB&A is set to meet tomorrow at 2 pm. On the agenda is invited testimony from Permanent Fund Board of Trustees Chair Craig Richards. Senator Natasha von Imhof (R – Anchorage), who chairs the committee, sent a detailed records request and several questions to Richards on why the board suddenly terminated CEO Angela Rodell in December. Rodell says the termination was "political retribution." Richards denies that. Tomorrow's meeting will be one to watch.
Legislative Council attempted to meet on Thursday (1/13/2022) to review the COVID-19 mitigation policy, but some IT problems forced the meeting to recess before they were able to vote on that. They were able to vote to move a few million dollars from the legislative budget to cover legislative per diem that Dunleavy vetoed. Before the IT issues, Representative Sara Hannan (D – Juneau), who chairs the committee, got into it with Senator Lora Reinbold (R – Eagle River), the vice-chair, about masking and testing. Reinbold said she had 13 questions. In classic Hannan fashion, she kept ruling Reinbold out of order. But Hannan also told Senator Mike Shower (R – Wasilla) that he could not ask Anchorage Chief Medical Officer Dr. Michael Savitt any questions because Savitt wasn't "vetted" by Hannan. Instead, Hannan had her guy, Dr. Thomas Hennessy, on line to take questions. It had a real Orwellian vibe to it. Legislative Council is set to reconvene tomorrow morning at 8 am. PLEASE DON'T MANDATE MASKS IN THE CAPITOL.
Other Happenings 
Official filing for Anchorage's upcoming Assembly and School Board elections opened on Friday (1/14/2022). Filing closes on January 28 at 5 pm. So far only a few people have officially filed, but many have filed letters of intent with the Alaska Public Offices Commission (APOC). Stay tuned for all of our election coverage on the Assembly races.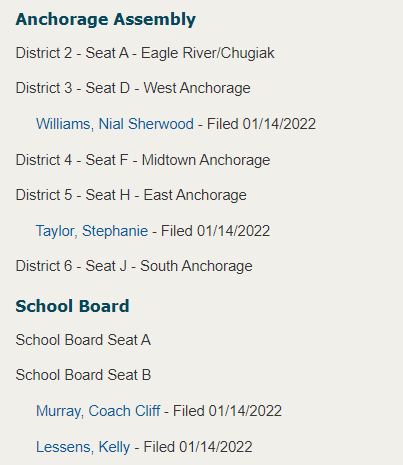 The Alaska Oil and Gas Association (AOGA) held their annual conference at the Dena'ina Center on Wednesday (1/12/2022). It was their first conference in over two years due to COVID. All three members of the delegation spoke remotely as well as Governor Dunleavy in person. It was awesome finally being at in person event.
Senator Lisa Murkowski (R – Alaska) announced Steve Wackowski as her new state director this week. Congrats, Steve! He replaces Leila Kimpbrell, who is now the Resource Development Council's executive director. Wackowski ran Murkowski's 2016 campaign. He was then hired to work on Alaska affairs for the Department of Interior for the Trump administratoin. He has served as chief of staff for the Alaska Aerospace Corporation since September 2020.
Former legislative staffer Drew Cason filed a letter of intent this week to run for the legislature. He did not indicate an office but he will likely challenge Representative Geran Tarr (D – Anchorage). That could change if the new districts change due to litigation. Cason used to be a staffer for the House Majority, which Tarr is a member of (depending on the day).
Former House Majority staffer Drew Cason filed a letter of intent today. He did not indicate an office, but word is he will challenge Rep. Tarr, a member of the House Majority. Very loose! #akleg pic.twitter.com/QUTRxcRh6J

— The Alaska Landmine (@alaskalandmine) January 10, 2022
Kollette Schroeder, mother of Representative Sara Rasmussen (R – Anchorage), has been hired as the new legislative liaison for the Department of Education and Early Development. Congrats, Kollette! She comes from Senator Mia Costello's (R – Anchorage) office, where she worked as a legislative staffer.
There has been a lot of chatter on the Kenai Peninsula that Tuckerman Babcock, Governor Dunleavy's former chief of staff, is planning on challenging Senate President Peter Micciche (R – Soldotna). This is the race Alaska needs! Imagine how loose that race would get. I might just get a place on the Kenai for the summer if this happens. If history has taught us anything, Micciche should be concerned. He almost lost to now-Representative Ron Gillham (R – Kenai) in the 2018 primary (72 votes). And the last two Senate presidents, Pete Kelly and Cathy Giessel, both lost re-election.

A special meeting of the Anchorage Election Commission on Friday (1/14/2022) went off the rails. Former Lieutenant Governors Mead Treadwell and Loren Leman, who were appointed by Mayor Dave Bronson and both recently confirmed by the Assembly, were in attendance for the meeting. When the commission tried to elect a chair, someone nominated commission member Glenis Ireland and Treadwell nominated Leman. Municipal Clerk Barbara Jones, who was running the meeting because there was not a chair, questioned whether Leman was qualified. She stated he has never served on the commission and had never overseen Anchorage elections. It was a rather bizarre statement from Jones. Treadwell objected to her statement and pointed out that Leman, like himself, served as lieutenant governor and oversaw state elections. It got even more bizarre from there. Leman jumped in and said he did not come to "cross swords" with her and he was not happy she stepped in and tried to "dominate" the meeting. In the end, Ireland was elected chair and Leman was elected vice-chair. You can listen here. It all start at 14:22. These commission meetings are guaranteed to be loose.
This Week's Loose Unit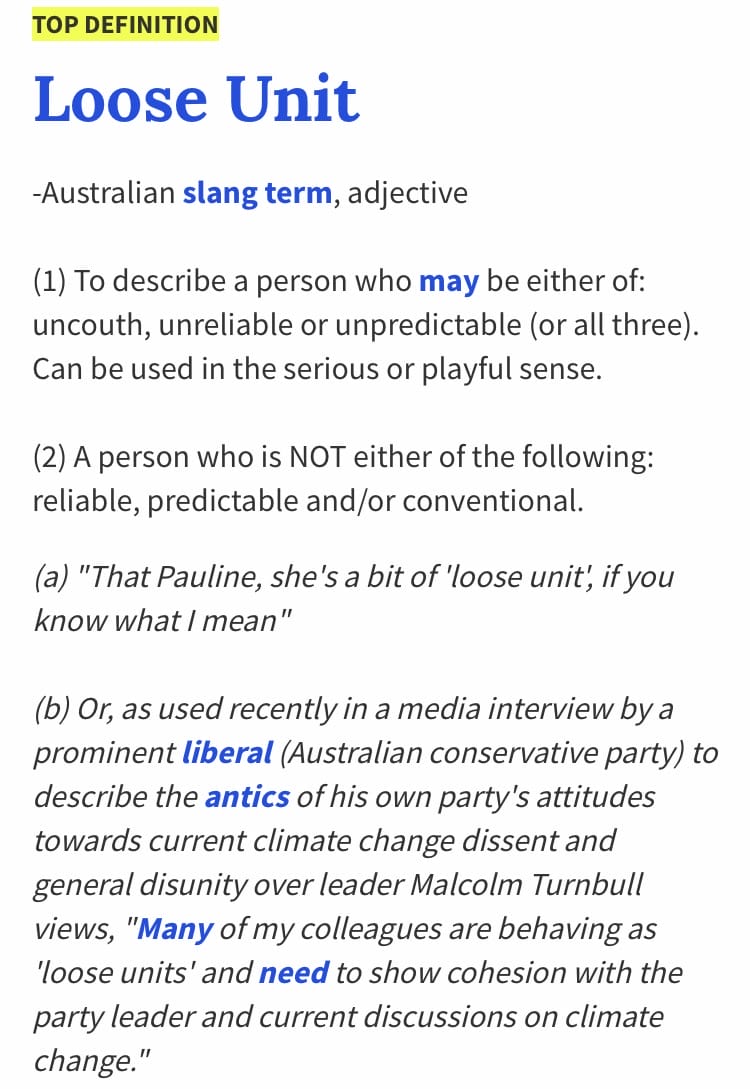 Some weeks the Loose Unit is easy to identify. This was one of those weeks. This week's Loose Unit is Terrence Shanigan. Shanigan, who works as a legislative liaison for Mayor Dave Bronson, was caught on a hot mic at a Rogers Park Community Council meeting. During the meeting Shanigan stated, "I figured they needed a little slapping around" while talking to his coworker Portia Erickson. Very loose. It's unclear who Shanigan was talking about but regardless, it is textbook Loose Unit behavior. Shanigan is a former Alaska state trooper. Imagine how his interrogations went! Shanigan and Erickson went on to discuss a press release to the bewilderment and entertainment of community council members. When they finally muted, a member jokingly stated, "I certainly wasn't going to interrupt that one." Super loose.
"I figured they needed a little slapping around."

Referencing lyrics: "Hush, hush, hush, let's lie. I know it's wrong, but let's lie together, in a way."

-Bronson legislative director Terrence Shanigan in a hot mic call during last night's Rogers Park council meeting.#ancgov pic.twitter.com/bCnAHiHcv3

— Matt Acuña Buxton (@mattbuxton) January 11, 2022
If you have a nomination for this week's Loose Unit, or if you have any political news, stories or gossip (or any old pics of politicians or public officials) please email me at jeff@alaskalandmine.com.