The 31st Alaska Legislature is just two days away from beginning. If the prefiled bills are any indication of how things will go this session, look for it to be very entertaining.
A friendly message and reminder to all our readers, the Landmine is made possible by myself and a team of awesome Alaskans. It takes a lot of work to provide the content we do. We don't have any financial backers. We do sell ads but this only provides limited income. If you enjoy the content we provide, please consider making a one time or recurring monthly donation. You can click here to donate via PayPal. We would really appreciate it!
Oh, and one more thing. I lost my job last month. I've been looking around but no luck yet. If anyone is looking for an awesome, high energy sales / business development / communications guy, let me know. I can provide my resume upon request.
The House 
The chaos in the House continues as they have yet to organize. There have been lots of meetings and rumors continue to swirl around the Capitol of some kind of bi-partisan coalition. But with only two days left before the session begins, it looks like the House will gavel in without a Speaker. The last time this happened was 1981. Some are saying the stale mate could last weeks or longer. My bet is that Representative Bryce Edgmom (D – Dillingham) prevails and remains Speaker. He's playing chess while the others seem to be playing checkers.
One thing that might encourage them to make some kind of compromise is a recent memo from the Legislative Affairs Agency. If they don't get things figured out by January 15th, nearly all of the House staff will be let go until they get organized. Our own mini government shutdown! In all seriousness, what a way to start things off and kill morale.
AGDC Shake Up
Governor Micheal J. Dunleavy announced a shake up on the Alaska Gasline Development Corporation this week. Board members Hugh Short and Joey Merrick were sacked and replaced with Doug Smith and Dan Coffey. Smith has an extensive background in oil and gas. He previously worked at ASRC Energy Services where he was the President and CEO. He has also been very involved in the Resource Development Council and the Alaska Support Industry Alliance. Coffey is a lawyer who previously served on the Anchorage Assembly. He has also served on various state boards.
Smith is a great choice. Coffey is questionable. When Coffey was on the Anchorage Assembly he accidentally called then Assemblymember Alan Tesche and left a recording on his answering machine. Coffey was talking to then Assemblymember Bill Starr. They were bad mouthing their political opponents and talking about doling out money for votes. Talk about embarrassing. But what is even more embarrassing is what Coffey did in 2015 when he was running for mayor. He had his lawyer, Thomas Amodio, send a cease and desist letter to local media warning them not to publish or broadcast the recording. See Streisand effect. You can't make this stuff up. Dunleavy should have kept Joey Merrick. It would have not only served as an olive branch to labor, it would have also created a strong ally in the House. Joey's wife is Representative-elect Kelly Merrick, who I'm sure is not happy about the decision.
ACLU Lawsuits 
The ACLU held a press conference this week where they announced two lawsuits against Governor Micheal. J Dunleavy and his Chief of Staff, Tuckerman Babcock. Both suits are brought by former state employees who were let go after exempt and partially exempt employees were required to submit their resignations and send a letter saying they wanted to work for the Dunleavy administration. Many have described this is a loyalty pledge. The suits argue their first amendment rights were violated when they were let go. They also say that these employees were not in policy making positions.
The first suit is brought by Elizabeth (Libby) Bakalar. Bakalar has worked an an attorney for the state for 12 years. She has received glowing reviews. She is well known for running a popular blog, One Hot Mess, that is critical of President Trump. Bakalar submitted her resignation and letter. It was accepted minutes after Dunleavy was sworn in as governor. What is interesting about her case is another attorney, Ruth Botstein, had an almost identical situation as Bakalar. She doesn't have a blog but had some tweets from years ago that were critical of Trump. However, weeks after they were let go, a KTOO article came out about Bakalar and Botstein.
In the article it was revealed that Botstein had argued the well known Sturgeon case before the Supreme Court. Sturgeon's suit is very well known and heavily supported by conservatives, including Dunleavy. Sturgeon is suing the federal government about use of navigable waterways in Alaska. In the article, Sturgeon said what a great job Botstein did and was puzzled why she was fired. The SAME day, she was offered her job back. I think this basically makes Bakalar's case. And I gotta give Botstein a shout out. She asked if Bakalar was also offered her job back. She was told no. So she said no thanks. What a gangster.
The other suit is brought by two doctors from the Alaska Psychiatric Institute, Anthony Blanford and John Bellvile. They did not submit the resignation letters. Their case seems more tricky that Bakalar's. Both suits can be seen here.
Blanford and Bellville COMPLAINT 1.10.19
Other Happenings
Senator Bill Wielechowski (D – Anchorage) hired David Dunsmore as a legislative aide. Dunsmore, along with Nick Moe, was behind a disgusting last minute attack mailer against Representative-elect Josh Revak. Dunsmore and Moe formed a group a week before the election, Alaskans Against Pruitt and Revak. The group was entirely funded with money from New York. I'm sure Revak is really excited about having to see that fucking guy in the building.
Full disclosure, I was chair of a group that supported Revak.
Drew Cason has moved from his role as Deputy Press Secretary for the House Majority to a legislative aide to Speaker Bryce Edgmon. Drew is an example of a good person to hire to work for you.
Governor Michael J. Dunleavy removed Sitka Police Chief Jeff Ankerfelt from the Alaska Marijuana Control Board. There is speculation he was removed because of his recent vote to allow onsite consumption. The governor said that was not a factor, though the Board Chairman, Mark Springer, thinks it was.
Senator Natasha von Imhof (R – Anchorage), gave a budget presentation to Commonwealth North on Friday. Part of it included some examples of things other states have done to reduce spending. Oddly enough, all three states (California, Illinois, Florida) are all states that Dunleavy's new budget director, Donna Arduin, has worked in. Check out some of the examples. Not sure the stray dog mandate or targeting seniors is going to do it. It must be nice having a healthy trust fund. Here is the full presentation.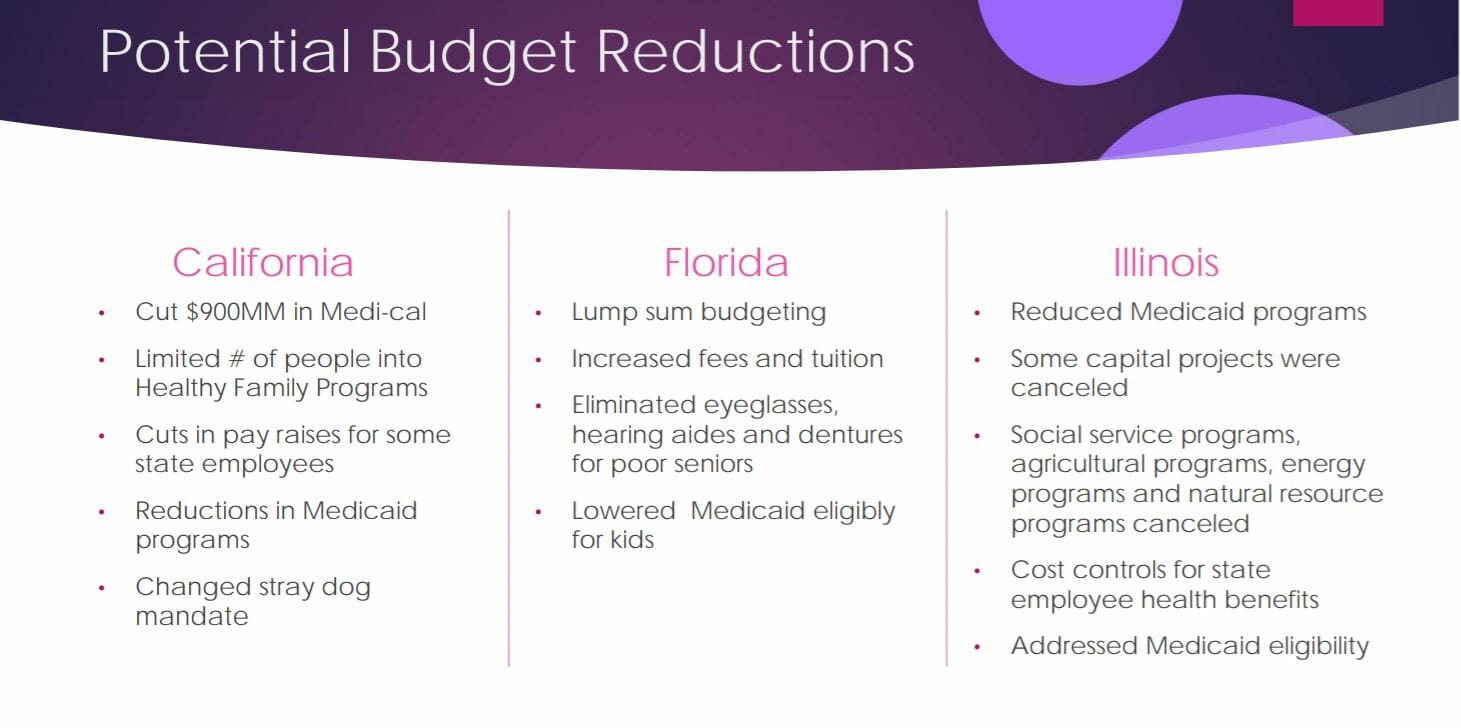 This Week's Loose Unit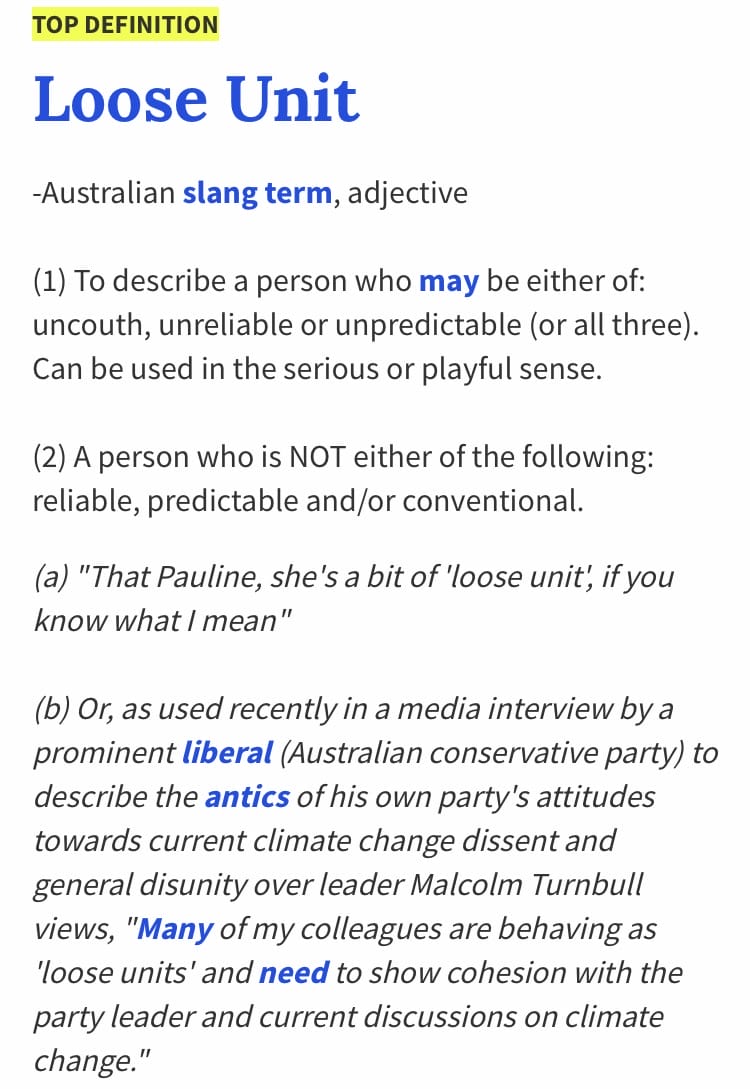 It was only a matter of time. This week's Loose Unit is Governor Micheal J. Dunleavy. This one is pretty straight forward. During a press conference this week Dunleavy was asked about the dividend. He said he viewed it as a transfer, not an appropriation, and they are going to follow the law. A reporter pointed out that the Alaska Supreme Court ruled that it, in fact, is an appropriation and not a transfer. Dunleavy responded, "That's their opinion. I see it as a transfer." It can be seen here at 13:00. There is just one small problem with that. Their opinion also happens to be the law. A lawyer, who happens to be a Republican, told me, "I'm not sure he could have given a worse answer." Dunleavy also doubled down on his campaign promise to back pay the previously reduced dividends using money from the earnings reserve. This will cost over $4 billion. Talk about loose!
If you have a nomination for This Week's Loose Unit, or if you have any political news, stories or gossip (or any old pics of politicians or public officials) please email me at jeff@alaskalandmine.com.