Happy New Year to all the Landmine readers! This is the first column of 2020. I took last week off due to a brief trip to Russia. It was awesome. If you have not been I highly recommend visiting. The legislative session is a little over a week from beginning. It starts on January 21. Some legislators and staff have already arrived in Juneau. This next session is going to be guaranteed loose!
A friendly message and reminder to all our readers, the Landmine is made possible by myself and a team of awesome Alaskans. It takes a lot of work to provide the content we do. If you enjoy the content we provide, please consider making a one time or recurring monthly donation. You can click here to donate. We have a new donation system setup that makes it super easy. We would really appreciate it. And thanks to everyone who has been supportive!
Politicos Making Moves
A lot of politicos have been making moves recently. Here are some of the interesting ones:
Former Senator Bill Stoltze has registered as a lobbyist. His only client so far is lobbyist John Harris, where he says he will be focusing on Fish and Game issues.

Lobbyist Sonia Henrick picked up the Council of Alaska Producers for $72,000/year. Lobbyist Kent Dawson used to have them. She also went from $60,000/year to a cool $168,000/year with BP! Lobbyist John Boyle, who used to be with BP, moved to Oil Search last year, leaving Henrick as the sole BP lobbyist. If all goes well with the Hilcorp purchase, this will be BP's last year in Alaska.

Representative Colleen Sullivan-Leonard (R – Wasilla) announced this week that she will not be seeking re-election this year. She plans to spend more time with family. You can't blame her for not wanting to go back to Juneau. Former Representative Lynn Gattis, who lost the Senate race to Senator David Wilson (R – Wasilla) in 2016, is rumored to possibly run for the seat.
Realtor Hans Rodvik, who used to work for Americans for Prosperity and former Representative Charisse Millett, was spotted (by me) on the 17th floor of the Atwood Building this week wearing a nice shirt and tie. That is the governor's floor. He confirmed that he had just started working for Governor Mike Dunleavy (R – Alaska). I'm not sure what his role or title is yet. He is still not listed in the employee directory.
Alaska Supreme Court Justice Craig Stowers announced that he will be retiring on June 1. This will result in Governor Dunleavy getting his first Alaska Supreme Court pick. This ADN article goes into more detail.
Sources report that current lobbyist and former Representative Bill Thomas has been hired by Governor Dunleavy as a policy advisor on Southeast and Native issues. He is not listed in the employee directory yet but he has also not registered as a lobbyist for 2020. So I'm gonna say my sources are spot on, as usual.
Kate Vogel has accepted the position of Municipal Attorney. She replaces Rebecca Windt Pearson, who will be going to GCI as their general counsel. Vogel previously worked as a Senior Assistant Attorney General for the State of Alaska.
Mollie Morrison has accepted the position of Municipal Controller. Morrison has been with the Municipality for the past six years. She is currently the Finance Division Manager at ML&P.
Former Governor Bill Walker was chosen as a resident fellow for the spring semester at the Institute of Politics at the Harvard Kennedy School. He will be there for eight weeks mentoring students. This ADN article goes into more detail.
Sources report that Senator Natasha von Imhof (R – Anchorage) raised $80,000 last year! Expect her to raise that much this year and probably more. She raised over $200,000 when she ran in 2016. I think that may be a record for a Senate race. Believe me, I know. I ran against her then and I only raised around $40,000. She spent more on consultants than I raised! Lots of pro-PFD and hardcore Republicans want to see her defeated. With the kind of money she can raise it will be very difficult.
Other Happenings
The Alaska Gasline Development Authority (AGDC) held a board meeting this week at the Anchorage LIO. The meeting started off a bit loose. Former board member Joey Merrick and former president Keith Meyer both testified at the beginning during public comment. Merrick was concerned that AGDC had taken previous work off the website. Meyer said that the current path of the board will not result in a gasline anytime soon. He also said he put together a private group that could take it over. The board did not seem amused. The meeting was to give an update on the Federal Energy Regulatory Commission (FERC) permit application. I think at this point until pipe is actually being laid no one cares anymore.
Anchorage Superior Court Judge Eric Aarseth rejected the arguments of the anti-Recall side this week. After hearing oral arguments, he took a 10 minute break and then ruled from the bench. So much for those liberal activist judges that conservatives always complain about. He ordered the Division of Elections to certify the recall and print signature booklets by February 10. The matter will now go to the Alaska Supreme Court. This Alaska Public Media article goes into more detail.
That same night the Stand Tall with Mike group hosted a fundraiser at Davis Constructors in Anchorage. See this week's Loose Unit for more on that. There were a lot of people there. Notable people present were Big Mike himself, Lieutenant Governor Kevin Meyer (R – Alaska), Attorney General Kevin Clarkson, Commissioner Jason Brune, Commissioner Adam Crum, Senator Josh Revak (R – Anchorage), Representative Sara Rasmussen (R – Anchorage), former Senator Pete Kelly, former Senator and current ADN owner John Binkley, former Anchorage Mayor Dan Sullivan, Dave Stieren, and lots of lobbyists! They reportedly raised $65,000, including two checks for $10,000.
The Governor's Oversight Committee on the BP-Hilcorp Transaction held a meeting this week in Anchorage at the Atwood. I learned about it from an interview posted on the Governor's Facebook page. Community Outreach guy Dave Stieren interviewed Tom Stokes, the Director of the Division of Oil and Gas. In the interview Stokes mentioned the meeting. It was not posted anywhere but through my sources I found out when and where it was. I showed up but no one would tell me where it was. A lady in the lobby told me, "Try the eleventh floor. I saw a lot of important people going up there." She was correct. I went to the desk on the eleventh floor and said I was there for the BP-Hilcorp meeting. At first I was told it was not a public meeting but then someone else said if he's here for the meeting, take him back. After going through a few doors that required a key card, we got to the room where the meeting was. The folks inside didn't seem thrilled with me showing up. Needless to say I was not allowed in. I spoke with a Division of Oil and Gas guy who asked how I even knew about the meeting. I showed him the video where Tommy Stokes was talking about it. He said, "I can see how that could be confusing." I was then asked to leave. Maybe next time!
We are less than $400 away from our goal of $2,000 to have the Campbell Lake public access easements surveyed and marked. The work will be done this week. Please consider donating so we can reach our goal. All the money will go to the survey. It will also include a 3D drone video of the easements. Everything we get will be posted on the Landmine for public use. The Storm Campbell Lake event will take place on January 18th. Here is a link to the event on Facebook. I did not organize this but I will definitely be attending! I will be selling Riff Raff shirts and bags for anyone who wants to buy.
This Week's Loose Unit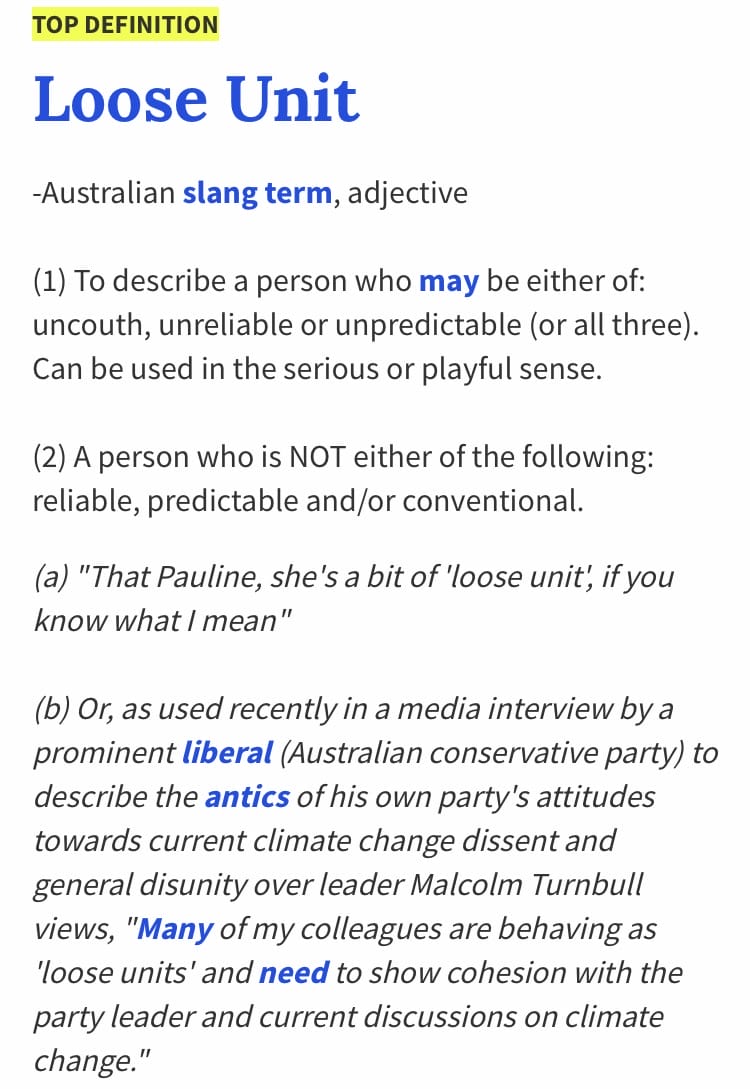 There was quite a bit of competition this week, but events that took place on Friday night made this week's designee clear. This week's Loose Unit is a tie between Steve Strait, Ann Brown, and Bethany Marcum. This one gets real loose. I showed up to the Stand Tall with Mike event on Friday night. An event I was invited to via email. When I got there I was told by Bethany Marcum, that I needed to donate $250 to be allowed in. There was a big sign that said $250 was a "Suggested Donation." I said I was not going to donate $250 and that the email I received said nothing about a minimum donation. I then said I would be attending the event as press. She then asked me if I was credentialed. I asked how I was supposed to do that, and noted that other press were in the room. At this point self appointed security thug Steve Strait came over and began to stare at me. I was told that an email, which I never recieved, went to press people. I said, "So I am not allowed in the event?" Marcum responded, "Yes."
I went outside and texted my friend Matt Larkin, who was inside. Larkin ran the independent expenditure group Dunleavy for Alaska and is a key figure in the Stand Tall with Mike group. I told him I was not being allowed in unless I donated $250. At that point I also confirmed with several people, who were inside, that they donated less than $250 or did not donate at all. I came back to try again. At this point I was again told by Marcum that I was not allowed in. I was also told the same thing by Sarah Brown, Ann's daughter. Larkin came out but was unable to get me in.
Then Ann Brown came out to see what wa going on. I told her I wanted to attend the event and never got a press email. She said she sent it. I asked if she could show me on her phone. She told me the Governor had her phone. So loose, and bizarre. She then left and said she would get her phone and show me later. This is where it starts getting real loose. While I was waiting Steve Strait came over and told me I was on private property and needed to leave. I asked him if it was his property or if he was an agent of the property owner. He just looked at me and said, "How about I call 911." I responded, "Go right ahead. Call them." He did not call anyone. So loose.
After about ten minutes of waiting, I was real close to just starting up Facebook Live. I go back many years with Matt Larkin. He knows how to treat people and is a good person. So out of respect to him I decided to wait a bit longer. Ann Brown finally came back with her phone. She showed me the email she sent me. It was sent to an old email address. I asked her what the big deal was with me being allowed in. She said I could not be allowed in as press because I was not credentialed, but that I could donate. I said I was told I needed to donate $250. She said I could donate less and suggested $50. I said how about $20. She agreed. So I handed over a $20 bill, filled out my info and walked in. As I was walking in I said, "I'm going to drink five beers for that twenty!" So loose.
Once I got in it was all good. I actually feel bad that Big Mike has chosen to surround himself with so many Loose Units. I eventually ran into Governor Dunleavy. He asked me how I was doing. I responded, "Great, except for your KGB guards at the door. I just got back from Russia but what I just dealt with was the real KGB experience!" He seemed genuinely perplexed that I was treated that way. Talk about loose.
If you have a nomination for this week's Loose Unit, or if you have any political news, stories or gossip (or any old pics of politicians or public officials) please email me at jeff@alaskalandmine.com.