It's almost March! As the session enters its sixth week, it's starting to feel like a repeat of last session regarding the PFD. Governor Mike Dunleavy (R – Alaska) submitted a budget amendment for a $1,304 supplemental PFD. This reminds me of last session when the Senate passed a budget that included a $3,000 PFD. All this does is further confuse and anger the public. Look for things to get very loose as the session continues.
A friendly message and reminder to all our readers, the Landmine is made possible by myself and a team of awesome Alaskans. It takes a lot of work to provide the content we do. I'm in Juneau for session which adds additional costs. If you enjoy the content we provide, please consider making a one time or recurring monthly donation. You can click here to donate. We have a donation system that makes it super easy. We would really appreciate it. And thanks to everyone who has been supportive!
The Governor
Governor Dunleavy introduced a supplemental budget amendment this week for an additional $1,304 PFD. This is for last year's PFD, which at $1,606 was smaller than the statutory calculation. It would require an $815 million draw from the Earnings Reserve. This is what I would call dead on arrival in the legislature. And everyone who pays attention knows it. The problem is people who don't pay attention. Much like when the Senate passed a budget last year that included a $3,000 PFD, many thought that was going to happen when they saw it in the news. We all know what ensued. I was talking to a non-political friend yesterday. He told me, "I saw in the news that we are getting the rest of last year's PFD." I proceeded to explain to him what would be required for that to happen.
The problem in this state is that we have a profound lack of leadership. Most politicians are happy to play games with the PFD. And the ones who aren't don't seem to want to explain the reality to the public or their constituents. The public is angry. They are angry about the PFD, angry about crime, angry about the ferries, angry the roads aren't being plowed, angry about the University, and just angry in general. Political games make them angrier. Legislators should really start paying attention to that.
Dunleavy also introduced legislation this week for a land voucher in place of a cash PFD. According to the press release:
The bills, HB 270 / SB 217, would allow dividend-eligible Alaskans the option to receive a voucher worth twice the monetary value of the statutory dividend calculation to be applied toward purchase of state land. The PFD land vouchers would be transferable, would not expire, could be combined for purchase of a single parcel, and could be used along with the state veterans' land sales programs.
Governor Dunleavy spoke to the Alaska Municipal League at their meeting in Juneau this week. He spoke to the larger group on Thursday morning and met with the board later that afternoon. After he spoke he took questions. Most of them were about the Marine Highway and school bond debt reimbursement.
Dunleavy released another one of his North Korea state TV style interviews with comrade Dave Stieren this week. You can check it out here.
Check out this post about HJR 9. As one person told me, "Look at all the Alaska Native people in the photo!"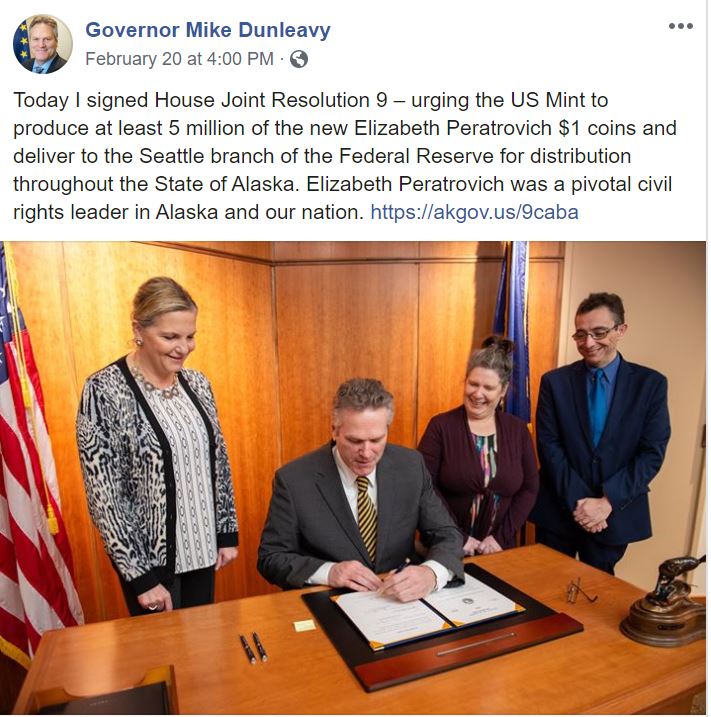 The Legislature
The House Finance Committee heard the closeouts of the Finance Subcommittee this week. They also began hearing public testimony on the operating budget. Once the Finance Committee passes the operating budget, it will go over to the full House for a vote. Once they pass it, it will go over to to Senate.
Anchorage legislators attended the Anchorage Caucus this Saturday at the Loussac Library. It was not as highly attended as previous years. Maybe the lack of snow plowing had something to do with that. Or maybe many people have just given up talking to legislators.
The House Resources Committee heard testimony this week on limiting how much big game non-residents can take. Rod Arno, the Executive Director of the Alaska Outdoor Council, got fed up with some of the questions of committee members. He eventually just stopped answering questions. You can watch here (start at 1:38:25). He refused to answer questions from Representatives John Lincoln (I – Kotzebue) and Sara Hannan (D – Juneau). It's pretty weird.
Senator Lisa Murkowski (R – Alaska) spoke to a joint session of the Alaska Legislature this week. She spoke about the recent impeachment trial in the U.S. Senate, the partisan divide in D.C., energy in Alaska, and other topics. You can watch it here. After, she answered questions from members of the media. You can watch that here. I asked her if she would support holding hearings if a vacancy on the Supreme Court should occur before the election. She said she did not like the precedent set by not holding hearings when Obama appointed Merrick Garland to the Supreme Court to replace former Justice Antonin Scalia after he died.
A Few Clarifications
We all make mistakes. Here are some I made this week, with explanations.
I'm sure many of you saw this tweet. Some background. I was contacted by someone who was aware of the pipes bursting. They were also aware that artwork and other supplies on the ship were gone. Several people I contracted confirmed this. I should not have said looted, this was reported to me but the people were not sure. DOT should have communicated that they took the artwork and other supplies off the ship. As soon as DOT contacted me I updated the post. DOT also told me the ship had been put in warm storage. But when I asked if it had been stored with the boiler running or on shore power, they told me shore power that included electric heaters. That isn't warm storage. That is why pipes burst. I have since asked DOT if I can tour the ship if I fly to Ketchikan. I was told no, but that they would send me pictures and video. This whole situation is a mess.
I tweeted this out on Friday. Someone contacted me with the info. I don't hunt but I know a lot of those tags are highly competitive. As soon as I posted it some of my friends that hunt informed me that not many people apply for this hunt. I updated the tweet right away. It was meant to be funny and informative more than anything.
This one was not my fault! Kent Erickson contacted me and told me he posted the below message on the website of the International Alliance of Theatrical Stage Employees Local 918 – Alaska. He later contacted me and said me made a mistake.
He sent me this message:
Here is what happened. I got mad. And then I over reacted. IATSE 918 is correct. I could have simply called them. They are looking for the canceled check, but I believe them when they say they paid for one year's hosting. While it is true they've delayed paying me over the years they had legitimate reasons AND I agreed to their plan to come current. And recently they've been making concrete efforts to do so. I forgot a conversation with their treasurer about that very subject roughly a year ago. And that led to my being mad and my going nuclear. I owe them an apology. They have done nothing to deserve my ire nor the bad publicity I may have caused them. Landfield's also innocent here. He did exactly what I asked him to do.
IATSE 918, I apologize.
Other Happenings
The Alaska Gasline Development Corporation (AGDC) board announced at their meeting this week that interim President Joe Dubler will be retiring in May. It will be interesting to see who AGDC chooses to replace him.
David Dunsmore, staff to Senator Bill Wielechowski (D – Anchorage), is leaving Wielechowski's office to work for Michael Bloomberg's Alaska campaign. With all the money Bloomberg is spending, Dunsmore might be getting a raise! One staffer pointed out, "With Dunsmore leaving, we will lose the last remaining straight, white male from our caucus." At least they practice what they preach.
Jim Crawford, who announced he was going to run against Senator Natasha von Imhof (R – Anchorage) has dropped out due to residency issues. He only moved into the district last August. He would have had to move there before June 1, 2019 to be eligible. I first reported this on February 13.
Stand Tall with Mike, the group fighting the recall attempt, announced this week that they are dropping their legal opposition to the recall. The same day, Dunleavy's de facto press person, Suzanne Downing, wrote a ridiculous piece attacking Chief Justice Joel Bolger. When all else fails, blame the courts.
Wishing Senator Mia Costello (R – Anchorage) a quick recovery!
Who is running Representative Mel Gillis' (R – Anchorage) social media?!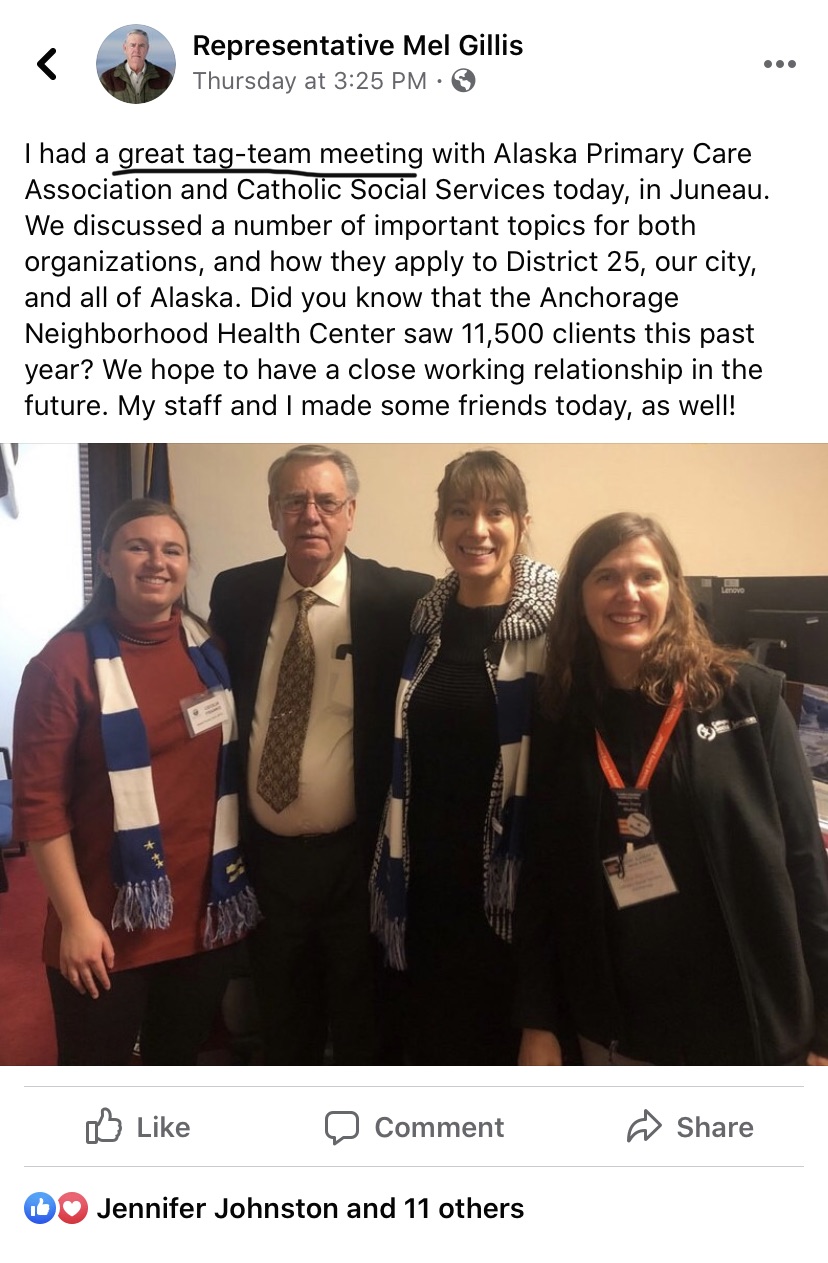 The Alaska Hospitality Retailers held a reception this week at Salt in Juneau. Let me say one thing. Those folks know how to throw a party!
The Alaska Municipal League met this week in Juneau. Local officials from all around Alaska filled the Capitol all week.
The Campbell Lake public access situation is far from resolved. We have received multiple reports of people being harassed by homeowners as they try to use the public access easements. The same easements the State of Alaska and Municipality of Anchorage affirmed are for public access in a joint statement. Here is a video of a recent interaction with a resident while trying to use the public access easement. She has been dubbed 'Campbell Lake Caren.'
The Division of Elections has indicated that Alaskans for Better Elections has met the required threshold to appear on this year's ballot. According to DOE daily signature updates, the Alaskans for Better Elections campaign is the first ballot Initiative in 2020 to attain the necessary requirements to appear on the 2020 ballot. The Division will not release an official statement of certification until all 41,068 signatures turned by Alaskans for Better Elections have been counted.
Ballot initiatives are required to get a certain number of signatures from at least 30 of the 40 House districts. It looks like there is a possibility that the oil tax ballot initiative may have failed to get the required signatures from enough House districts.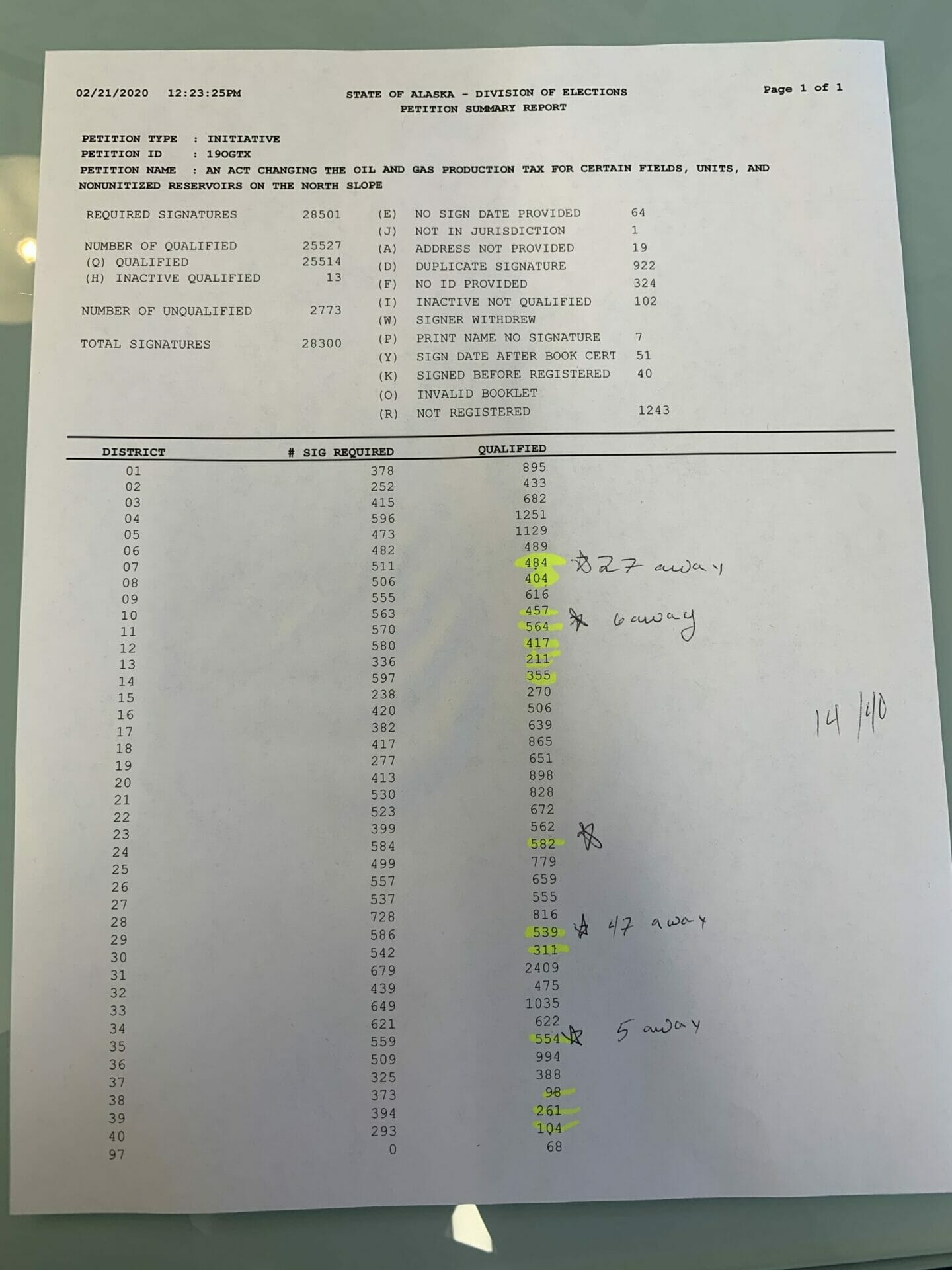 This Week's Loose Unit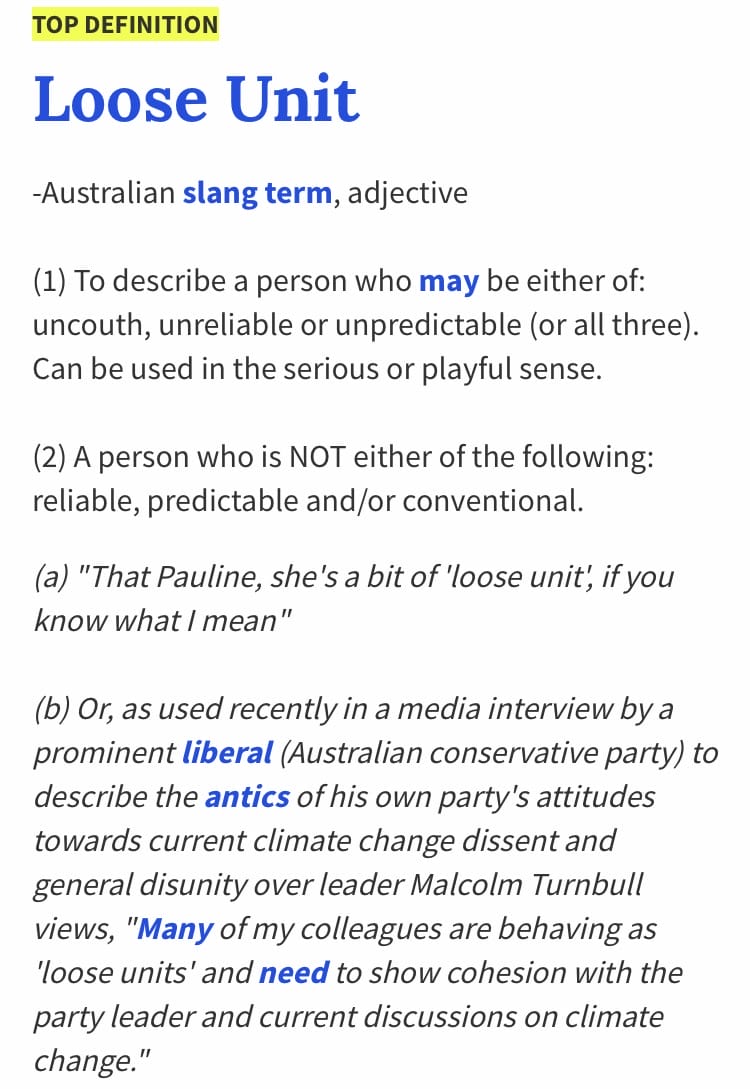 This week's Loose Unit became very clear on Wednesday. This week's Loose Unit is Governor Mike Dunleavy. Dunleavy held a press conference in the Capitol on Wednesday at 11 am. I don't get informed about any press events from the Governor's Office. I was told about it by another reporter at 10:45 am. I was in my room working on a story. I was told it was about the Marine Highway. I figured it would just be DOT Commissioner John MacKinnon, so I decided not to go. Big mistake. Dunleavy was also there.
The presser started off normal enough. It was in fact about the Marine Highway. But about 25 minutes in, reporters started asking about other topics. When AP reporter Becky Bohrer asked Dunleavy about the sole source contract to Clark Penney, things got very loose! Dunleavy got visibly upset during his answer. He started by asking, "So this was raised by Representatives Fields and Tomkins?" I guess he either doesn't know or care his last name is Kreiss-Tomkins. He then went on an epic tirade asking if these are the same individuals who voted to lower the ethics bar last year, not follow the statutes on the PFD, not follow the statutory 90-day session, who took back pay per diem last year. During his answer he actually had to stop and take a breath because he was so angry. It looked super uncomfortable in the room. Very loose. This write up on the Midnight Sun breaks down the entire thing. It points out, for example, that Kreiss-Tomkins did not take back pay per diem, but many of Dunleavy's allies did. Super loose.
Dunleavy also said that this issue was looked into last spring. Which is not true. I broke the Clark Penney story on May 7, 2019. It hadn't officially been looked into by the legislature until this session. He also said his office would be going into a "deep dive" on the Clark Penney contract. This has been a major story and talked about for the last several weeks. It's incredible he did not have a better answer. So loose. You can watch the whole thing here. It starts at 28:10.
If you have a nomination for this week's Loose Unit, or if you have any political news, stories or gossip (or any old pics of politicians or public officials) please email me at jeff@alaskalandmine.com.