What a week. The House finally organized, but not before a ton of drama. Next week will be much busier in the Capitol because House committees will finally start meeting. It only took four weeks! Governor Mike Dunleavy's (R – Alaska) scathing letter to Senator Lora Reinbold (R – Eagle River) was the equivalent of a political nuclear bomb. The fallout is yet to be fully observed.
A friendly message and reminder to all our readers, the Landmine is made possible by myself and a team of awesome Alaskans. It takes a lot of work to provide the content we do. I am now in Juneau for the session, which means paying rent for the place I'm staying at. If you enjoy the content we provide, please consider making a one time or recurring monthly donation. You can click here to donate. We have a donation system that makes it super easy. We would really appreciate  it. And thanks to everyone who has been supportive!
The Legislature 
The House has finally organized. Well, kind of. After the events of last week it was unclear what exactly Representative Kelly Merrick (R – Eagle River) would do after voting for Representative Louise Stutes (R – Kodiak) for Speaker of the House. She eventually did join the House Majority Coalition, giving them the required 21 votes. She's now Co-Chair of the House Finance Committee, along with Representative Neal Foster (D – Nome). Her husband Joey Merrick, Business Manager for Laborers' Local 341, is loving that! But then a lot more happened.
Representative Sara Rasmussen (R – Anchorage), a good friend of Merrick, bailed on the 19-member Republican House Minority. However, she didn't join the House Majority. In a brilliant move she was able to negotiate a seat on the powerful 11-member House Finance Committee, while not being a member of either caucus. She was able to do this because by leaving the Minority with 18 instead of 19, they lost a seat on the Finance Committee. Rasmussen negotiated the seat without having to join the Majority. I was not able to find another example of this in our state's history. Things were finally starting to fall in place. But then Representative Geran Tarr (D – Anchorage) went full Loose Unit and quit the Majority! (see more below on that in this week's Loose Unit section). Because Tarr decided to leave the Majority, they were left with 20. This was a problem because 21 votes are needed to adopt the Committee on Committees report, which lists all House leadership positions and committee assignments. Rasmussen said she would be the 22nd vote but not the 21st. The House floor session was cancelled on Wednesday (2/17/2021) morning due to the lack of votes. Tarr sent the below letter out Wednesday night. By Thursday morning they seemed to have appeased Tarr's demands. The Committee on Committees report was adopted 22-17. Representative Mike Prax (R – North Pole) was shown as absent. Representative Bryce Edgmon (I – Dillingham) is the Rules Chiar. In a kind of shady move, the Committee on Committees met in the Speaker's office while Senator Lisa Murkowski (R – Alaska) was meeting with reporters in the next room. So no one in the media was able to see the meeting. I eventually got the committee report from someone, although it was not easy.
While the House technically has a majority, it's not 21. It's 20-18-1-1. As ADN reporter James Brooks pointed out, this would be called a minority government in a parliamentary system. Reminds of of my time in Australia! Tarr probably comes around, but such a razor thin majority is problematic. Any member holds veto power on important votes. Sara Rasmussen is now probably one of the most powerful people in the House. If the Majority needs a vote she's probably the only one they can turn to. The next few months should be very interesting.
I gotta give a major shout out to Kelly Merrick for having a good sense of humor. Check out this incredible cup and note she got from a constituent. Amazing!
The other drama this week occurred on Friday. Governor Dunleavy's scathing letter to Senator Reinbold was like nothing most of us have ever read. You can read the letter here. It's truly a work of beauty and a long time overdue. Every word cuts and slices. Good on Governor Dunleavy for finally being the one to stand up to Reinbold, because none of her Senate colleagues have been willing to. What's worse than the way she harasses and disrespects members of the administration and judicial branch is the fact that the Senate Majority made her chair of the Senate Judiciary Committee in the first place. Her behavior over the years has been well documented. The way she has acted should surprise no one. Yet it has been allowed to go on for a month. Her constant attack on the judicial branch has been met with no real response from her colleagues. Her suggestion that judges should appear before her committee to answer for their rulings and her questioning state employees about their personal views on abortion make the Senate Judiciary Committee nothing more than a spectacle.
Despite her constant complaints about Alaska courts and her attempt to reshape them, she has gone to the courts in the past for a domestic violence issue. On October 6, 2000 Reinbold filed for a temporary protective order against her husband Eric. The protective order was granted, although the next day she filed to have it removed. She said she and her husband worked out their issues. I'm glad Reinbold was able to use the courts to deal with a domestic violence issue, a very serious problem in Alaska. Every Alaskan should have that opportunity. Her verbal attacks on the courts and assertion that the courts are corrupt is hypocrisy at its finest. Below are the court filings I obtained over a year ago.
The question now is will she remain chair of the Senate Judiciary Committee? If she's removed, the whole "Caucus of Equals" concept dies. But with Dunleavy making it clear no members of the executive branch can testify before or cooperate with the Committee, it will be difficult for that Committee to function. Not that it's been normally functioning anyway. Reinbold, as a committee chair, can issue subpoenas. But it requires a majority of her committee and a signoff by Senate President Peter Micciche (R – Soldotna). Legislative committees issuing subpoenas is extremely rare, though has happened before. Imagine this scenario. Reinbold issues a subpoena to a member of the executive branch. They refuse to comply. So Reinbold has to turn to the courts to enforce the subpoena. I imagine it would go something like this: "Hey, courts. I really don't like you and I know I have trashed you a lot. But can you please help me enforce this subpoena?"
Reinbold release a video today where she says she is "Ready to Rumble" with Dunleavy. You can watch it here. It's something else. Reinbold says Dunleavy has had access to the media for ten months and she just has Facebook. Let me be very clear. The media is very interested in talking to Senator Reinbold. But it's extremely hard to get access to her. She routinely asks for the questions in advance. When she does not get them she won't do an interview. She sends text messages at all hours of the night to reporters when they write about her, including me. She also routinely deletes unfavorable comments on her official page and blocks constituents she does not like. This behavior has gone on for years. When she is challenged, just like a school yard bully, she plays the victim. There's a Senate Judiciary Committee scheduled tomorrow at 1:30 pm. It should be lit.
Other Happenings
Senator Lisa Murkowski was in Juneau this week. She took questions from reporters on Tuesday afternoon. You can listen here. After, she had dinner at Salt with several Republican senators. The meeting dinner was set up by lobbyist Mike Pawlowski, her former chief of staff. It was upstairs. Very high level!
On Wednesday Chief Justice Joel Bolger delivered the State of the Judiciary in Juneau. You can watch here.
I finally got the response to a records request I sent AIDEA in early December about the recipients of CARES Act grants. You can see the full list here. It lists the small businesses who got the $290 million in CARES Act grants.
A court ruled in favor of the legislature's lawsuit against Governor Dunleavy over his appointees. The legislature did not confirm a bunch of Dunleavy's appointees last year, so he reappointed most of them. Then the legislature sued. This ADN article provides more details. The judge has ordered the lawyers on both sides to find a solution. Revenue Commissioner Lucinda Mahoney is one of the people who may be affected by the decision.
This Week's Loose Unit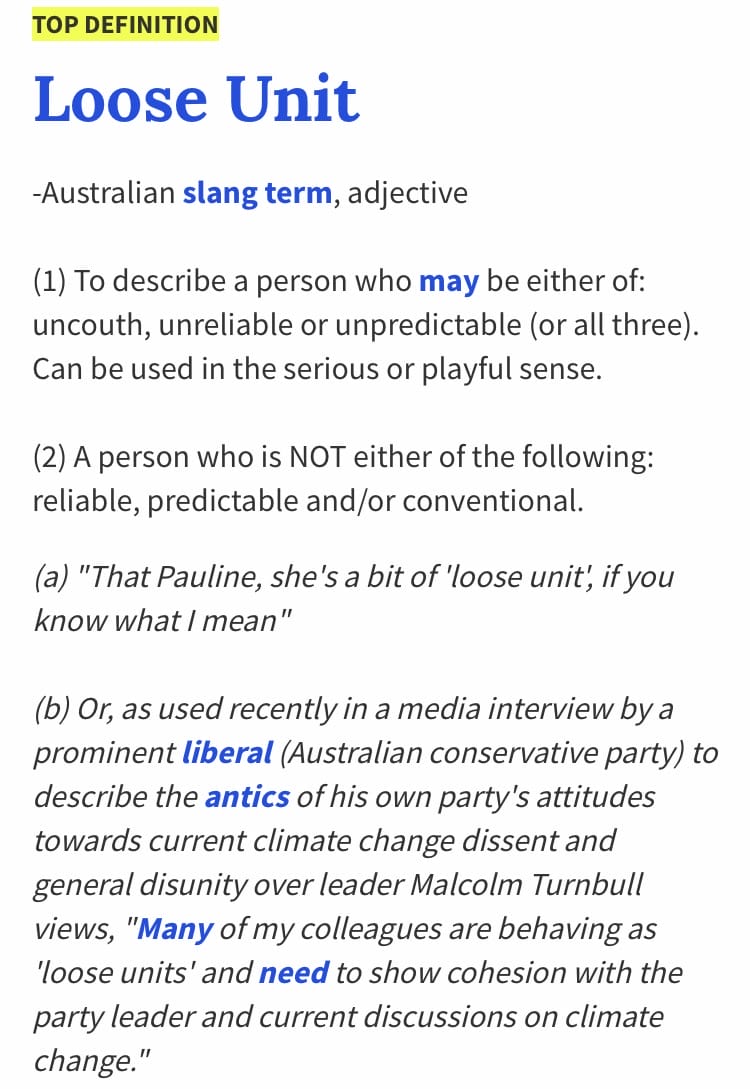 This was one of those week's where there were several deserving candidates. But one definitely stood out. This week's Loose Unit is Representative Geran Tarr. After the House finally figured things out on Tuesday I started to get texts and calls the Tarr had bailed on the Majority. I was not able to confirm this. But the next day the House floor session was cancelled and Tarr was absent. Very loose. So it started to look like the rumors were true. I tried repeatedly to get ahold of Tarr to see if she was still in the caucus, but she never responded. Classic Loose Unit. Then she sent out that bizarre letter to Speaker Stutes on Wednesday evening. Here it is again.
The worst part is her comment about roles being "extracted by threats to join the Republican caucus, instead of careful consideration of what's best for Alaskans." This is almost certainly directed at Representative Josiah Patkotak (I – Barrow), who was able to secure the sole chair of the House Resources Committee. Fun fact, the last time there was a sole chair of the House Resources Committee was during the 1993-1994 legislature. Patkotak was born in 1994. Anyhoo, Tarr is upset she's no longer Co-Chair of the House Resources Committee. So what does she do? She attacks a smart and politically savvy Native man who was able to negotiate a good position for himself and his district. Imagine the reaction if a Republican said what Tarr said about a Native person. It's incredible that a white woman from Anchorage thinks she knows what's better for Native Alaskans than an actual Native Alaskan. Talk about loose!
If you have a nomination for this week's Loose Unit, or if you have any political news, stories or gossip (or any old pics of politicians or public officials) please email me at jeff@alaskalandmine.com.