We are more than a month into the "90-day" legislative session. Things have been relatively quiet in Juneau other than the occasional weird committee meeting. The big news this week was a judge ruled in favor of some of the plaintiffs who sued over redistricting. The first round of campaign finance reports were due this week, and they show former Governor Bill Walker with the biggest cash haul. And Senator Natasha von Imhof (R – Anchorage) announced she is not running for re-election or any other office.
A friendly message and reminder to all our readers, the Landmine is made possible by myself and a team of awesome Alaskans. It takes a lot of work to provide the content we do. I am back in Juneau to report on the Legislature. Living in Juneau for session is not cheap. If you enjoy the content we provide, please consider making a one time or recurring monthly donation. You can click here to donate. We have a donation system that makes it super easy. We would really appreciate it. And thanks to everyone who has been supportive!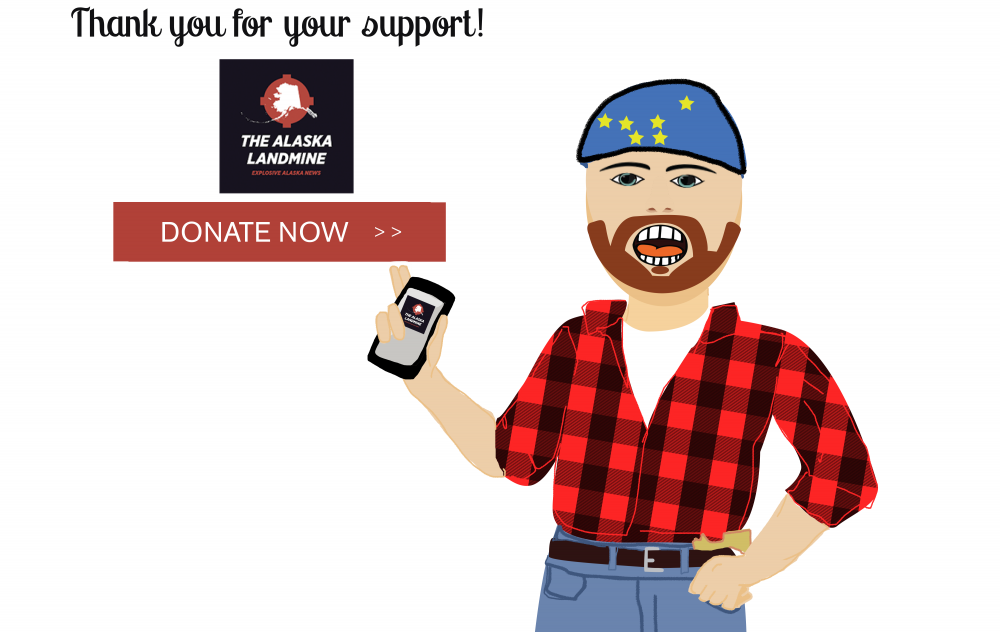 Redistricting Lawsuits  
On Tuesday (2/15/2022), Judge Thomas Matthews ruled in favor of two of the five plaintiffs who filed lawsuits over the map adopted by the Redistricting Board. They are the East Anchorage Senate pairings and Skagway. Here is the Matthews' summary and order.
However, the Redistricting Board will appeal Matthews' decision to the Alaska Supreme Court, and the other plaintiffs will likely appeal too. The Supreme Court must rule on the matter by April 1, just under six weeks away. The interesting part about Matthews' decision is his emphasis on public testimony. Having watched a lot of public testimony on a myriad of issues, the partisans are always good at getting their people to show up and give public testimony. Think about the October Anchorage Assembly mask mandate meetings or legislative hearings on anti-abortion bills. Not sure that is the best way for legislative bodies or commissions to base their decisions off of. That being said, the rushed manner in which the Senate pairings were adopted, compared to all the public meetings held on the House maps, was odd. It will be interesting to see how the Supreme Court rules on the matter. A final or interim map must be adopted by June 1 for the upcoming elections.
First reports show over $1.5 million raised in race for governor
The following is an excerpt from this week's edition (2/17/2022) of the Alaska Political Report. You can click here for more information about the Alaska Political Report. A subscription is $1,299/year per organization. Discounted pricing is available for non-profits and government entities. We will be providing extensive election coverage this year in addition to our session coverage. If you have any questions or would like to subscribe, please email jeff@akpoliticalreport.com.
Year start reports for candidates running for office were due on Feb. 15. These reports cover the start of the campaign through Feb. 1, 2022. The next report, the 30-day report, is due on July 18.
We took an initial look through the reports of all the candidates in the race for governor. Four candidates reported over $100,000 in income, with former Gov. Bill Walker posting the biggest cash haul with $660,000 in campaign income.
One big difference this year is candidates for governor and lieutenant governor run as a ticket. This change came with the passage of Ballot Measure 2 in 2020. However, candidates for governor and lieutenant governor do not officially combine their campaigns until after the primary. A donor can donate the maximum, which has been set at $1,500 by the Alaska Public Offices Commission, to each candidate before the primary, or they could donate $3,000 to the combined campaign after the primary, minus any contributions they had previously made to either candidate.
So far, seven candidates have filed to run for governor:
Gov. Mike Dunleavy, the incumbent Republican. His Lt. Gov. Kevin Meyer is not running for re-election. Dunleavy has not yet chosen a running mate.
Former Gov. Bill Walker, Independent. His running mate is Heidi Drygas, his former Labor commissioner.
Former Rep. Les Gara, Democrat. He recently chose Jessica Cook, an Anchorage teacher, as his running mate.
Rep. Christopher Kurka, Republican. His running mate is Paul Hueper of Homer.
Kenai Peninsula Borough Mayor Charlie Pierce, Republican. He has not yet chosen a running mate.
Billy Toien, Libertarian. His running mate is Shirley Rainbolt of Anchorage.
Bruce Walden, Republican. His running mate is Tanya Lange of Soldotna.
Walker/Drygas, Gara/Cook, Toien/Rainbolt, and Walden/Lange have officially filed with the Division of Elections.
Only four campaigns reported significant income. Walker/Drygas reported the highest income and have a significant cash advantage over their opponents. Walker/Drygas' income includes a nearly $50,000 transfer from Walker's future campaign account – money he had leftover from his 2018 campaign. Kurka/Hueper's income includes over $15,000 of non-monetary items for things like consulting services, furniture, and signs. Hueper listed a nearly $1,000 expense for "Air travel and lodging for campaign event" for Joe Miller. Walker/Drygas reported almost $65,000 in PAC income, most of which came from labor unions. Gara and Dunleavy reported almost no PAC income.
On Tuesday, an independent expenditure group called "A Stronger Alaska" filed a report showing a $3 million contribution from the Republican Governors Association. The group says it's purpose is "To support the election of a republican Governor in Alaska."
A more comprehensive look into these reports will be sent out in a later edition of the Political Report.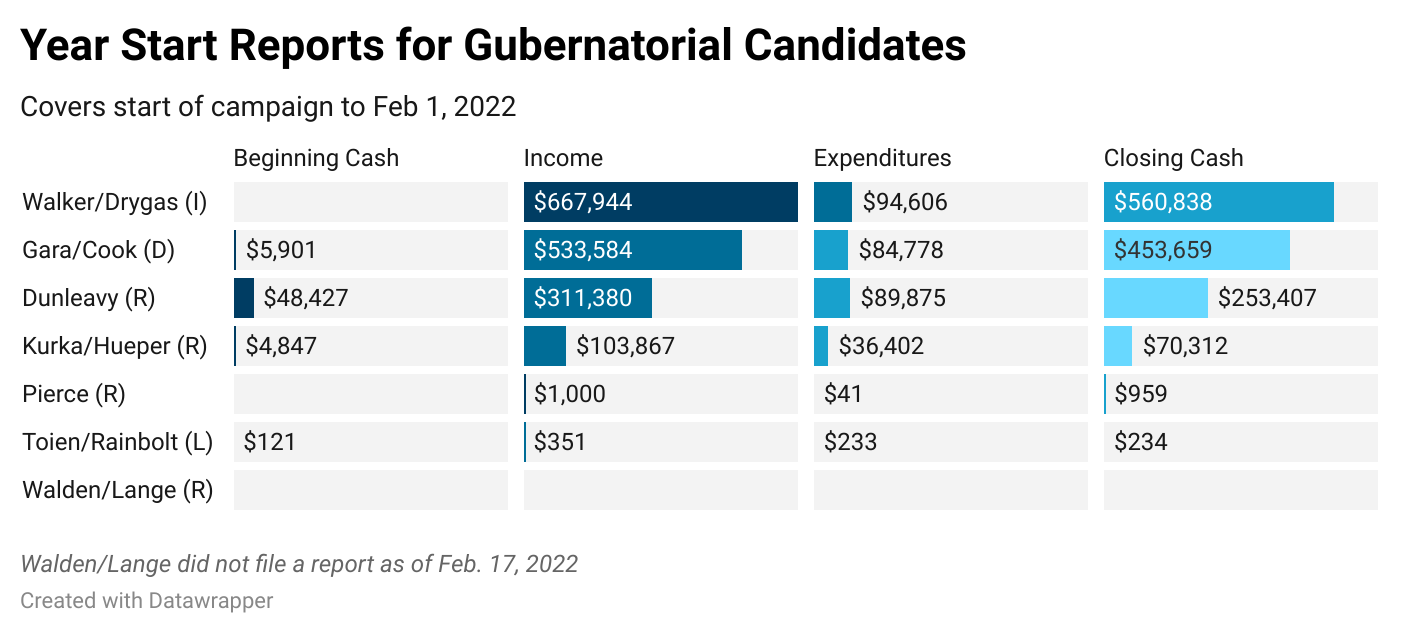 Other Happenings
Senator Natasha von Imhof announced this week she will not be seeking re-election to the Senate, or running for any other political offices. There has been speculation for months that she would run for governor. This Landmine article provides more details. Von Imhof was paired with Senator Mia Costello (R – Anchorage) with the new redistricting map. Von Imhof's exit makes Costello the de facto incumbent.
Legislative Council is meeting on Wednesday morning. On the agenda is review of the COVID mitigation policy. With any luck, the ridiculous Capitol mask mandate will be repealed.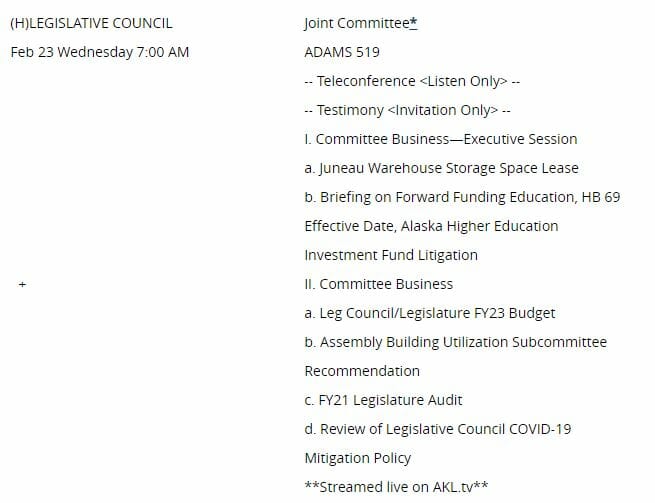 Anchorage Assembly member Chris Constant announced this week that he will run against Congressman Don Young (R – Alaska). This marks the first Democrat to enter the race against Young. I give it a month before Constant has one of his classic meltdowns.
Former Representative Dan Saddler is holding a campaign kickoff fundraiser on Tuesday in Eagle River. Saddler is running in the House District in Eagle River that Representatives Kelly Merrick (R – Eagle River) and Ken McCarty (R – Eagle River) were paired in but who are both running for the open Senate seat. Keep in mind, this can all change due to ongoing redistricting litigation.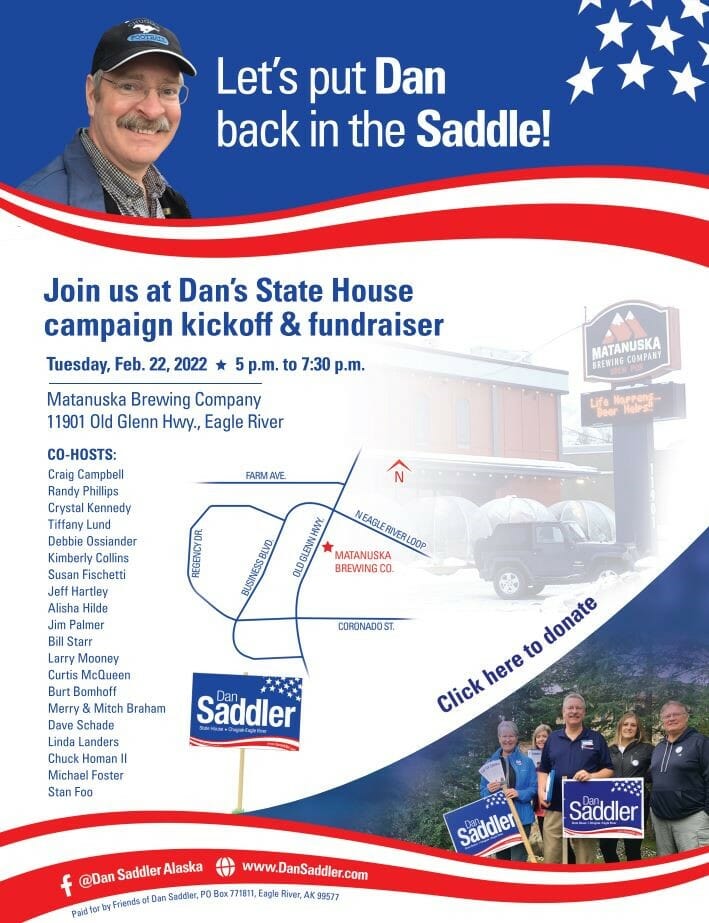 All of the legislative candidates who filed year start reports show over $1.2 million in total combined campaign income. Here is a list of all the legislative candidates who filed reports and reported income. It is sorted by the highest surplus. Senator Gray-Jackson (D – Anchorage) seems to have refunded all her donations now that she is running for the U.S. Senate. Alyse Galvin, a non-incumbent, has the highest surplus at almost $70,000. Of the top 20, only four are non-incumbents. Former Senator Cathy Giessel, who is facing a rematch with Senator Roger Holland (R – Anchorage) benefitted from almost $10,000 she had from her 2020 campaign, in which she was defeated by Holland. Anchorage Assembly member Jamie Allard, who is running for an open Eagle River House seat, shows almost $50,000 in donations, an impressive amount. The next reports are not due until July 18.
This Week's Loose Unit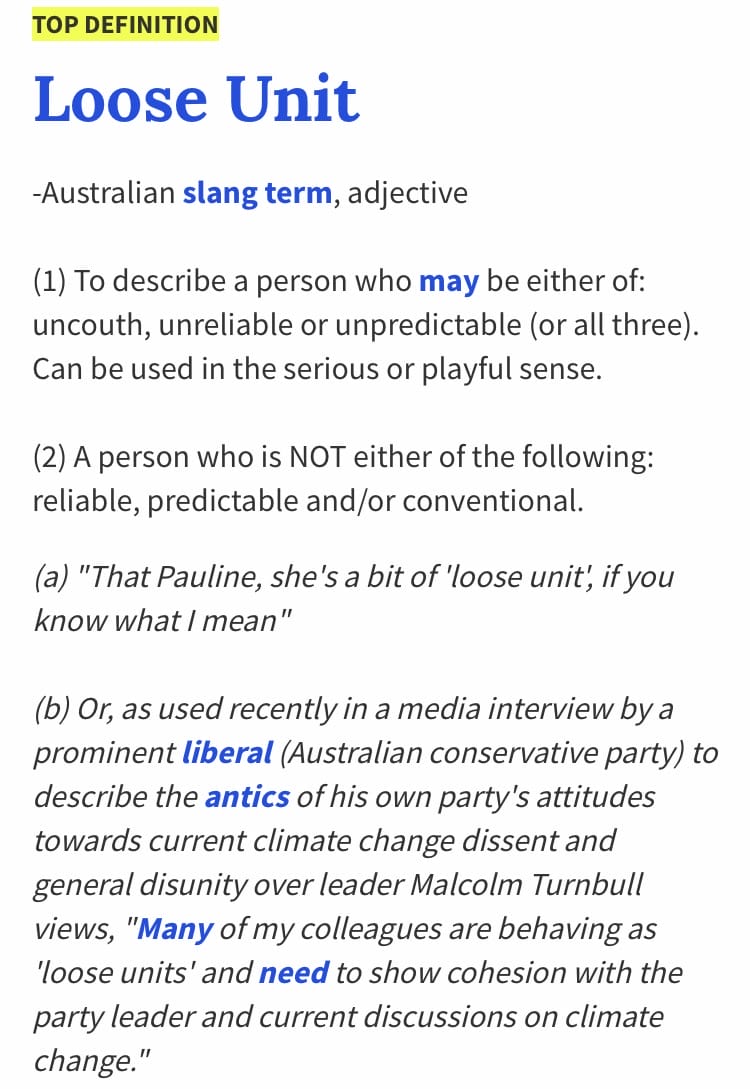 This week, two extremely deserving lowlifes really earned Loose Unit status. You likely have never heard of them as they just arrived in Juneau, but nevertheless they are extremely deserving. This week's Loose Unit is a tie between Rodney Biggs and Zachary Murray. On Tuesday night I was at the Narrows with some friends enjoying some drinks and talking. Rodney Biggs and Zachary Murray, who I had never seen before but would soon learn their names, came in and sat down at the bar. At that point, everything was fine. I went outside to take a call and when I got back, Rodney was harassing a female friend of mine. He was extremely drunk and obnoxious. I sat down next to her and made it clear to Rodney she was not into talking to him. He and his friend Zachary proceeded to talk to me about the most bizarre topics, namely about Mount Rainier as I was drinking a Rainier. He kept insisting on shaking my hand and would not stop touching me. They went from saying they did not know one another to being co-workers in town for some kind of work. After a few minutes, I told them I was there with my friends and wanted to talk with them, and not Rodney and Zachary. That kept up their loose behavior, so we paid our bill and left.
Two in our group went home and me and another went to the Triangle. We ordered a drink and started playing some pull-tabs. Not long after, Rodney and Zachary walked in. Rodney made a snide remark to me about not wanting to talk to him. I ignored him and kept looking for that big pull-tab winner! I could see in the corner of my eye they were talking to Rex Rock Jr., who works as an advisor to Governor Mike Dunleavy (R – Alaska). Not long after, the female bartender suddenly told them to finish their drinks, pay their tab, and leave. They two were making some aggressive and condescending remarks to Rex Rock Jr. Rodney began to mock the bartender. Classic Loose Unit and piece of shit move. The situation soon escalated. She poured out Rodney's drink and told them to leave, which they both refused. It got so tense that the bar got totally quiet while the bartender was yelling and demanding they leave. After several minutes of this, in which the bartender said she was going to call the police, Rodney started to leave, but instead of leaving started getting in Rex Rock Jr.'s face again. During this Rodney said, "How are you going to make me leave?" At that point I had had enough. There were several other men, including a few lobbyists, in the bar and no one was doing anything.
I went up to Rodney, grabbed him, told him he was leaving, and proceeded to throw him out the front door. Zachary, who had been standing by the door, exited as I was pushing Rodney out. As soon as I got Rodney out the door, Zachary sucker punched me hard in the upper jaw. Just like the genuine piece of garbage he is. I immediately tackled him and we ended up in the street. Rodney then grabbed me as I was fighting with Zachary. I was trying to get up but also protect my face as I thought one of them was going to kick me in the face. But the next thing I saw was the legend Rex Rock Jr. pulling Rodney off of me. This allowed me to quickly get up. Zachary was aggressively shouting at me, stating, "I am going to fuck you up." Representative Mike Prax (R – North Pole), who was at the Triangle, came out in the middle of the melee and calmly said, "This is not the way to solve your problems." It was surreal.
I went back in the bar. Rodney actually tried to come back in, but when the bartender got on the phone with the police, he and Zachary finally left. Major shout out to Rex Rock Jr. for getting my back. Unfortunately, none of the other capable men there did anything. I don't count Prax in that as he is 65 years old. And at least he came outside.
Since then, Rodney and Zachary have been making the rounds to different Juneau bars. Some of the people who saw them that night sent me these pictures. Rodney is the older one. Zachary is the one with the beanie. The first two are at the Red Dog and the second one is at the Imperial. These two lowlifes seem to get off on harassing people and not tipping. I hope they are gone from Juneau, and Alaska, fast. If you see them, I would suggest not letting them in your business.
If you have a nomination for this week's Loose Unit, or if you have any political news, stories or gossip (or any old pics of politicians or public officials) please email me at jeff@alaskalandmine.com.