Happy Super Bowl Sunday! I don't really care who wins but it would be awesome if Andy Reid got a Super Bowl ring. I guess Senator Peter Micciche (R – Soldotna) is having a rager of a Super Bowl party. I was not invited. The session has been going on for almost two weeks. At least this time the House is organized. However, the Senate remains in flux as several members of the Majority continue to publicly attack fellow Majority members. Very loose.
A friendly message and reminder to all our readers, the Landmine is made possible by myself and a team of awesome Alaskans. It takes a lot of work to provide the content we do. I'm in Juneau for session which adds additional costs. If you enjoy the content we provide, please consider making a one time or recurring monthly donation. You can click here to donate. We have a donation system that makes it super easy. We would really appreciate it. And thanks to everyone who has been supportive!
The Governor
Governor Mike Dunleavy (R – Alaska) gave his annual State of the State address on Monday (1/27/2020) to a joint session of the Alaska Legislature. Yours truly was watching from the press area. Check out this pic Representative Sara Rasmussen (R – Anchorage) sent me! I think she was as confused as the rest of them.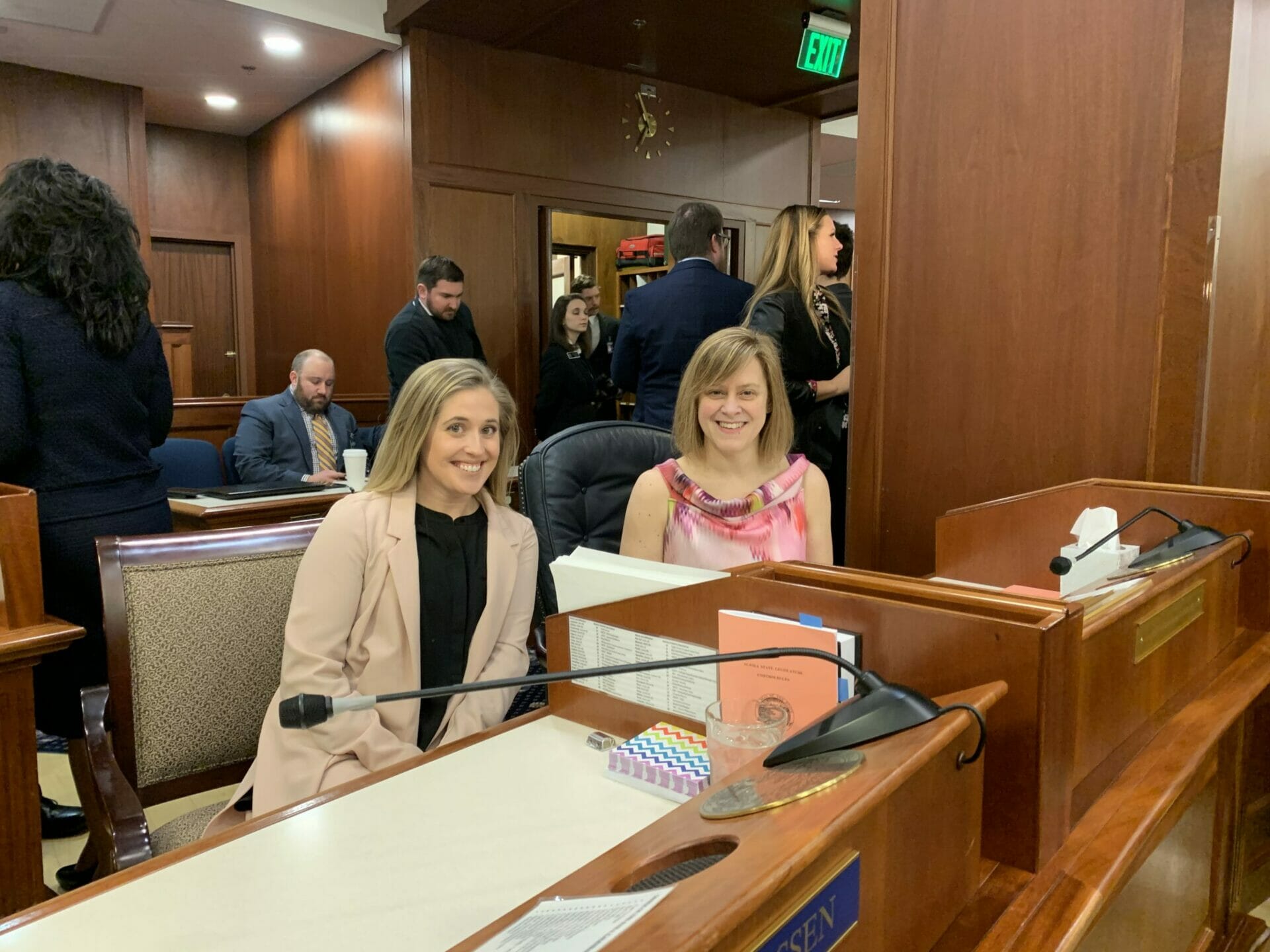 The highlights of the speech included new crime bills Dunleavy introduced, utilizing our resources, insisting that the people have a vote in new revenue or a change to the PFD formula, a proposed state lottery, and a proposal to have an option of a land certificate in exchange for a cash PFD. The certificate would be twice the value of the traditional PFD formula. He also introduced several guests that included a firefighter, a student, and Judy Eledge for her work in education. The House Majority held a press conference after. They basically said they are happy that Dunleavy said he wants to work with them but still don't understand how his proposed budget with a $1.5 billion deficit is going to fly. They also acknowledged that a change to the PFD formula won't be easy.
Dunleavy held two press conferences this week. One was with Health and Social Services Commissioner Adam Crum and the other was to announce town hall meetings in Southeast Alaska. I was not at either because I continue to not get invited to them. At least I'm in good company.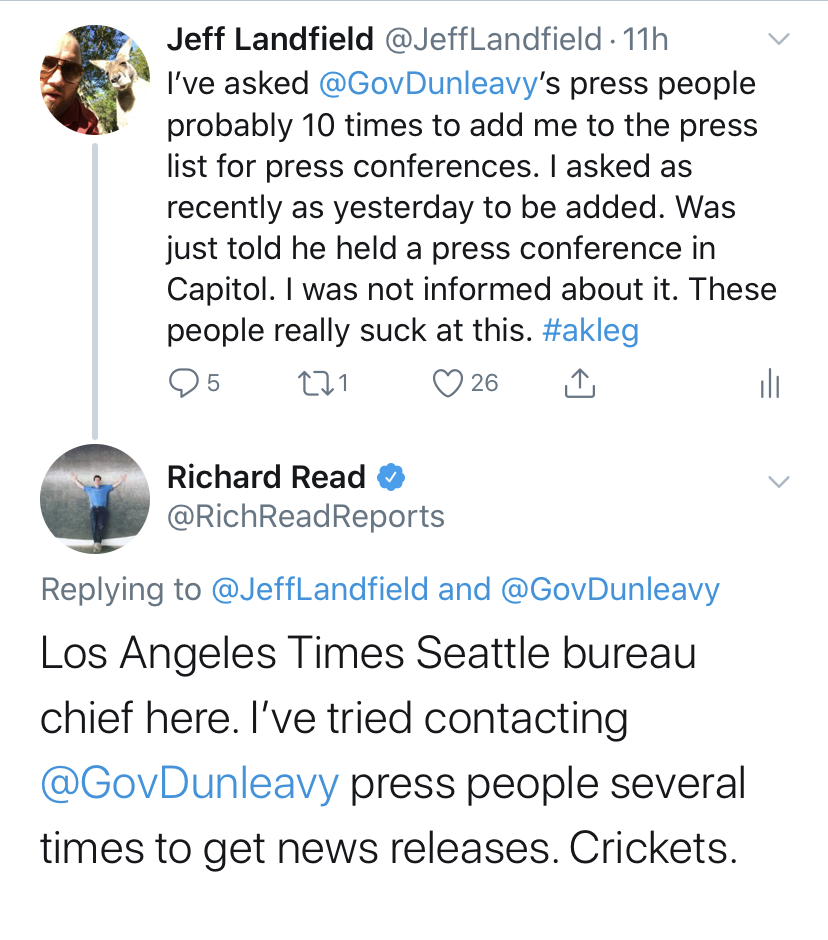 Dunleavy spoke at this week at a joint meeting of the Alaska State Chamber and the Juneau Chamber. He talked about our resources and the political challenges of developing them. In the speech he gave a big shout out to Iceland for being innovative and developing an economy with not many available resources. He left out how the Nordic socialist model. Granted it was a friendly crowd, but Dunleavy sounded so much better when he was not reading from a teleprompter. He even cracked a number of jokes. At the end State Chamber President and CEO, and my good buddy, Kati Capozzi read questions people had for Dunleavy. One of them was, "Have you identified areas where we can reduce state spending." His response, "Really?"
According to the State of Alaska checkbook, a payment of $16,000 was made to Mary Ann Pruitt on 12/10/2019. I have contacted the Dunleavy administration asking what it was for. I'm in the wrong business.
The State of Alaska checkbook shows a 12/10/2019 payment from the Office of the Governor for $16,000 to PS STRATS Inc, Mary Ann Pruitt's company. The payment was for Management/Consulting. Multiple sources in @GovDunleavy's office said they have not seen her in months. #akleg

— The Alaska Landmine (@alaskalandmine) February 1, 2020
The Legislature
This week saw a bunch of groups in Juneau meeting with legislators. These included the Resource Development Council, Alaska Oil and Gas Association, Alaska State Chamber of Commerce, Americans for Prosperity Alaska, and a bunch of labor groups that included the Alaska AFL-CIO, IBEW 1547, Alaska Laborers 942 and many more. It was funny seeing all the labor groups in the Capitol along with the Americans for Prosperity Alaska folks.
Things got a little weird this week at a meeting of the House Finance SubCommittee on Commerce, Community & Economic Development. Representative Zack Fields (D – Anchorage) asked Commissioner Julie Anderson about the $441,000 sole source contract awarded to Clark Penney, grandson of major Dunleavy donor Bob Penney. I broke this story last year. Since then the ADN and other media outlets have done stories on this. Anderson denied having anything to do with the contract to Clark Penney. She said it was all AIDEA. But then Representative Jonathan Kreiss-Tomkins (D – Sitka) pointed out that AIDEA said it was DCCED. Then Fields pointed out that AIDEA CEO Tom Boutin has refused to testify before the House State Affairs Committee. Documents show Anderson knew all about the contract. Dermot Cole did a good story this week that explains everything.
It got real loose at a meeting of the House Resources Committee this week. Representative Geran Tarr (D – Anchorage), who co-chairs the Committee, was questioning Environmental Conservation Commissioner Jason Brune about the Ocean Ranger Program. At one point Representative John Lincoln (I – Kotzebue), the other co-chair, told her that in the interest of time, that would be taken up later through legislation. Tarr was having none of it and said, "It's actually not, respectfully Mr. Co-Chair, I would like him to respond to that." Lincoln then called an at ease and spoke with Tarr. When he went back on record Tarr stood up and motioned for him to go outside. Lincoln then told her Brune was going to respond. Towards the end of his response Tarr left the meeting. You can watch it here.
It got pretty loose this week at a meeting of the House Resources Committee! Check out how Co-Chairs Tarr and Lincoln got into it over her questions to Commissioner Brune about the Ocean Ranger program. She ended up leaving the meeting! #akleg pic.twitter.com/RQUT4OMrnB

— The Alaska Landmine (@alaskalandmine) February 3, 2020
Senator Lora Reinbold (R- Eagle River) continues to publicly attack her colleagues. Check out her latest Facebook post. As one legislator told me, "Bless her heart." It is puzzling that she, along with Senators Mike Shower (R – Wasilla) and Shelley Hughes (R – Palmer), remain in the Majority. They seem to spend more time attacking the Majority than being part of it.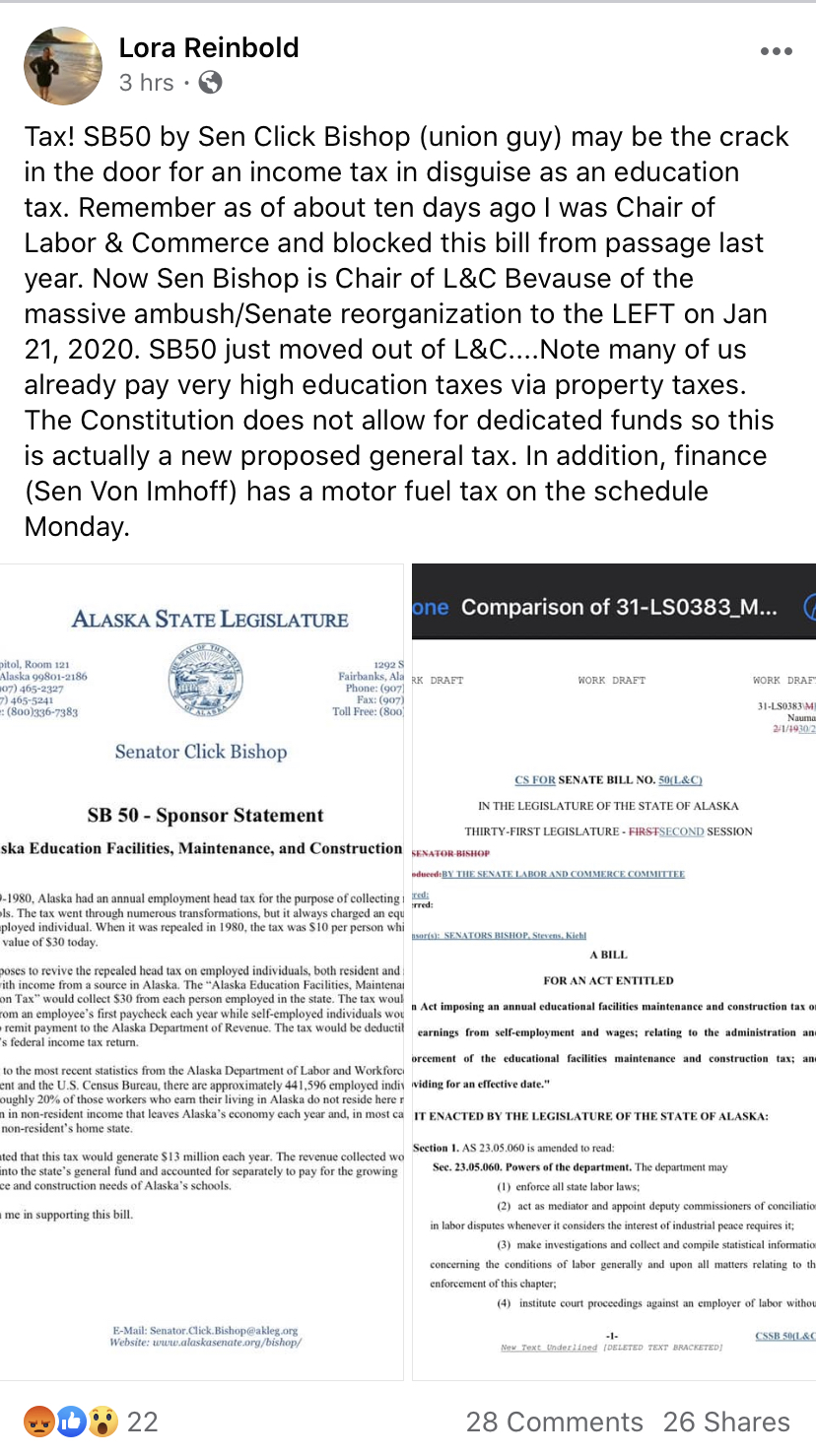 Because Senators Reinbold, Shower, and Hughes lost committee chairmanships, they lost staff points. As I put in last week's column, many staff were unsure if they still had a job. I have confirmed that one of Hughes' staffers is going to Senator John Coghill's (R – North Pole) office. It was rumored that one of Shower's staffers was also going to Coghill's office but I have not been able to confirm that. Shower was absent from the Senate floor session and his committees on Friday. I stopped by his office to inquire about his whereabouts. I was rudely and aggressively told by his staff, "He's not available" when I asked if he was in Juneau or somewhere else. Which is odd considering Shower recently told me I was welcome in his office anytime. I'm sure any other senator would be lucky to have them!
Other Happenings 
Senate President Cathy Giessel's (R – Anchorage) primary opponent, Roger Holland, was in Juneau this week. He must have a lot more time on his hands now that he quit his State job. He even went to one of the floor sessions! No one introduced him. There's a video on Facebook of him at a gun rally talking with Kevin McCabe and Stephen Wright (See this week's Loose Unit). This campaign is gonna be lit!
The Alaska Oil and Gas Association met this week in Juneau. Sources report that there was one guy there no one really knew. He told people he was with Furie, one of AOGA's members. They later discovered he wasn't exactly with Furie. He was there on behalf of them. He's a turnaround and restructuring advisor. Furie is currently going through bankruptcy. Here is a link to the guy's bio. I bet he asked AOGA about how much those memberships fees are.
BP Alaska Spokesperson, and one of my favorite people, Megan Baldino has accepted a job with BP in Houston. She will be the Director of External Communications for BP America. Congrats, Megan! I used to have the biggest crush on Megan when I first moved to Alaska in 2004. I never missed the KTUU evening news!
Sources report that Ric Davidge has resigned as Republican Party chair for District 20. Vice-chair Randy Ruedrich is now the chair. Is Randy planning a comeback?
Kris Warren, Republican Party chair for District 23 (my district), is running for RNC National Committeeman. The Alaska Republican Party is holding their state convention in Juneau from April 2-4.
McKinley Capital announced this week they have acquired the McDowell Group. Per the press release:
McKinley Capital Management, LLC announced today that it has acquired McDowell Group. The investment firm plans to retain McDowell Group's employees in Anchorage and Juneau as it forms a new economic research team, led by Susan Bell.
McDowell Group has been operating in Alaska for close to 50 years. Rob Gillam, McKinley Capital CEO/CIO believes McDowell's in-depth understanding of Alaska's people, communities and economy will complement the investment firm's current capabilities and feels the acquisition provides opportunities for growth and expanded clientele for McDowell.
Check out this super woke tweet from Juneau Assemblymember Carole Triem. Stay woke or go broke!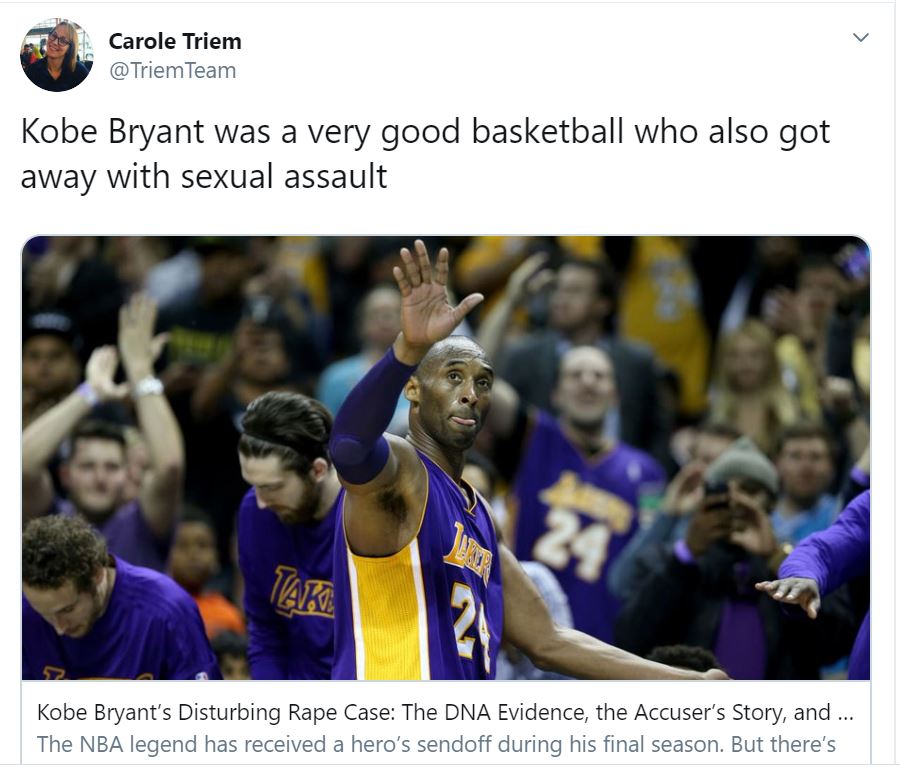 The deadline to file for the Anchorage Assembly was Friday. Assemblymember Christopher Constant, the sole member for Downtown Anchorage, did not pick up an opponent. Congrats to a second term, Chris! Here is a link to see who is running for the Assembly and School Board. Stay tuned for a Landmine story on the candidates. Ballots go out in the mail on March 17th.
This Week's Loose Unit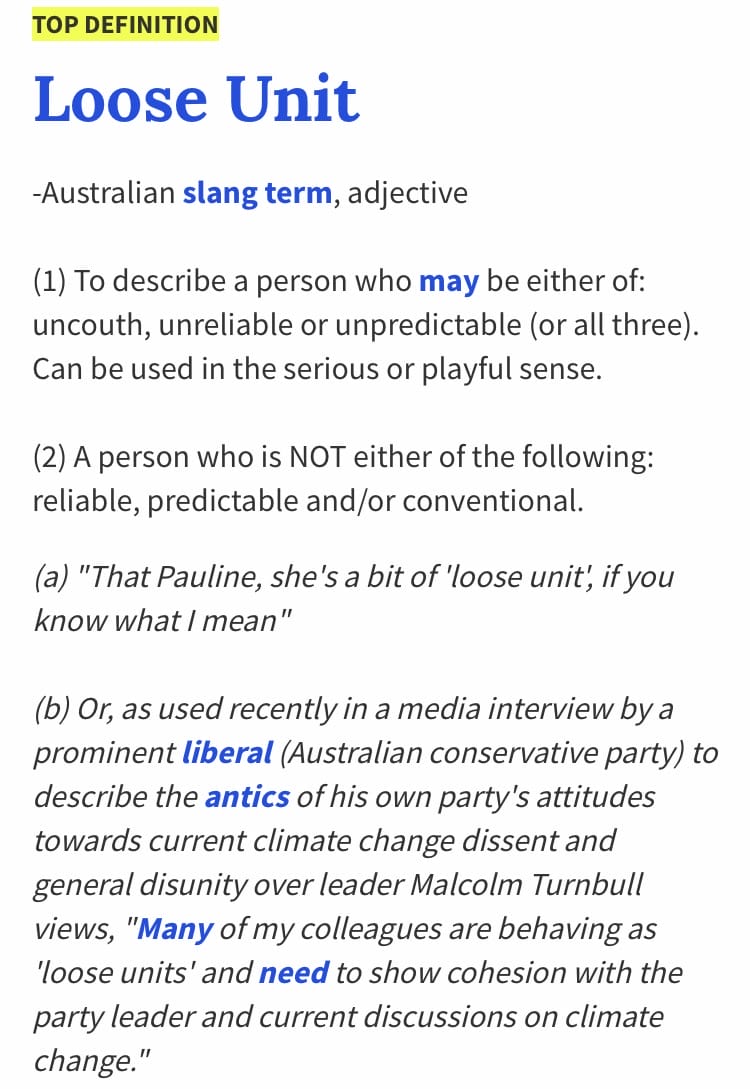 At this rate I need to start a daily Loose Unit during session. There are so many! After careful consideration, this week's Loose Unit 907Freedom – the organizers of the pro-gun rally in Palmer this week. If you did not hear about it, hundreds of people assembled on the Matanuska-Susitna Borough building in Palmer on Friday. They were protesting a proposed ordinance on outdoor shooting ranges. The Mat-Su Borough had zero to no ordinances on where and how gun ranges could be built and some concerned citizens asked for more control. Fast forward and the Borough Planning Department presented a new ordinance for public comment. This got the gun enthusiasts up in arms (no pun intended). This all stems from a situation where people were firing guns on private property in Palmer. Neighbors started to complain about the noise. I mean who doesn't like hearing AR-15 or AK-47 fire all day. So the gun folks decided to build a full on gun range.
So the Mat-Su Borough decided to create an ordinance that included guidelines for outdoor shooting ranges. The ordinance does not affect people who want to shoot guns on private property. It affects people who want to build gun ranges on private property that are open to the public. The hardcore gun people did not like that. So they decided to throw a rally. Many of them were talking about how the government is trying to take their guns or introduce red flag laws. Super loose. But a quick look at the front page of the ordinance shows it has nothing to do with that nor does it affect existing ranges.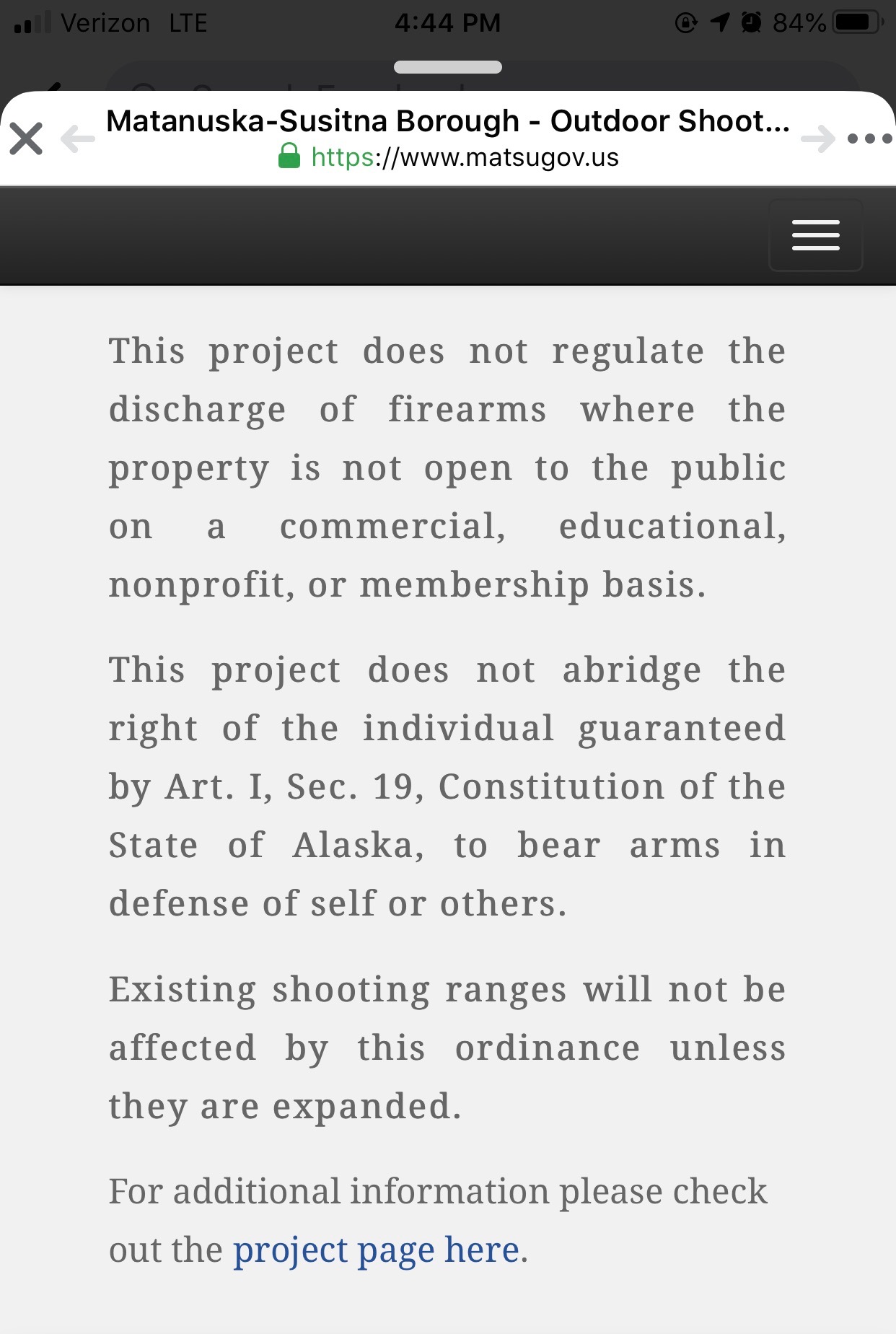 But any excuse for a gun rally is a good excuse. As worried as they were about losing their guns, many of the attendees were open carrying. They were also raffling off guns, gun related products, and even a tattoo! Loose.
Here is the description in the Facebook event. Loose!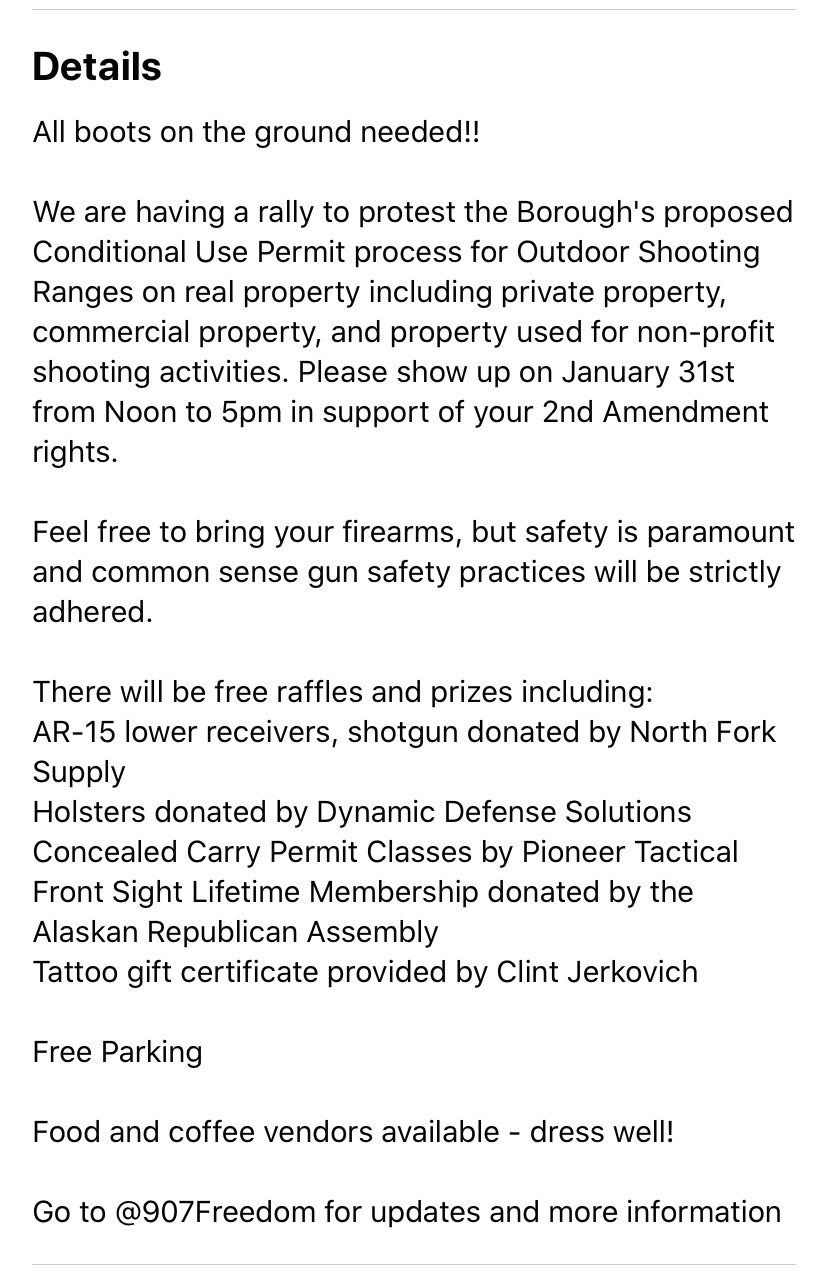 The event drew some legislators and candidates. Senator Mike Shower was there. Oh, that's where he was! Representative David Eastman (R – Wasilla) was also in attendance. Others in attendance were Edie Grunwald, Roger Holland, Kevin McCabe, Stephen Wright, and many more. No one had their guns taken away. Talk about loose!
If you have a nomination for this week's Loose Unit, or if you have any political news, stories or gossip (or any old pics of politicians or public officials) please email me at jeff@alaskalandmine.com.